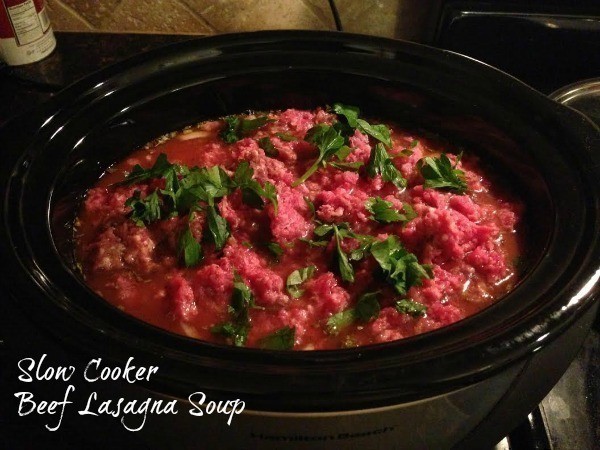 I came across this recipe last week and thought it would work super for us – not only as a quick dinner but also as a Crock Pot Freezer Recipe.
The original recipe asks you to use Raw Ground Beef sprinkled on the top before you cover in the crock pot – and I did make it like that. But it seemed as if it had more fat when it was done versus cooking the meat and adding it later… I re-made it a second time and used 93/7 ground beef – that was much better than the 80/20 I was using the first time around.
It's a great recipe to keep on hand – the ingredients are those that can be picked up for almost nothing, and are items you might even have in your pantry.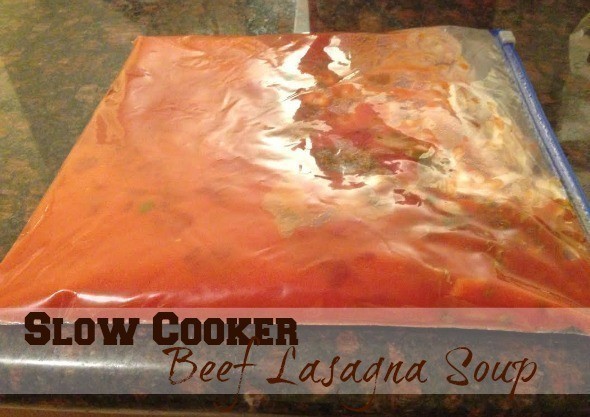 Slow Cooker Beef Lasagna Soup
2014-09-21 04:35:16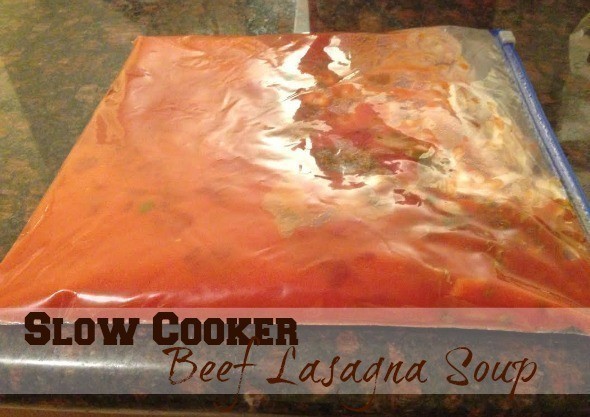 Serves 6
A very easy soup that can be made with items you have in your pantry, or even as a Crock Pot Freezer Meal.
Ingredients
1 lb. Ground Beef, Raw (I used 93/7)
1 Onion, diced
1 Can (10 3/4 oz.) Condensed Tomato Soup
1 Can (14.5 oz.) Diced Tomatoes
1 Can (15 oz.) Tomato Sauce
2 each Beef AND Chicken Bouillon cubes
4 c. Water
1 1/2 tsp. Oregano
1 1/2 tsp. Basil
1 tsp. Parsley
Salt & Pepper to taste
8 Lasagna noodles broken into smaller pieces or Bow Tie Pasta - UNCOOKED
1 Bag (12 oz) Shredded Cheese
Instructions
Combine the Onion, Tomato Soup, Tomato Sauce, Diced Tomatoes, Beef & Chicken Bouillon, and Water in the crock pot.
Add the Spices and the Parsley, Basil & other.
Sprinkle the Raw Ground Beef on the top.
Sprinkle broken Lasagna noodles on top, OR if you prefer, then Bow Tie pasta.
Cover, and let cook 6-7 hours on LOW.
You can top with Shredded Cheese & Diced Onions.
Notes
If you are making this as a Crock Pot Freezer Meal, it is very easy to assemble - simply use a Hefty One zip to mix the Tomato Sauce, Soup, Diced Tomatoes, & Spices.
When you get ready to use, just pull out of the freezer, and put in the crock pot, all you need to do is add 4 Cups of Water and the Bouillon cubes, top with the uncooked pasta, & beef and cover.
Adapted from Family Fresh Meals
"The" Cents'Able Shoppin http://www.thecentsableshoppin.com/