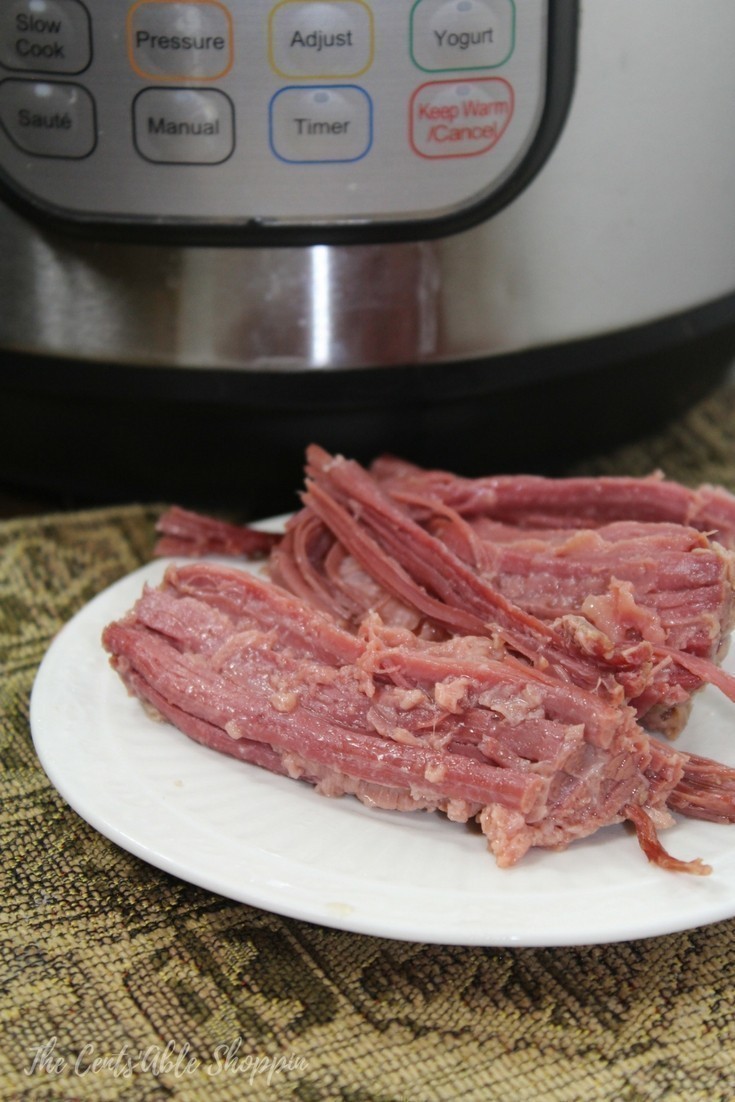 Corned beef has always been somewhat of a must around this time of the year – St. Patrick's Day is coming up and that wouldn't be complete without the traditional Irish Food…Instant Pot Irish Colcannon Soup, and traditional Instant Pot Colcannon…..yum!
Although it's not something you may want to eat every single day, thrown together with some cabbage, potatoes and carrots it's delicious, nonetheless.
We've always had a monster of a time making corned beef ~ while it doesn't seem that complicated, it has always been either pass or fail. In past years, we have used the crock pot and let it cook for hours and hours – sometimes it was tough. Other times, it was salty. … in the end, nobody really waned to go back for seconds or thirds and I usually ended up failing miserably.
I contemplated using just a cup of water, after all, why submerge it in water? It turns out too salty.
Then, I figured that cooking it for an hour was plenty – but who was I kidding? An hour is clearly not enough time – after reading so many other sources, I came to the conclusion that you really can't go wrong with cooking it longer. Corned Beef needs to be cooked for a lengthy period of time or it's tough and not too good to eat.
So bring on the Instant Pot – this made it nearly effortless. The hardest part may have been waiting for it to finish – everything else was just too easy. We opted to cook this on a Sunday morning while we worked on the yard and house, 90 minutes flew by and before we knew it, it was beeping to be removed.
We kept a little bit, and packed up the rest to take to one of our good friends who recently lost his wife to cancer. I knew he could certainly use a change from his regular frozen meals that he relies on if he doesn't have homemade food.

Refrain from putting in the potatoes & cabbage in when you cook the corned beef or they will be a mushy mess. Instead, cook the corned beef on it's own – remove to a platter, and then add the vegetables in for just 5 minutes to cook in the juices that are leftover.
When all is done, keep a little of the liquid so you can drizzle it over the corned beef and veggies. Use any leftover corned beef to make a corned beef noodle casserole
Opt for beer instead of water, and it'll turn out just as super.
Before you get started, bookmark 100+ Deliciously Yummy Instant Pot recipes to work into your dinner rotation, and check out this yummy Chocolate Cheesecake, too!
This recipe was adapted from Food.com for the Instant Pot.
Instant Pot Corned Beef
Ingredients
3

lb

corned beef brisket

2

bay leaves

3

cloves

garlic

peeled

1

onion

quartered

water

or, dill pickle juice, or beer
Instructions
Rinse the corned beef and then place it in the pressure cooker (Instant Pot) along with the spice packet. and onion, bay leaves and garlic.

Pour in enough water to cover the corned beef.

Put the lid on the Instant Pot and seal the valve.

Set the Instant Pot to manual (high) pressure for 90 minutes.

Once done, allow the pot to release naturally for 10 minutes and then do a quick release.

Once you are done, open the lid and move the corned beef to a platter. Leave the other items behind in the cooker.

If you are making vegetables, save the broth in the cooker and place your potatoes, carrots and cabbage within - place the lid on top, and cook an additional 5 minutes on high (manual pressure).
More Irish Recipes: