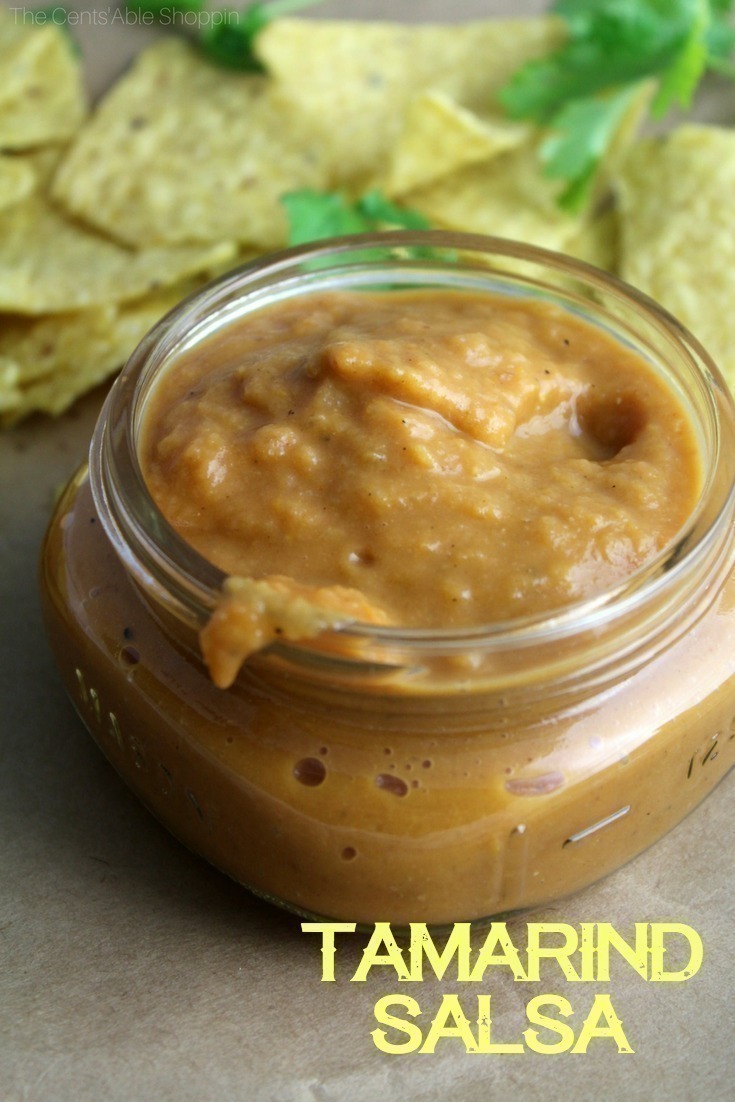 Every few weeks we like to take a drive down to the Mexican market that's about 25 minutes from our house – we'll sit at the restaurant inside and have tacos and caldo de res (beef soup). I just love to walk around and pick up things that I can't usually get in the regular grocery stores around town.
One of those things is Tamarind pods – I'll usually pick up a few bags and use it to make Agua de Tamarindo and it's perfect for hot weather in the summer months.
I usually soak the pods in hot water and then pick out the seeds, and make Tamarind paste – then use that paste to make everything from more Tamarind Water, Tamarind Chicken, and even Tamarind Salsa.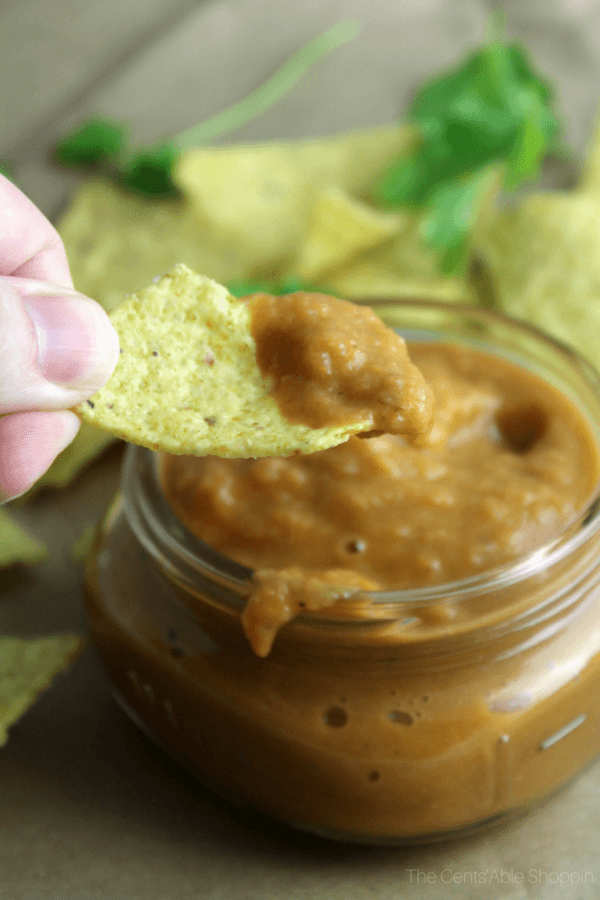 This salsa isn't like typical salsas though – tamarind is quite bitter, and paired with chipotle chiles, it's perfect to dip on chips or pour on tacos. If you aren't up for soaking tamarind pods and picking out the seeds you can always buy tamarind paste and the bag goes quite a long way in various recipes (this one is one of our favorites!)
Pick up a can of chipotle chiles in store, or opt to make your own (they are really easy to make and freeze yourself, too). Store the covered salsa for 3-4 days in the fridge – eat with chips or dump on your breakfast hash.

*Chipotle chiles can pack some heat – if you are looking for a more mild finished salsa, opt to use 1 or 2 chiles at most; for more flavor/spice, use 3-4.
Ingredients
2 roma tomatoes
1 whole medium onion, quartered
3 whole chipotle peppers in adobo sauce
3 Tbsp adobo sauce from the whole chipotle peppers
1 C. tamarind juice or, 1/4 C. tamarind paste + 3/4 C. water
1 cone Mexican piloncillo
5 cloves garlic, skin on
1/2 tsp salt, or more as needed
optional: 1/4 C. cilantro
2 Tbsp extra virgin olive oil
Instructions
Turn on your oven to 450 degrees F (roast).
On a lined cooke sheet, add the tomato halves, onion and garlic and lightly drizzle with the oil
Place in the preheated oven and roast for 15-20 minutes or until charred.
While that is in the oven, in a medium skillet, combine the piloncillo and tamarind juice on low/medium to soften the sugar. Push aside when done.
Once the oven is done roasting your sheet pan items, peel the garlic and combine the garlic with the tomatoes and onion in your blender. Add the skillet ingredients, chipotle peppers, adobo sauce, salt, and optional cilantro and puree until smooth.
Pour into a serving dish and enjoy!
https://www.thecentsableshoppin.com/tamarind-salsa/