These Mickey Mouse Churro Cookies taste just like real churros – in the shape of Mickey Mouse! The perfect delicious treat for little hands!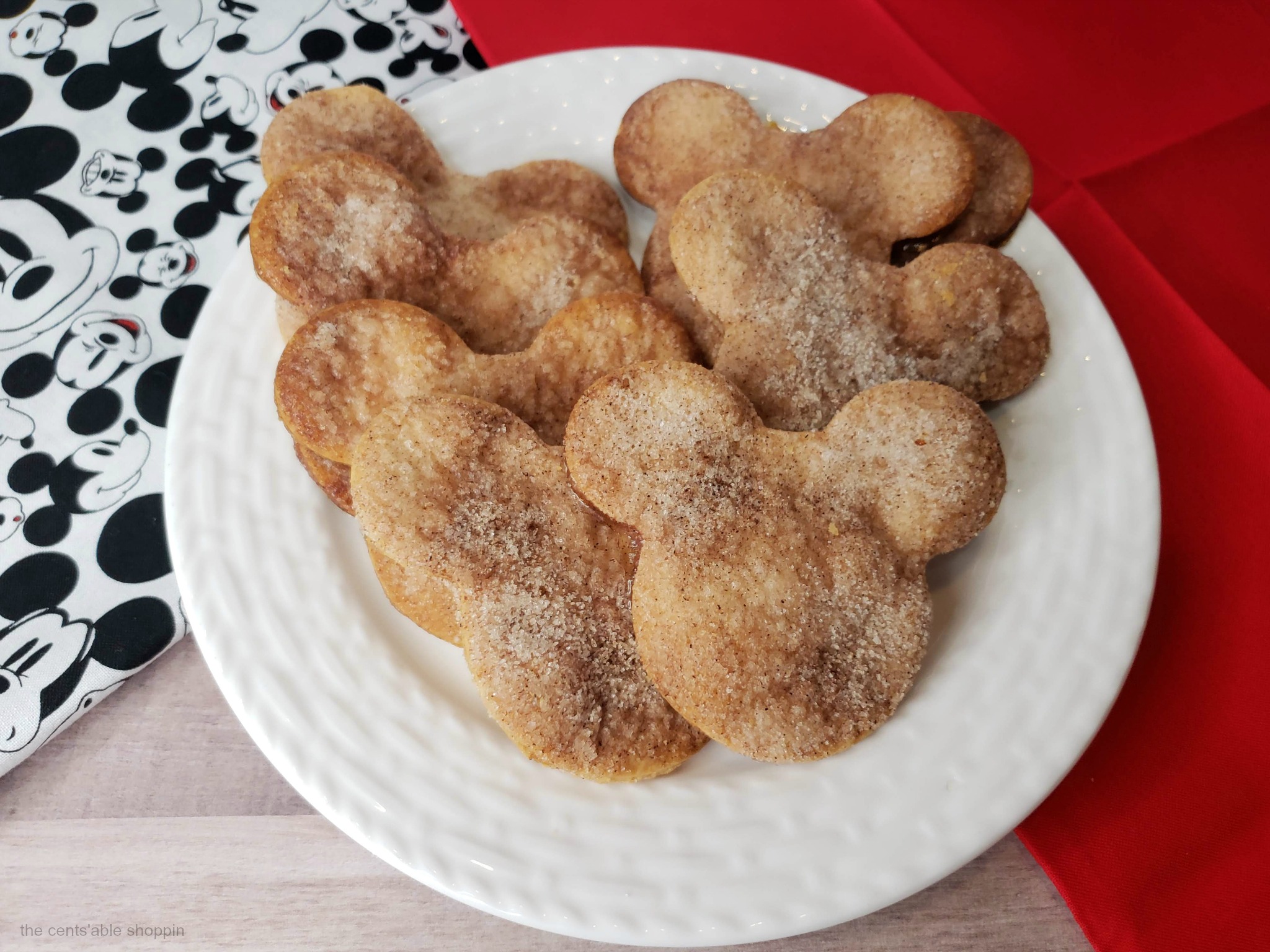 If you've ever been to Disney or even LEGOLAND, chances are you have had their churros…
At LEGOLAND, they sell them on this little tiny cart that's located in the middle of the park… The churros are served maybe six to a tray (if I recall..) and with a delicious, almost addictive chocolate sauce.
All right… so maybe more than a little addictive. I could downright eat the entire container of chocolate sauce with a spoon and completely neglect the churros altogether. 😂. Let me just say though that the churros + the chocolate together are beyond anything your wildest dreams could ever imagine.
I'd pay $20 for that tray of churros and chocolate. #justsayin
Mickey Mouse Churro Cookies
These Mickey Mouse churro cookies are so close in taste to those churros at Disney. They are so easy to whip up — just a simple pie crust is all you need. Use your favorite Mickey Mouse cookie cutter…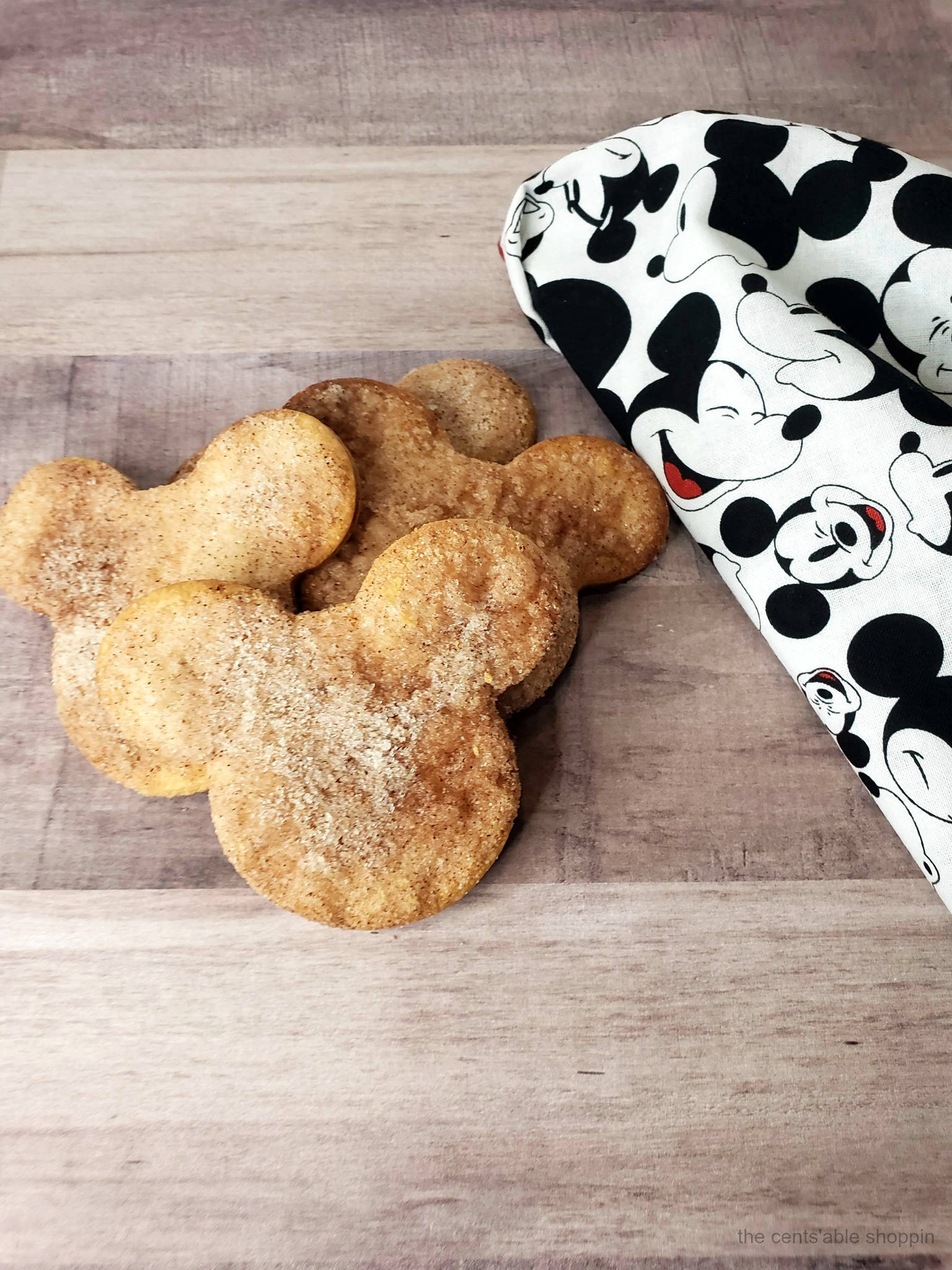 Then, once the pie crust is cut with the cutter, lay the cookies on the cookie sheet and brush with butter. Yum!!!! Mix equal parts of cinnamon and sugar and sprinkle it on the cookies right before baking. Bake them for just a few minutes before letting them cool.
You'll never want to go back to regular sugar cookies again – I promise!


These Mickey Mouse Churro Cookies are perfect in a pinch – kids and adults will love them with a glass of milk. Or dunk them in a bowl of ice cream. Go a step further and drizzle them in a delicious melted chocolate sauce.
Tips for Making Mickey Mouse Churro Cookies
Use your favorite pie crust from the refrigerated section at the store. If the pie crust comes frozen (like Pillsbury), allow the sheets to thaw briefly before you cut with the cookie cutters.
I love this Mickey Mouse set of cookie cutters on Amazon – it has held up beautifully through many many trays of these cookies!
Parchment is a must! It'll help prevent the cookies from sticking to the tray. Have baking mats? You can use those instead.
Don't overtake! These cookies require just 6-8 minutes of oven time. Allow them sufficient time to cool before digging in.
Did you make these cookies?
Please take a minute to rate the recipe and let me know how they turned out! Were they a hit with your kids like they were with mine?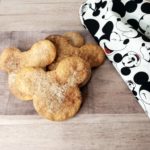 Print Recipe
Mickey Mouse Churro Cookies
These Mickey Mouse Churro Cookies taste just like real churros - in the shape of Mickey Mouse! The perfect delicious treat for little hands!
Equipment
Mickey Mouse cookie cutter

cookie sheet

cooling rack

spatula

parchment paper
Ingredients
1

Ready Made Refrigerator Pie Crust

or homemade pie crust

cinnamon

sugar

butter

melted
Instructions
Preheat oven to 450*.

Unroll or roll out pie dough. To avoid sticking, you can sprinkle a little bit of powdered sugar on your flat surface. 

Use cookie cutter to cut out the desired shape. Continue doing so until the entire amount of dough is utilized. If you are using the ready make refrigerator pie crust, you can combine the scraps of dough, roll them out and cut out additional shapes.

Place your cookies on a baking mat or parchment paper.

Melt butter, brush on the cookies. Sprinkle with cinnamon sugar.

Bake for 6-8 minutes, then let cool.
Notes
** These cookies are best served warm and would be delicious with a chocolate or cream cheese drizzle.