Disney is a wonderful place to visit – no matter what your age! Here are 8 tips for making your first trip to Disney one that you will never forget!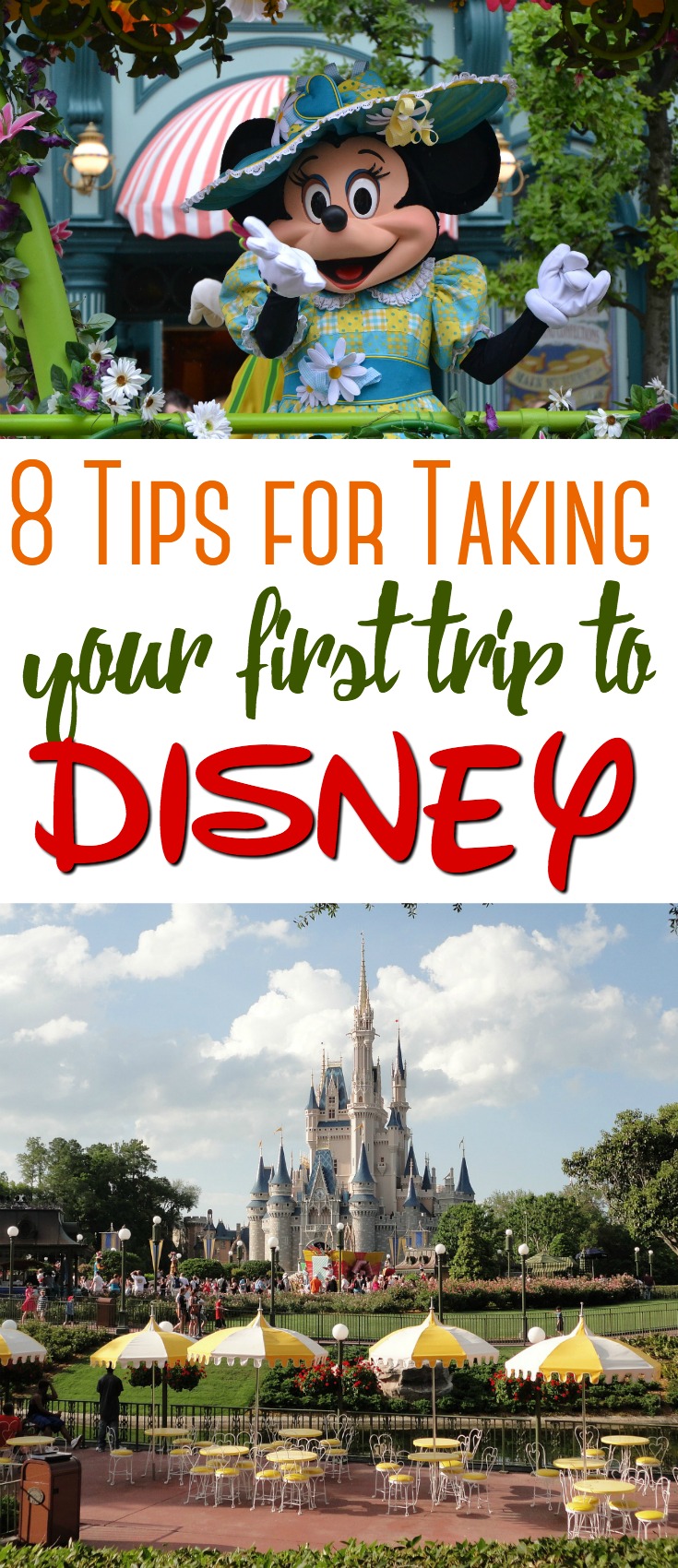 Here in Arizona, we're fortunate enough to be just 6-7 hours away from a trip to Disney – in fact, it's a common spring break destination (and a busy one at that!) Some families head out to Disney in the summer during the beautiful yet warm weather, while others try to go in the fall when the temps die down.
I personally love to go to LEGOLAND and Disney in the fall — and by fall I mean late October/November. I try to avoid going when the public school kids have break, as it gets really really busy out there and can be hard if you have lots of kiddos.
Tips for Taking your First Trip to Disney
Whether you go to Disneyland or Disney World, you're in for lots and lots of excitement. Certainly the kids are some of the most excited little people to want to leave, but for parents the planning process can be oh so confusing. If you are taking your first trip to Disney, it's helpful to know what to expect and tips shared from others can make your trip a wonderful experience.
Planning any trip can be overwhelming – but Disney can be even more challenging. You'll have to choose which parks to visit, where to stay, what to see first, what time of the year to visit – and then there are food options. You can't possibly forget food. It's no fun to have rumbling tunnies out there, and kids can be very very grumpy when they don't get their food.
Here are some great tips to keep in mind when you are planning your first trip to Disney.
Pick up the Kindle
No, this is not required, but for $10… it sure gives you lots to think about in prep for your trip.
Pick up The Unofficial Guide to Walt Disney World – it has a lot of great information on there (and since it's on Kindle you can read it on the go, too!) and is a valuable resource for planning every aspect of your trip.


Plan your Trip for the Right Time
There is an OFF Season for Disney that you will want to make sure you familiarize yourself with – try not to visit during the holidays, and try to visit during specific times of the year to have the best experience.
Off Season:
January 15th – March 15th
After Easter to Mid-May (Do not take the kids on Spring Break!)
After School starts in September through early-Nov.
You Will Not Experience All of Disney in one Trip
There is a reason many people frequent Disney on more than just one occasion. There are so many attractions, activities, and foods to try, that no one can experience all of the magic at once. When planning your first trip to Disney, decide which experiences are most important to you and your family. Once you have seen and done what your hearts desire then you can move onto exploring the other parts of Disney.
Child Swap Passes are Available for Restricted Rides
Have you ever gone to an amusement park, or fair, and found that you were unable to go on some of the rides with your kids? If so, you'll love to know that the Rider Switch Pass allows one parent to ride the rides with the older child. Once the ride is over, you can then swap places with your spouse.
Your spouse can hold your child, while you hop on the ride with your oldest. This way, you won't have to jump back in the huge line.
Schedule a Midday Break
If you have little ones, you know that they can get exhausted incredibly easily. Trying to have a fun time with a tired and cranky toddler is nearly impossible. If your little one still requires naps, do not plan on them being able to fall asleep. It'll be crowded and noisy – not to mention uncomfortable in a stroller.
If you are able to stay at a Disney resort, plan to head back to your hotel for a midday break. That will allow your kiddos to cool down and relax. After all, their little legs can only handle so much walking at a time.
Take Your Time
There is always a lot of pressure to enjoy everything all at once, that everyone becomes cranky. Don't be afraid to stop and collaborate with the family. Break into groups to tackle more. If one kid is cranky, an adult can stay with that kid, while the other adults tackles the rides. Disney can be overwhelming for the first time family.
Prepare to Spend Money
It's highly unlikely that you can walk into Disney and not pay a dime for something. Set aside a certain amount of money that you're willing to spend. Whether that's for buying water or for buying the kids a treat. Just don't think you can skate by without spending something!
Our kids were infatuated with the gift shop. While I didn't want to say no, I certainly didn't want to empty my wallet there, either. It's so easy to get out of control allowing them to buy lots and lots of (sometimes) unnecessary toys. To help us with this specific problem, we talked about the gift shop before we started our trip. We also helped each of the kids work towards their own allowance in the weeks leading up to our trip.
Don't Be Afraid to Ask Questions
If you go to Disney and aren't prepared for how things work, you can get overwhelmed quickly. One thing to keep in mind is that asking questions is OKAY! Most Disney Cast Members don't mind answering your questions. It's better to ask and know, then to get confused!
This doesn't cover all for the family going to Disney for the first time. Just keep in mind that some things you can prepare for at Disney. Other things, you'll need a little experience yourself.
That's not all though – when you do head out on your trip, find 17 Ways to Save on your Trip to Disney, whether you go as a couple or with the entire family.
What tips do you have for going to Disney for the first time?