It's hard to believe that time passes by so quickly. Before time slips away from you, here are 30 things to do with your son before he graduates.
As the old saying goes, kids grow like weeds. One day they cling to you as if they will never see you again, and the next you will be lucky to get a, "goodbye!" as they run out the front door to hang out with their friends.
It's hard to believe time passes by so quickly.. I've got two boys that are growing so fast. Just yesterday they seemed like they were tiny. Now, ten years + later, one is already talking about where he's going to live after high school. Yikes!
30 Things To Do With Your Son Before He Graduates
Before time slips away from you and your guy graduates high school, here are 30 things to do with him.
Teach him to tie a tie.

Help him open a savings account.

Help him land his first job.

Talk about his dreams and goals.

Help him study for the SAT's.

Tour a college with him.

Teach him to drive a stick shift.

Go to a concert with him.

Create a recipe book with him, to have on hand when he is away at school.

Teach him to do laundry.

Take him to a major sporting event.

Help him plan the perfect date.

Teach him to do his own taxes.

Buy him a nice tie, for future job interviews, and review what kind of questions may be asked.

Go paintballing with him.

Grow a garden with him.

Go to a monster truck show.

Build something awesome with him.

Try an exotic food together.

Bake a cake with him, so that he can one day impress someone special.

Go jet skiing together.

Participate in a 5K, whether you both run the whole time, or just walk through it.

Go fishing together.

Take an adventurous road trip.

Volunteer at a kitchen or shelter.

Drive around a fancy car lot and act like you are interested in checking out the interior. Maybe even get a test drive.

Rake the neighbor's yard or shovel their driveway together, without accepting any type of payment.

Take him on a vacation, just the two of you.

Go camping.

Take an exercise class, together, at a trampoline park.
Spending time with your son(s) is one thing you'll never regret. The time you spend with him now you'll never get back, which is why it's so important to make a big deal out of it.
Just remember that you can always add to this list. When you think of an idea of something to do with your son, before he graduates, add it to this list.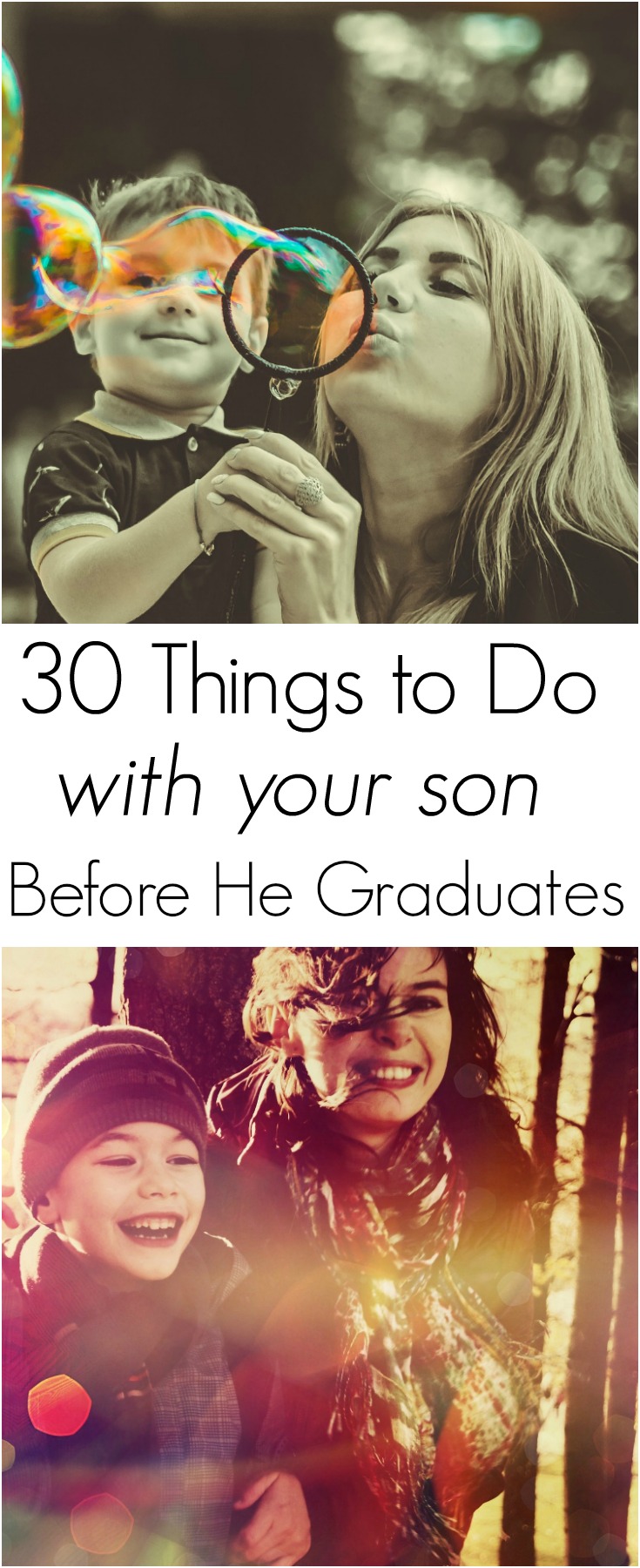 More good reads:
Creative Mother Son Date Night Ideas