Driving through Amarillo, Texas? Check out these tips for visiting Cadillac Ranch in – a roadside landmark and public display of art.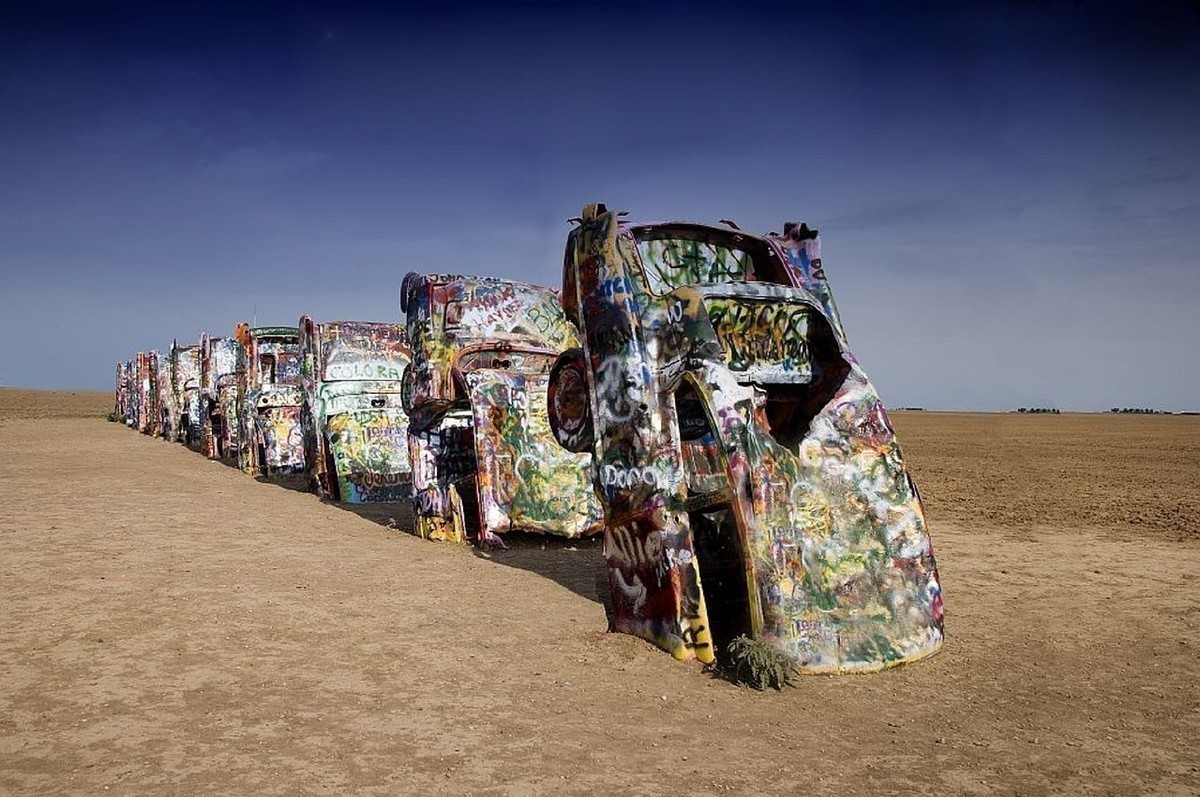 Chances are, if you have driven any part of the American southwest, you have been on the beautiful Interstate 40 that connects Barstow, California to Raleigh, North Carolina.
I'm betting very few have driven the entire span. If you have been on the Interstate, you may have driven a portion of it. The interstate passes through Arizona, New Mexico and even Texas. It is the third largest interstate in the entire U.S.
Here in Arizona, the I-40 spans the northern part of the state, passing through Flagstaff, Winslow, and Gallup. It then moves through Albuquerque and farther east to Amarillo. For us, it's the key to getting up north to visit family and we travel the long road trip at least once each year… sometimes even twice.

I recently decided to take a sporadic, unplanned road trip with my 5 kids. We traveled from hot and dry Arizona to lush, green (and humid) Minnesota and spent almost two days on the 1-40. The long road went through Amarillo, Texas before heading north on 1-35 to get up to Minneapolis.
Since air flights are not the most cost effective route, driving is key. There really isn't any better way to see the U.S. than from the seat of the truck.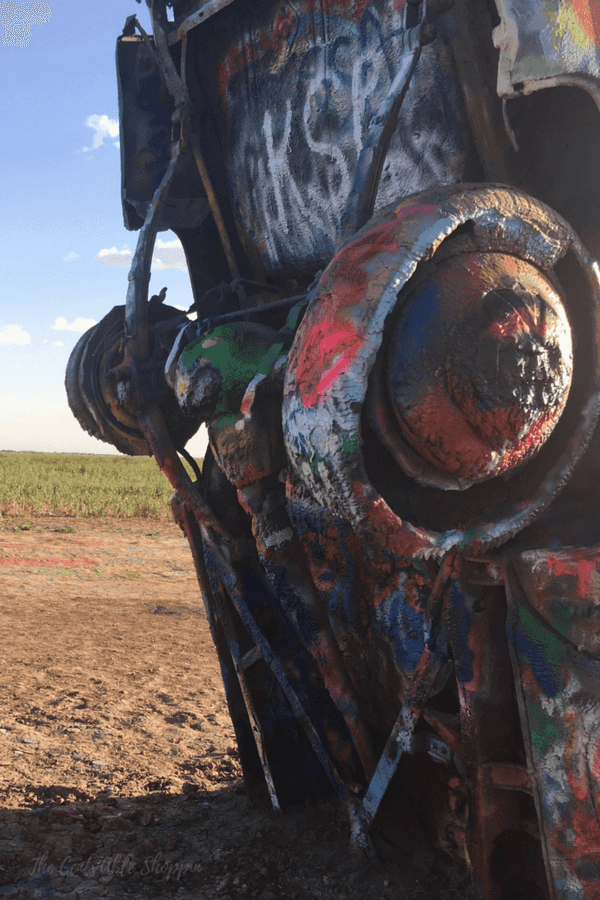 One cannot possibly pass through Amarillo, Texas without stopping at Cadillac Ranch. It's a [FREE] must-see attraction for both young and old. This roadside landmark is just south of the 1-40, ten miles outside of Amarillo – between exit 60 and 62. If you aren't careful it's easy to miss the exit.
If you are headed East on 1-40, after you stop at Cadillac Ranch you can pull over just outside Amarillo at The Big Texan Steak Ranch. Enjoy a chance at a FREE 72 oz steak.
What is Cadillac Ranch?
Cadillac Ranch is a public display of art – which was created in 1974 in an open area of Amarillo farmland. The current location, just off the 1-40, is not the original, but was moved due to the expansion of the city in the mid-90's.
A group of artists in San Francisco (Ant Farm) were sponsored by Stanley Marsh 3 (a Texas millionaire). Marsh wanted a type of modern art work to invigorate the area, and so the Ant Farm created the ranch as a tribute to the evolution of the Cadillac tail fin.
The purpose of the ranch is to show off the evolution of the tail fins through a series of art – ranging from a 1948 Cadillac to a 1963 Cadillac.
Fun Facts about Cadillac Ranch:
10 Cadillacs are buried in a single file line, over a stretch of 140 ft
The cars are aligned East to West in order by year
The models range from 1948 to 1963 (records show a 1963 Sedan DeVille) – the first Cadillac to carry a tail fin was a 1948 (hence why they started with that year)
The current Cadillac Ranch is not the original location, but is just 2 miles west of the original position
The current location has been so since 1997
The cars are now far from being in their original condition. Back in 1974 when they were buried, they were done so with their normal body color in original condition. It was just 2 years after the inception of the ranch ( 1976) that people started to paint them. With no way to protect them, the painting continued.
You can see the transformation of these Cadillacs over time.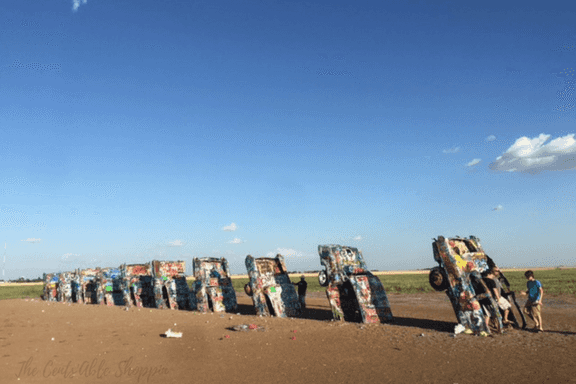 Tips for Visiting Cadillac Ranch in Amarillo, Texas
Our kids though it was pretty unique – and of course, we had to stop. If you decide to visit Cadillac Ranch here are some tips you may want to keep in mind.
#1: It is a field that can be dirty or muddy: Cadillac Ranch is in a big field. A big dirt field. And the walk is quite significant, at least for little people. If you have a new baby starting to walk, I probably wouldn't let them walk on their own. The walk is lengthy, and it's a field, so it's bumpy too (avoid the stroller!)
Although it doesn't rain too often in Amarillo, if it does, the area turns into a muddy mess. So keep that in mind when picking your shoes out for the day.
#2: It's windy: Since it is an open field, it can be quite windy. The surrounding area is plains, and no matter what time of the day you go to visit, things will blow. It's best to partner your kids together and have them walk and hold hands or take the hand of your little ones so they don't struggle to walk out there.
Wearing clothes like shorts or pants is most appropriate. Dresses aren't recommended or you will be holding it down as you walk. ;)
#3: Bring a camera: Whether it be your iPhone camera or a regular camera, please do not leave it in the car. You really will want to snap as many pictures as you can of the cars, and your family by this unique roadside attraction.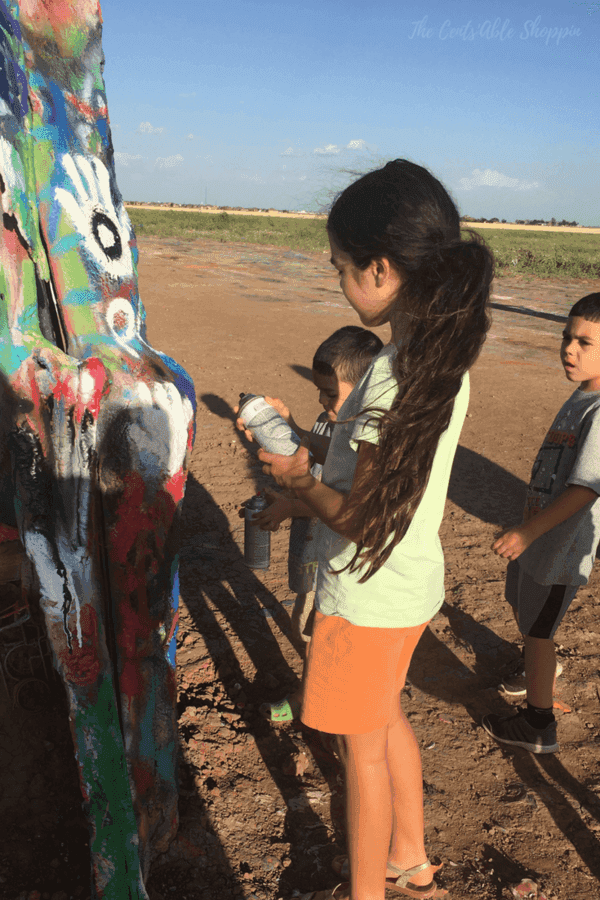 #4: Bring (or don't bring) spray paint: Believe it or not, spray painting the cars is encouraged. Your kids will probably want to try painting on their own, too. If you don't bring paint, don't panic. We did not bring any and we were given a huge bag of 9 or 10 cans. Everyone is eager to share, and will often hand you a can on your way in.
Just remember though, it's an open space, and that paint will blow in every direction so be prepared to smell or like paint or be painted yourself.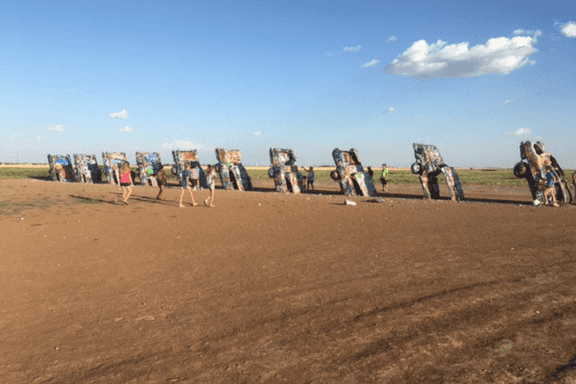 #5: Pick up your trash: If you are bothered by trash, you probably need to put some blinders on when you visit. As neat of an attraction as it is, many people do leave their trash there on site. Litter from plastic bags to spray cans that are half empty or broken. Try to pick up your trash or cans when you leave so you aren't contributing to the litter in the area.
There is a dumpster along the road that you can throw your trash into so you don't have to drive away with spray paint.
#6: Don't wear your best clothes: You don't want to dress in your worst either.
The wind and dirt, combined with spray paint make for pretty stained and stinky clothes. As much as you avoid it, there is no safe way to leave without getting at least some stains on your shirt or pants. Try to avoid wearing your best clothes and dress a step down.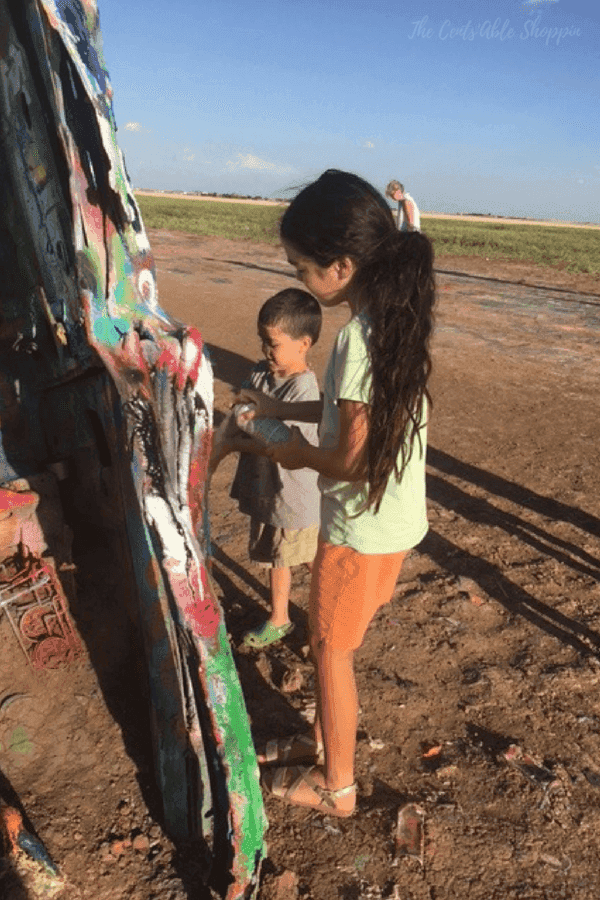 #7: Wear the proper shoes: I can't believe I would have to say this, but shoes. Wear the proper shoes – it's dirty, windy and can be muddy, and it's a rather long walk. Wedge shoes, heels or even platforms — why do it? If you have kids, try to bring them regular shoes instead of flip flops. That dirt will easily find a way to coat their feet and make a nasty, stinky mess later on.
Our girls had flip flops and after we left, the girls were complaining about dirt in their feet – needless to say, next time it's running shoes or Crocs.
The best part about Cadillac Ranch is that it is FREE for anyone to stop by. There are no official hours for this roadside attraction. As long as it's daylight, feel free to pull over and stretch your legs and take a break.
The area is also close to several other roadside attractions you will want to visit, too!
The Buggy Ranch: 1-40, exit 96, along the south frontage road in Conway, TX (east of Amarillo). This ranch is a tribute to the VW Beetle and features 5 Volkswagen Beetles buried nose in the dirt and covered with graffiti.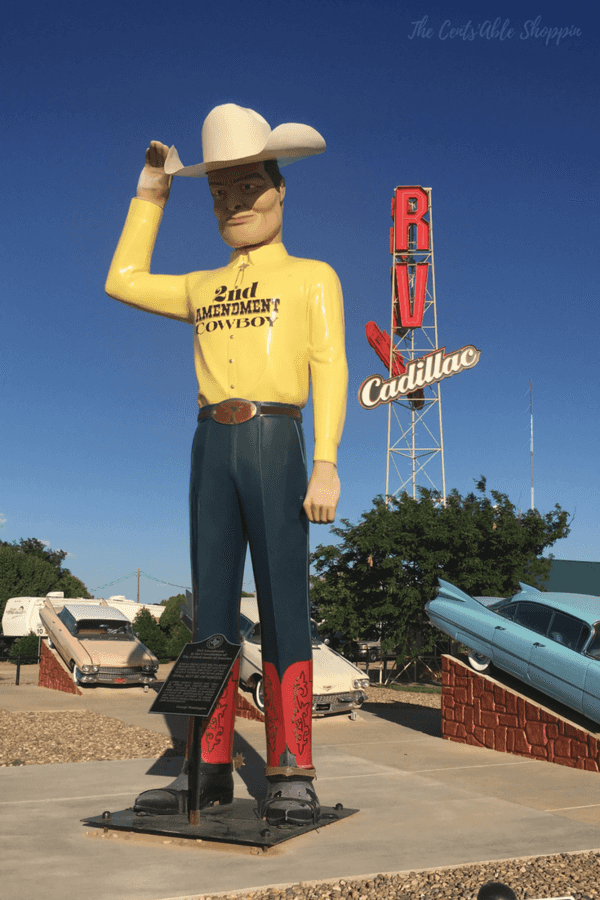 The Muffler Man Cowboy: 1-40, Hope Road south frontage road in Amarillo (less than a mile from Cadillac Ranch) at Amarillo West RV Park. The 2nd Amendment Cowboy (dubbed Muffler Man) is a Glenn Goode formerly riddled with bullet holes, who stands tall and reminds people of their right to Bear Arms.
The location is an advertised Amarillo Steakhouse, in addition to 3 old Cadillacs that are not spray painted and are placed on a tilt with the nose down. There is a gift shop on site though it closes mid-afternoon.
If anything, it's a great photo opp and another place to stretch your legs.
Have you been to Cadillac Ranch?