Besh Ba Gowah Archaeological Park and Museum is a prehistoric Salado masonry pueblo located one mile southwest of the city of Globe, Arizona.
We started our (home) school year just a few weeks ago and one of our goals this year is to take a field trip once a week with the kids. Our kids have been brainstorming ideas and writing them in a notebook.
They successfully mapped out over 48 trips for the next 48 weeks. It's going to be quite a fun adventure I'm certain!
One of our recent field trips involved driving out to Globe to visit Besh Ba Gowah Archaeological Park and Museum. The trip was a last minute adventure that turned into one of the best days we've had in a while!
Besh Ba Gowah was an hour drive from East Mesa through the towns of Gold Canyon, Superior, Miami and into Globe.
History of Besh Ba Gowah
Besh Ba Gowah is a restored ancient ruin of the Salado people, who occupied the site from 1225 A.D. to 1400 A.D. The tour, while self guided, will allow you to see and experience the history of the people who came before.
The ruins are now what is left of the Salado village. They are also what remains of a society of ancient ruins that are different from that of the Tonto National Forest Cliff Dwellings. Besh Ba Gowah dwellings were near Pinal Creek, and was used to help the Salado people transport water back to their village.
Besh Ba Gowah Ruins
Once you enter the ruins to take a self-guided touor, you will see a large number of spaces outlined by rocks. The Besh Ba Gowah community had approximately 400 rooms. Rooms varied from craft rooms to storage rooms, ceremonial rooms and sleeping quarters (typically upstairs).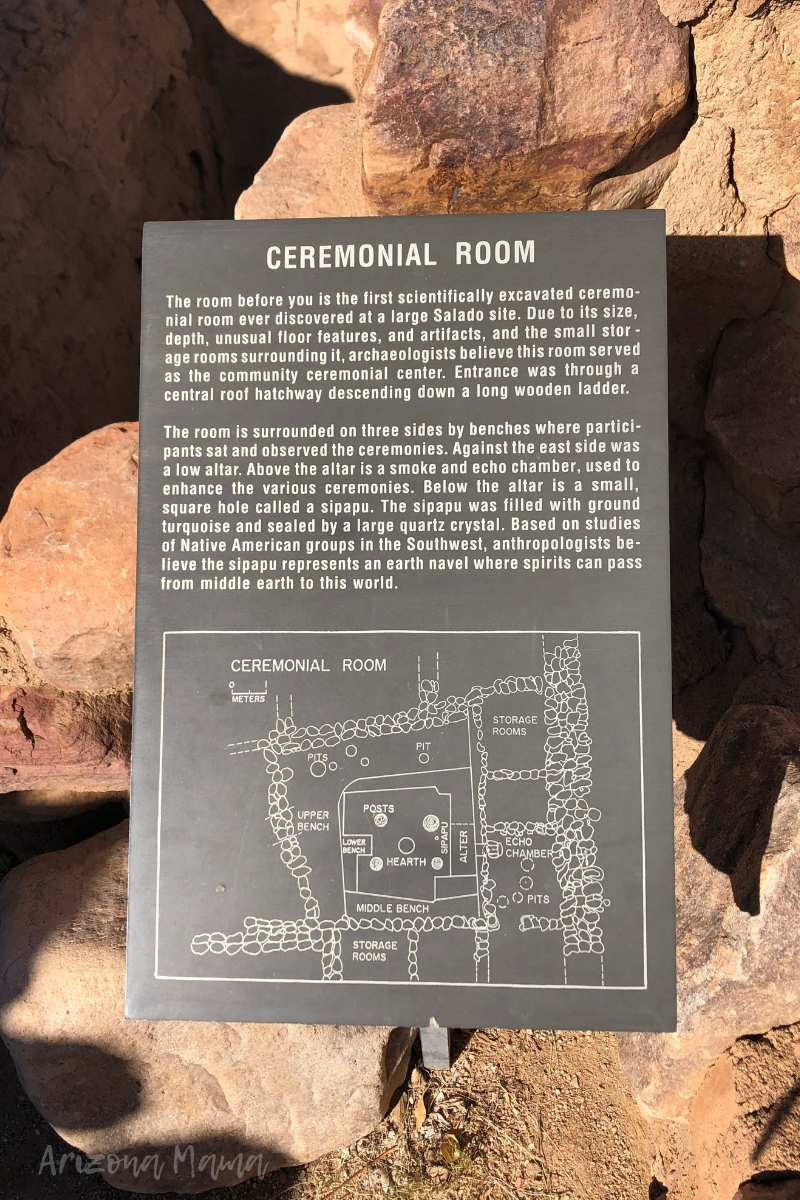 Each room has its own unique characteristics, as you can see in some of these pictures. The archaeological park does a great job of detailing what each room was used for within the community through signs that educate.
As you take your self guided tour of the area, you will notice separate outdoor areas – seating areas (with pits that are done-lined). You might also see a large activity room several families congregated for cooking. Much of the Salado people spent their daily life outdoors.
The ceremonial room was of the most notable areas where people gathered together for ceremonies and festivals.
The living quarters pictured below is two stories and on the side, you'll find a ladder leading to the top. The opening of the ladder was made of mud and reeds. Many of the buildings have few openings, while most had insulation close to one foot.
The multi-level areas had various floor levels – in fact, imagine having an upstairs in your home that had a different floor depth between all of the rooms (unbelievable – right?) The storage rooms you may see throughout the archaeological park were built with an absence of windows (much similar to our storage areas in the present time).
Additional Tour Areas
Besh Ba Gowah means "city of metals". The name is characteristic of surrounding mining communities of Globe and Miami. In the early days, Globe was mined for silver and gold; when supplies ran low, the mining turned to copper.
Pinal County was (and is) indeed one of the richest areas in the world for copper.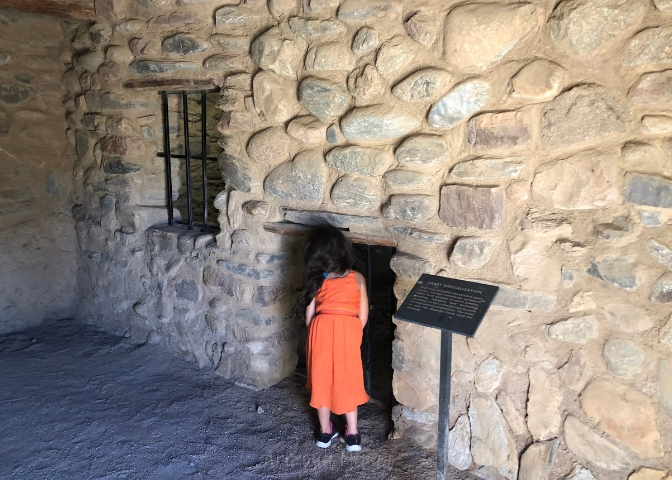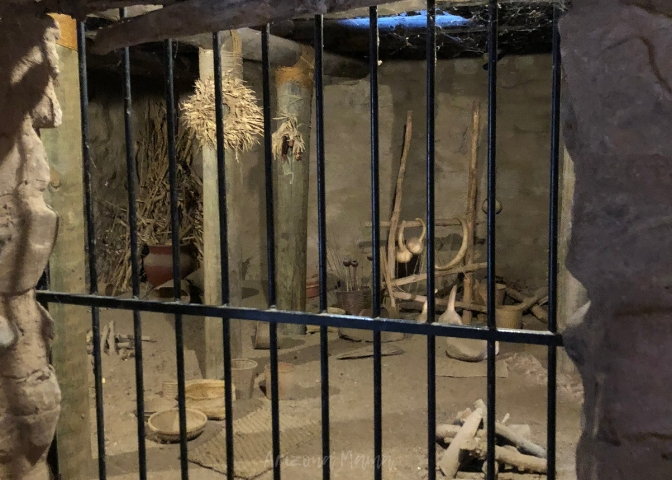 When you visit the archaeological site, not only will you be able to take a self-guided tour, you can also catch an informational video in the park center.
The video is a mere 12 minutes and full of information. We watched it before taking our park tour. If anything, it helped form a base of information to help even the smallest kids learn about the area.
Connected to that video room is an artifact room ~ that room has a significant amount of historical information on the Salado people. You can also read about the excavation and see the artifacts that have been preserved.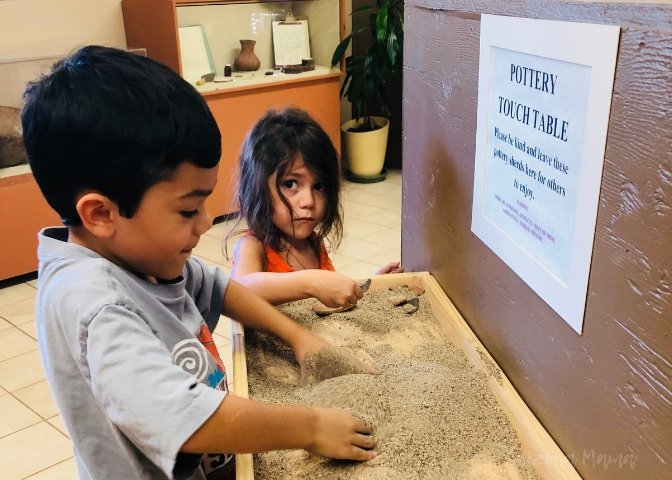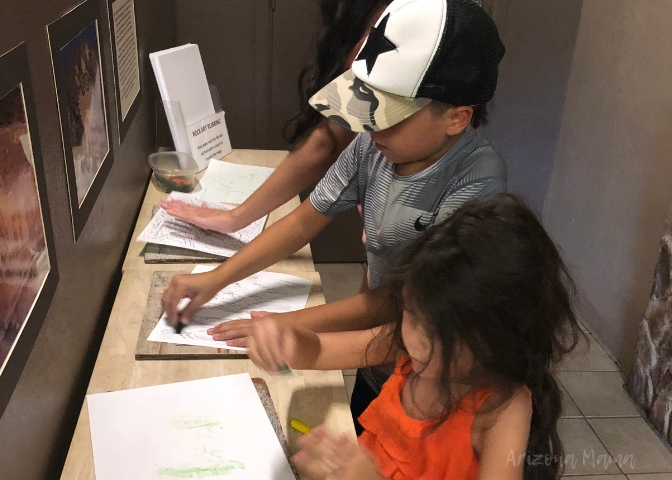 Although museums can sometimes tend to bore kids, they did have quite a few hands on activities there for the kids too do. You can find a pottery touch table and embossing activities – both were a hit for my kids.
Connected to the archaeological site is a botanical garden. There are so many varieties of plant life and the garden is well tended. The park center has a significant amount of i information on the different varieties of plant life available there at the archaeological site.
Hours and Admission:
Besh Ba Gowah is located at 1324 S. Jesse Hayes Road in Globe. The archaeological site is pet friendly and wheelchair accessible.
Hours:
Open Daily 9-4:30 Closed- Thanksgiving, Christmas, and New Year's Day
Summer Hours
July 1 – September 30- Closed Monday & Tuesday Admission for adults is $5, Seniors (65+) are $4, while children 12 & under are free.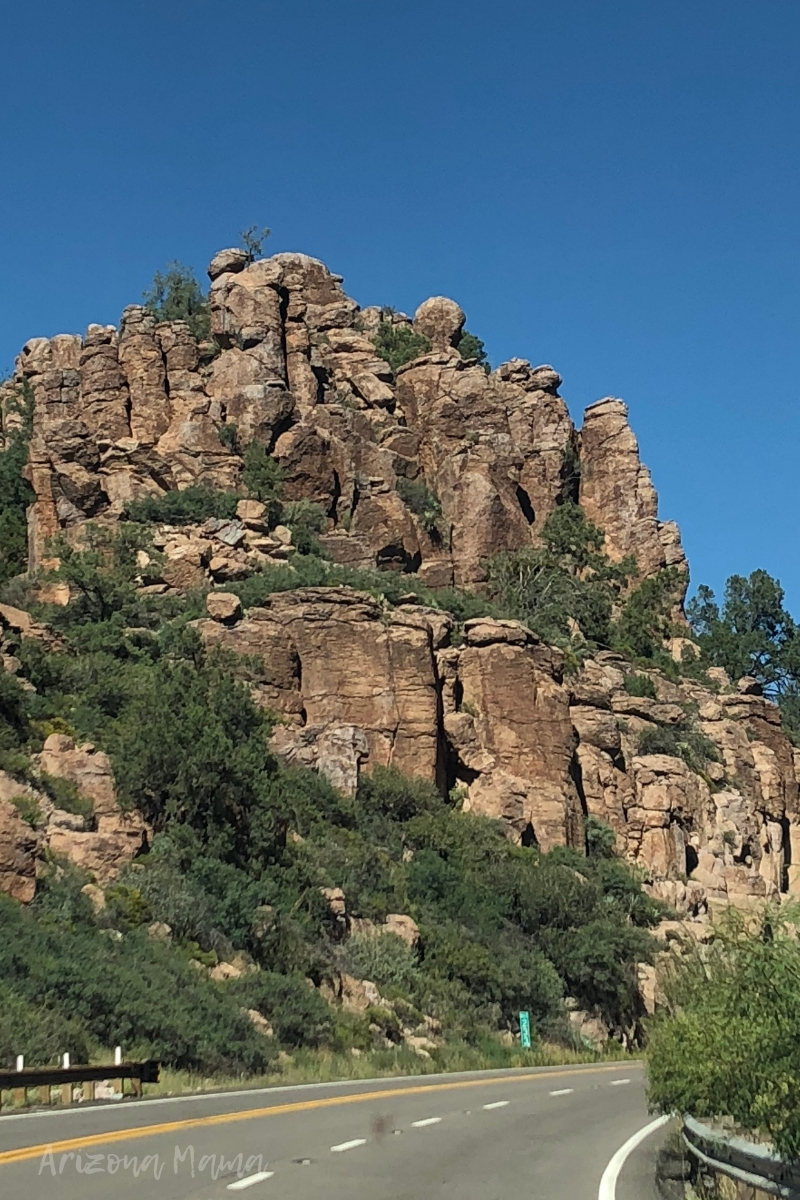 The Drive from Phoenix
The drive out to Globe from Mesa/Phoenix is one of the my favorite drives in the entire state of Arizona. Once you leave Mesa, you'll pass through Gold Canyon and Queen Valley into Superior. Kids will enjoy traveling through the Queen Creek Tunnel and through Devil's Canyon.
If you have a passenger that loves photography, throw them the phone or camera and let them go wild. While my kids "ooh" and "aaah" at the curves and mountains my oldest loves to sit in the car and snap away.
If you are making this an educational trip, you can incorporate a little "local" history ~
The history of the Silver Queen and Silver King Mine, at the base of Picket Post Mountain.
How did Queen Creek, Arizona get it's name (Queen Creek) and what was it named before being named Queen Creek?
The founding of the town of Superior (George Lobb, Sr. – a native of England)
The role of William "Boyce" Thompson (a native of Montana) and the Inspiration Mine.
The start of the Magma Copper Company in 1910 by William Boyce Thompson and George Gunn.
The beautiful drive to Besh Ba Gowah and back leaves so much opportunity for kids (of all ages) to learn about the rich history of the area.
This trip to Besh Ba Gowah would actually be a good compliment for a day trip to the nearby
Tonto National Monument
&
Roosevelt Lake/Bridge and Dam.