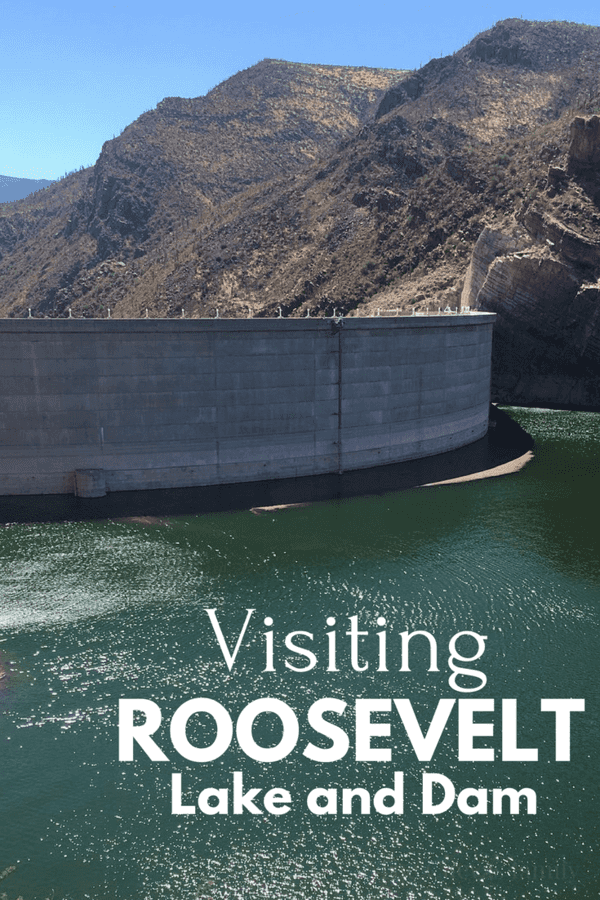 We're always looking for fun day trips to take the kids to different places here in the local Phoenix area or a few hours away.
Here in the Phoenix area, we really are lucky to have so many things to do – despite the heat, we can drive up the hill to Payson or Flagstaff, or down towards Tucson to see the mine just south of town. We can check out any of the many National Monuments – some just a short distance away.
As much as I love to drive up to Payson or Flagstaff for the day, it's not always possible – if you get a late start, traffic can be gnarly coming home – and then we have road construction so forget about it.. who wants to sit in that mess with kids?!
Definitely not me.
Sometimes the road less traveled makes for the best experience and going out to Roosevelt Lake is one of those adventures that may prove to be just that.
Have you ever been out to Roosevelt Lake? Or considered? If not, it's a beautiful place to spend a lazy Saturday!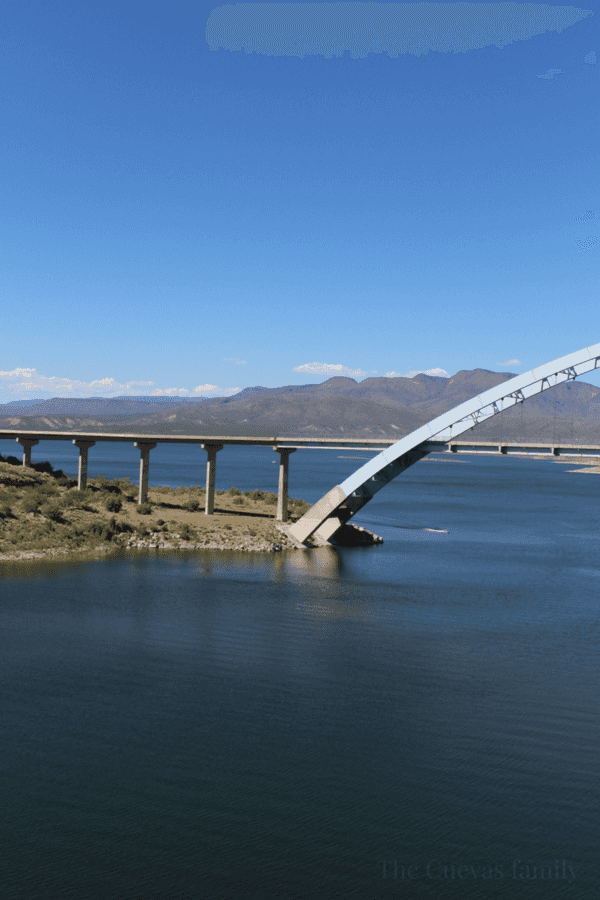 About Roosevelt Lake
Theodore Roosevelt Lake is a man made lake formed by the construction of the dam on the Salt River in 1911 – it's the oldest artificial reservoir in our state of Arizona. It's relatively close to Phoenix, and the shortest route is through the unpaved Apache Trail. It's a wonderful place to do a day trip with the family and an great learning experience for kids.
There are 3 ways to reach Roosevelt Lake:
From Globe: Take Highway 188 for 30 miles north of Globe.
From North Phoenix, Mesa or Scottsdale: Take HWY 87 north to HWY 188, then go south 40 miles. You will pass through Punkin Center, and Jake's Corner – the road is completely paved.
Apache Trail: This route is through the far East Valley – and is one of the most beautiful, scenic drives in the entire state. It's best to go in Spring.. when the wildflowers are in bloom (March – May). It's the shortest distance but may take the longest since most of the road is unpaved. Take Apache Trail (HWY 88) from Apache Junction and pass Canyon Lake. You'll reach Tortilla Flats, where the road becomes unpaved and you'll encounter hairpin turns and sheer cliff dropoffs.
Along the way, you will pass Apache Lake, then continue on those hairpin turns and extreme cliff drops until you see a large dam and lake which is Roosevelt Dam and Roosevelt Lake. If you have kids, think twice about taking this route – although it's the most gorgeous, it's a long trip for kids if they have to use the restroom.
Before the Dam
The Salt River starts high in the White Mountains as runoff from snow finding it's way to creeks and streams, and eventually to rivers. Early Phoenix farmers were frustrated because the flow of the Salt River was erratic – nothing in summer but flooding at other times throughout the year.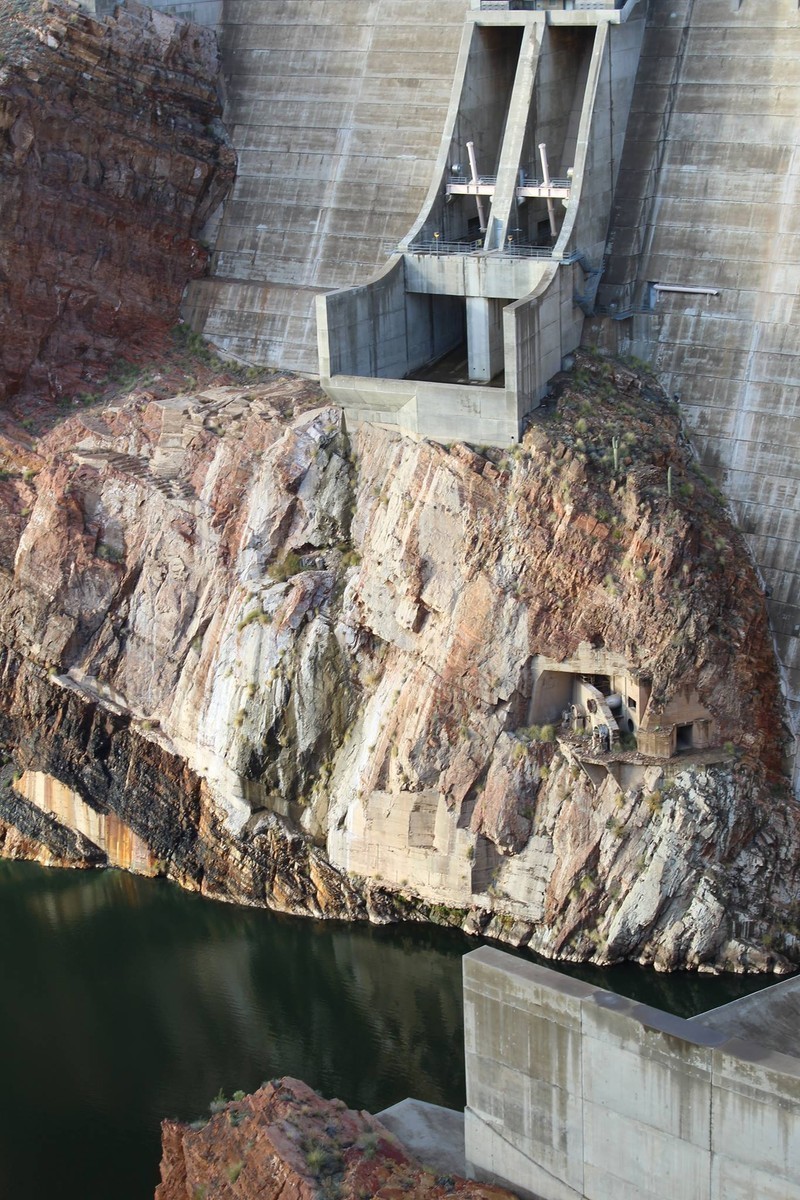 The Dam, which started construction in 1906, took 5 years to create and was believed to help manage the river so that the farmers would have a dependable water supply. This dam controls the flow of the Salt River water through irrigation farms, cities and districts.
The Roosevelt Dam is the first major structure constructed only the Bureau of Reclamation on the Salt River Project, and sit's 280 feet high and 723 feet long. Roosevelt Lake is the biggest of all six SRP lakes and has the most recreation opportunities.
Location: 80 miles east of Phoenix
Size: Over 19,000 surface acres
Max depth: 349 feet
When the lake is full, it covers over 17,000 acres near Tonto Creek and the Salt River – you can find channel catfish, smallmouth and largemouth bass and more.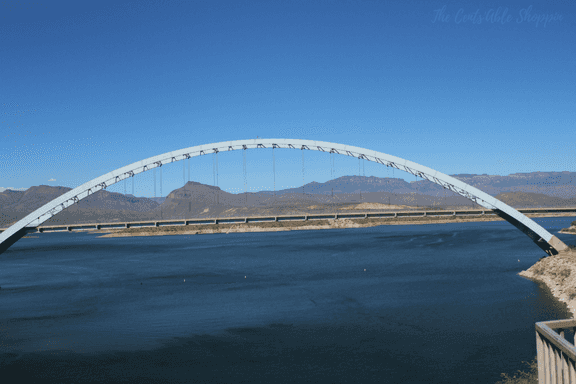 About the Bridge
The bridge was built to relocate traffic off the top of Roosevelt Dam – it's the longest, two lane, single span, steel arch bridge in North America. It spans 1,080 feet and was painted blue so it would blend in with the lake and sky.
The greatest challenge in constructing the bridge was the narrow width to large height ratio and the porous limestone foundation. In fact, the middle of the bridge has an arch in the roadway – if the road was level, then drivers would have the perception of a sagging bridge (not really a good idea when you drive over!)
Things to do at Roosevelt Lake:
If you head out to Roosevelt Lake with the family or kids, here are some of the best things to do: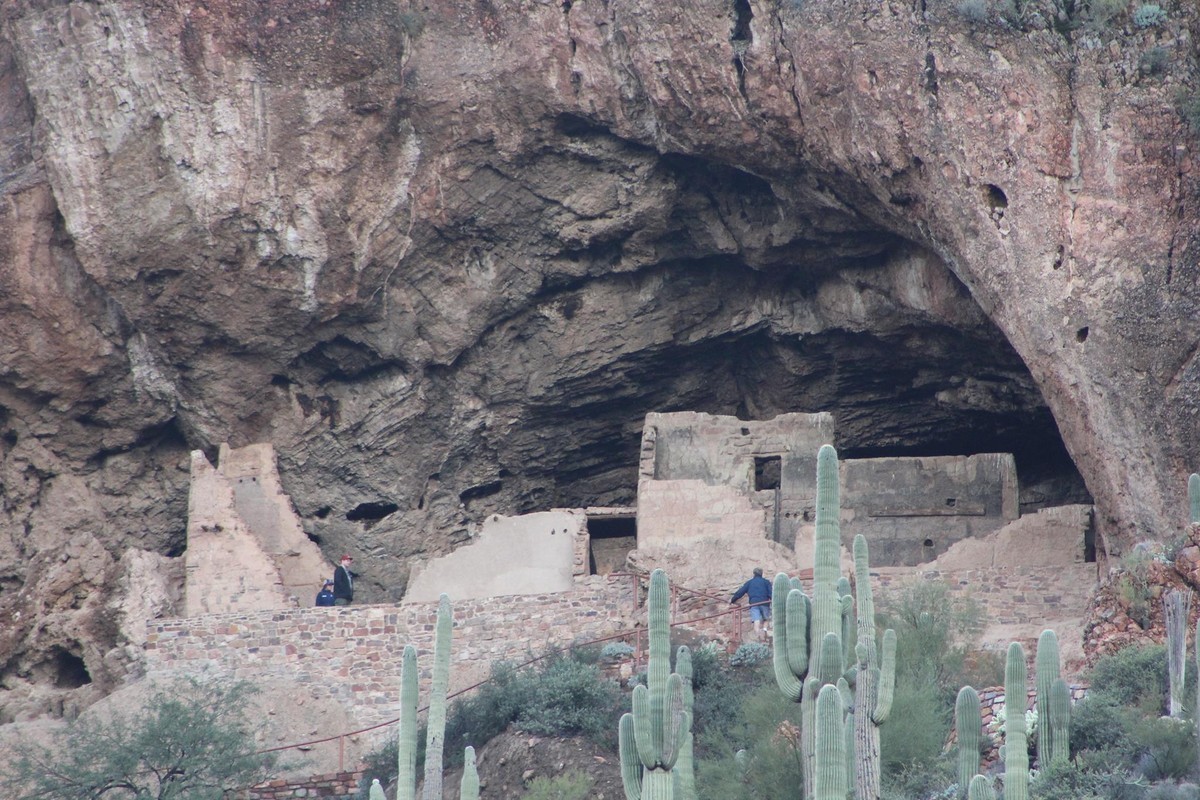 Tonto National Monument: Showcases two Salado Style Cliff Dwellings, with everything from colorful pottery and other artifacts that tell a story of people living in the northern Sonoran Desert from 1250 – 1450 CE. You can take a tour of the cliff dwellings. The upper cliff dwellings can be toured only November to April and is ranger led, by appointment only. The monument is right off HWY 188 and marked with signs – if you are coming from Payson, hang a left on HWY 188 and go 39 miles. From Globe, go 30 miles on HWY 188.
Three Mile Wash: A three mile wash area that is a gorgeous drive of narrow roads. You'll want to make sure you take your time because you'll need to allow others top ass before you go through. The wash has great camping and fishing with beautiful views of long horned sheep. Make sure you pick up a Tonto Pass from any of the businesses down at Roosevelt. To get there, head on HWY 188 from Payson or Globe. Once at Roosevelt bridge, turn south on HWY 88. Turn off to the Three Mile Wash campground 3.1 miles from HWY 188. It's best to go early on a Friday or in the middle of the week. Port-a-johns are available.
Roosevelt Lake Visitor Center: Open Monday to Saturday 8 – 4:30. The center is closed on Christmas, New Year's and Thanksgiving Day. The rear patio presents a spectacular view of the lake. Inside are exhibits, videos and information sheets on all the activities and attractions around the lake. Find the visitor center at mile 242.8 off HWY 188.
Roosevelt Lake Marina: Visit the marina for gear rentals, tours, outdoor activities, boat tours and water sports.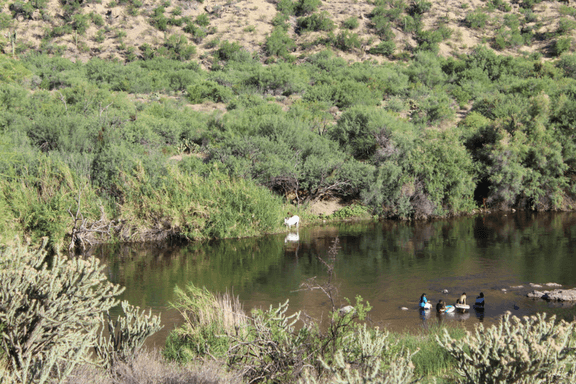 If you drive back to Phoenix via the Beeline Highway north of Mesa, you can even stop at the recreation area just north of Usery Pass and if lucky, catch the Wild Horses bathing in the river.
Have you ever been out to Roosevelt Lake and Dam area?