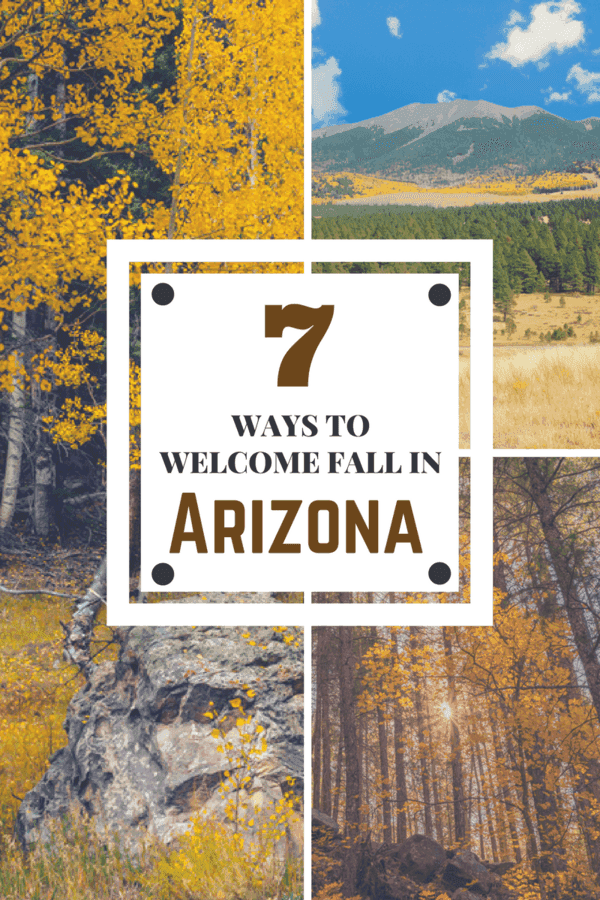 Most of us in Arizona enjoy the onset of cooler weather – it's a sign that fall is ahead, and the long, laborious Summer is almost over. As much as some of us love the heat, having a cool break is nice – I don't know anyone that doesn't appreciate the cool, crisp weather that comes in early October, leaving us with the opportunity to open up our windows and air out the house.
Those of us who live in Arizona are very fortunate that we have everything from snow, to desert – all within a few hours of each other. Maple, Walnut and Aspen trees change color in the fall – with snow following soon after in the higher elevations.
Crisp, cool weather comes to the Phoenix area, with enjoyable evenings we can spend outside with friends and family.
There are many ways to welcome the onset of fall here in the state – here are just a few ways you can embrace it this year with your family.
#1: See the Fall Colors
What better way to welcome fall than to jump in the car and head on a drive to northern Arizona, or… southern Arizona to see the lovely change of colors.
Take a cooler and make it a day – you could also make it an overnight trip and splurge on an inexpensive hotel (if you have kids, opt for a hotel with indoor pool and they might feel like they are on a vacation!)
Arizona has plenty of amazing drives to see everything from Aspen Trees to Maples, Walnut Trees as well.
See also: Day Drives to Fall Foliage in Arizona
#2: Attend a Fall Festival
As the weather cools down here in Arizona, the fall festivals become more abundant. Starting around early September, and running through mid-November, you can find Fall Festivals across the state. From Oktoberfest to Pumpkin Patches, Apple-Picking, and Halloween events for kids.
If you want to get out of town, there are a multitude of festivals in Flagstaff, Sedona, Seligman, Safford, and even in Winslow. Make it a weekend event and pick up a hotel for a night to enjoy some time outside the city. OR, opt to stay in Phoenix and visit any of the festivals in Chandler, Mesa, Peoria & more.
#3: Pull out that POGO Pass
The POGO pass is a wonderful way to enjoy time with the family all year long – but the Fall brings cooler weather, making some of the venues an even more enjoyable visit!
If you have a POGO Pass for Phoenix or Tucson, you can visit the Phoenix Zoo twice over the course of 12 months. Not only can you visit the Zoo, you can also visit Arizona Skyline Adventures in Tucson with your pass, too!
See also: POGO Pass – Phoenix and Tucson (one year, FREE admission)
#4: Enjoy the Smell of Fall
If a road trip is out of the question because your are tied down at work, welcome fall with the smell of trees and cooler weather with diffuser scents (Essential Oils) that will have you feeling like you took a step in the north woods.
Invest in a wonderful diffuser and perhaps even a few if you can – and diffuse different scents.
See also: Autumn Diffuser Blends
#5: Movies in the Park
Many cities around the Valley offer Movies in the Park starting in early October – from Gilbert to Phoenix, Peoria and even Tempe… every Friday or Saturday you can bring your blankets and yard chairs to see a new flick.
Visit your city's website for more – or find them on Facebook to keep up with the weekly schedule.
#6: Outdoor Movie Night in your Neighborhood
With cooler weather comes the opportunity for the kids to spend more time outside – our kids love being outside even in the heat, but with the cool weather? Nobody wants to come in! :)
To take advantage of the cool, crisp air, plan on outdoor movie night. Gather 'round the neighbors and pick a night every other week to have everyone get together and watch a kids or family movie. You can ask them to bring a dish to pass, or… simply enjoy popcorn and drinks.
See also: 7 Tips for Planning an Incredible Outdoor Movie Night
#7: Road Trip
Get out of town! Though watching the change of leaf colors is amazing, some of us just want to get out of town and see some NEW parts of Arizona. And with the cooler weather, getting out of town is easier on the car/truck – your air conditioner won't work quite as hard to cool you down and you get to smell the fresh air that comes with traveling outside of the city.
From Page down to Douglas, there are always things to see and unique places to take the kids.
See also: 7 Arizona Weekend Road Trips, Arizona Bucket List Destinations, 10 Must Visit Arizona State Parks, Animal Adventures for Kids in Arizona & Unique Day Trips to Make in Arizona.