Over 12 Things to Do in Phoenix with Guests – from visiting the Goldfield Ghost Town to Horseback Riding, the Tonto Bridge Monument and more!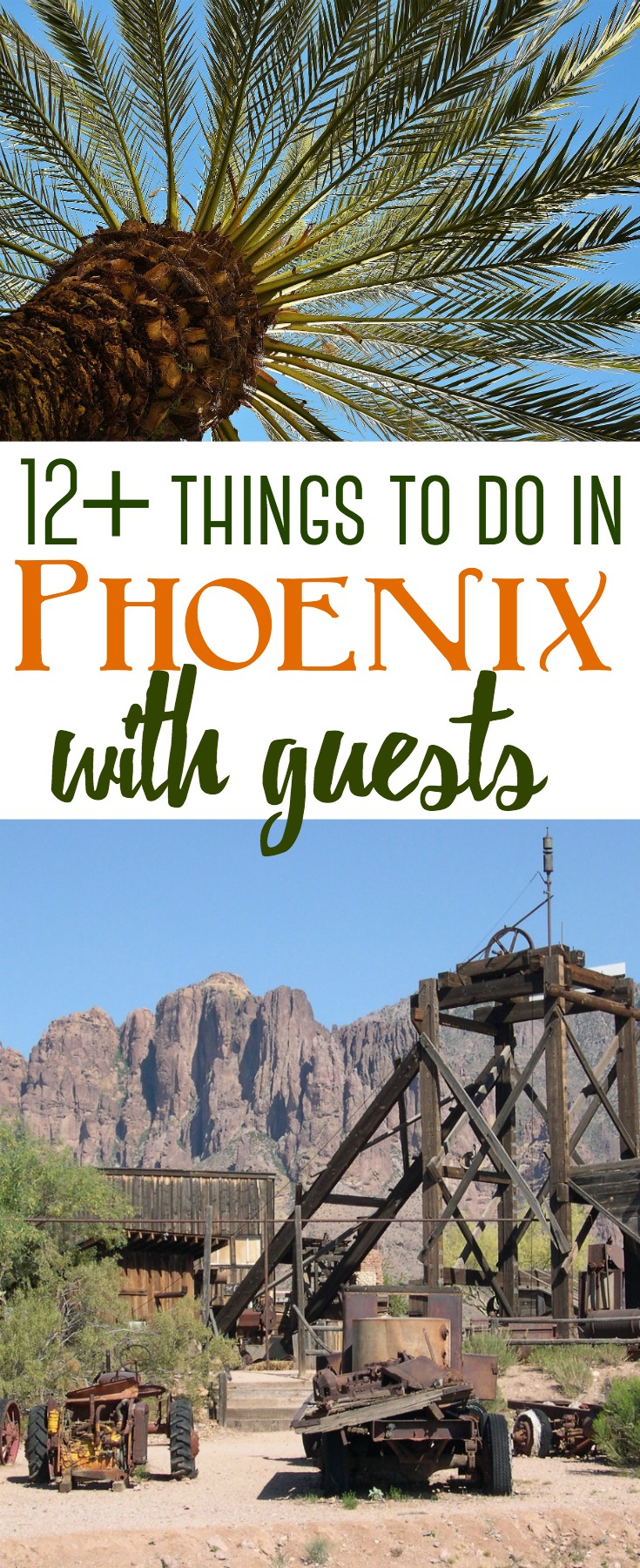 If you ever have family that comes to visit here in the Valley, chances are, you look for things to do here in the Valley (or, a short distance away!) to take them around.
We have kids, so we wanted to look for family friendly places where we can go as a huge family… not places where we have to leave the kids at home. All of these places are great for families, and they're all a pretty unique way to show Arizona's history to family and friends. We've been to every single one of these places and I can't really put my finger on which place I love the most ~ it truly depends on many factors including how much time we have and weather conditions.
Here's a list of some of our favorite places here in the Phoenix area, or those a short hour drive away:
The Hole in the Rock is located inside Papago Park, just south of the Desert Botanical Garden. The 5-minute hike gives you a chance to see the beauty of the surrounding areas.
The area can be accessed by heading to 625 N. Galvin Parkway… right next to the Phoenix Zoo… not to mention it's free. Great for families with kids, and even better if the weather is tolerable.
Rawhide Western Town & Event Center is Arizona's largest Western-themed attraction.
The town is an authentic replica of an 1880's town complete with a Main Street, gunfights, stagecoach and train rides, burro rides, mechanical bull, climbing wall, gold pannin', shootin' gallery, unique shops and world famous Steakhouse & Saloon. The steakhouse is amazing (but pricey if you have a large party) – though I will admit that it's every bit worth it if you really appreciate a good meal.
The kids will likely have a blast out there too – they have a petting zoo and a zip line (cost is extra for both).
A living museum with more than 50,000 plants from around the world. You can enjoy tours, workshops, seasonal exhibits, special events, concerts and more.
The second Tuesday each month is free (huge savings on admission!) – take advantage of that! If you can't go on that day, admission is $22 for adults, $12 for students 13 – 18 & college with ID, $10 for children 3 – 12, and kids 3 and under are FREE.
This isn't exactly in Phoenix, but it's not far away. It's so amazing that it's worth the short drive… it really is. GORGEOUS.
Open 7 days a week from 9 a.m. to 5 p.m. The park has the largest Natural Travertine Bridge in the world – 183 feet high over a 400 foot long tunnel that is 150 feet at it's widest point. You can enjoy the bridge from up top or hike down.
The park is $5 for adults 14 years and more, $2 for ages 7 – 13, and kids under the age of 6 are FREE. Head up to Payson on 87 North – at the traffic circle take the 2nd exit, and stay on AZ 87 N for another 8.6 miles, then turn Left on NF 583. The park is on the left.
Just south of Phoenix in the town of Coolidge is the Casa Grande Ruins – it's open all year (except for Christmas and Thanksgiving) and is FREE if you go on National Park Free Entrance Day. The ruins holds an ancient Sonoran Farming Community and Great House, as well as a small Visitor Center with historical artifacts.
Fees are $5 per person over the age of 16, all others are FREE.
Located in the far East Valley of Arizona, travel 27 miles north on State Highway 87 to the Bush Highway (Forest Road 204). Then, turn right to go an additional 4 miles.
The Lake is open January to December, and admission is $6 per vehicle. You can boat, and fish out there, too! However, when the weather is nice the lake gets full very quickly (so it's best to head out early in the morning!)
They also have the Desert Belle Cruise out there which you can take. However, reservations must be made in advance. We have done this cruise over a dozen times with family. It's really neat in the fall or spring when the weather is cooler. Or, go when it's a rainy week (as the rain comes down the mountain and is absolutely gorgeous!).
A man made monument here in Phoenix, with 18 rooms and 13 fireplaces, the Mystery Castle is internationally known and recognized by Life Magazine, McCall's, HGTV Extreme Homes & more.
Check their site for hours of operation and current admission fees.
The Mystery Castle is located in the Foothills of South Mountain Park (two miles south of Baseline Road) at 800 E. Mineral Road in Phoenix, Arizona 85040.
To visit, take 7th Street South to Mineral Road. Then head east and follow the road to the Mystery Castle entrance.
Perched on top of the knoll on E. Van Buren and 52nd St. is the Tovrea Castle. It has a very rich history – and you can plan on taking a tour there of the basement and first floor.
The Tovrea Carraro Society provides a unique experience for visitors to Tovrea Castle at Carraro Heights. They work at preserving, maintaining and restoring its historic structures, gardens and grounds, in partnership with the City of Phoenix. Tours must be planned in advance.
Located at 17641 N. Black Canyon Highway (1-17 Frontage Road) in Phoenix, the Auto Museum is a great place to check out rare & collectible automobiles – for someone who is a car fanatic.
At the Martin Auto Museum, visitors can view history through the decades in this huge collection. There are a number of race cars and one-of-a-kind vehicles to excite any automotive, art or history enthusiast.
They are open Thursday – Sundays, from 10 a.m. to 5 p.m for tours. Admission is $5.00 each.
Back in the 1890's Goldfield boasted 3 saloons, a boarding house, general store, blacksmith shop, brewery, meat market and a school house. Just when it looked like the town would outgrow Mesa, the vein faulted. Then, the grade of ore dropped and the town died a slow painful death.
After several unsuccessful attempts to reopen the mines, the town did come to life again. From 1910 it was on and off until 1926. After more than 115 years, travelers from all over the world still visit this gold mining town located on the historic Apache Trail.
Admission to the Ghost Town is free. They do have attractions there that do have an additional cost. They have a ZipLine, and they have a restaurant on site.
When the weather is cooler, it's really a fun place to explore and just see the beauty. They're open weekdays, 10 a.m. to 5 p.m. On Weekends, there are gunfights every hour from 12 – 4 p.m., at the top of the hour.
Check out our "must-see" tips for visiting!
The Queen Creek Olive Mill is a family owned Agri-tourism experience in the Southeast Valley. They are a sustainable Olive Farm and Mill and they produce Arizona's only extra virgin olive oil.
They give tours regularly – they also have a restaurant on site too! (I have been and taken their tour… this is a wonderful place to take out of town guests!)
The Boyce Thompson Arboretum State Park is located southeast of Phoenix, near Superior, Arizona. It is Arizona's largest and oldest botanical garden, dating back to the 1920s.
The park is open 6 a.m. to 3 p.m. from May to August, and 8 a.m. to 5 p.m. October through April (last admission at 4). The fee for admission is $15 for adults, and $5 for kids ages 5 – 12. Children under age 5 are free, as are Frontline Heroes*.
Live in Phoenix? Your best option is to invest in a yearly membership as you will score FREE admission for up to 4 that day. You'll also earn single use coupons for family or friends as well as free membership for an entire year among other benefits.
You can't have guests come into town without taking them on a horseback ride. I have done this many times, and each time gets better!
You can call & make reservations for a horseback ride. If you can't find them on Groupon (and they are fairly frequently there with deals) you can pay just around $35 for a 2-hour horseback ride. They usually take up to 8 people at a time. They'll take you through the wilderness and through the water up there on the Fort McDowell Reservation. It's a great experience in the winter when it's cooler.
Have you taken any of these trips? Which are your favorite? We'd love to hear about it!