The Tonto National Monument is a National Monument in the Superstition Mountains, in the Gila County of central Arizona. It's a a wonderful place to explore a unique part of America's heritage.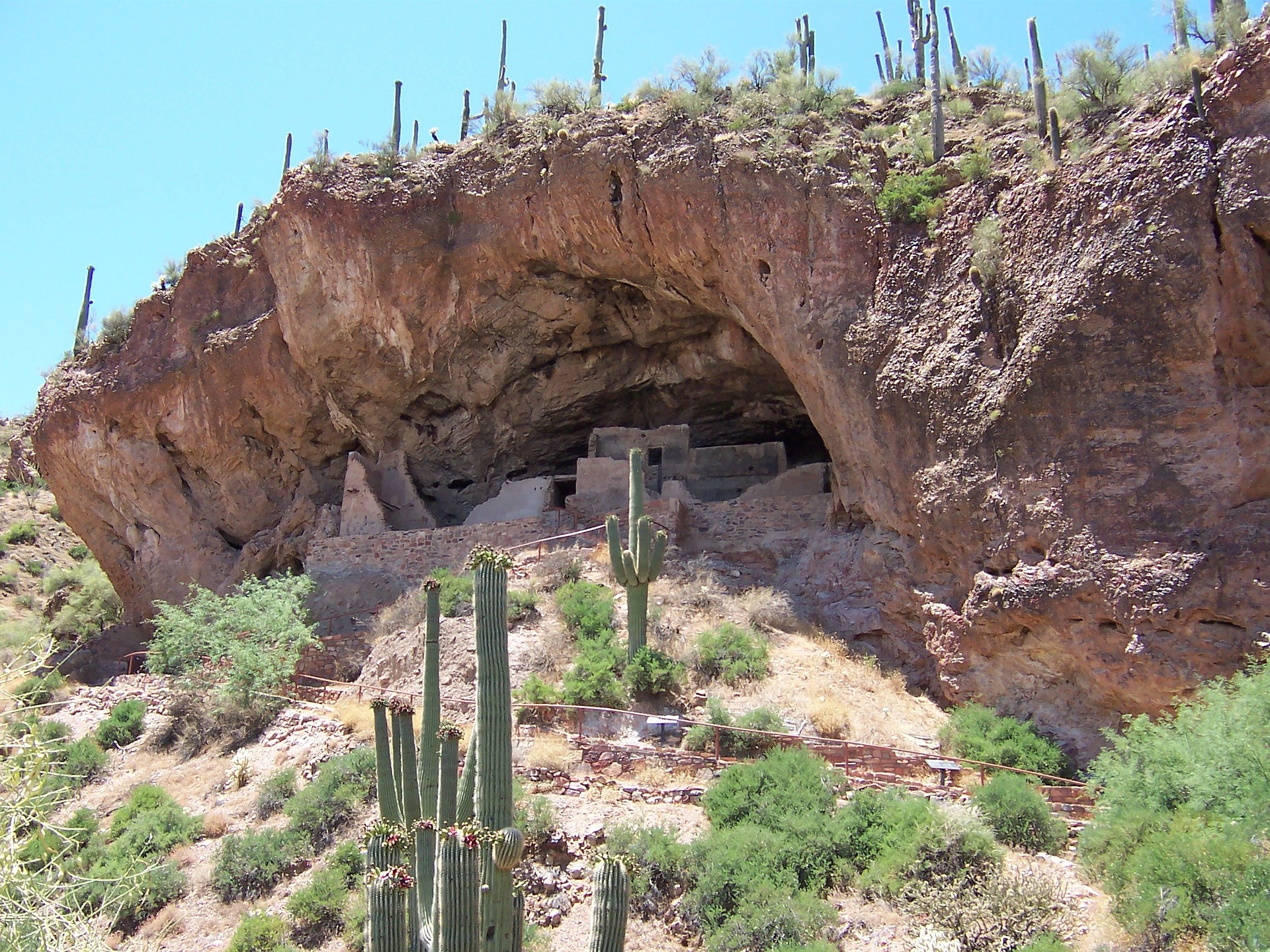 Have you ever been to the Tonto National Monument?
One of my favorite things to do on any given weekend is to head out and take a drive with my family. While I'm not opposed to a one-night stay somewhere, with five kids it's almost easier to make it a quick day trip. Kids can really wear you out, and shacking up at a hotel isn't too cheap when you have a large family.
The Tonto National Monument is a National Monument in the Superstition Mountains, right in the heart of Gila County (central Arizona). Seven hundred years ago, the Tonto National Monument blended Native American cultures. You can see pottery, artifacts and more, from the northern Sonoran Desert dated from 1250 – 1450 AD.
It's a fun place to visit and explore for people of all ages. It's also close enough that it makes a wonderful day trip that can be accomplished in a few hours.
About the Tonto National Monument
The Tonto National Monument is about a 2-hour drive from Phoenix, or 75 minute drive from the East Valley. It's a fun day trip to do with your family and one that we made on a hot, Sunday afternoon with all 5 of our kids (ages 1 to 11).
There are two types of cliff dwellings – upper and lower. The upper is only open November – April, and reservations are required (4-hour hike to the top). The lower cliff dwelling is a half mile hike (30-45 minutes each way). There are benches to sit along the way and the hike is a paved path.
If you have kids, it's a great way for them to learn Arizona history by doing, instead of reading – and it is a very child-friendly place to visit. Since Arizona is rather hot in the summer, you'll want to take note of the visitation hours.
June 1 – August 31: Lower Cliff Dwelling is open 8 a.m. to 1 p.m. If you are hiking to the lower-cliff dwelling, you must start your hike by 12 p.m.
The remainder of the year, the park is open from 8 a.m. to 5 p.m. (closed 12/25); you must start your hike to the lower cliff dwelling by 4 p.m.
Upper Cliff Dwelling: Only accessible by guided tour (3-4 hours), offered every weekend, November to April. Call 928-467-2241 for reservations.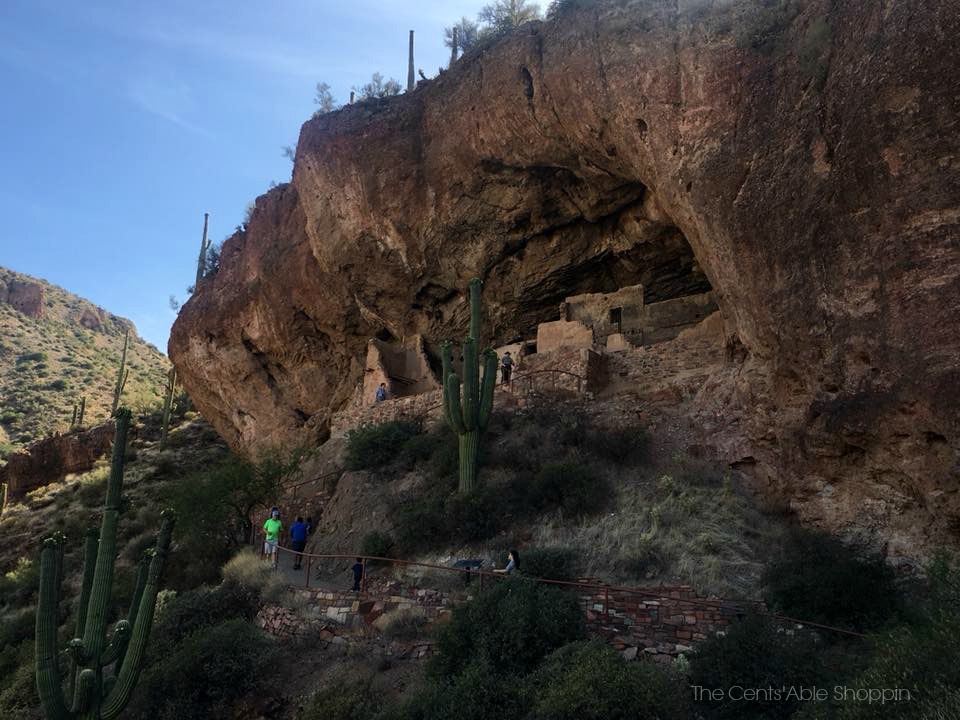 The monument charges $7 per person for admission, while kids 16 and under are free. Federal Passes (Annual, Senior, Access, Military, Fourth Grade and Volunteer) are accepted.
Before you Hike
Before you start your hike, you will want to step into the small but informative visitor center. The center is a great source of information and tells a great story of life in the area. The visitor center also has a really wonderful exhibit of artifacts found at the site with the history of the park.
You'll want to grab your water bottles and make sure they are full before taking the hike. The visitor center has a water fountain you can use to fill up your bottles before you leave.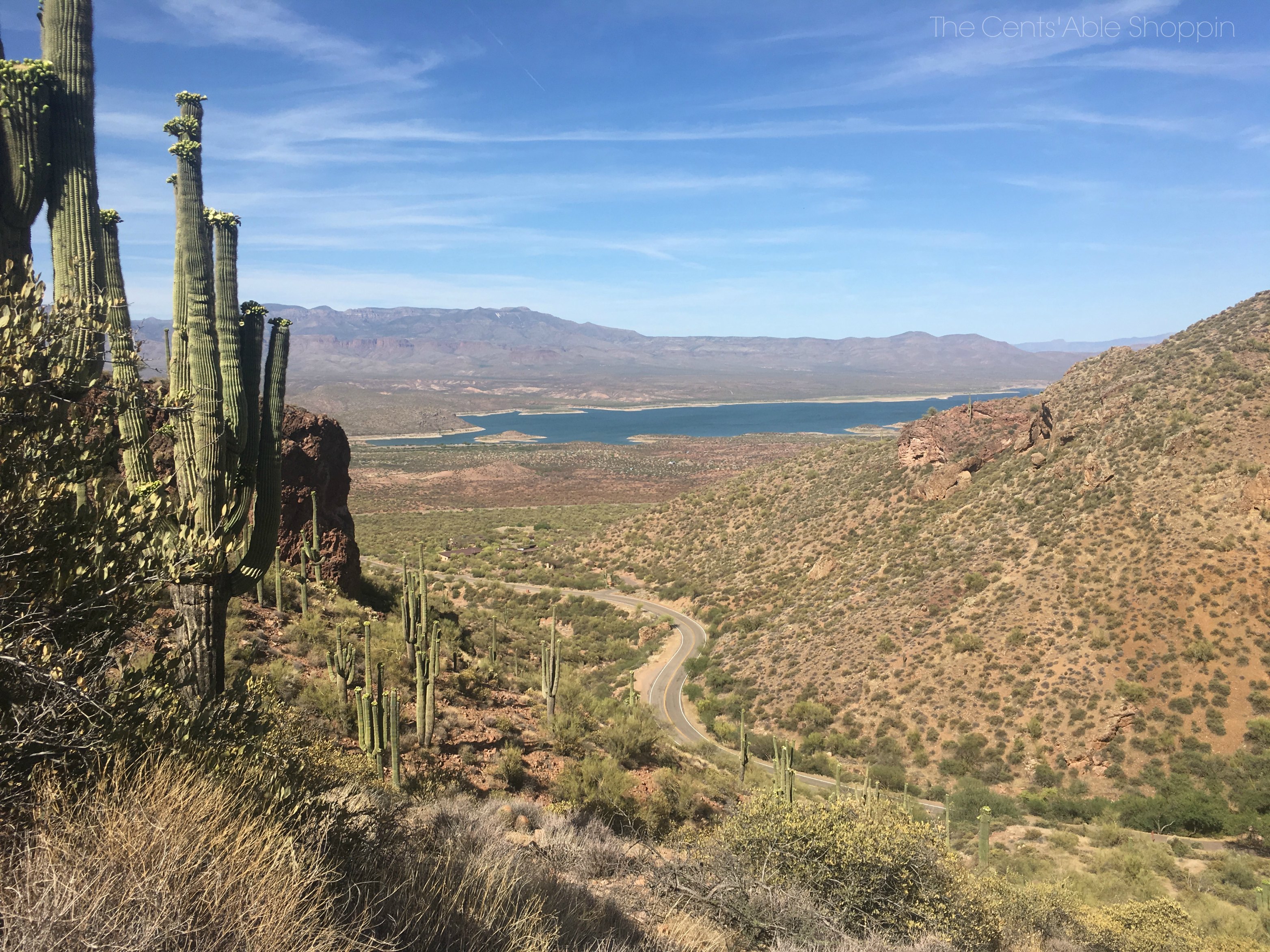 Throw on your comfy shoes and take your camera on the hike, as you will see the most amazing view of Lake Roosevelt. The hike to the lower cliff dwelling can take anywhere from 30-60 minutes, depending on your fitness level. Although it is a steep half mile hike, it is paved. There are many benches along the way that will allow you to stop and rest.
If you are going with kids, make sure you keep an eye on them. It is easy for them to reach out and touch plants and vegetation (cactus) that might not be a wise choice. The hike is also very steep, and if kids aren't paying attention, they could trip and slip – not good either!
At the Top of the Lower Cliff Dwelling
Once you arrive at the lower cliff dwellings, there is a park ranger there to answer questions and prevent the caves from being damaged. Take the time to ask him or her questions and request to see the book, which has pictures of the dwelling before the walls were removed.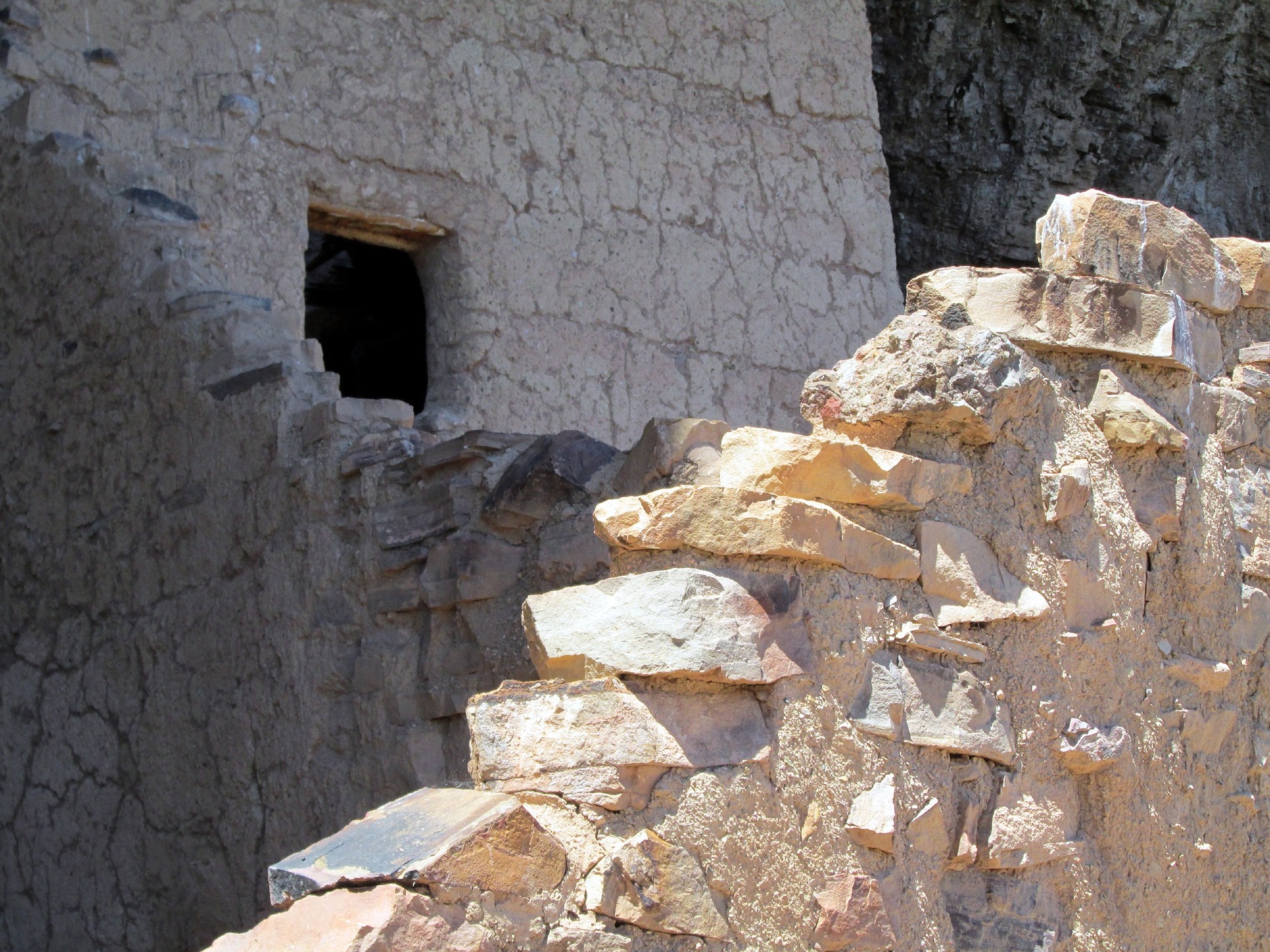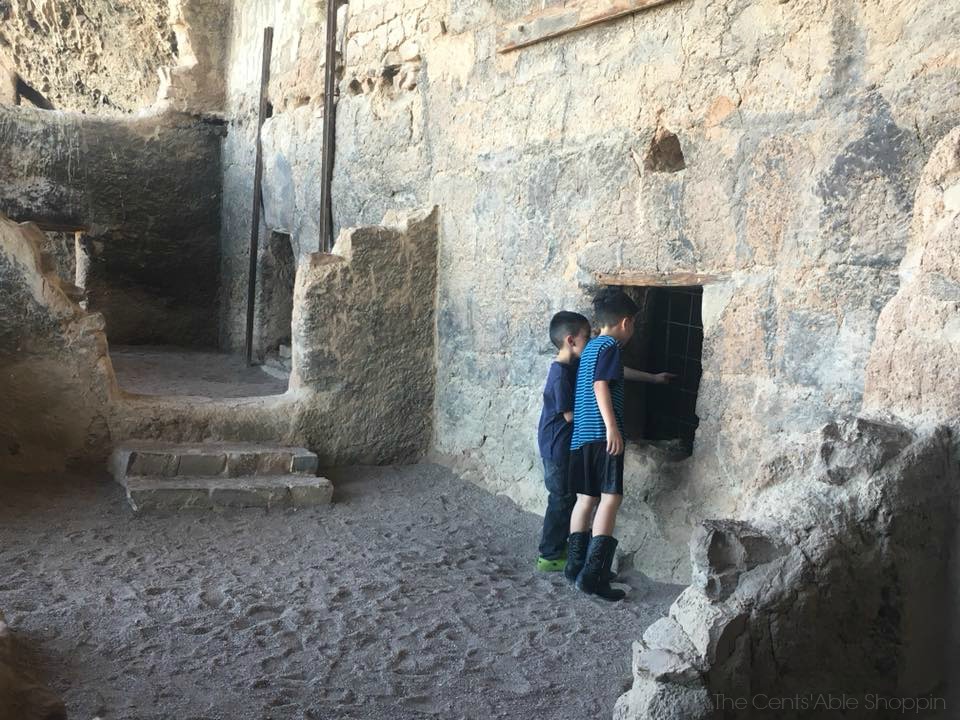 Take the time to visit the rooms, but be careful you don't climb on the deteriorating walls of the monument. Kids are always so eager to jump and climb, after all, they are kids. However, it might be a good idea to remind them to listen to the park ranger too.
The monument provides you a wonderful view of Lake Roosevelt and the surrounding area – don't miss it!
If you are curious if your kids will stick through the steep hike, don't be. Our kids hiked up that path faster than we could blink, and left us gasping for air as we went up (all in good fun!)
One of our kids insisted on kicking his trainers to the side and wearing his cowboy boots. He still made it to the top faster than we could have ever done it ourselves.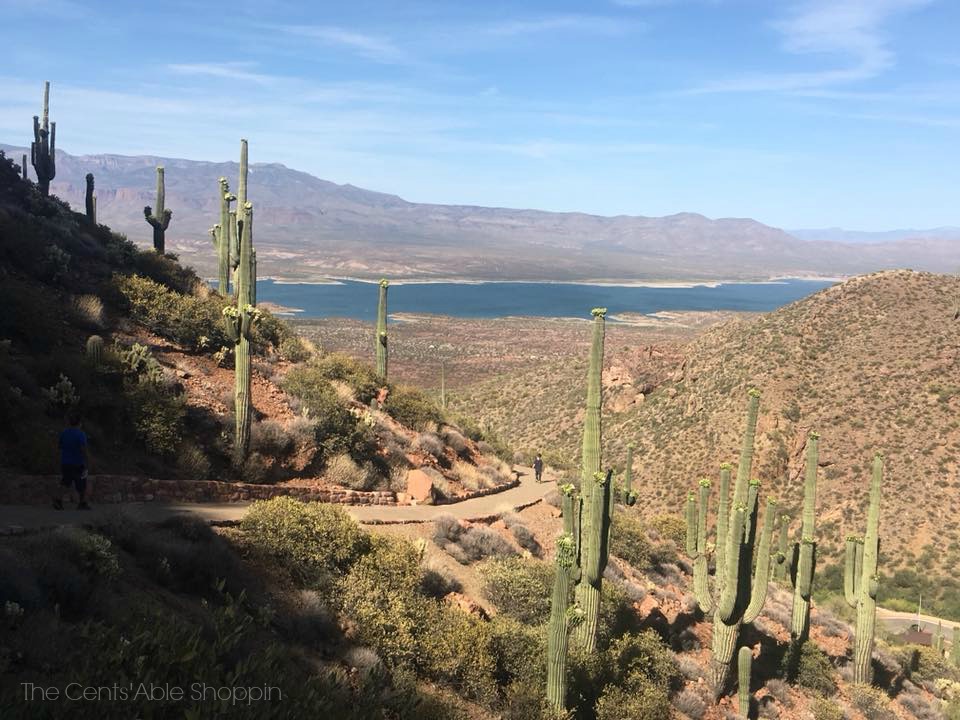 Travel Tip: Try to go during Heritage Week (in March) because park entry is free, and there are Native American performances that week. The performances are followed by a narrative of the area and history of the people who used to occupy the dwellings.
Not only are there performances, the upper cliff dwelling is open for tours (reservations must be made).
Neearby Attractions
If you are looking for more attractions to round out your day, here are some ideas:
Roosevelt Dam: The longest, two lane, single span, steel arch bridge in North America. It spans 1,080 feet and was painted blue so it would blend in with the lake and sky. The Dam is just minutes away from Tonto National Monument, but the actual visitor center is not open on Sundays. If you visit the lake, walk down to the actual water, and pick up shells to bring home.
Apache Trail (Apache Junction to Roosevelt Lake, unpaved): Quite an adventure – though I recommend this drive in the cooler months, as the heat combined with the treacherous heights may not do so well for some.
Tortilla Flats: I cute little town right on the edge of Canyon Lake, right before the pavement ends and the treacherous Apache Trail starts. Go when you are hungry and eat at the restaurant right there in town. Stop at the candy shop for ice cream before you head back.