25 creative, fun and low-cost mother son date night ideas to help inspire and encourage you to spend one-on-one time with your boys.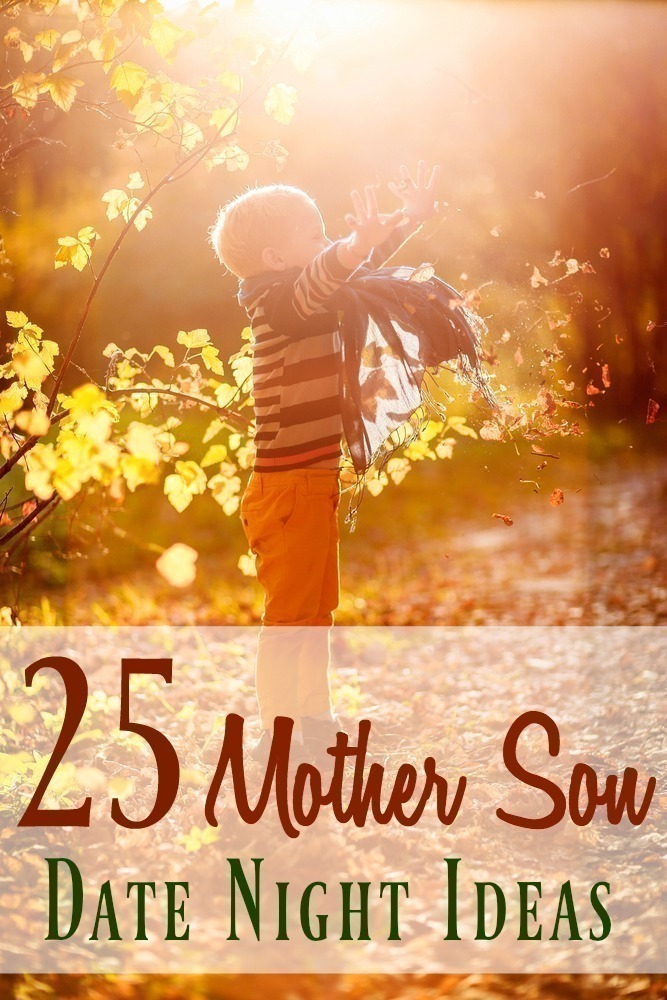 I am a lucky mamma to two beautiful boys right now – my boys are very close with me, more than they are with their dad. Although I have girls it seems as if the boys love spending time with me, when I ask who wants to watch a movie with Mom, they are the first to say "I will I will!"
My girls just don't really do that as much – odd, right?
My boys are the typical kiddos that love to climb, jump, and even try to fly, when they are at home playing. Whether it be on the sofa, or from the banisters of the stair case & more.
Taking them on a date does not require you spend oodles of money. Most of these activities can be done for almost nothing at all. Even more… you might be able to expand on the 25 I have below, too!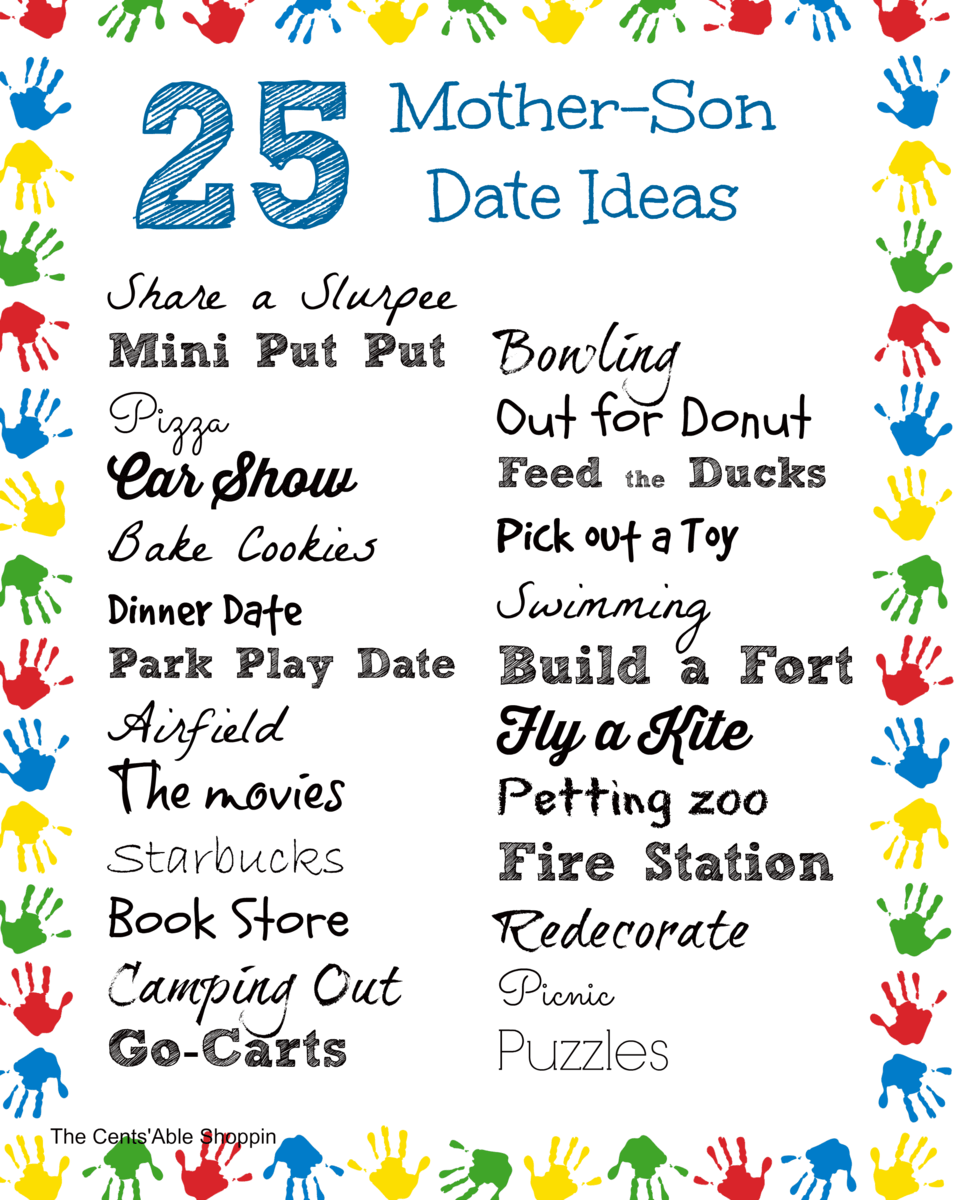 (Oh … and grab this printable for your refrigerator just to keep these at the top of your mind!)
25 Mother Son Date Night Ideas
Share a Slush at Sonic. Visit Sonic during happy hour – grab a Slush and share some time there, or take it to your favorite place.
Go Mini Put Put Golfing. Golfland is one of our favorite places to go.
Take him for Pizza. Find a pizza place that you can go to for a slice of pizza & share a soda.
Car Show. Look up Cruisin Clubs in your area & take him to see the classic cars. My boys go crazy for car shows.
Bake Cookies. Have him help you whip up a batch, let him pour in the chocolate chips & help you drop them on the cookie sheet.
Dinner Date. Take him to his favorite place… whether that be Chick-Fil-A, or for a huge burger and fries.
Park Play Date. Take him to the local park & play with him – ride down the slides, and show him how you handle the monkey bars.
Take him to the Airfield. We do this often! If your area has a smaller airfield, take him to the viewing area to see the pilots & planes as they arrive & take off. Our local airfield no longer has the cafe open, but it doesn't mean we can't take our own sandwiches.
The Movies. My boys LOVE going to the movies – in fact, I think their favorite part is when Mom lets them put the special seasoning on their popcorn. Find a local drive in – if you are in Arizona, they have a drive in at Schnepf Farms, in Mesa on Alma School and the 101, and over in Glendale, too.
Take him to Starbucks. You can ask for a kid's chocolate milk – topped with whip cream, at $1.50 it won't break the bank.
Bookstore. Take him to the book store, play with the train tables & spend some time telling him stories & letting him pick out a book.
Camp in the backyard. Set up your tent, and drag your sleeping bag out to spend a night under the stars. Maybe not in this Arizona summer heat but when it cools down.
Have a picnic. Indoors or outdoors!
Additional Date Night Ideas
Ride Go-Carts. Golfland Sunsplash has Go-Carts … it gets busy on the weekend!
Take him Bowling. Put in the bumpers if he's really small .. my boys LOVE Fat Cats and we can use our POGO Pass.
Out for a donut. Sneak out early in the morning while the rest of the family is asleep & take him for a donut!
Feed the ducks at the Park. Who doesn't love doing that? Freestone park is great to see the ducks, then you can take him on the rides there too.
Take him to Target. Pick out a new inexpensive LEGO set ($5) .. or something from the dollar bins.
Swim. Take him to the community pool or spend some time at the Kiwanis Rec Center in the Wave Pool.
Build a Fort. Haul all the blankets down and help him make a HUGE fort in the living room.
Fly a Kite. Pick up an inexpensive Kite at Walmart & take it out to the park on a windy day.
Petting Zoo. Depending on where you live you can take your boys to the petting zoo, or the local farm to pet the animals. Superstition Farm is great for that too – they are in the East Valley .
Visit a Fire Station. Most stations offer FREE tours for children – my boys loved touring ours.
Redecorate their bedroom. Visit a local thrift store & capture inexpensive items to help them redo their room.
Puzzles. Head to Walmart to pick out a new puzzle & help them put it together. Or, check out Ravensburger puzzles from Amazon and pick one that is age appropriate.
Looking for more date night ideas? Here are 10 more date night ideas that you can incorporate into your mother & son relationship!