Get outdoors and explore! Here are the Best Family Friendly Hikes in the East Valley!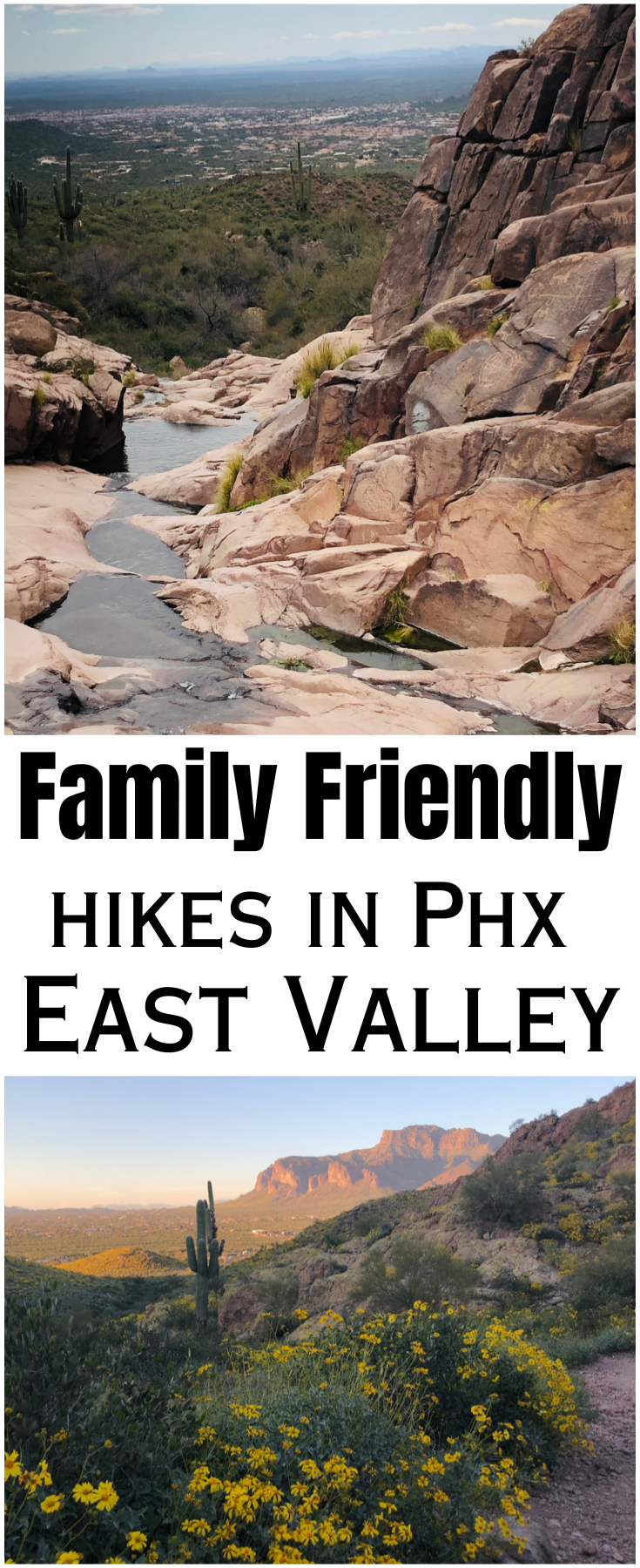 Hiking is the best therapy (literally!) and one of the best ways to get out there and explore with your kids. It gets the imagination going and helps them learn about the area in which they live.
Whether you have one or five (or more!), it's the perfect 'affordable' family activity. I have been hiking with my kiddos for years – we've been to every trail imaginable and the experiences never get old!
Toss some water in a ruck/backpack, throw on some good shoes and bring along some snacks because these are just a few of the best family friendly hikes in the East Valley. Always remember that it's better to over prepare than to get out on the trail and wish you would have brought more..
water…
better shoes
battery pack and charger cord
first aid supplies
a pliers (so handy to remove cactus barbs from shoes and clothing!)
snacks..
a hat – just in case the sun gets to be too harsh!
an extra pair of socks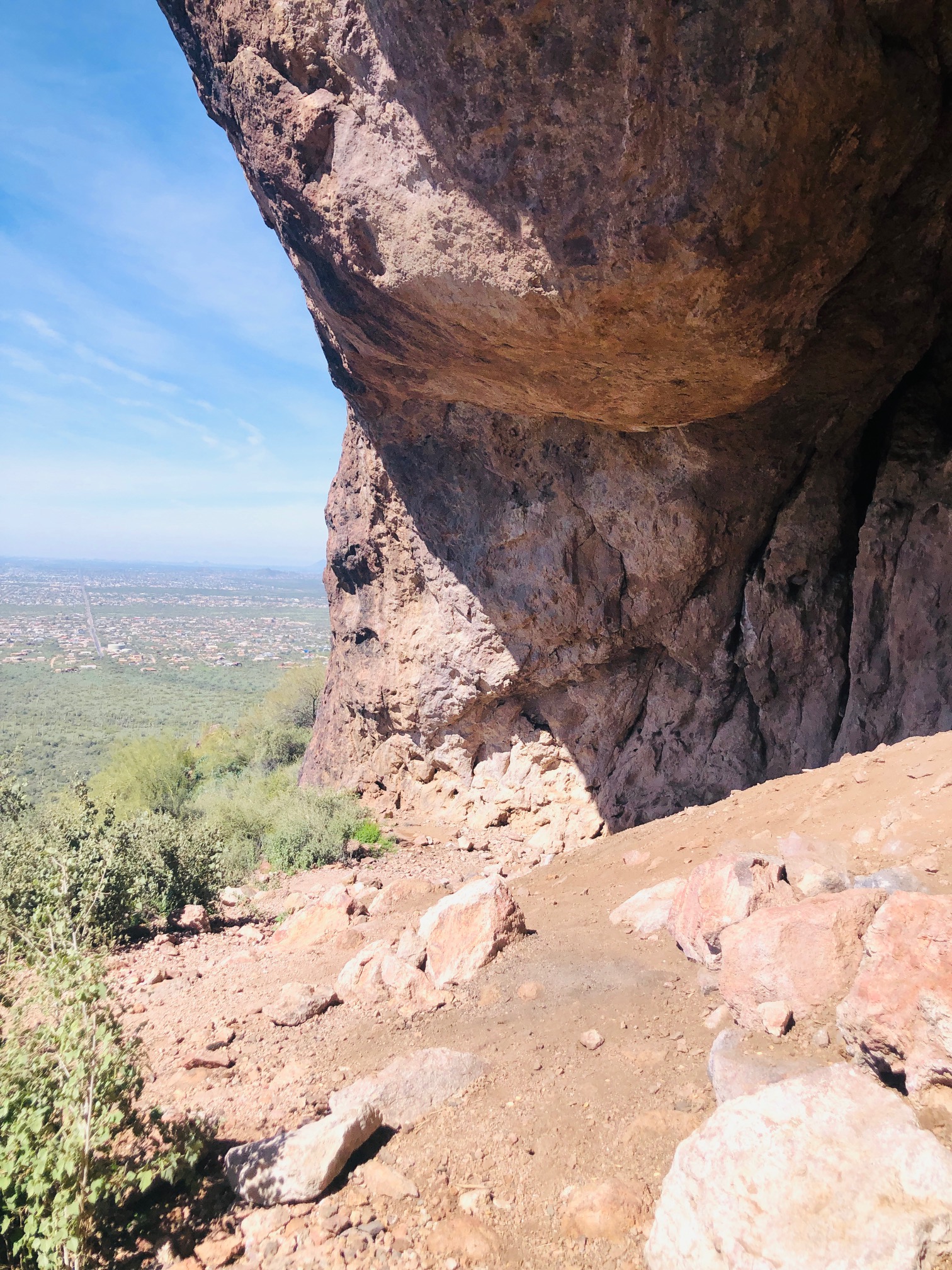 Monument Canyon and Broadway Cave via Jacob's Trail
Superstition Wilderness, Apache Junction
At 4.3 miles, this point to point hike is one of my favorites to take my kids on a very cloudy (or, largely overcast!) day.
This is not a hike for a rainy day as this is a watershed area that floods easily!
AllTrails is a must on this hike! The trail intersects with many other trails – without AllTrails (or at least a knowledge of intersecting trails and their end destinations) you can easily get off route!
This is a very rocky hike! You will travel for 1.5-1.7 miles before turning off to the right to up to the cave. The last .3 – .4 mile is very steep and requires good footing and heavy scrambling.
The views are beyond incredible!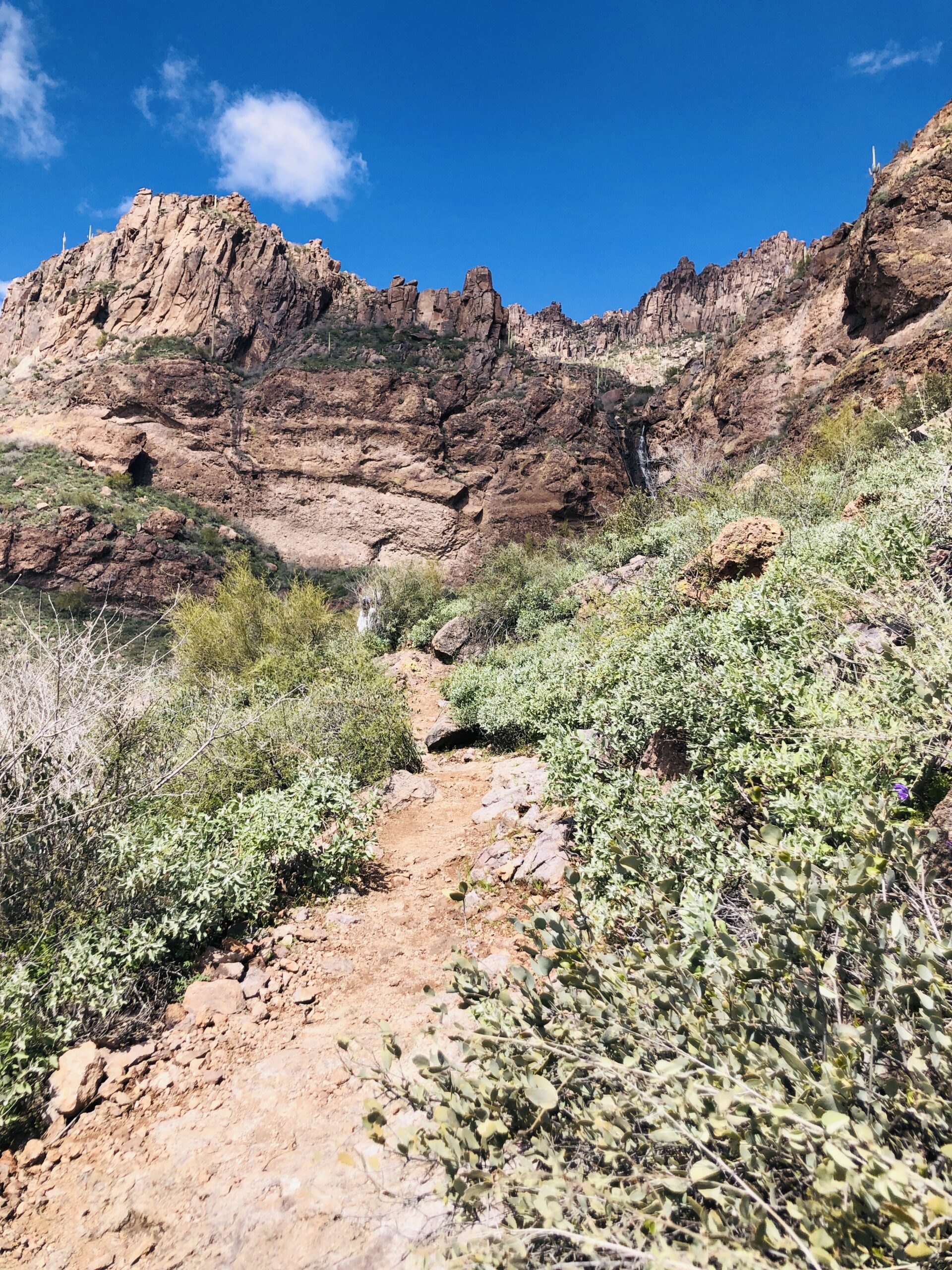 Carney Springs Waterfall via Lost Goldmine East Trail
Superstition Wilderness, Gold Canyon, Arizona
This 4.2 mile point to point hike is a great way to see a huge waterfall, and even better when it's traveled after a fresh rain or snowfall in which the water is abundant. Any other time of the year, the waterfall will be dry – however, the waterfall (though dry) is a work of miraculous wonder for kids that love to explore!
This hike uses the same trailhead as the Wave Cave – however, it comes to a point where the trail branches off to the right (for Carney) and to the left (for the Wave Cave).
AllTrails isn't required but it definitely makes it much easier to navigate – it's easy to get off track on this trail because there are so many off-shoots that may look like a trail.
The hike to the waterfall requires some cardio, and some scrambling over rocks – nothing that kids can't do though!
On the way to the waterfall, take a second to stop at Shaka Cave (which is an entirely different hike on AllTrails that follows the same navigation). Shaka Cave is right along the way and a beautiful chance to stop and eat a snack or grab some water.
This is a very popular hike on the weekend, so I would suggest going on a weekday – especially if you have kids! If there is a waterfall, you will HEAR and SEE it flowing halfway into the hike .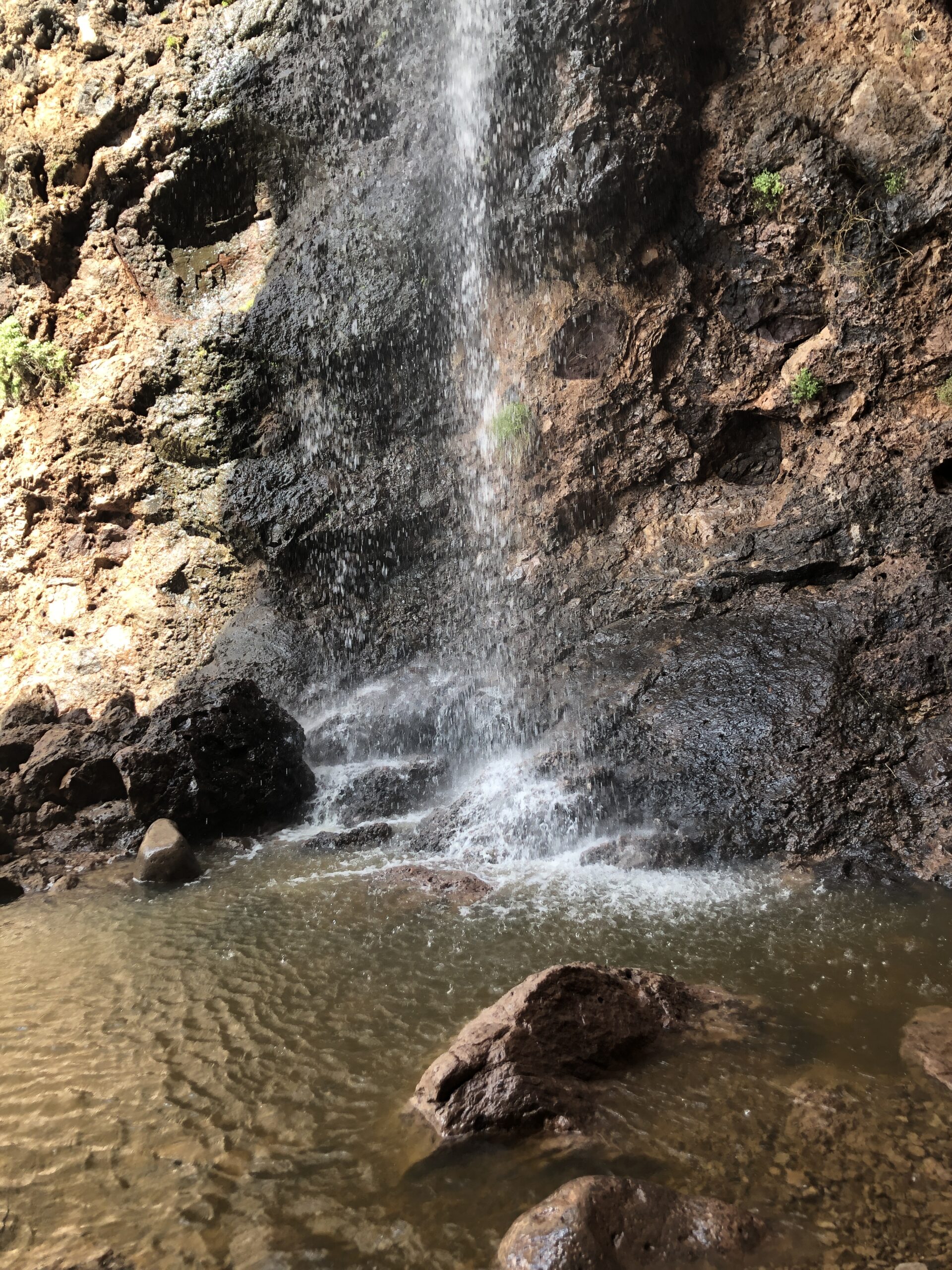 It's best to go to this hike after a rain or a heavy snow melt as you will see a beautiful waterfall.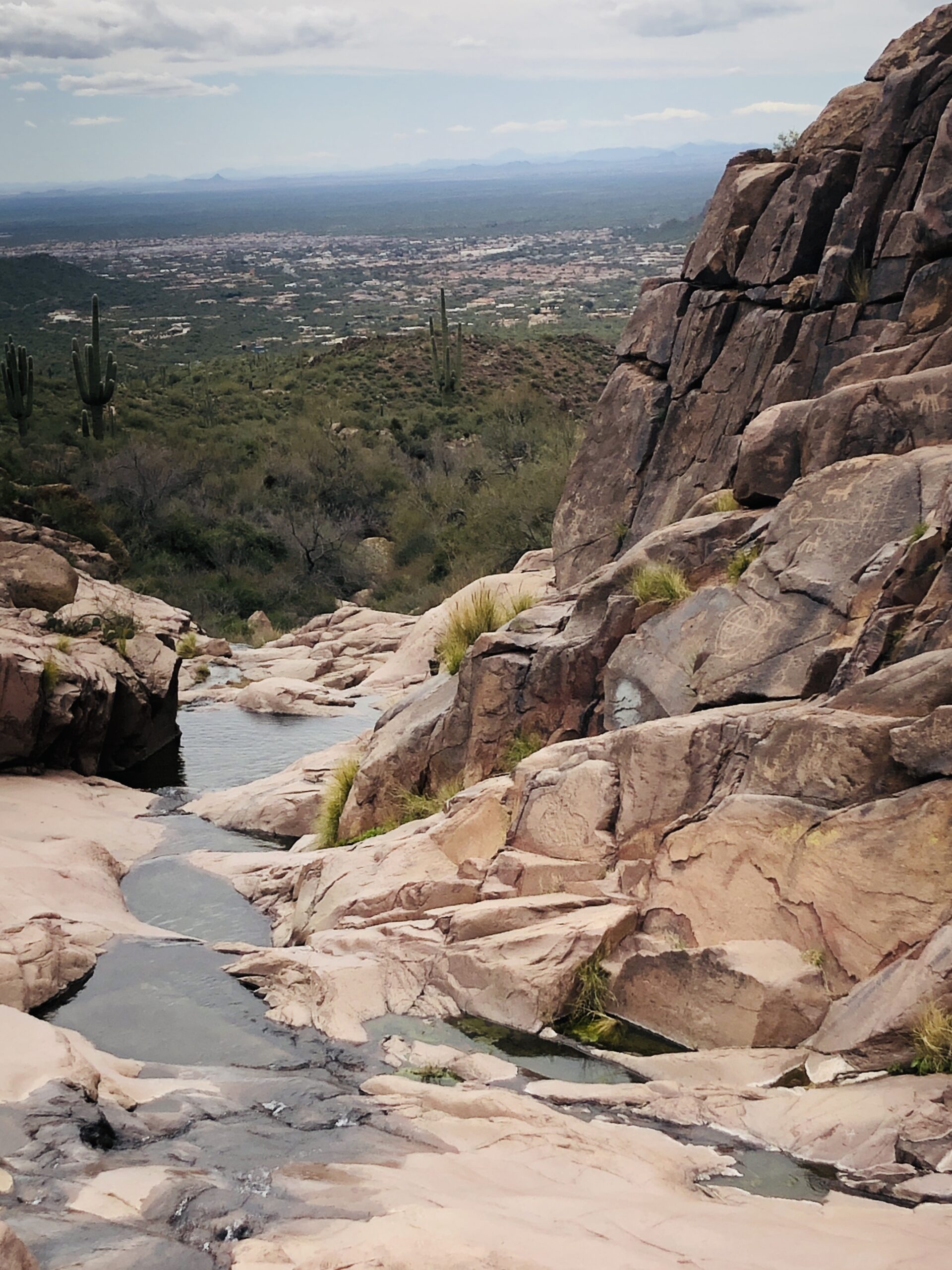 Hieroglyphic Trail
Superstition Wilderness, Apache Junction, AZ
This 2.9 mile point to point hike is a beautiful way to see water, especially after a fresh rain.
This hike is a very popular hike for families – parking fills up quickly, whether it be on the weekend or on a weekday. Arrive prior to 8 a.m. to ensure there is parking or opt for a later-afternoon hike.
The climb up is a slow, and gradual incline – around 1.2 miles, the hike becomes narrower with some climbing involved.
This is a wonderful hike to go to on a drizzly day – however, once at Hieroglyphic, the wet rain can create slippery situations, especially if you have kids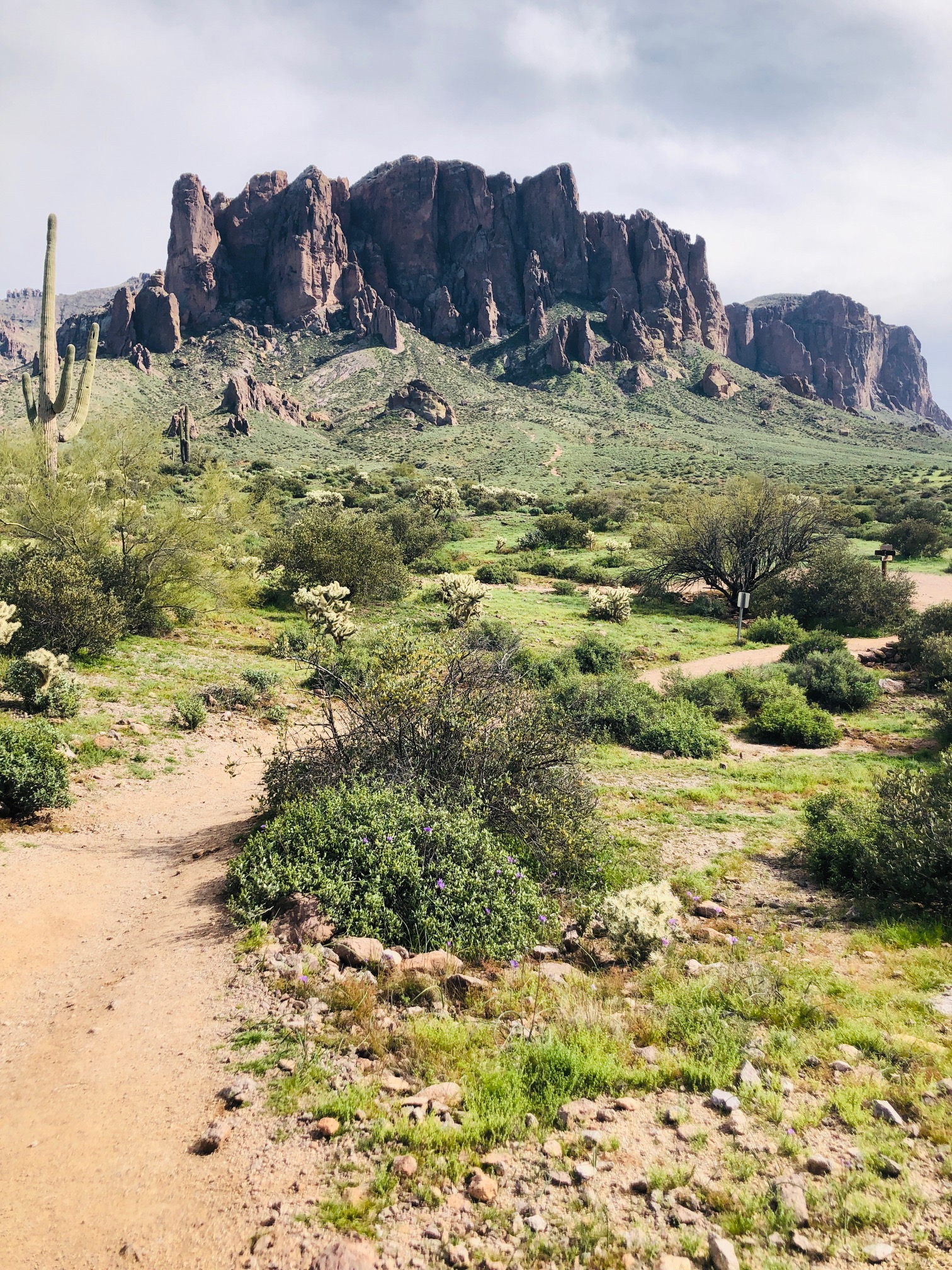 Prospector's View Trail
Superstition Mountains, Apache Junction, AZ
This 3.5 mile loop is a great way to get up close and personal with the Superstition Mountains (and get some cardio in at the same time!)
This hike does not have shade – keep that in mind in the heat of the summer! I love doing this hike on a cloudy or overcast day.
Parking is located on First Water Road (free). Go 1/2 mile after Lost Dutchman Park, and take a right on First Water Road. You'll park in the first pull-off to the left. Parking fills quickly on the weekend (and even during the winter/fall months) so keep that in mind!
AllTrails is not required for this hike but it will make the navigating process SO much easier! The start of the trail intersects with several other trails and it is easy to get off track and take the wrong route.
Around .70 miles in, you'll start the ascent up the middle of Superstition Mountain – this is a fair amount of cardio if you are not used to hiking! You can go up to the bench, turn around and come down (point to point) or you can take the full circle as noted in the AllTrails app. If you go point to point (to the bench and back down) the trail is just over 3 miles).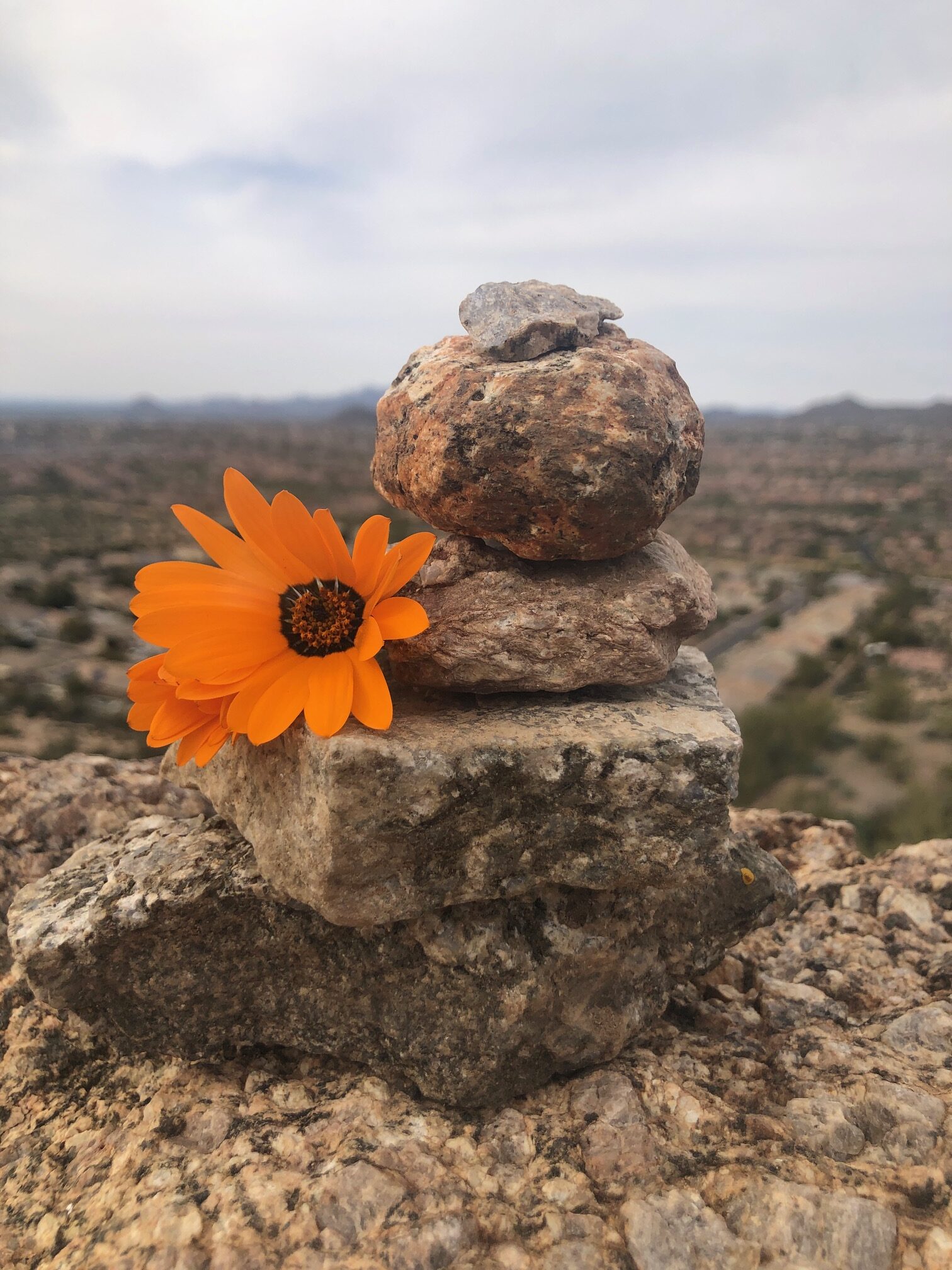 Brown Road Hill (also referred to as Spook Mountain)
North Mesa, AZ
This 0.9 mile out point to point is in North Mesa. It's a great short hike with wonderful views!
The morning is a busy time as many people use this hill as a workout regimen.
Golden hour is the best time to go – you can see the sunset and the temps are usually quite nice at the right time of the year.
Bring some trinkets – there is a treasure box (box of kindness) at the top, under the tree, you leave something and take something.
If you are feeling adventurous, after the first "platform", you can climb up the side of the cliff. Kids, too!
Parking is free but can get very busy and fill up on a beautiful day.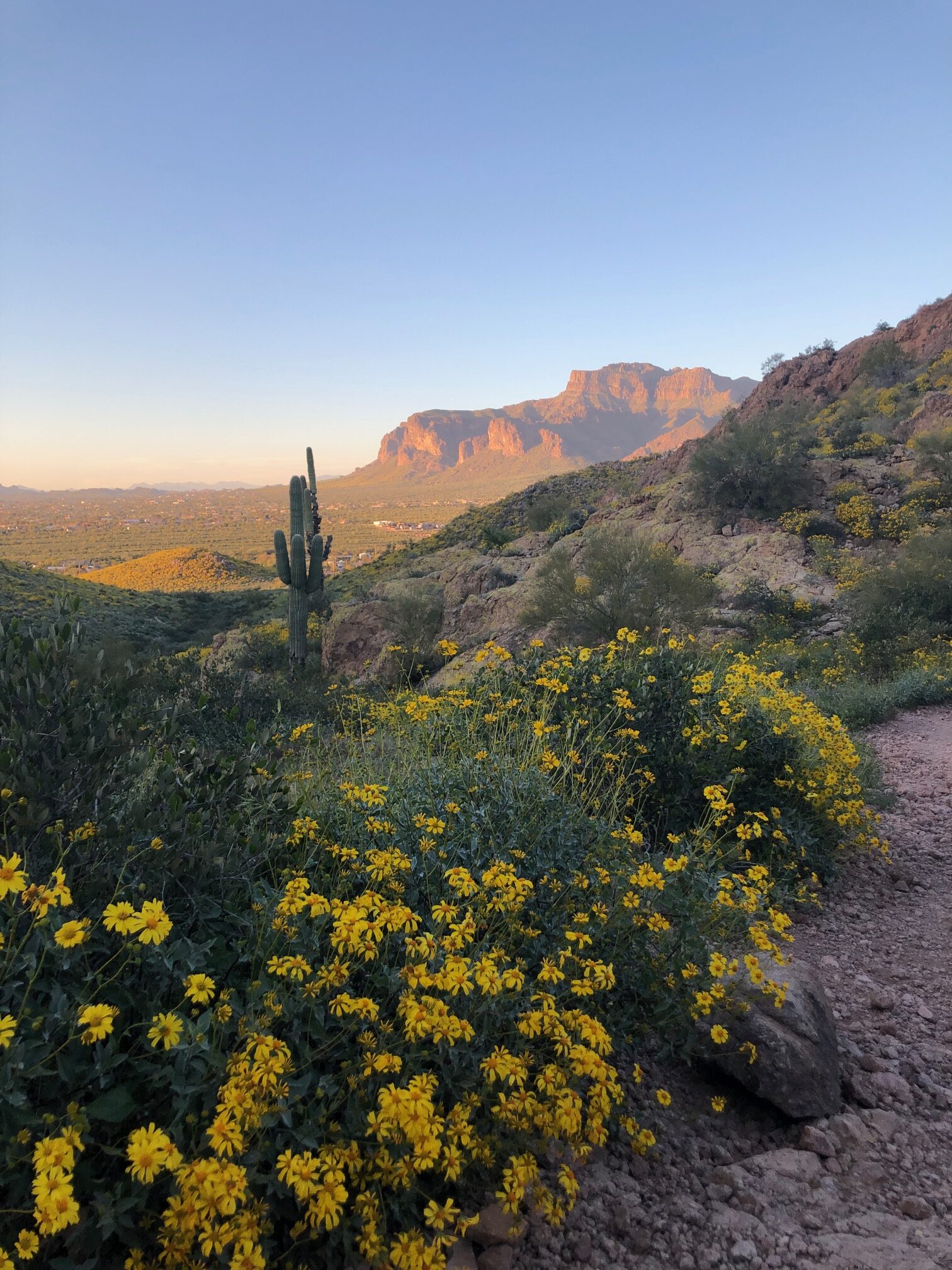 Brittlebrush and Crest Trail, Silly Mountain Park
Apache Junction, AZ
This 2.2 mile loop trail near Apache Junction is a beautiful place to take the family. There are actually a significant amount of trails here at this park – they all intertwine, so you can really make your own hike as easy or as challenging as possible. There is something for everyone!
My favorite time of the day to go is during golden hour – when the sun is going down, there is shade on the backside of the park making the trails absolutely beautiful!
This park is a wonderful place to watch birds – there are so many beautiful animals that come out as the sun starts to set.
The spring is beautiful as the wildflowers on this trail are quite spectacular and line both sides of the trail with colorful flowers.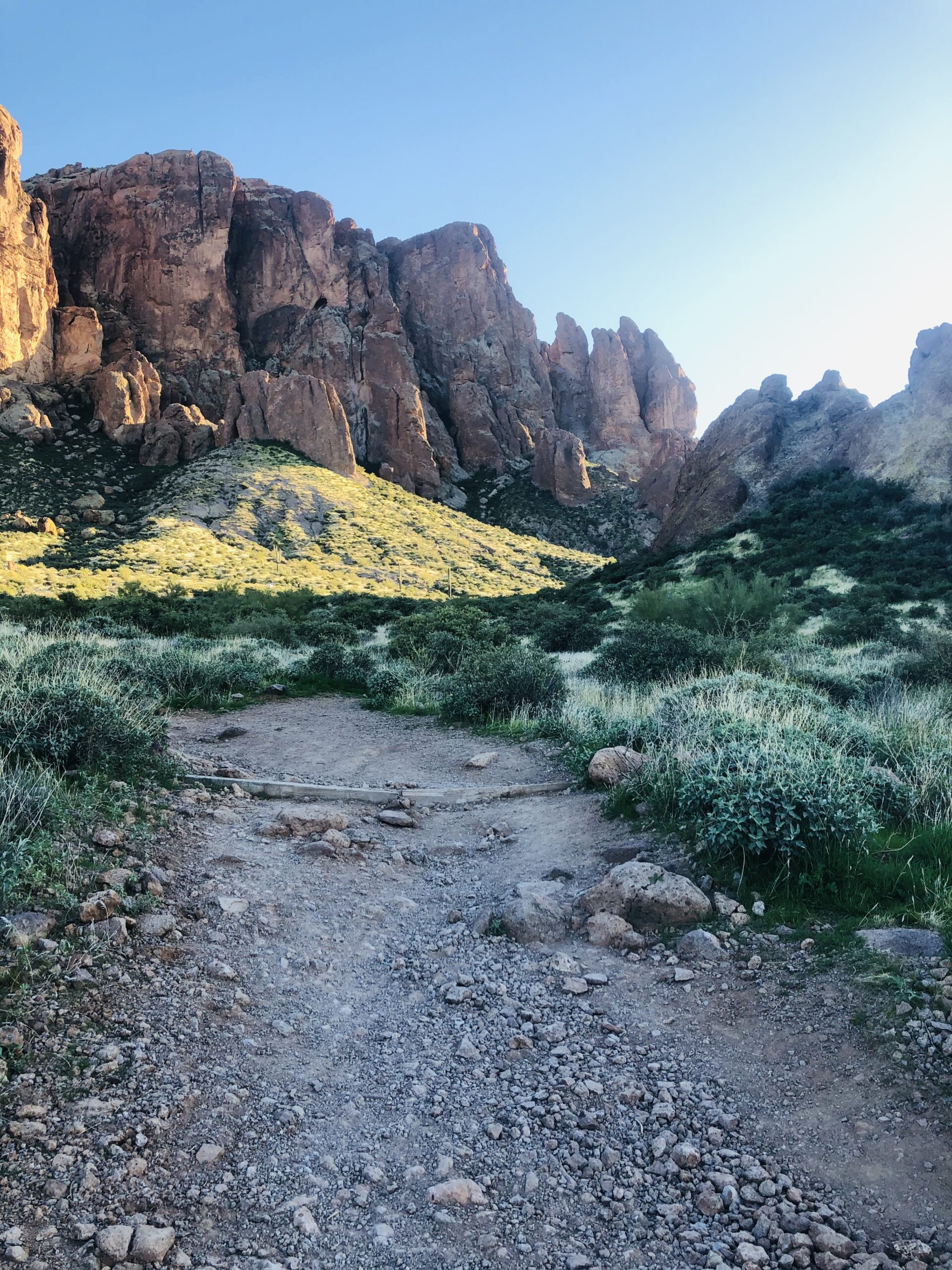 Treasure Loop Trail
Tonto National Forest, Lost Dutchman State Park
This 2.3 mile loop trail is in Apache Junction at the Lost Dutchman State Park. The trail requires admission to the park ($10). It is a moderately challenging route that gives amazing views of the Superstition Mountains. Once in the park, you can opt between Saguaro or Cholla parking lots – the trail is steep on the upward climb but levels at the top for a beautiful view of the East Valley.
There are a few benches on the way up, so you can sit down and catch your breath.
Trail is rocky going up in some places, and can be steep depending on if you go clockwise or counterclockwise going down.
Little shade, so aim for a morning hike or try for when the sun is going down.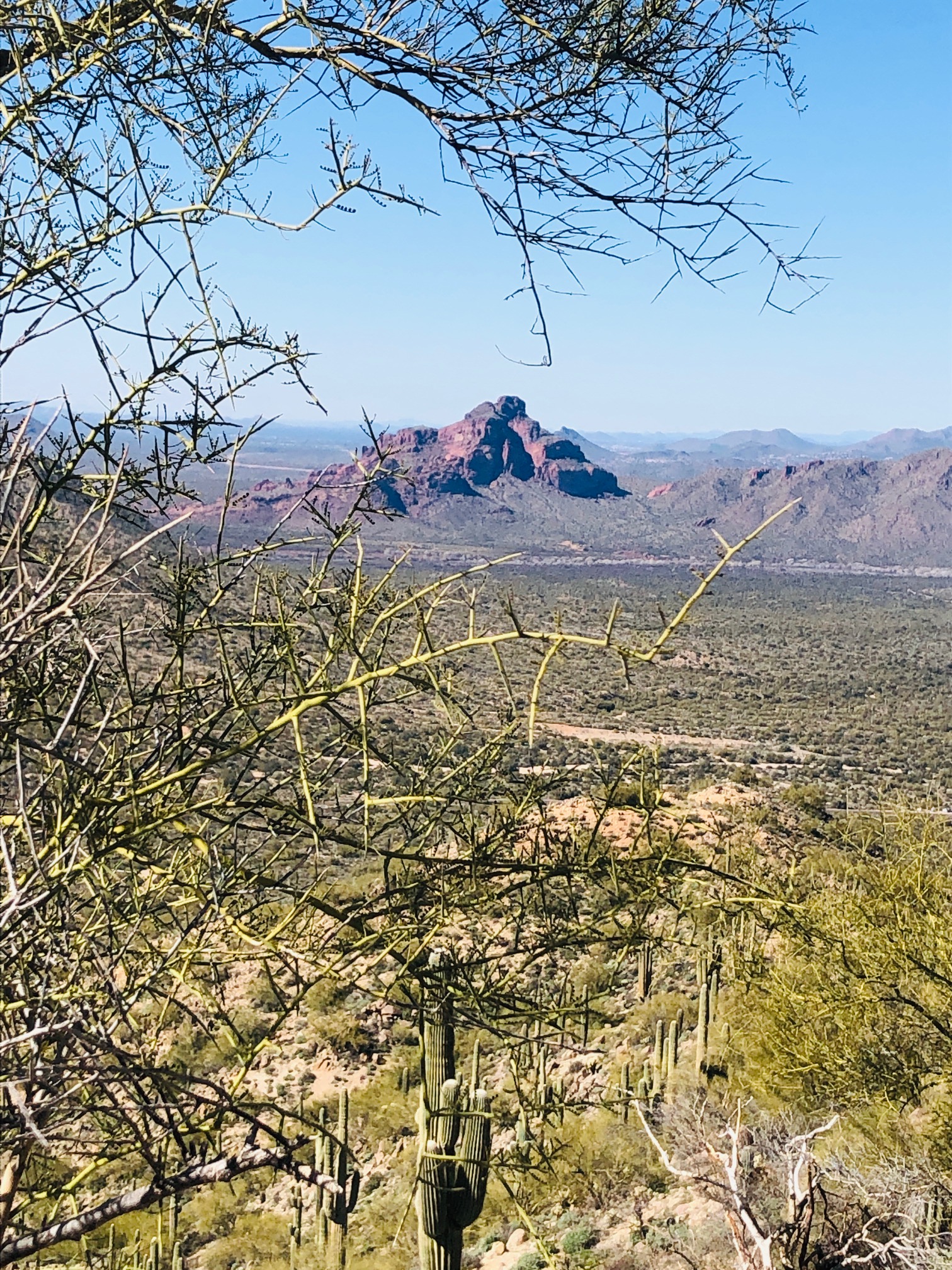 EJ Peak (Lone Mountain)
Tonto National Forest, Mesa
This 2.3 mile point to point trail is a challenging climb going up! But once at the top, there's an ammo can that you can sign the log book for, and bring something (to take something!) There are great views of Red Mountain, Superstition Mountain, and Four Peaks.
Bring a small token to put in the ammo can.
The trail is quite steep towards the end!
No shade on this trial so try for a cloudy day.
Parking is FREE just off Ellsworth past Usery Park.
AllTrails is a must if it's your first time, as it's hard to find the trailhead from the parking area if you are new to the area.
Is AllTrails necessary to hike?
Hands down, I think it is the best investment I ever made! At $29.99/year (or, $59.99 for 3 years), AllTrails is the #1 hiking app for those who seek to explore the outdoor trails in their area.
You can use the free version of AllTrails to navigate the trails but AllTrails is best with AllTrails+. Only with AllTrails+ can you get access to offline, downloadable maps so your maps will work well even when you're out of cell signal. Sign up for the free trial and test it out for a week – they will often times run sales for 50% OFF one year, too!
Show your love of hiking and the great outdoors
Grab one or a pack of several of these fun glossy 3×3 decals for your vehicle/laptop/iPad or water canteen for as low as $3 – available with FREE shipping!