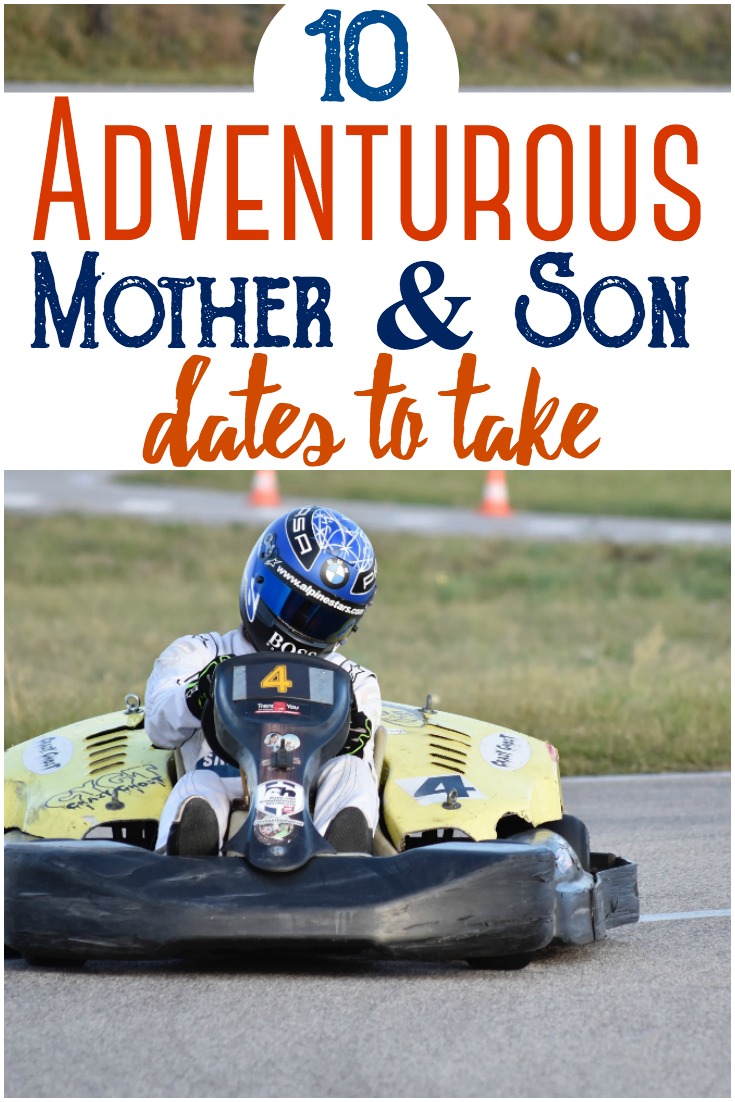 If you have kids, there is a 50/50 chance you have boys… some of you have more boys than girls, and others have ONLY boys. Heaven help you mama!
Out of my 5 kids, 2 are boys – and I always thought boys were pretty much the easy ticket. My boys are the biggest challenge (at least right now they are…) They fight more than the girls, they worry about their appearance more than the girls and they are much more of a handful than my girls have ever been.
When all that is set aside though, my boys are the most fun to take out for date night because they make me feel like a million bucks. We all know that life keeps us all very busy. However, we also know that kids grow in the blink of an eye.
If you don't have a regular date night with your kids, I would encourage you to give it a whirl – it's so much fun to have that one-on-one time and even more incredible when they can grow up and look back at all the fun things they did with you on these dates.
Here are some great ideas for quality mother son dates for you and your adventurous young man.
#1. Rock Climbing
A rock climbing wall makes for the perfect date. What young man does not like to have a little competition? (*Not to mention, if you are in Phoenix and have a POGO pass, you can go rock climbing with your pass!)
#2. Go Karting
Take your little guy for some laps around the local go kart track. Ride together if he is not big enough to drive on his own yet. If he is big enough, make a wager on who will finish first.
#3. Miniature Golfing
Most cities have at least a couple of places to miniature golf. Even if you are not the best at it, miniature golfing can still be loads of fun, because of who you are there with! Plus, they usually have arcade games and ice cream on the premises.
#4. Laser Tag
Any boy would be happy to have an evening out with his mom, playing laser tag. Put this one on your list ASAP! (*Phoenix: POGO pass holders also get laser tag admission, too! ROCK on!)
#5. Hiking
You and your young man can spend hours on a date, hiking nearby trails. Have a scavenger hunt while you are out and about, and see what kind of tracks, animal poop or interesting plants you come across.
#6. Canoeing
Water adventures are the best! Canoeing is a great way to bond, as you will have plenty of time to chat about anything and everything that is on your little guy's mind.
#7. Horseback Riding
Who would not want to tackle some trails atop a horse? Contact a local horse owner or horse trainer that can make this adventurous date a reality. We did this last year and it was one of the best experiences – Groupon features several deals for horseback riding, whether you are in Queen Creek or North Scottsdale.
#8. Ziplining
If you are fortunate enough to have a zipline course nearby, you are in for a rush! Your son will think you are the best for taking him ziplining.
We love the zipline at Goldfield Ghost Town here in the Phoenix area because we can make a pit stop for ice cream and walk around the old Ghost Town to enjoy the weather.
#9. Camping
Setting up a tent, lighting a fire, and roasting marshmallows are things that every boy should learn how to do. What better way than to have mom there to impress with his skills?
#10. Bike Ride
Bike rides can be leisurely or adventurous. You can take a calm ride through the park and chat or race each other to burn some extra energy.
When it comes to taking an adventurous mother-son date, there are so many possibilities. Me personally… I'd love to be on a go-kart and if I was a young boy, I'd be head over heels if my mom said "hey lets go go-karting!"
Are you looking for a bigger list? Then we have that too — with even MORE ideas.
The big question is, which adventurous would you most enjoy to plan first?