If you love pumpkins and pumpkin pie, you'll go crazy for this homemade pumpkin play dough recipe. This play dough is a wonderful sensory activity for kids!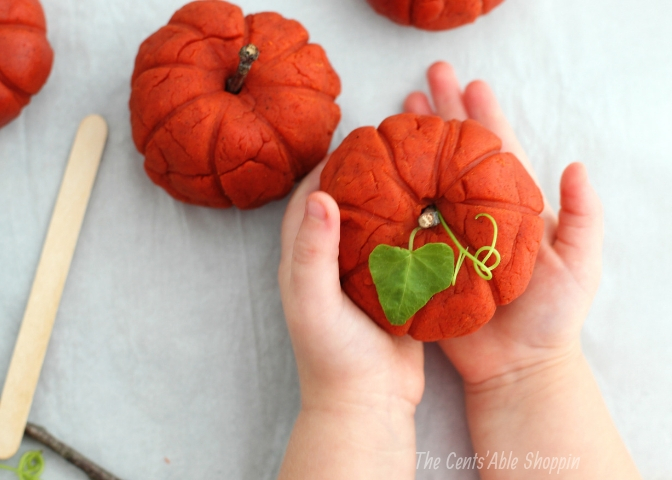 It has been a few months since I whipped up play dough for the kids (it was Christmas of last year!). I have been anxiously waiting until September to make this homemade pumpkin play dough for my smaller children. But .. I can't wait. It's almost the middle of August and I just want to toss everything aside for pumpkin.
Pumpkin everything.
Homeschooling four kids during the day often times leaves the smallest child out! You will sometimes find her nestled in her sisters room with piles of books, trying to babble her way through pages.
Or, a crayon in each hand artistically drawing all over the walls, stove, oven, washing machine.. you name it, she has done it! I was excited to whip up this play dough for her this past week. Not only would it keep her busy while her siblings worked on their reading assignments, I didn't have too worry too much if she decided to put things in her mouth.
(Yet, I'll give her credit… 4 year olds are pretty smart, and they know what not to do!)
Sensory Play Dough
This homemade pumpkin play dough is perfect as a sensory activity for smaller kids (recommended ages 2 and up).
Engages the Senses: from smell (pumpkin pie spice) to sight (orange), to taste (in case they do put it in their mouth) to touch (squishy yet soft) and even sound (clanking the dough with a roller or cookie cutters, even popsicle sticks).
Motor skills: using the popsicle stick to draw lines in the pumpkin and squishing the play dough to make different shapes and letters.
Hand strength: in our case, using my big rolling pin to "roll" out the dough after smashing the pumpkin to a flat round, and then cutting out her own shapes with a series of cookie cutters. Kneading the dough, and mixing the dough are also helpful ways to develop their hand-eye coordination.
Homemade Pumpkin Play Dough
This play dough comes together easily and is the cutest resemblance of a pumpkin that I have ever seen. It almost looks too "real" to even play with!
She was excited to have the opportunity to do something that the others couldn't meddle with and for that, I am grateful!
Ingredients:
1 cup flour

¼ cup salt

1 teaspoon cream of tartar

1 tablespoon pumpkin pie spice

2 tablespoons olive oil

1 cup water

Orange food coloring (natural food color options)
Additional Materials:
Popsicle Stick

Thin sticks

Leaves
Vines
To get started, follow these simple instructions: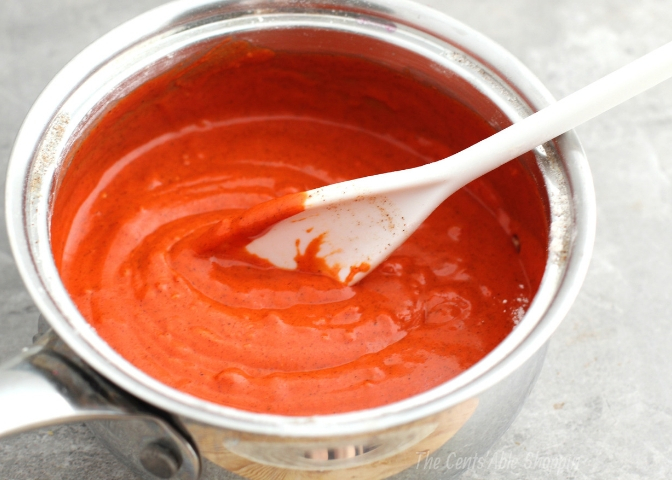 In a small saucepan over medium heat, add the flour, salt, cream of tartar and pumpkin pie spice. Stir until incorporated.
Add the olive oil, water and food coloring and stir continually until mixture thickens and begins to pull away from the sides of the pan and starts to form a ball.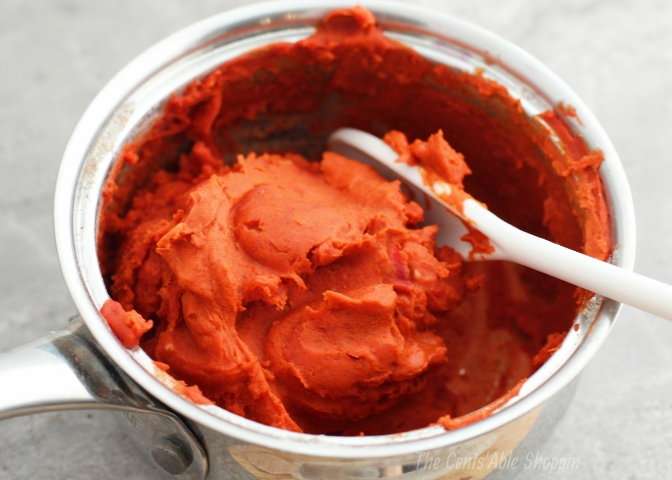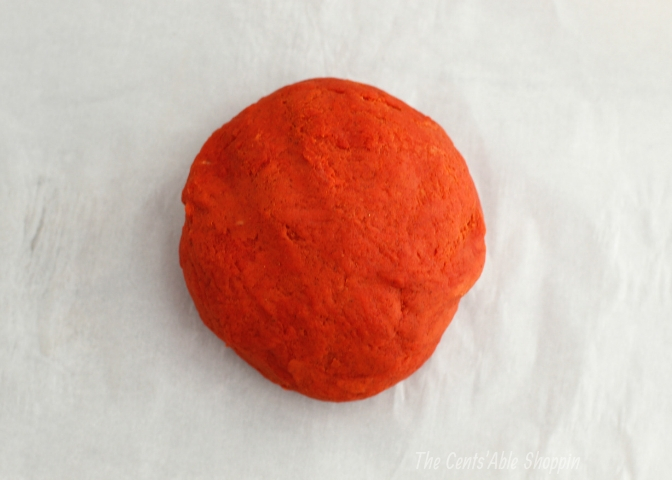 Remove from the heat and allow to cool for 10 minutes.
Place the cooled play dough on a non-stick surface and knead until the color is consistent throughout the dough and the texture is smooth.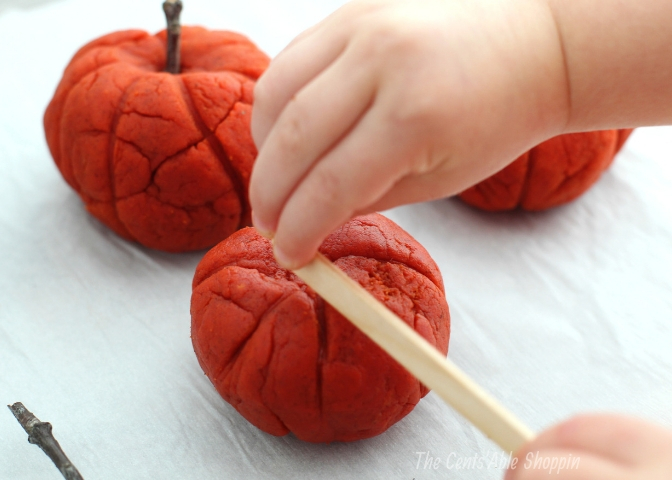 To create pumpkins, divide dough into even sized balls. Flatten slightly and use your thumb to press down on the top center.
Use the side of a popsicle stick to gently press down the sides of the ball to create the grooves similar to a pumpkin.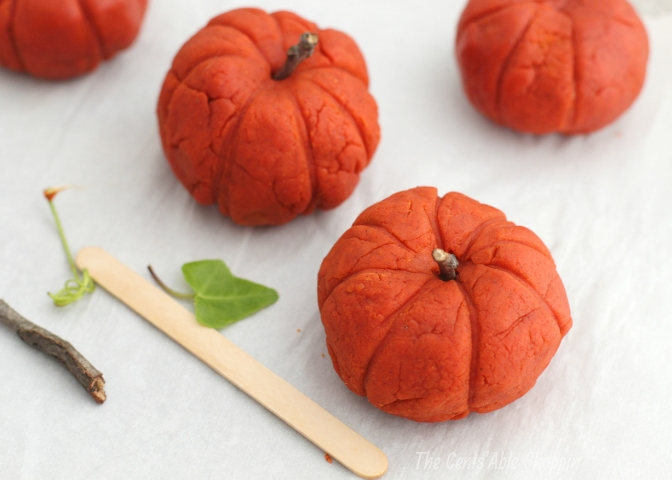 Break off a small piece of a stick and press in the top center of the pumpkin to create the stem. Then, add leaves and vines with the stem to complete the play dough pumpkins.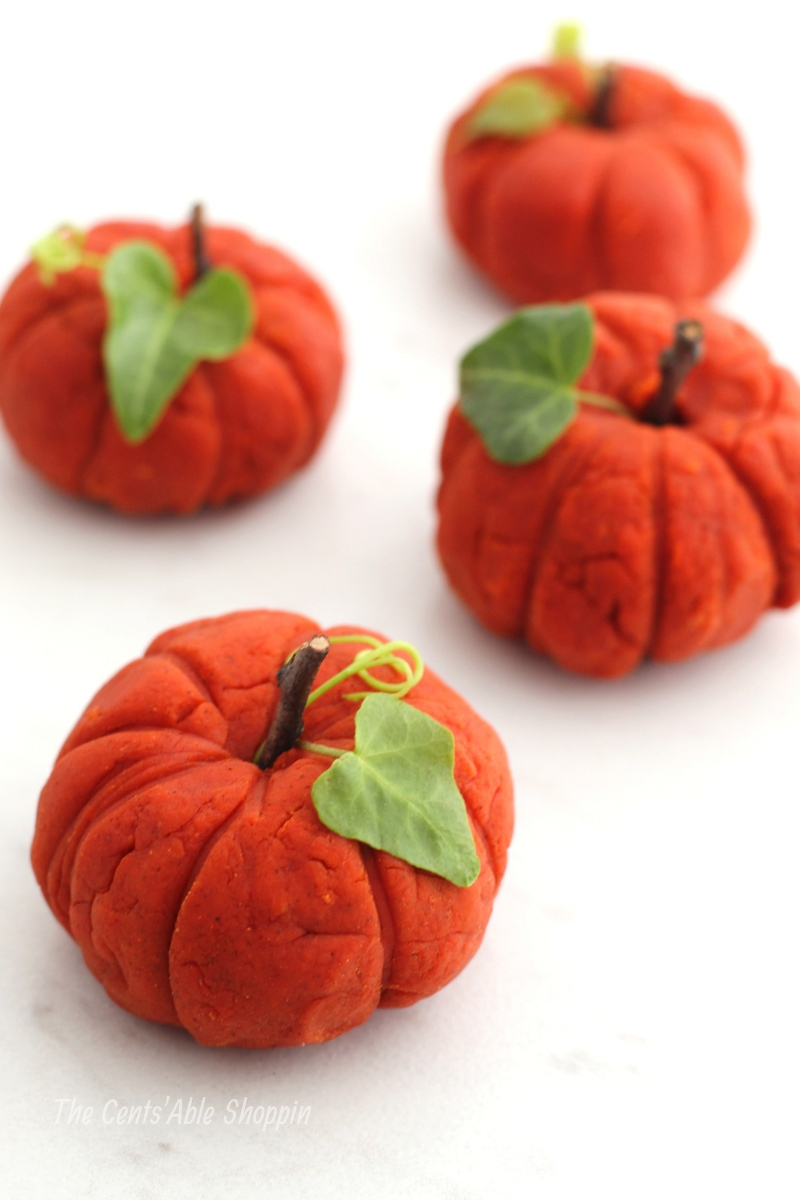 Note: Store in an airtight container to prevent drying. Or, wrap in saran wrap when not in use. If the play dough starts to dry out, add a little olive oil and knead.