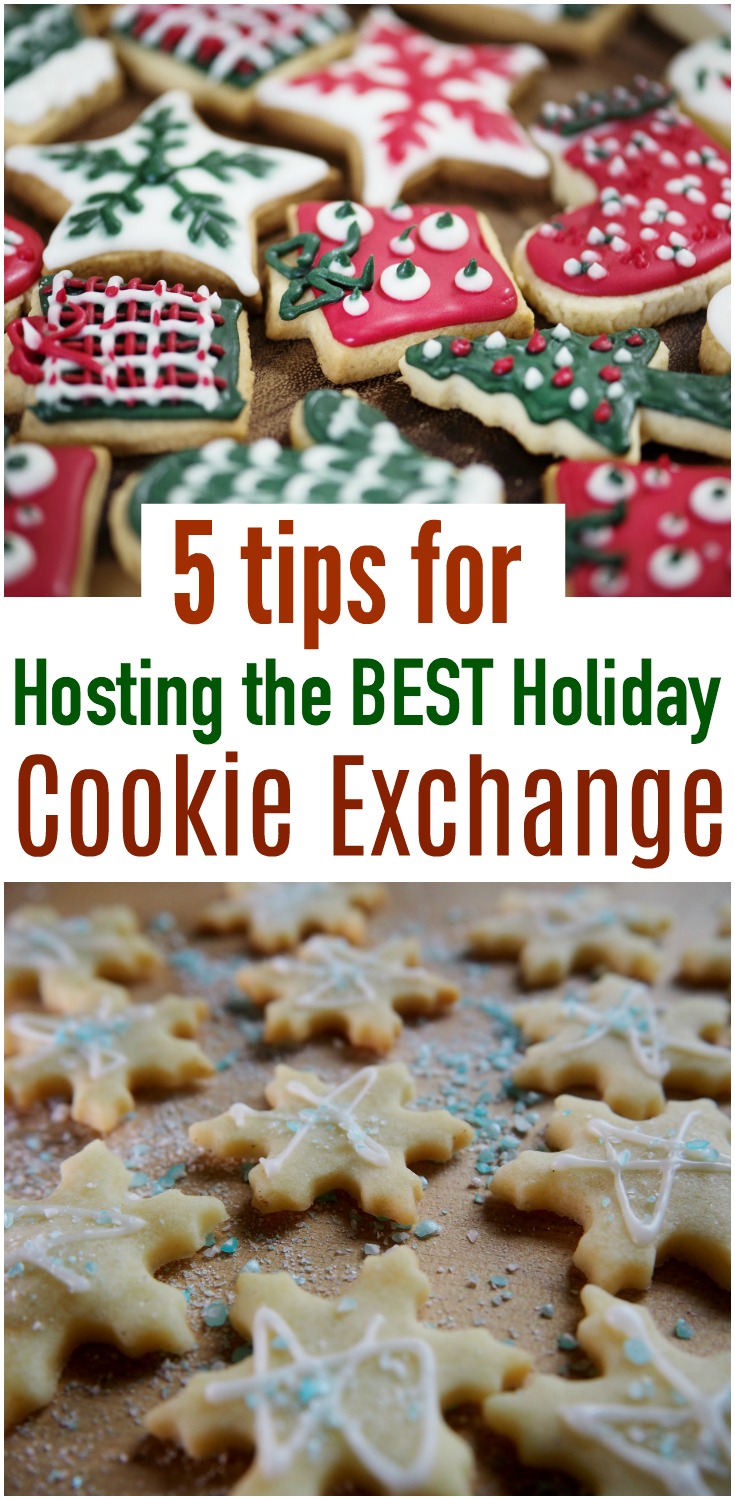 Have you ever hosted (or, been to) a Holiday Cookie Exchange? I have a close friend, that hosts every year.
If you haven't ever hosted one, December is a great time to give it a whirl – you don't have to make it over the top. Write down a list of close friends that you know will attend, and give it a shot – you'll score some great treats to exchange and come home with some new recipes under your belt.
Think it's too late to pull one off?
You don't have to do it only in December. You could do it for Valentine's Day …Easter. Or any time honestly.
Who doesn't love cookies? They are good to eat anytime during the year.
Because you might be new to the whole idea of an exchange.. not to worry. We are sharing some tips to help you make it one of the best cookie exchanges around.
Don't limit yourself. Although admirable and traditional do not forget the awesomeness of lemon bars and brownies. I'd do backflips if someone gifted me brownies. Did I mention I love brownies?! :)
What about loaf cakes or bundt cakes? If I got a tin of a variety of slices of pound or bundt cakes I may need a larger size of yoga pants.
Remember that in today's world we have nut allergies & gluten allergies. Make sure that you ask for a good mix of cookies so that there are plenty to choose from if this is what your circle of friends prefer.
Don't show up with store purchased cookies. Thre are so many varieties of cookies that you can make that are simple and foolproof – there should be no reason to show up with prepackaged cookies.
Don't think your friends want cookies/bake goods as presents? Well don't forget the policemen, firemen and convalescent/hospice homes would love to get some goodies.
Remember to always call ahead though.. don't just show up :)
Now that we have some good ground rules how about a variation?
How about hosting a cookie/bake goods exchange and having a hot cocoa bar? Ask your guest to bring an empty mason jar, hot cocoa mix and you provide the add ins. They can fill the mason jar with the mix and top it with different variations…… for example – Andes thin mints, mini marshmallows, peppermint sticks – just get creative! This makes a great gift on its own to a teacher or neighbor.
So now that we have all these ideas here are some tips on getting started with the actual exchange.
Send out the invitations
Virtual or paper whatever works best for you and your friends.
Invite guests three to four weeks in advance. Seven or eight people as this is manageable, but still enough for a good variety of cookies/baked goods. Have each person bring along copies of their recipe as well as some supplies for pretty packaging, such as ribbons, tags, tins or boxes. Remember this does not have to cost too much.
Choose Cookies to Bake
Ask each friend/guest to make a dozen cookies for every person in attendance, plus an extra dozen for sampling; you do the same. If you are making bars, same thing or Bundt cakes enough to slice it up so each person gets a slice to sample and one to gift. This way, everybody will go home with a couple gifts ready to give to their favorite person. Make sure there is enough to take home and to nibble on cause what is the use of this if we don't get to indulge with our friends?
Have Place Cards
At the swap, it helps to know which cookie is which. Put folding place cards in front of each variety as a label. Remember to note if it contains any nuts (etc) in case of any allergies. If you want to get fancy you can print out a menu of what is available and who baked it. But personally I'll be too busy imitating Cookie Monster.
Set Up a Packaging Station
As stated before make sure to ask your guests to bring wrapping materials; you might also keep some on hand in case anyone forgets. Set everything out on a large work area. How about having tags or ribbon available?
Prepare for the Swap
On the day of the swap, make sure to have beverages like coffee, tea, milk or water to have with the cookies. Make sure to have a table or two for sampling, swapping, and packaging cookies.
Remind each guest to put out a plate of cookies for tasting, with stacks of recipes next to the plate. Let everyone sample the treats and maybe even take a vote on the best one. When it's time to trade, set out the remaining cookies and let each person walk around the table to pick up their share of each. Or, have people take only what they need to package one gift at a time, and return to the table for more as they wish.