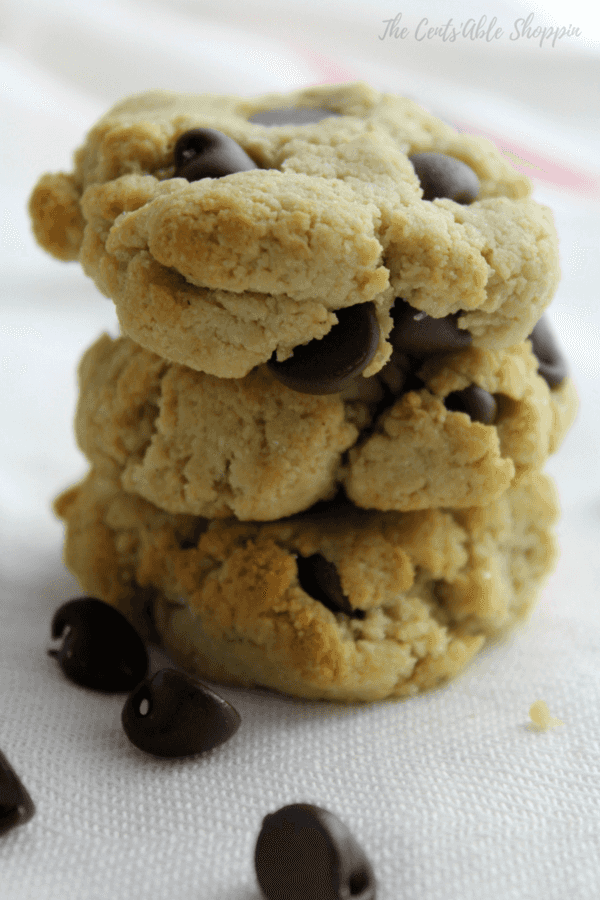 Everyone loves a really good, old fashioned chocolate chip cookie. Here is a recipes for gluten-free chocolate chip cookies that you can feel good about eating.
Made with almond flour, eggs and coconut oil, they mix up quickly and bake perfectly. Your kids will have a hard time waiting for them to cool on the baking sheet because they smell so incredibly delicious … but once they do, the cookies will disappear in no time.
Unlike regular cookies, these won't spread – so once you scoop them on the cookie sheet flatten them out to your preferred size before baking. In just over ten minutes, they'll be ready to pull out so they can finish baking (and cooling) on the cookie sheet for a few minutes before devouring with a huge glass of raw milk.
Yum! They are a favorite in our house and I know they will be in yours too!
Gluten Free Chocolate Chip Cookies
A rich and delicious gluten free chocolate chip cookie that's guilt free and perfect to dunk in a glass of milk!
Ingredients
1/4 C brown sugar
1/2 tsp baking soda
2 Tbsp butter, room temperature
2 tsp vanilla extract
1 large egg
1/2 tsp ground cinnamon
2 C almond flour
1/2 C mini chocolate chips
Instructions
Preheat the oven to 350 degrees F.
In the bowl of your mixer, combine the butter, vanilla, egg, and brown sugar and beat until smooth.
Stir in the almond flour, and baking soda just until blended.
Fold in the chocolate chips, adding more or less as desired.
Scoop the dough by rounded tablespoonfuls onto your lined cookie sheet and push down to 3/8" thick.
Bake for 9-12 minutes or until light brown - remove from the oven and let sit for 3 minutes before transferring to a baking rack to finish cooling.
https://www.thecentsableshoppin.com/gluten-free-chocolate-chip-cookies/