This simple DIY Granite Cleaner is easy to make at home, and will help you preserve your beautiful granite counters for years!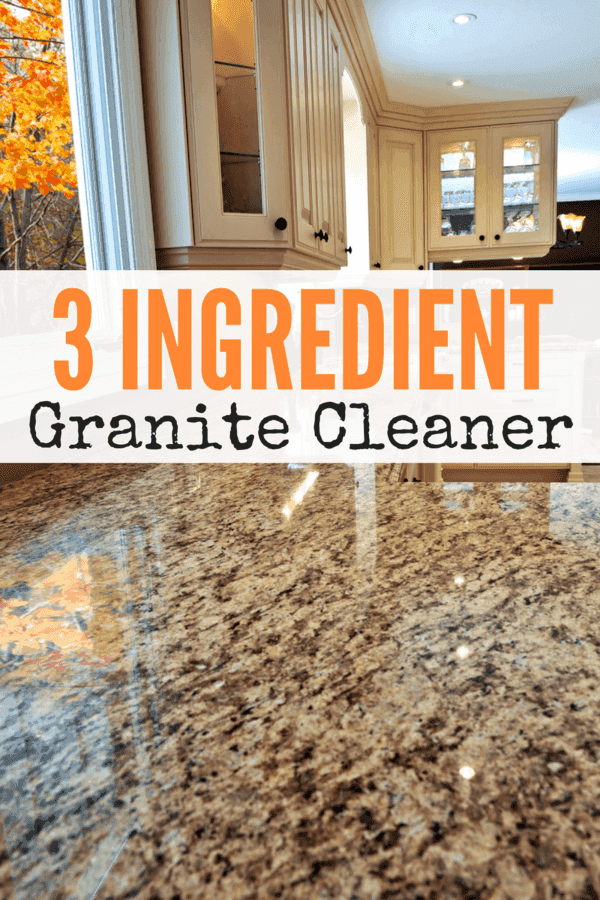 Granite is a pretty popular countertop choice with new homes – at least in the Phoenix area. It might just be the first choice for new homeowners all across the U.S. Many of us swoon for granite.
Although it is expensive, it's very hard and durable and can resist stains and scratches. It allows for a counter top that lasts homeowners for years.
But… although it can last a long time, that doesn't always mean that the granite can't be damaged. Granite is harder and less porous than other countertop varieties. That doesn't necessarily mean that it is not affected by really strong cleaning chemicals.
Avoid using these on granite
There are a myriad of reasons to avoid commercial cleaners. They can be harmful for your health in the sense that they can greatly affect your hormones, cause respiratory distress, contribute to asthma, and as a result, have a long lasting effect on your immune system.
When your skin is the largest organ, these chemical laden cleaners should take a backseat to more natural items that can do just as good of a job if not better – without the cost or worry.
Polished stone countertops are treated with sealers when they are installed. Much like the sealers that are used on tile floors, they protect the counter from damage that chemical cleaners can cause over an extended period of time.
You'll want to stay away from things like ammonia, lemon juice (acidic), harsh or abrasive cleaners, bleach or things with vinegar. Unlike lemon or lime juice, citrus essential oils are not acidic – making them a wonderful addition to your cleaners.
Just remember to use glass when you incorporate citrus oils because they can eat away at plastic. The plastic sprayer is typically made out of a much stronger plastic. However, the actual bottle is usually made of a less durable plastic making them prone to break down with the use of lemon essential oil.
That is because plastics are made of petrochemicals that react adversely to citrus oils.
Simple DIY Granite Cleaner
This simple DIY granite cleaner is an inexpensive and effective solution on your counters. Try to wipe up spills as soon as you see them, never cut things directly on your counter and your counters will last you a very long time.
1/4 C. rubbing alcohol
5 drops of a mild dish soap
12-16 oz distilled water
10 drops Lemon Essential Oil
Glass Spray Bottle (16 oz )
Unlike using lemon juice, which is acidic, lemon essential oil is NOT acidic – and is a wonderful boost for cleaning your granite counters.
Mix all of those items together and store in a glass spray bottle similar to this here. If you are forego the lemon essential oil you can use plastic (citrus oils should not be used in plastic).