From National Monuments to Native American Ruins, here are 14 unique and educational places to visit in Arizona with your family.
Over the last few years, we have spent a lot of time on the road with our kids, going all over the state of Arizona.
Our kids love to visit new places. We like taking them on road trips galore. Both of us had parents that did a great deal of roadtrippin' when we were kids and we, in turn, find ourselves doing the same. Funny how that works – right? :)
In a way, we consider it cheap entertainment. No, it's not like taking them to a fancy resort or to a fancy movie… an aquarium that's super expensive (especially for 7..).
It's an amazing way to teach our kids about history. If we drive a little too far in the day, it's OK – we'll put ourselves up for the night at a hotel.
Our kids are convinced that any hotel with a pool is a resort, so staying anywhere is just hunky dory for them. We find ourselves driving back the next morning to return to real life. It's fun to make it a family trip – even better that you can turn it into an educational experience at the same time.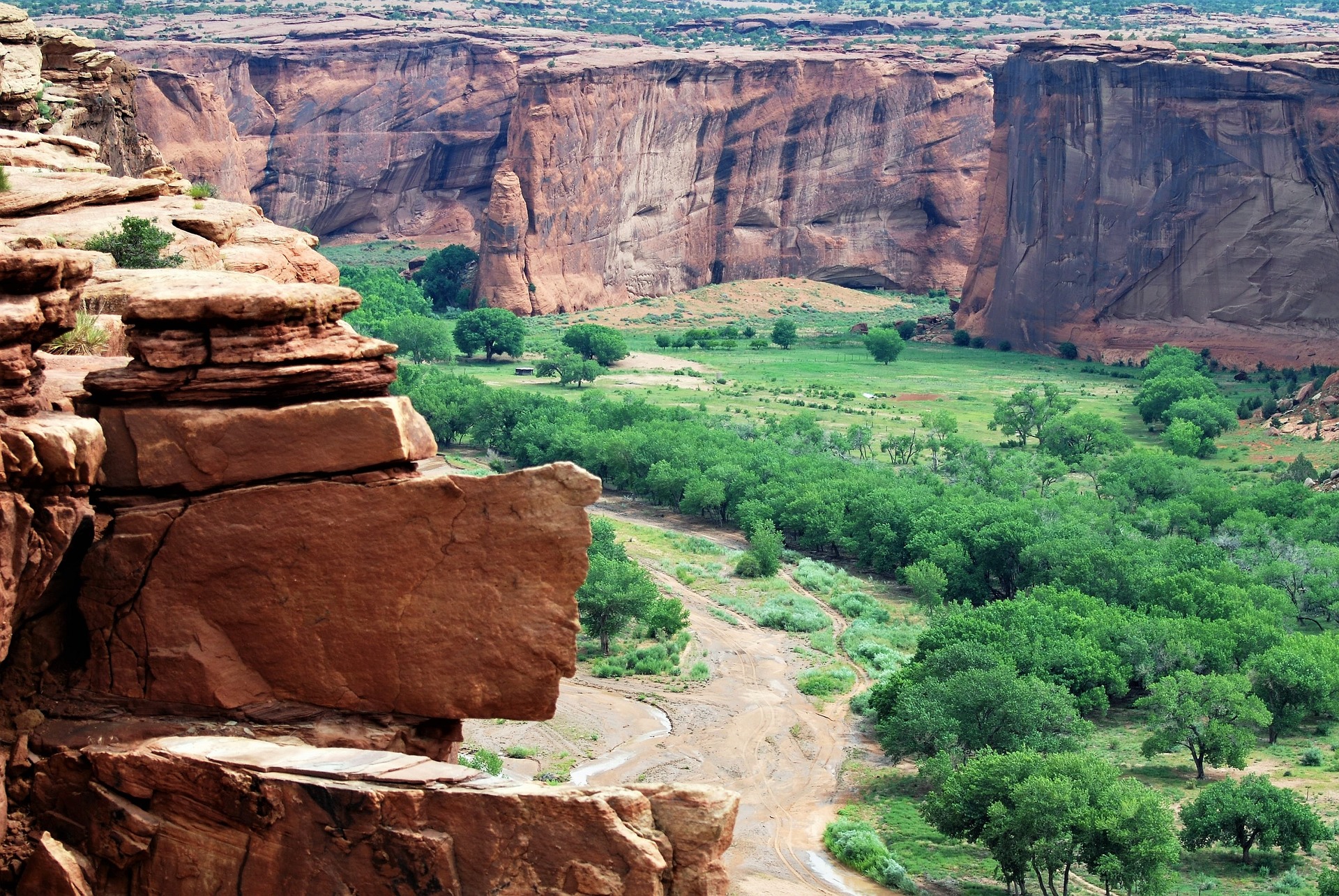 With that in mind, here are 14 unique and educational places you can drive to with the family – either for a day, or over a long weekend.
Have we been to all of them? Not quite – but close. There are 1-2 we haven't.. the rest yes, and you bet I have memories from each trip. Who wouldn't when there are a car load of kids with us?
Unique and Educational Places to Visit in Arizona
The National Park Service has several fee free days, and if you are military, a volunteer or disabled, you can request a FREE National Parks Lands Pass.
Canyon de Chelly National Monument is located in northeastern Arizona within the boundaries of the Navajo Nation. The monument preserves ruins of the early indigenous tribes that lived in the area, including the Ancient Pueblo Peoples (also called Anasazi) and Navajo. The monument covers 83,840 acres and encompasses the floors and rims of the three major canyons: de Chelly, del Muerto, and Monument.
There is no entrance fee for the park! Begin your visit at the Visitor Center to pick up a brochure, stamp your passport, browse the park store and watch the orientation video. Open daily from 8 a.m. to 5 p.m., but closed Thanksgiving, Christmas and New Year's Day. During severe weather, the Visitor Center may open at a later time or be closed for the day.
Wupatki National Monument is one of several sites preserving pueblos (villages) of ancient peoples. The ruins/village are scattered over a relatively large area of desert northeast of Flagstaff. The pueblos all have a distinctive deep red color and were made from thin, flat blocks of the local Moenkopi sandstone.
Most visitors drive through the 34 mile scenic loop that winds from Highway 89 through Sunset Crater and Wupatki National Monuments. The scenic loop leads you from the high Ponderosa Pine forests of Sunset Crater, down nearly 2,000 feet in elevation to the red rocks and painted desert vistas of Wupatki.
Arizona has LOTS of cliff dwelling ruins – this is just another one to add to your list! Back in 1100 CE to 1250 CE, the Sinagua people of Arizona were a pre-Columbian people who lived in Walnut Canyon and built 80 dwellings beneath the ledges of limestone. They ran a trading empire that extended to Central America — but for reasons we don't know, they abandoned their community in Walnut Canyon. The ancient cliff dwelling ruins are a protected national monument.
To get there, head north to Flagstaff on the 1-17, then go East on I-40 towards Albuquerque. Exit on 204, and go south to the visitor center, 3 miles down the road.
Travel north on the 1-17 to exit 289 (90 minutes north of Phoenix) and exit there, to the right, then head 1/2 mile (past two traffic circles) and hang a left on Montezuma Castle Road. You'll drive down the hill to see the Cliff Dwellings & Archaeological Remains.
The Castle is open 364 days per year (closed on Christmas) from 8 – 5 p.m. Fees are $5 for ages 16 and above to see the Castle.
See natural sandstone canyons with Tsegi Phase village built within – the villages date from 1250 A.D. to 1300 A.D.
Navajo National Monument is a non-fee park and consists of three non-contiguous monuments all located within the Navajo Nation in Northeastern Arizona. Guided tours are offered for free during the summer season. The summer season starts May 29, 2016 and ends September 10, 2016. The winter season starts October, 2016 and ends May 2017 Memorial Day week.
Navajo National Monument is located at the end of State Highway 564 off of US Highway 160.
Parashant National Monument is located on the edge of the Grand Canyon. The million plus acres of the monument give you views that show what used to be violent eruptions, flowing basalt, and the after effects of earthquakes that are now visible in the layers of the geological history.
Prehistoric trails, villages, and rock art images tell us about a life once lived by the ancient people who once inhabited this land.
The monument is located in the northwest corner of Arizona, bordering Nevada to the west and near the southern border of Utah, with entry roads from Nevada, Arizona and Utah.
This is one of our favorite places to go – my kids love this monument more than any of the others.
Casa Grande Ruins National Monument, is located in Coolidge, just northeast of Casa Grande. The monument preserves a group of Ancient Pueblo Peoples Hohokam structures of the Pueblo III and Pueblo IV Eras that served as a marker between a system of canals and trading area.
To get there, head to Coolidge via the I-10; take the Coolidge exits and follow the signs to the park entrance.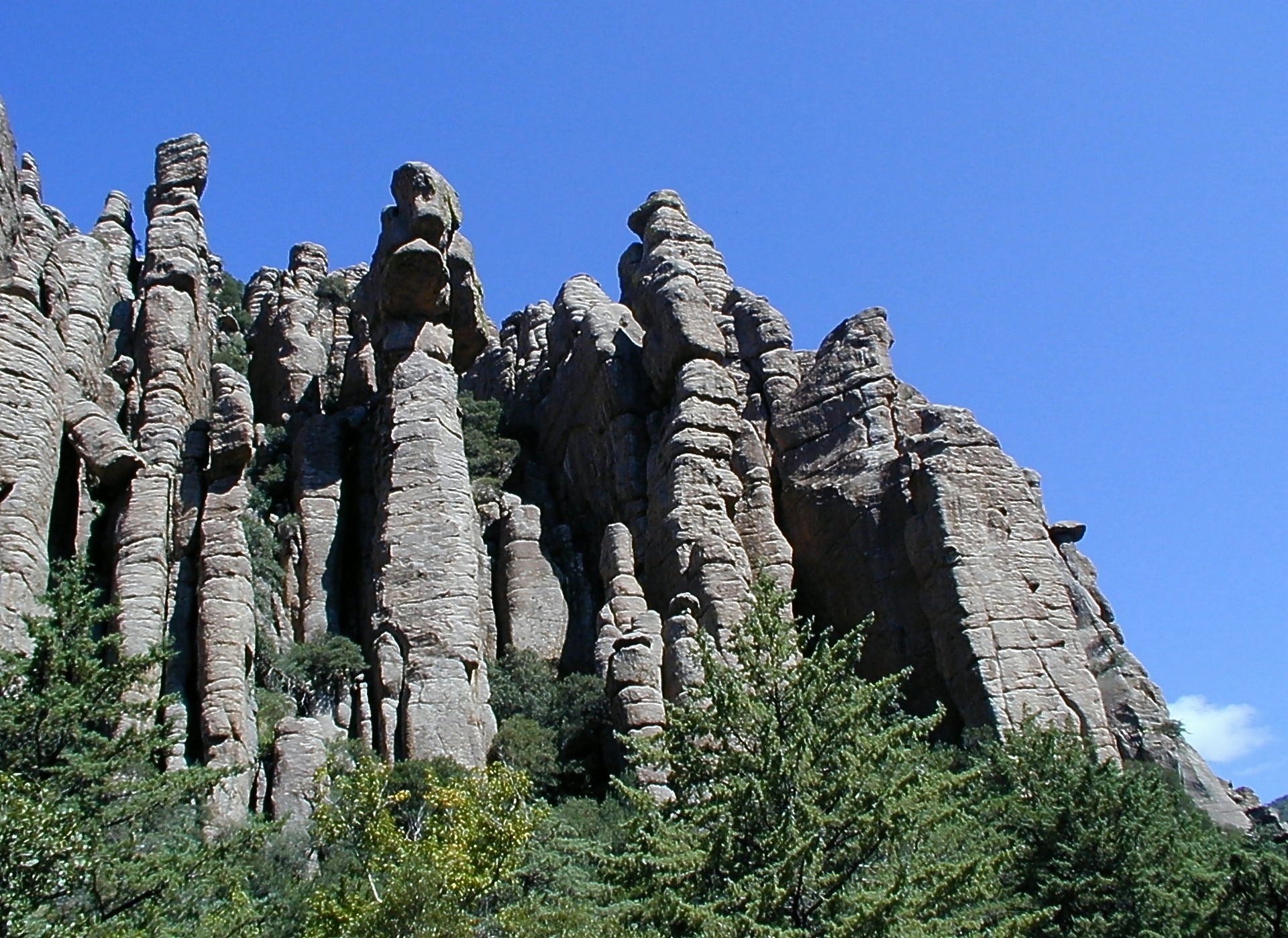 Chiricahua National Monument is located 36 miles southeast of Willcox, Arizona. The monument spans the remains of a volcanic eruption that shook the area 27 million years ago.
The 8-mile paved scenic drive and 17-miles of day-use hiking trails provide opportunities to see over 11,000 acres.
To get to the monument, take I-10 east from Tucson to the first exit for Willcox. Travel 3 miles into town to the stoplight and turn right. Take Arizona State Highway 186 for 32 miles to the junction of Arizona State Highway 181. Turn left and go 4 more miles to arrive.
The Hohokam Pima National Monument is an ancient Hohokam village within the Gila River Indian Community, near present-day Sacaton, Arizona. The monument features the archaeological Snaketown – a Hohokam village inhabited from 300 A.D. to 1200 A.D.
The National Monument is on the Gila River Indian Reservation and is NOT open to the public. You can, however, visit the Arizona State Museum in Tucson for information about the monument.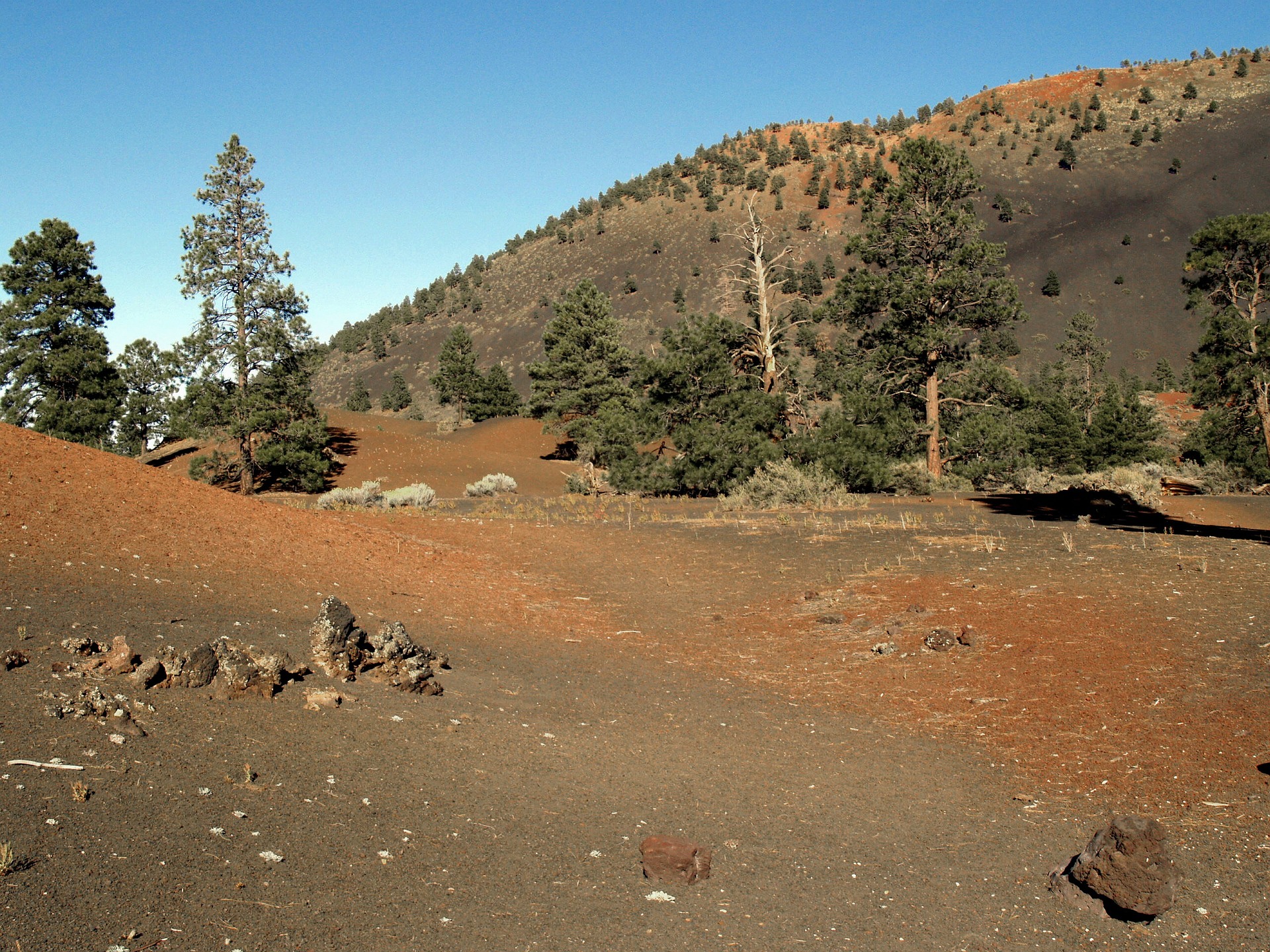 The Sunset Crater is the youngest of a string of volcanoes related to the San Francisco Peaks. The most recent eruption was was in 1085 A.D. – which caused a blanket of ash covering over 2,000 square kilometers, and forcing the Sinagua people to abandon their settlements.
Hiking to the crater is no longer permitted; there is, however, a one-mile loop (self-guided) at the base of the crater. The visitor center is located near the park entrance – 15 miles north of Flagstaff on HWY 89.
To get there from Flagstaff, take U.S. 89 north for 12 miles, turn right on the Sunset Crater – Wupatki Loop road and continue 2 miles to the visitor center (about 30 min).
OR, take a 1-hour scenic loop drive that's approximately 34 miles – from the open meadows, to the crater, through grasslands and then a view of the Painted Desert and Wupatki Basin and Wupatki National Monument.
Tuzigoot is an ancient village or pueblo built by a culture known as the Sinagua. The pueblo consisted of 110 rooms including second and third story structures. The first buildings were built around A.D. 1000.
The Sinagua were agriculturalists with trade connections that spanned hundreds of miles. The people left the area around 1400. The site is currently comprised of 42 acres… just east of Clarkdale, Arizona, 120 feet above the Verde River floodplain.
Tuzigoot National Monument is 52 miles south of Flagstaff, Arizona using Highway 89A, or 90 miles north of Phoenix. To arrive through the 1-17, take Exit 287 and travel west on Highway 260 to Cottonwood. Head through Cottonwood on HWY 89A, to Clarkdale.
Turn on 89A, and at the first light after turning, signs will tell you to stay on 89A – drive through the intersection (on historic 89A), and proceed through Old Town Cottonwood. Once you leave the city, you will look for the sign telling you how to arrive at Tuzigoot.
The Tonto National Monument showcases two Salado Style Cliff Dwellings, with everything from colorful pottery and other artifacts that tell a story of people living in the northern Sonoran Desert from 1250 – 1450 CE.
You can reach the Monument several ways – drive through Globe from East Mesa, and take HWY 188, heading northwest, OR… a longer and more scenic route, by going through Tortilla Flats and Canyon Lake. If you choose the latter, I would suggest a 4-wheel drive vehicle. That route is scenic (but scary if you are afraid of heights, narrow roads with steep cliffs), but not the best option if you have small children.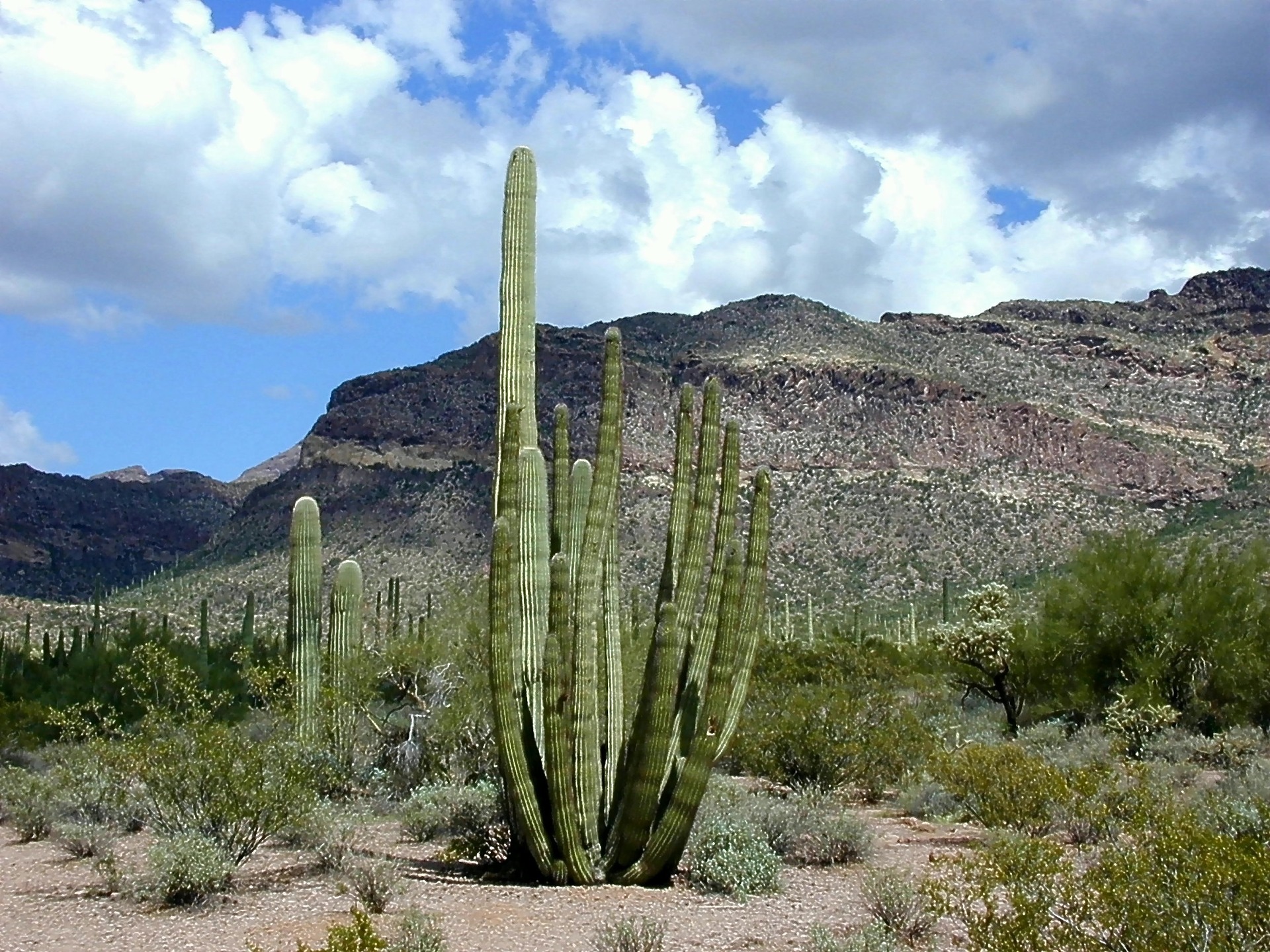 Declared a National Monument in 1937, Organ Pipe Cactus is not only a National Monument but also a UNESCO biosphere reserve located in the far southern Arizona area, thus sharing a border with the Mexican state of Sonora. The park is the only place in the United States where the Organ Pipe Cactus grows wild.
The north entrance of the park is a town called Why, Arizona. At the southern border, is Lukeville, Arizona – a border crossing point to Sonoyta, Sonora, Mexico.
To get there from Phoenix, follow Arizona HWY 85 to Ajo, then to Why. The monument entrance is 4 miles from Why, Arizona.
Pipe Spring National Monument is a United States National Monument located on 40 acres in Fredonia – that 40 acres is rich with American Indian, early explorer, and Mormon pioneer history who depend on life-giving water found in the desert oasis at Pipe Spring.
Pipe Spring is considered a National Monument in Arizona – to get there, take Utah Highway 89 and 89A, turn onto Arizona State Route 389 in Fredonia, Arizona. Pipe Spring is 15 miles west of Fredonia.