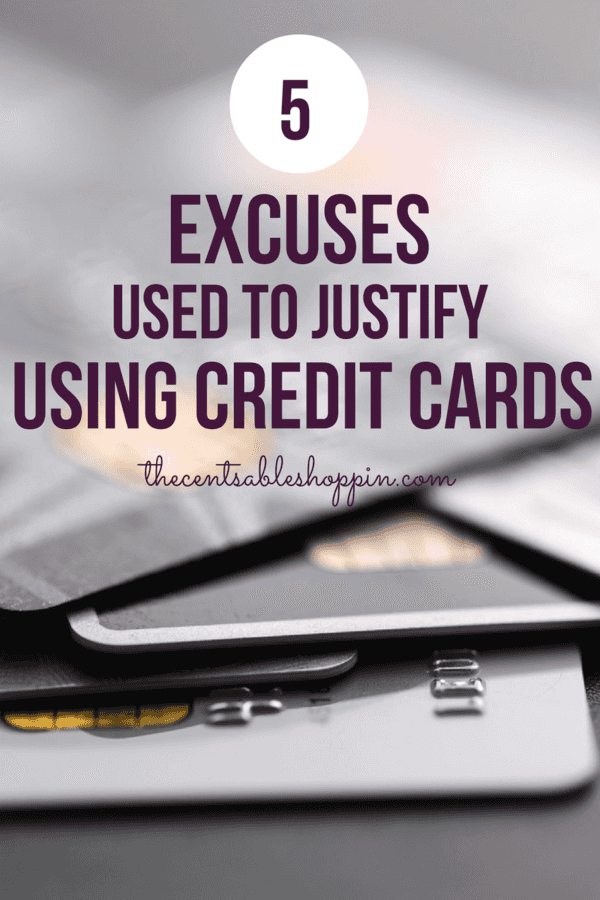 The average U.S. adult carries $5,540 on any given credit card. And according to Credit Card Debt Statistics, the the average household has $9,600 in credit card debt.
Most people you talk to will confess that they have at least one credit card.
According to NerdWallet, over 50% of Americans think that carrying a credit card is required to help their credit score. Credit cards are one of the biggest obstacles that Americans face – and it's such an easy trap for people to fall into, as well..
Credit Cards were set up to get and keep you in debt. Only credit card companies would consider someone a deadbeat who pays their balance in full, and on time, each month.

Some may say there are positive uses of a credit card – in fact, where else can you earn cash back for paying your bills on time, and the ability to earn travel miles?
Here are 5 bad excuses people use to justify why they keep and continue to use their cards:
We Pay our Balance in Full Each Month…
Everyone says this to justify the card(s) they have. But.. most people don't. Because if we did, then we wouldn't be a nation that was buried in credit card debt.
Believe it or not, you can justify your credit card by saying you pay it off in full every month, but even by paying your bill on time, you are not beating "their system".
Here's the deal: personal finance is 80% behavior. When you pay with a credit card you tend to spend more – there is less pain associated with paying by card versus cash. We spend more when we use plastic. And while you might be disciplined to pay off each month, if you find yourself in a pickle (job loss), etc, then that can easily transform into
We Earn Rewards, and Airline Miles…
Every time you turn around, credit cards are becoming more and more creative about what they offer consumers to get them to sign up. They really are marketing geniuses – with rewards systems that appeal to a majority of Americans.
Sad part is… you can't honestly get "rich" off their rewards. You have to spend quite a bit to earn those rewards – and in many cases, your reward earnings are also capped. If you are spending $4,000 to earn a $400 Reward, you are also increasing your risk of putting yourself in a predicament if something happens to your job, health or family. Spending $4,000 just to earn $400 is silly anyways – how about focusing that energy on investing in a college fund for your children that earns you an average of 8-10% in returns?
If you can stick to cash, learn how to say no, and live within your means, you will see rewards build through real wealth and not with gimmicky rewards systems
We Need it in an Emergency…
What starts as an emergency easily transpires to everyday necessities like pizza, dinner meals in a pinch, and then utility bills.
Having a credit card in an emergency is no substitute for taking the time to build up an emergency fund – as a source of real cash in times of need. Then, when you experience an emergency, you can take care of that yourself with your savings and not rely on a plastic card that can jeopardize your finances.
We find Cards Easier than Carrying Cash…
In some ways, it's true that they might be easier, but that's not always a good thing, either. Cash requires more space in our wallet – whereas cards take up a smaller area.
But… it's a known fact that you spend more with a credit card. When you swipe, you aren't as in tune to the dollars in your account – which seemingly makes it easier to swipe away.
Don't think that's true? I beg to differ. Many vending machines now have a credit card slot – allowing you to swipe instead of "stuff" a bill in the slot to get the food you need. When using a card, you are always tempted to buy more – if you pay in cash, you are limited to the cash you have. Not only that, you are connected to that cash emotionally so you are apt to spend less.
We Feel it's Necessary to Travel…
MOST car rental agencies accept debit cards. You might have to jump through more hoops using debit – but you CAN use debit instead of credit. Sure, they will place a bigger hold on your account, but if you budget your money, then that shouldn't be an issue.
Debit is no more unsafe than credit when traveling – of course, credit is a higher risk as you are using money that is not yours. But when you make a purchase with your debit card, YOU have the option to run it as a debit or credit. If you use credit, you are protected by the card company's zero liability policy – and you are NOT responsible for unauthorized transactions.
••••••••••••
Have you heard anyone say any of these? Just a few months ago we dispelled a few common credit card myths and I remember several people mentioning these reasons, above, on Facebook to justify the card they continue to carry.
If you are willing to finance your wants and make payments you truly CAN have almost anything you want – without waiting. But I'm almost certain that is not what everyone wants, or is it?
SO many people are SWIMMING in household debt ~ it truly has swollen to an enormous amount ~ we finance college, which takes us years to pay off. We finance cars, because we get easily bored with the vehicles we have… we encounter medical expenses, unemployment and emergencies, and with little or no emergency fund, the need to finance seems appealing because it still allows us to get by… yet still get what we really want (and may not want to wait for…)
One of the ways to get serious about your financial lifestyle is by making that decision to stop the cycle.
Building wealth does NOT happen with credit cards – there is absolutely no reason to have even one credit card game if you are serious about getting on a better track with your money.