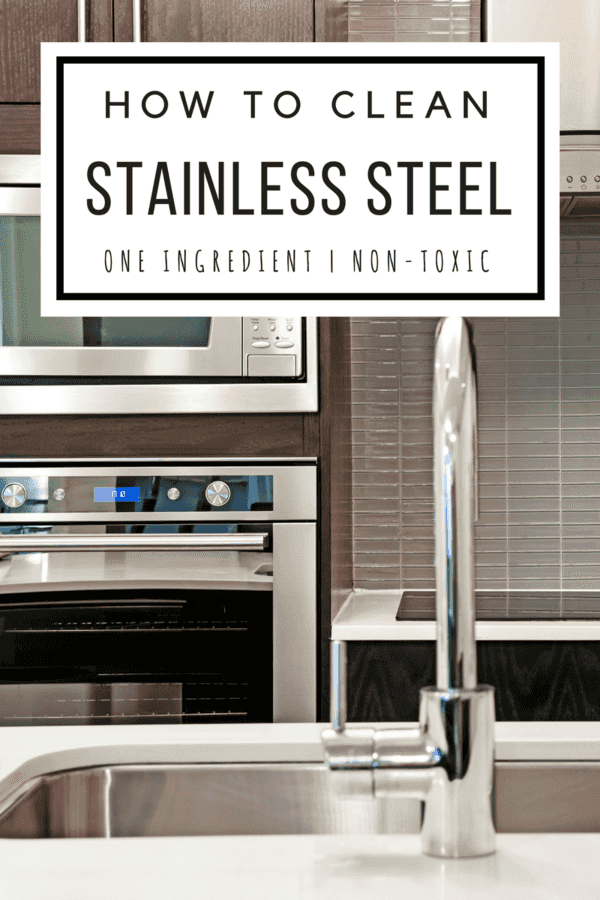 Several houses ago, we had white appliances – and while they did the job amazingly well, there was a little part of me that was envious of those people that had stainless steel appliances.
Everywhere I turned, I saw stainless steel kitchens in advertisements, magazine pictures, and even as the choice for new model homes in the Phoenix area.
New houses always have the most incredible appliances and beautifully decorated walls with furniture – after all, their goal is to entice you to buy … right?
As time went on, we were fortunate to have stainless steel with baby 2 and 3 – and as much as I loved it, I came to realize that it was such a pain to keep clean. Keeping stainless steel clean when you have kids is like trying to brush your child's teeth as they eat Oreos – pretty pointless ;)
Several houses later, the stainless steel continues – and while we could probably go out and buy different appliances, our house has expensive built-ins that happen to be stainless steel. So as much as I might loathe these appliances at times, we don't have $15K to throw down towards a remodel over some handprints or kids who love to lick the fridge.
And yes, mine do that. More than I'd care to admit.
I really don't want to use a special stainless steel cleaner from the store because the majority of them are far overpriced for what seems like a slew of toxic garbage that really isn't anything I can't do myself at home.
With less worry.
Y'all – I have 5 kids, and I am not trying to go to any store. I certainly try as hard as I can to stay away from shopping entirely, as it's the best way to save.
Do DIY cleaners really even work?
Why these commercial cleaners might seem like a better option, most are not – they are carefully crafted items with a huge campaign to get you to buy. While they are the norm for most, they can be pretty bad for you to handle – in terms of skin, and inhalation, not to mention your hormones.
Although the word toxic to most might seem like an overstatement, it is still something to look at.
If you check out the Environmental Working Guide (EWG) to Healthy Cleaning, you can search more than 2,500 products for their current rating and status. The EWG rates items on a scale of A to F – F of being the most toxic products you could use or have in your home.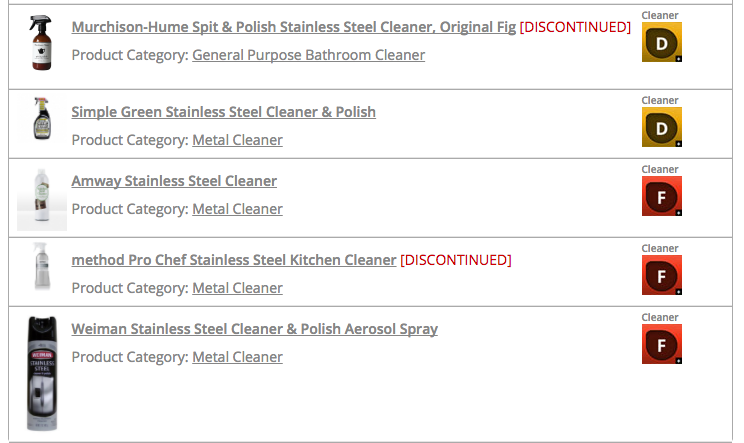 It's important to read the label every time you shop, even though many labels don't offer complete information.
OR, just avoid shopping for these items altogether – skip the store entirely and you won't have to do any thinking about the items you are buying. It's really super easy – in fact, going to the store is harder than just pulling out your own stuff at home.
Sometimes you have to speak with your actions and if that means foregoing those items and having others do the same, then that's the route we take.
So how do you clean stainless steel without cleaners?
Cleaning your stainless steel appliances really just requires one thing (well, two… but who's counting?)
Clean the appliances off first with some organic vinegar or Thieves Cleaner – you'll want to get the majority of the dust and grime before you go rubbing oil into it (or, in my case, tongue impressions.) Then rub in some olive oil and buff it out to a shine. It's so easy, and inexpensive.
Easy Stainless Steel Cleaner
An easy, effective and non-toxic way to clean your stainless steel appliances without using harmful, toxic chemicals.
Ingredients
Thieves Cleaner (or, soapy water, organic vinegar, etc.)
Extra Virgin Olive Oil (not a blend, and not vegetable oil)
Instructions
Using a rag, wipe down the front of your appliance with vinegar or, Thieves Cleaner to get the obvious dirt, dust and gunk off.
Allow the surface to dry completely, then use a rag and a little olive oil to rub the oil with the grain of the metal (usually vertically). To make it easy, work in smaller sections.
Ensure that you are giving ample pressure and working to coat the section evenly.
Then, buff over the area again with a clean, dry towel to remove the excess oil.
https://www.thecentsableshoppin.com/495300-2/
Looking to make over your entire home and garden with less toxic, inexpensive items that you can make at home?