The U.S.S. Midway was America's longest-serving aircraft carrier of the 20th century. It is now docked in San Diego and is a once-in-a-lifetime experience.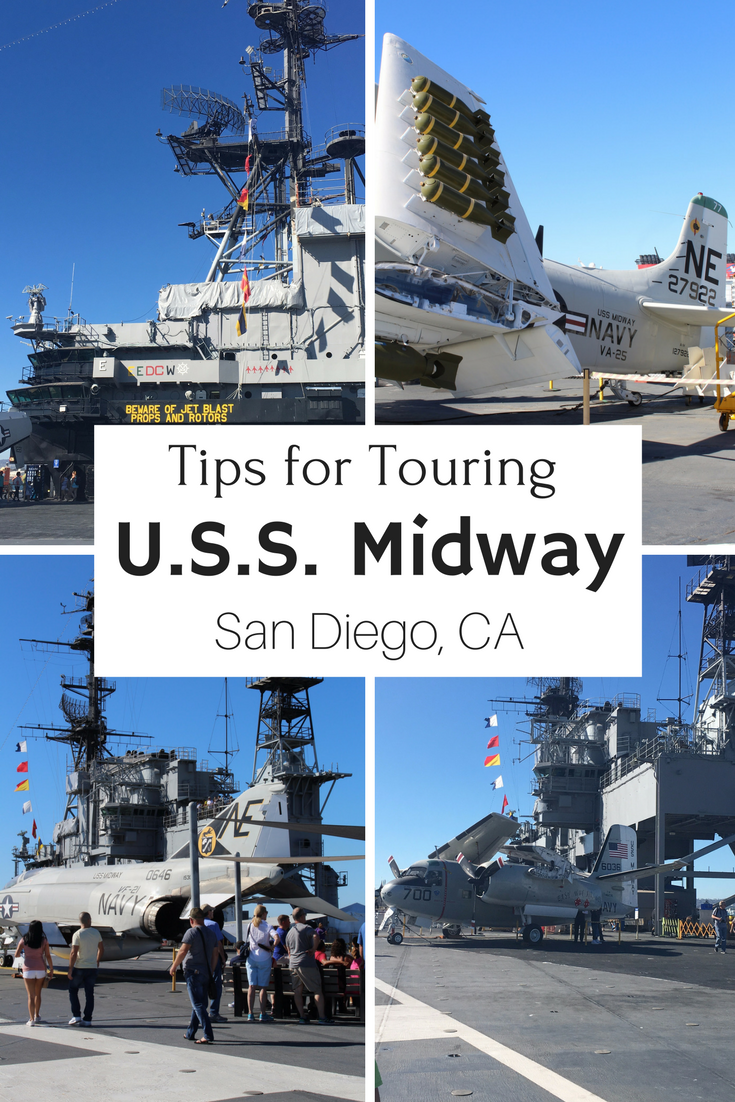 If you are headed out to San Diego to enjoy fall or spring break, or just a mini-getaway weekend during the year at any point, the U.S.S. Midway is one of San Diego's top attractions.
History of the U.S.S. Midway
The U.S.S. Midway is one of the longest-serving aircraft carriers in the United States Navy, operating from September 1945, just after World War II ended until 1992 when she was decommissioned. Those who visit the U.S.S. midway will be able to learn what life was like on board the aircraft carrier as well as its long standing history.
It's now docked in San Diego and is one of the most visited ship museums in the world… and is a family friendly tour for all ages.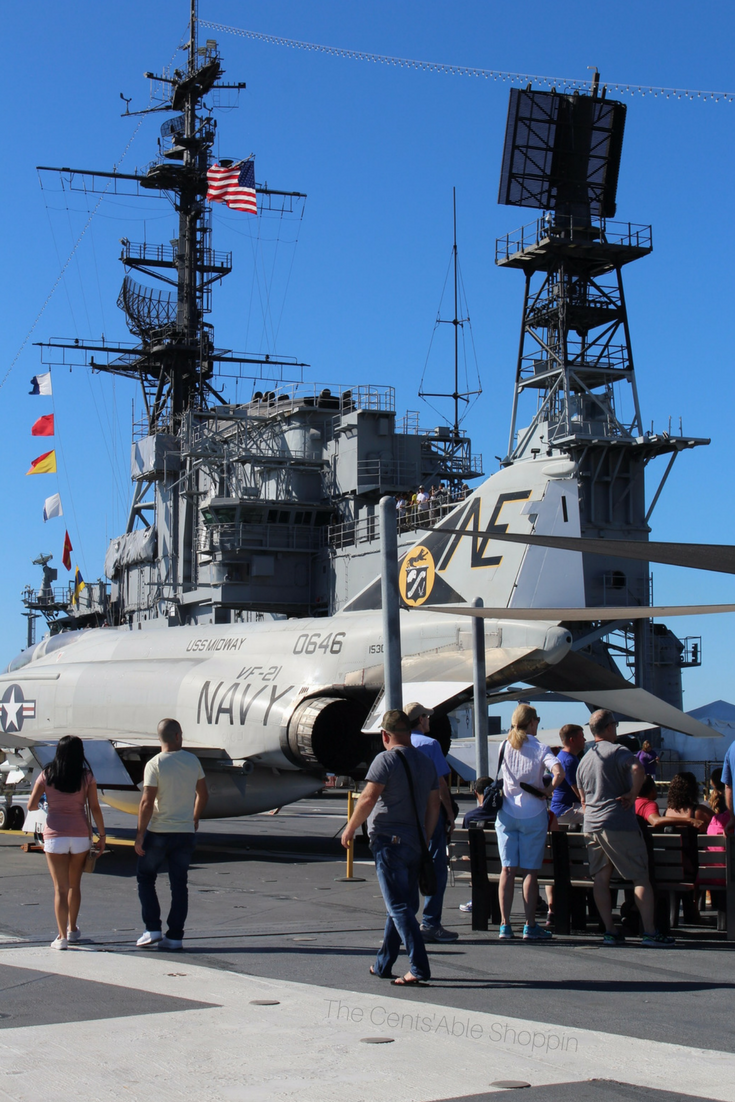 Who Can Visit the U.S.S. Midway?
The U.S.S. Midway is actually a wonderful tour for people of all ages – our kids loved the tour just as much as we do, and we spotted many on the tour from Veterans to Active servicemembers, to small children – even those who have served on the carrier.
A good majority of the visitors were local, but there were quite a few who were from overseas that looked to be enjoying the facility.
The History of the U.S.S. Midway
Six months after the attack on Pearl Harbor, the United States defeated Japan in one of the most decisive naval battles of World War II. This battle was fought at Midway Island in the Pacific, hence the name of the U.S.S. Midway.
The U.S.S. Midway features dozens of restored aircraft – from bombers to jets to helicopters – some give visitors the chance to climb in and touch the controls as if they were the pilot. These aircraft are featured both on the main hangar level and also on the flight deck area, and are fascinating to see face to face.
Highlights of the U.S.S. Midway Tour
Touring the U.S.S. Midway can last anywhere from an hour to up to 5 hours – there are so many areas of emphasis and interest on the carrier for people of all ages.
For our family of 7 ranging from 15 months to adult, these were the highlights of the tour: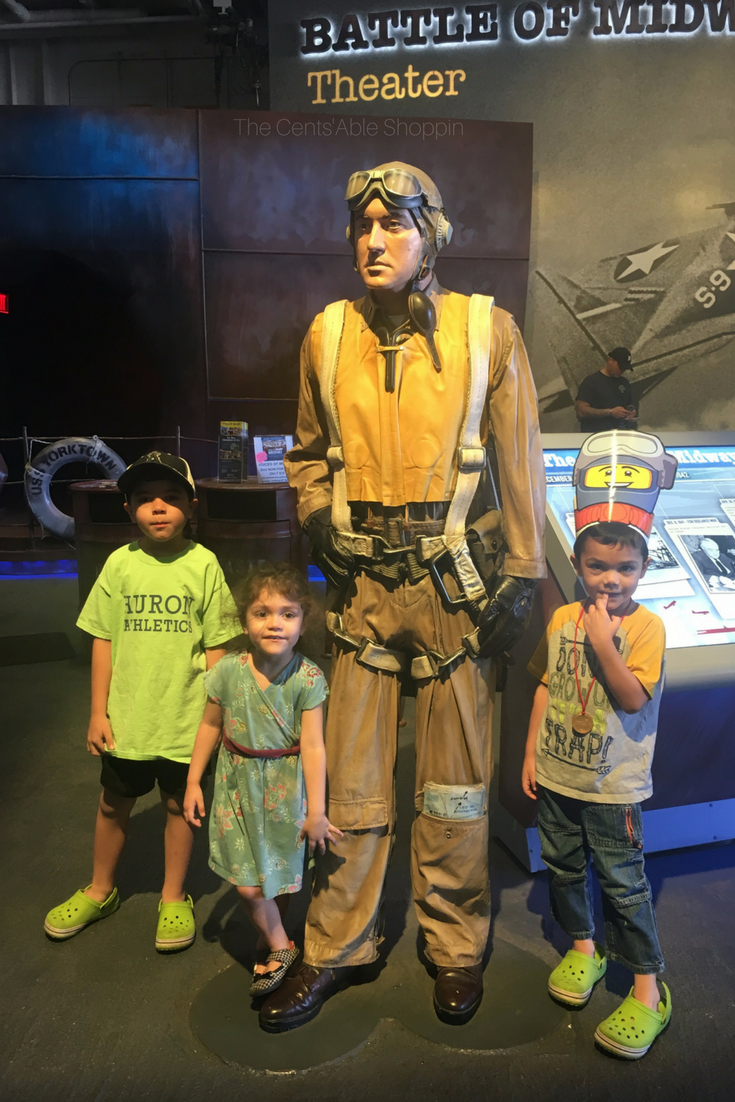 The U.S.S. Midway Theater – a 15 minute movie once you enter the tour. This is a must for everyone – even the kids. It will help you gather an understanding of the aircraft carrier and history as you start the tour.
The theater has stadium style seating and strollers are permitted (you will sit near the bottom/front). Our kids are ages 15 months (she slept through the loud movie/lightning effects), ages 4 years, 5, 8 and 11 and they were fascinated by the history and asked a myriad of questions through the remainder of the aircraft carrier tour.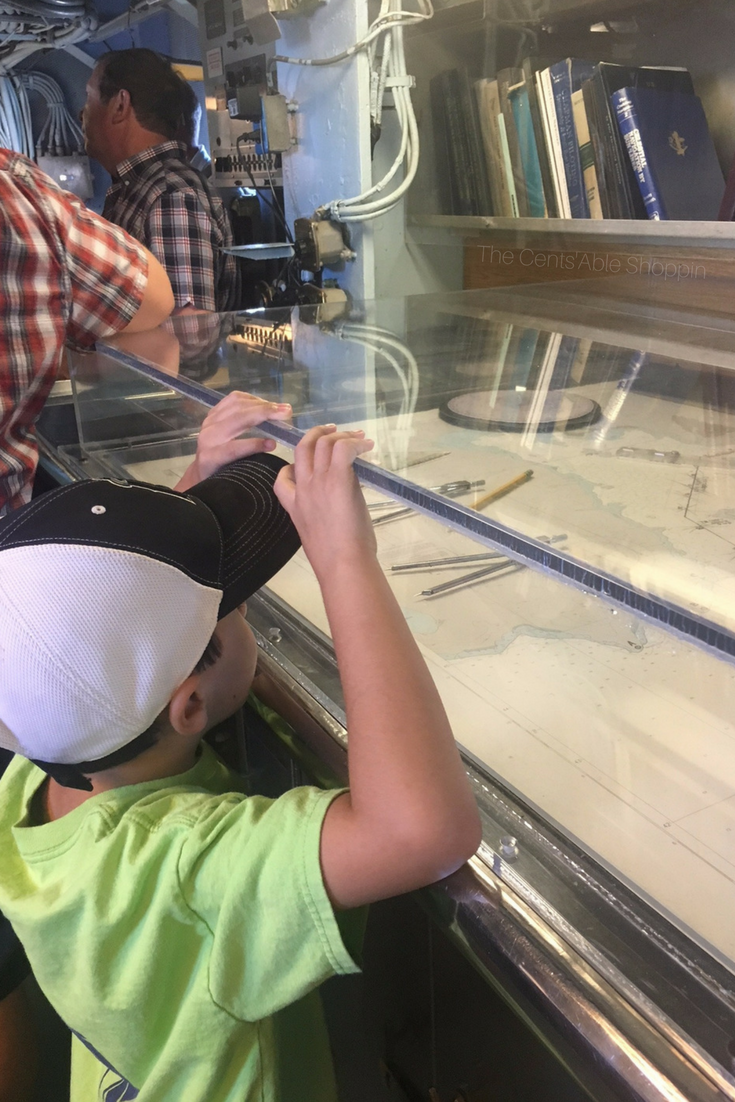 Take a tour: "On the Roof" – the Flight Deck, Bridge, Admiral's and Captain's Quarters, and Ready Rooms. These areas were part of a 30-minute tour from a docent on the ship – our particular tour required kids to be a particular height. Our tiny 5 year old made the height requirement, but our 4 year old could not get on – so keep this in mind if you are a single parent and touring with a wide range of kids. Likewise, I wasn't permitted to bring the baby in a carrier on this part of the tour because we were climbing (4) steep flights of narrow stairs.
Kids with loose shoes that are short will need to be cautious as they climb up and down the stairs, and the tour areas (Captain's quarters, etc.) are very small with little wiggle room.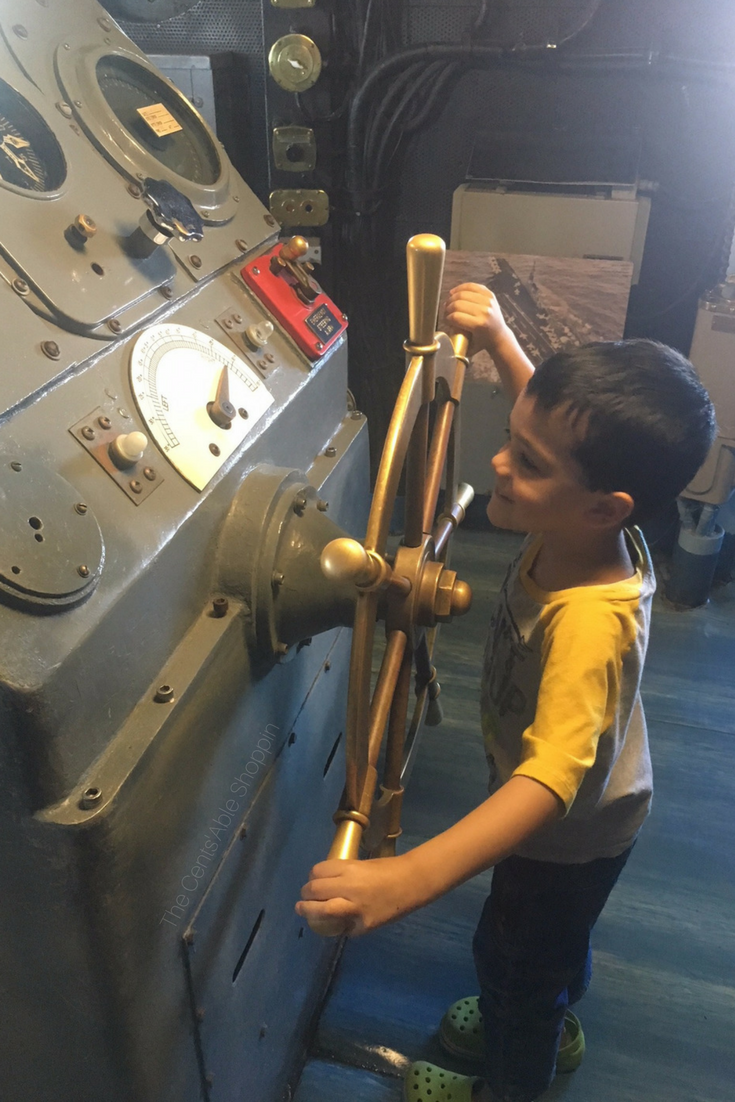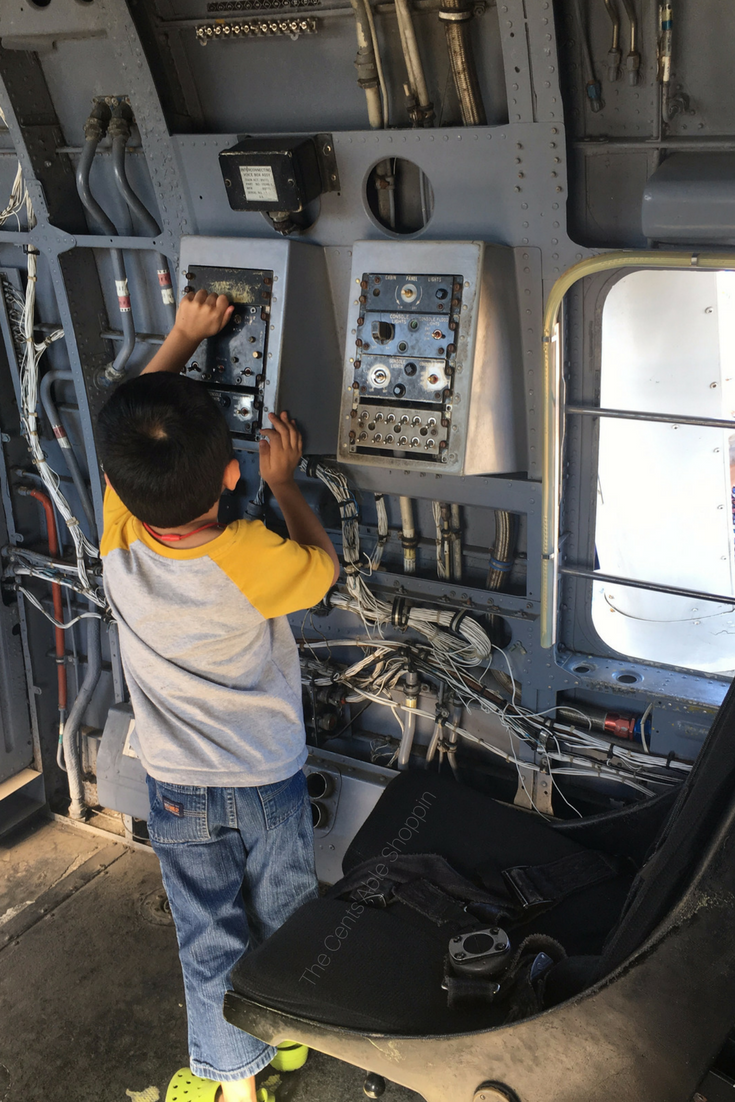 You will be able to see the drafting room, and the Captain's and Admiral's quarters, the navigation area and your kids that do take this tour can sit in the seats and push buttons until their heart is content.
If you have kids that can't sit still and love to wiggle and worm around, this is the perfect tour for them because there are so many things for them to touch and learn about.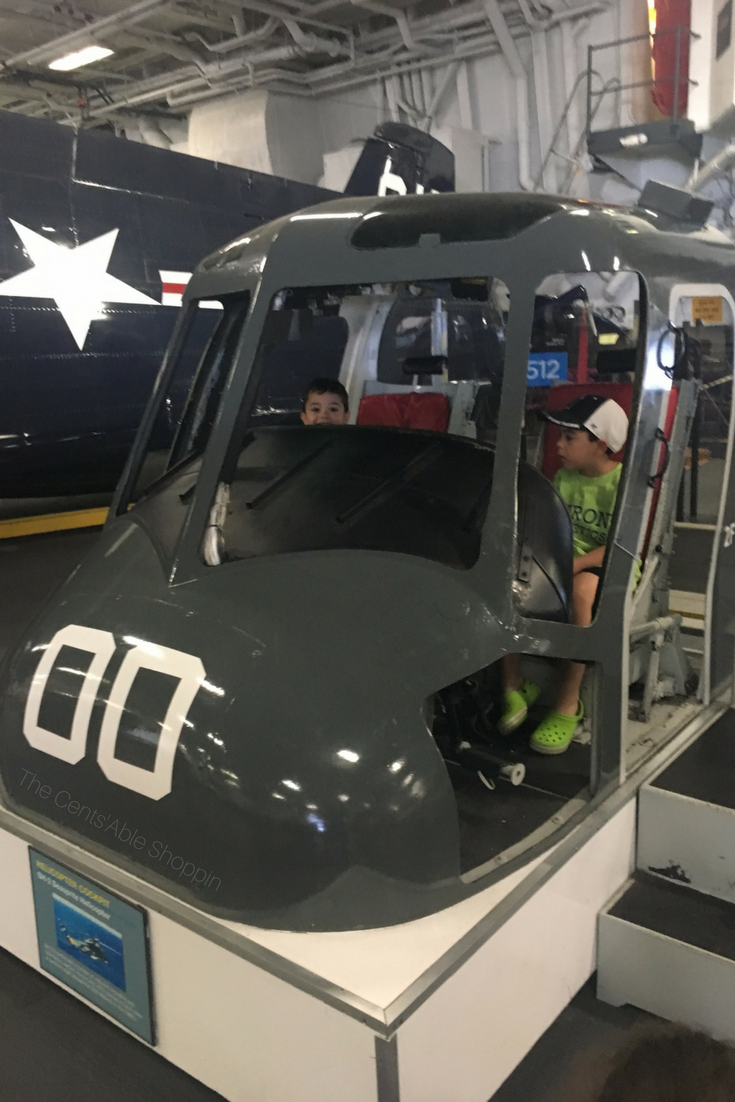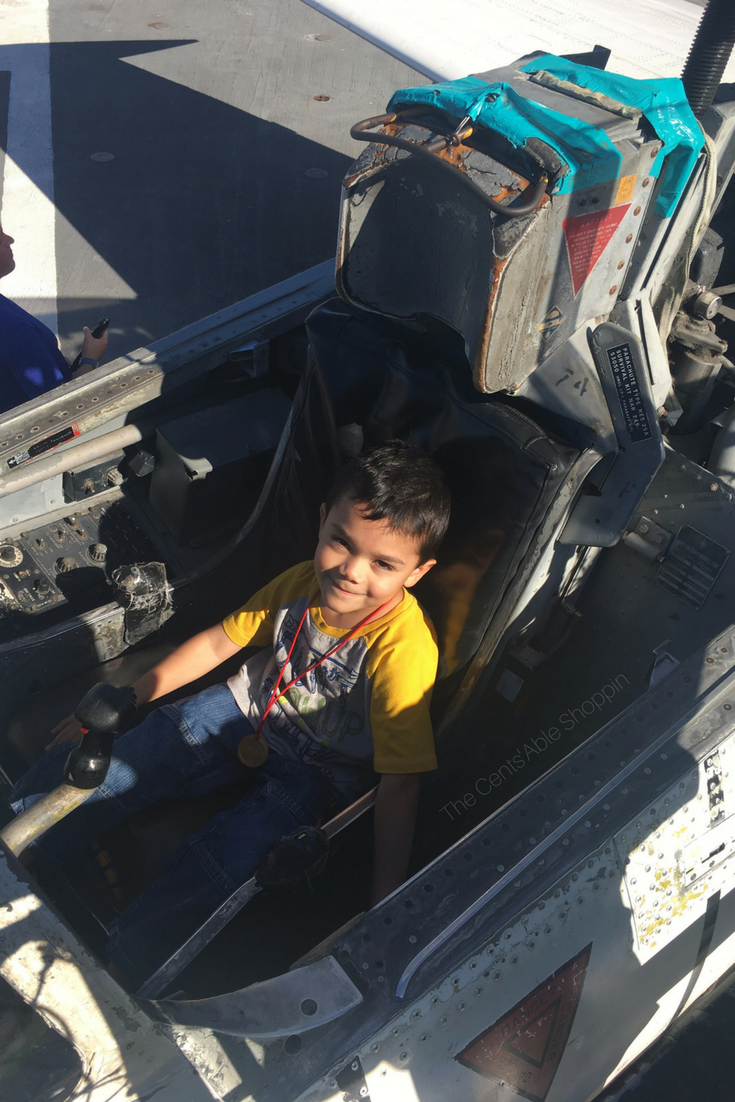 Man and Machine (Hangar Deck, Forecastle and Air Wing) – kids will enjoy climb in cockpits and climb in bunks. They do have flight simulators but they are rather costly (even more-so when you have more than 2 kids). The simulators run about $8 a person per ride, but if you can't spare the expense it's not a breaker.
There are so many opportunities to jump in the cockpit of many of the other restored vintage aircraft and helicopters. Your kids won't even miss the fact that you walked right by some expensive simulators.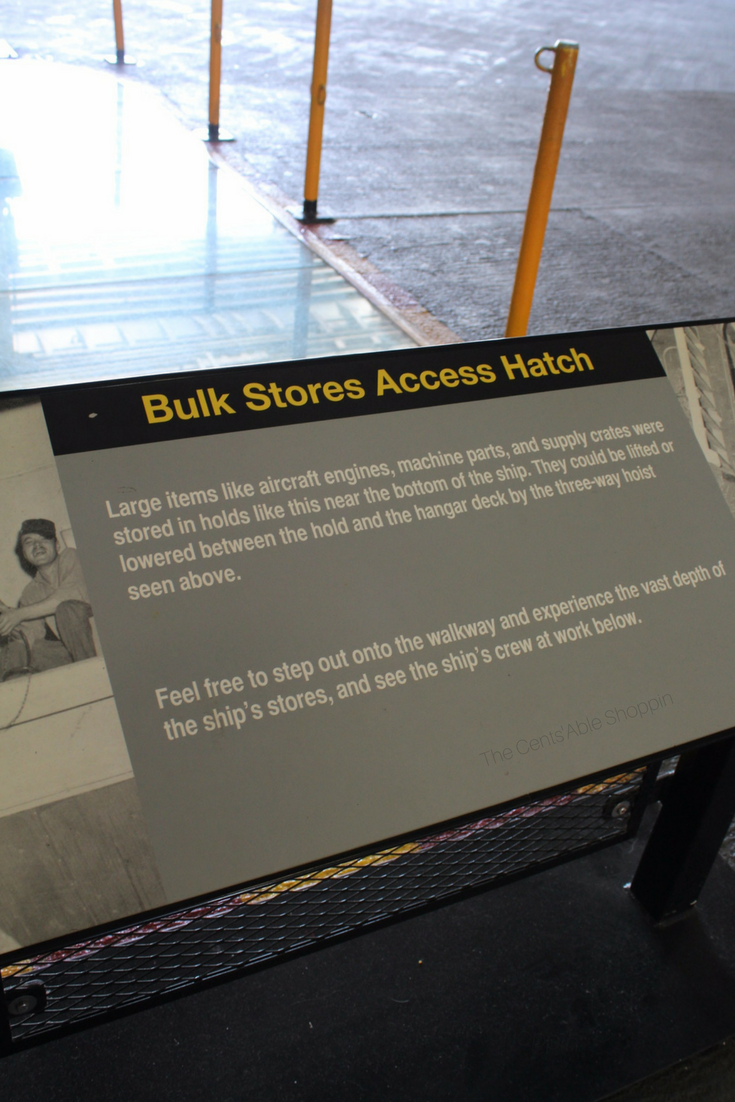 Bulk Stores Access Hatch – Large items (aircraft engines, supplies) were lowered and stored in these holds near the bottom of the ship. They have placed a walkway over the top of this hatch and you are free to walk out to view the hatch.
Our kids thought this was really fascinating because the hatch is incredibly deep.
Grab this map of the U.S.S. Midway to get a feel for the tours that are available so you can select the areas that you feel would be best for your family. Museum docents are available throughout the ship and they are all more than eager to share their knowledge, a personal story or statistics with those who are touring.
The tour of the U.S.S. Midway ranges from tight, cramped spaces, to narrow, tall flights of stairs. You will be inside, but you can also travel outside to the flight deck that has minimal shade.
While the tour is wheelchair/stroller friendly, it's not friendly for wheelchairs/strollers in every area. Some of the best parts of the tour will not be as accessible.
If you tour in the warmer months, ensure that you take your hat and sunscreen, perhaps even an umbrella just in case there are rain showers.
Fun Facts about the U.S.S. Midway
As we toured the U.S.S. Midway, I heard my kids ask each other a series of questions . They were all a wonderful way to educate them on what peaked their interest so it was the perfect opportunity to learn.
"Mom – what does U.S.S. stand for?"
"Mom, why is there a 41 on this ship? What does that mean?"
"Mom, why did the tour guide keep calling the ship a she? How can a ship be a girl? Why isn't it a he?"
I was excited to hear them ask questions.. because it gave me a chance to help them learn more.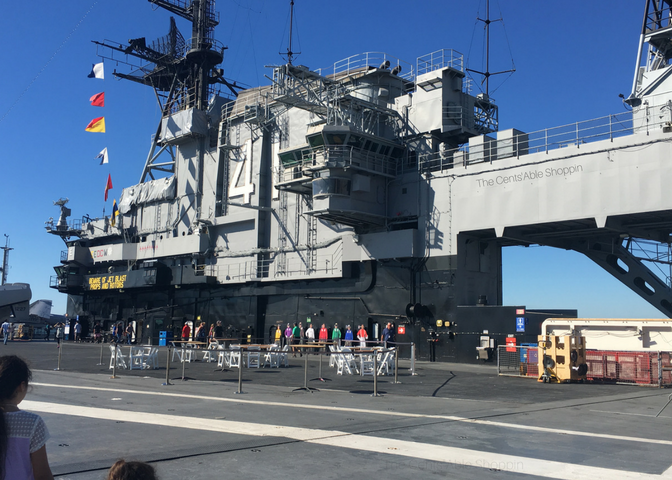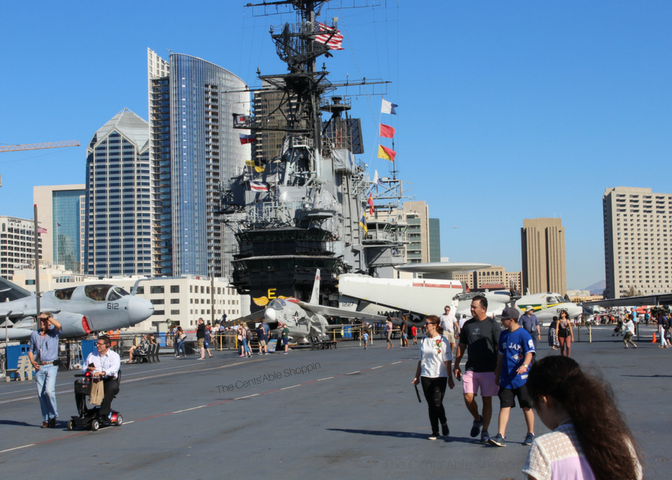 The Navy numbers its ships in order as they are built, and the U.S.S. Midway is ship 41 (which is noted by the 41 on the ship). Naval ships are always referenced with the pronoun "she". So you will typically hear the docent refer to her as "she".
U.S.S. stands for United States Ship.
The U.S.S. Midway is 1,001 feet long (3 football fields, and more than double the size of the Titanic).
It is as high as a 20 story building.
She weighs just under 70,000 tons.
The ship has 2 anchors, each is 20 tons in weight.
The ship could carry 80 planes, and has 3 elevators that were used to move planes from the flight deck inside the ship. Each elevator could carry 110,000 pounds.
Over 4,000 crew worked on the ship, serving over 13,000 meals a day. Imagine being one of those cooks?


We were able to pick up a DVD of the U.S.S. Midway (the same movie from the theater on the tour – but with added commentary) for just $10 at the gift shop. But if you have Amazon you can grab a 50-minute DVD that would make a wonderful history lesson.

Entrance Fees
The U.S.S. Midway has several tiers of prices for tickets, that range from FREE to $20. There are many ways to save on entrance fees.
Each admission ticket comes with a self-guided audio tour narrated by former sailors on the ship. The self-guided tour takes you to just around 60 locations (about 3 hours in length), but you can pick and choose what you would like to see.
Look also for special times of the year (July 4th and Veterans Day for example) where additional festivities are planned, and in some cases Veterans can score free admission (check their site for more).
Parking
The U.S.S. Midway is right off the pier in San Diego – and relatively easy to find. It's within walking distance to several San Diego hotels, should you decide to stay in that general area.
If you are coming from out of town and wish to visit, there is quite an extensive public parking available that is adjacent to the ship, and also in the general vicinity (5 minute distance and relatively easy walk). The cost for public parking runs $10 – bring cash, and remember your sun shade for your vehicle as public parking isn't shaded.
It's best to plan your visit early in the day – not just for parking, but also to give your family ample opportunity to see the ship and the tours included.
Have you been to the U.S.S. Midway?