Check out these 12 tips for visiting LEGOLAND California for the first time. These tips will help you have the most enjoyable trip possible.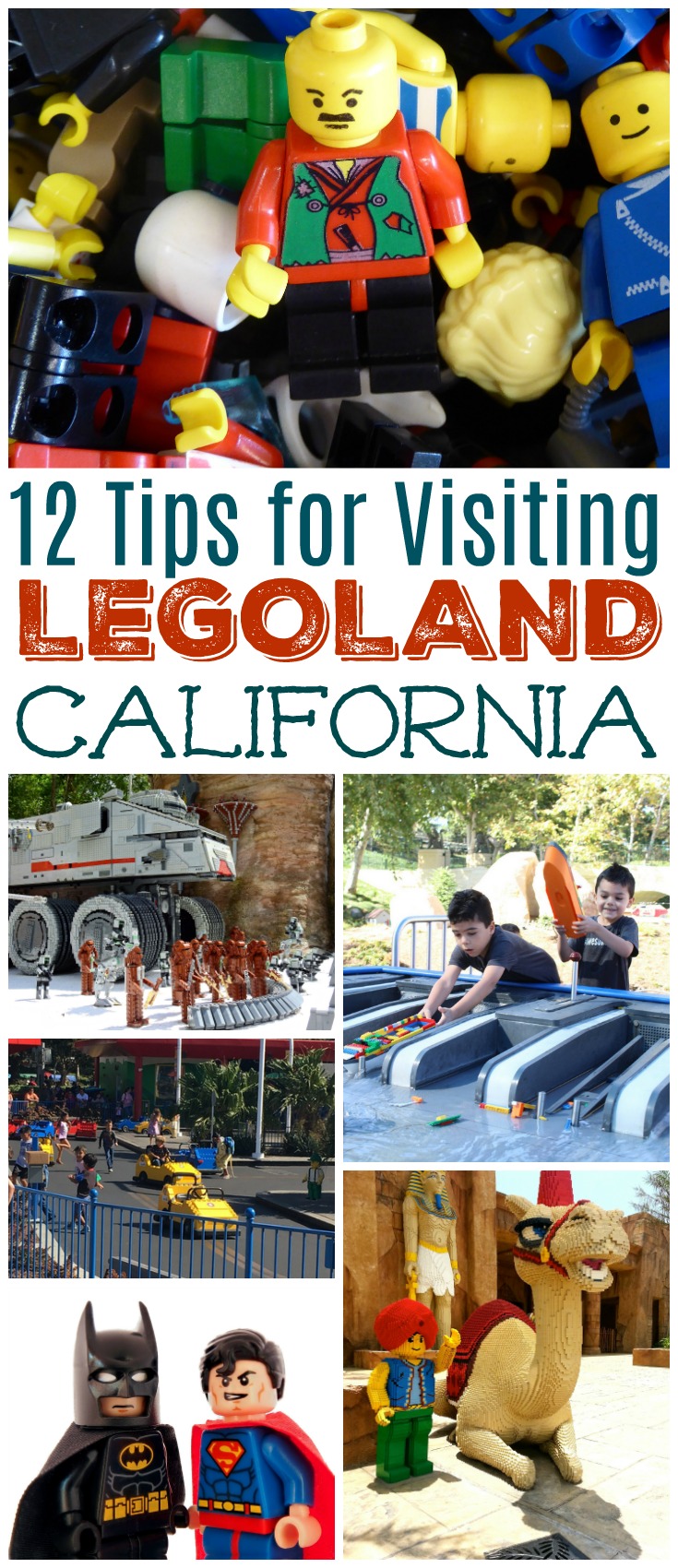 Are you planning a trip to LEGOLAND California? If you are, you're in for a real treat – it's actually a terrific place to take kids. LEGOLAND California is geared to kids ages 1-12 and is one of our kid's most requested trips.
We have been several times these last few years, and every time we leave, they quickly start planning our next visit. It's so extreme that our four-year-old wakes up every morning requesting to go. It's almost as if we have the same repeat answer: soon, but not today.
I feel so bad! But I know that in a perfect world, my kids would probably want to set up camp there permanently. Forget everything else, LEGOLAND is their jam. Staying at the LEGOLAND Hotel is a bonus, but not a necessity for having fun at the actual park – though if you do get the opportunity you will want to check out our last visit so you can know what to expect.
While you don't have to be a LEGO lover to enjoy LEGOLAND, you'll be fascinated by the attractions, hands-on opportunities, and sculptures that are within the theme park, which is geared to kids ages 2-12.
If you are planning a trip to LEGOLAND California, then you will want to familiarize yourself with these tips to help make that trip a success.
12 Tips for Visiting LEGOLAND California
If you are taking a trip out to LEGOLAND for the first time, there are several things you may want to keep in mind to have the most enjoyable trip possible. Whether you have one child or a whole football team, LEGOLAND can definitely be a wonderful place to visit. Here are some things that our family of 7 finds most helpful.
(Grab this map — we used in below to identify some of our favorite attractions!)
Don't pay for preferred parking
We have gone to LEGOLAND several times and while we haven't always paid for preferred parking, there are a few times we have. The parking lot for preferred parking is very tiny — and it's not that much of a time-saver in terms of walking. If you are handicapped, then you will have your own disabled parking area up front provided you have the proper tags, but otherwise, save yourself the money and just use regular parking (which is $15).
(If you are visiting LEGOLAND in Carlsbad, the parking can fill up very quickly in the spring/summer – I suggest getting there when they open to avoid having to turn around and leave if the lot gets full!)
Bring snacks
You may also want to bring a water bottle too – at least one that is refillable. This particular park permits you to bring in snacks. If you have kids (one or several), this will be a huge cost-saver as you won't have to sacrifice your wallet to pricy or possibly unhealthy food. As much as I love to save money, you must try the chocolate dipped churros that are just outside MiniLand. YUM!
The park does have a considerable number of eateries that are healthy, but they also have a fair share of the unhealthy ones too. If you have a large family it can be hard to find seating for everyone as most restaurants/eateries there are limited to 4-5 to a table.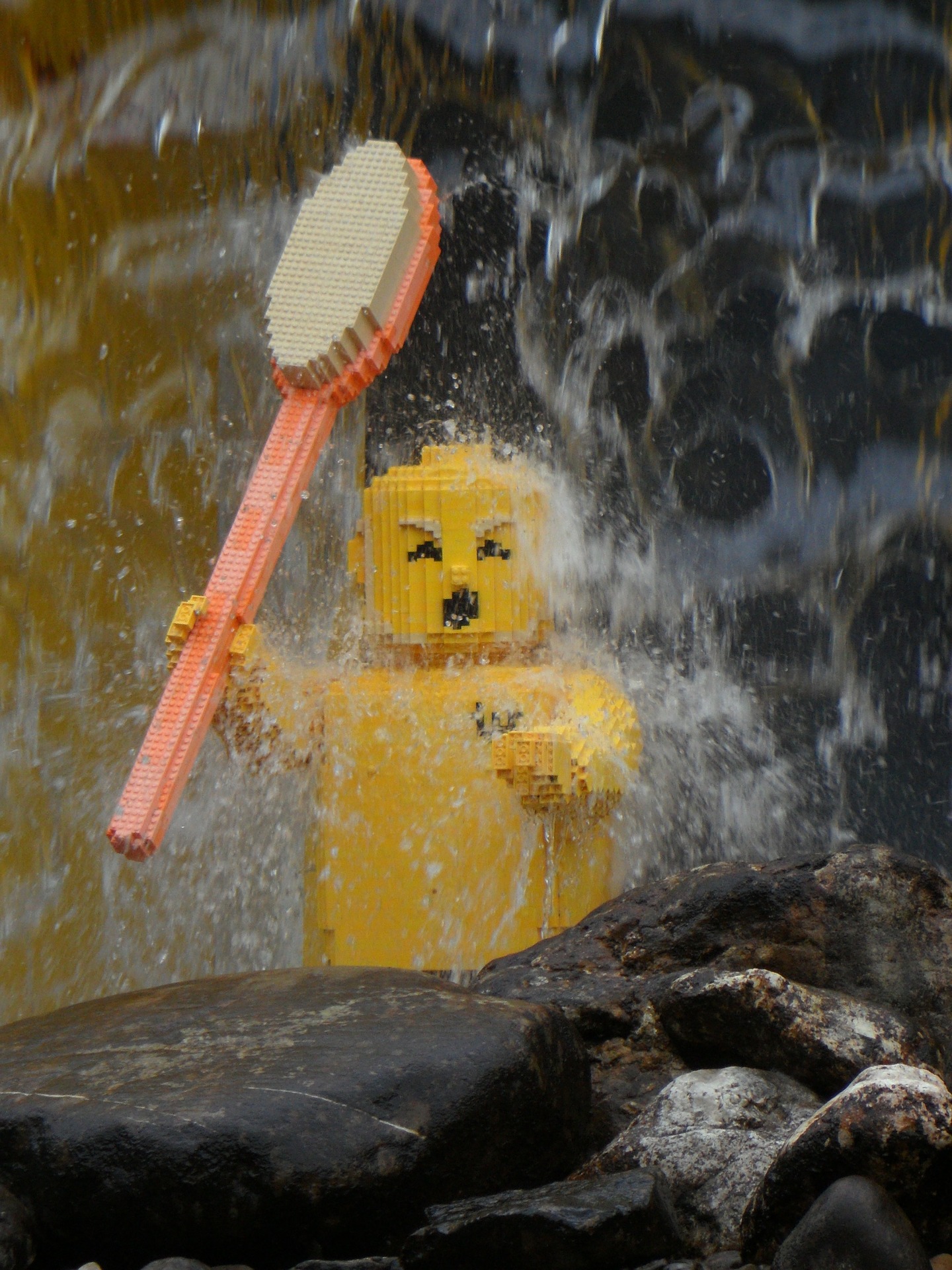 Plan to get wet
If you know that, then it's even better to plan for that. We had our kids wear bathing suits under their clothes – we also brought a towel for each child, an extra pair of underwear, an extra shirt, and light shorts, too. Our kids took every opportunity to get wet, whether it be from the rides or the water mats. When they did, we simply had them take off their shirt, let them dry and then had them change later on into dry clothes so we could move on.
Bring extra plastic bags for wet clothes too – it's always better to have too many than not enough.
Look for discounts
With five kids, I'm always looking to save a bit off of our admission – and one of the best things about LEGOLAND Carlsbad is that there are always discounts. You may not be able to find discounts immediately at the gate, but if you plan ahead you can save a bundle of money.
Look for coupons through your school PTA (2-for-1), or at your local Subway (kids get in FREE with purchase of paid adult ticket). We prefer to go to LEGOLAND in October. The crowds aren't as fierce and the weather is much more tolerable. If you decide to do the same & travel to LEGOLAND Carlsbad in October, kids are FREE with paid adult ticket (limit 1 free child hopper ticket per each adult hopper ticket). You will need to purchase in advance using their special code advertised on their site.
Or. if you plan on making LEGOLAND part of a multi-day trip with other adventures, consider picking up the Los Angeles 4-Day GO Pass, or the San Diego 4-day GO Pass from Costco. Both of those cards include admission to LEGOLAND and a myriad of other places that you can visit on your stay.
Know which way to go
If your kids are a wide range in age, you'll want to know which direction to go once you enter the park. The park is a large circle with lots of activities and avenues that veer off in the middle. As you enter LEGOLAND, follow left for the best little kid experiences. Those rides and attractions are geared to the smaller crowd and include some "pay for" attractions that are incredible for kids.
Enter LEGOLAND and fall to the right for the rides and attractions geared to the older kids. Some areas of the park are spotted with carnival type games (especially the little kid area). If you despise paying for those type of attractions, walk quickly and distract … or prepare for a barrage of requests for money. Sometimes kids assume that their parents are ATM machines.
Wait.. maybe that's just our kids. (Who knows?!)
Some of the best places for kids include: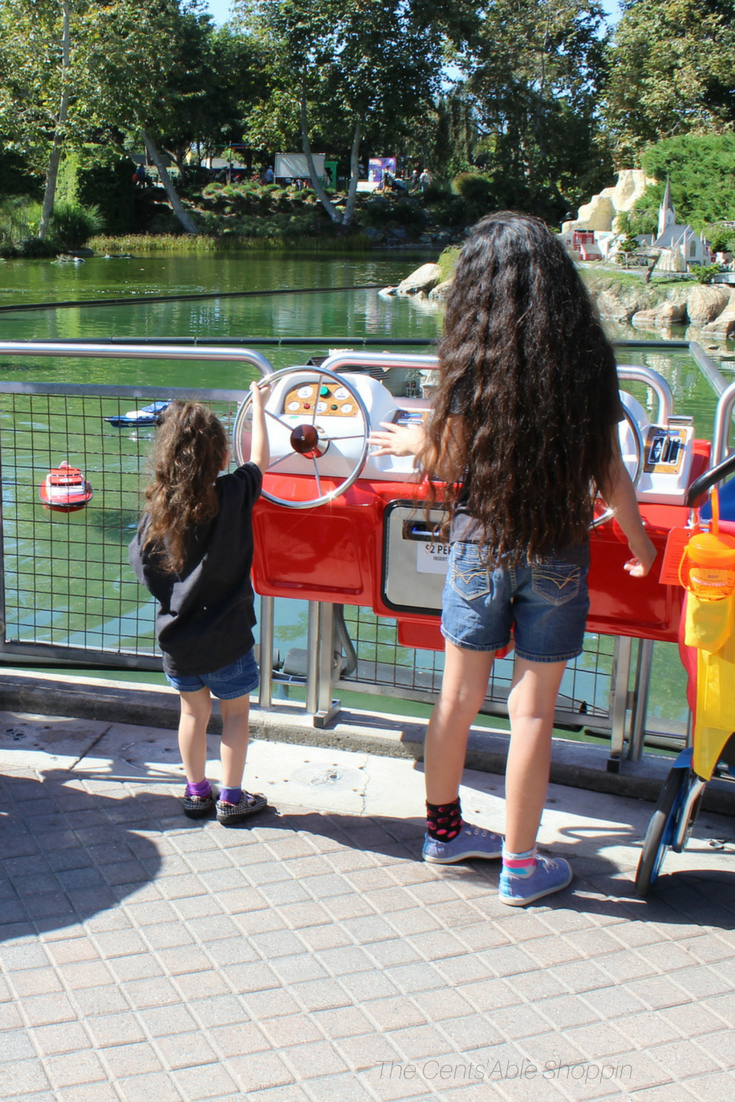 MiniLand Boats: Inside of MiniLand are boats that you can drive with the steering wheel – you'll want to bring quarters to pop in. This is fun for kids.. and my boys didn't want to leave (nor did my girls!) The kids can make the boats back up and turn into the dock and race them between each other.
Dig those Dinos (8): Great for small kids. You'll pay $3 for a bucket and shovel and your kids will most likely stay for a while. When they are done, they can turn in their pail and shovel for a LEGO piece.
Fairy Tale Brook (11): Just past the Dino Dig area is a water ride that runs past LEGO fairy tales. There are also spongy tiles, and water fountains.
Junior Driving School & Driving School (27) for ages 3-5, and 6-13: Our kids had a blast here and the line went rather fast. At the end of their driving school, they each got a LEGO Driver License that we kept and laminated at home.
Fireman's Challenge (38): This is a fun family activity that LEGOLAND does a few times each day. It's best to check and see what time it goes on so your family can participate, too!
Castile Hill (rear right): There are a lot of fun things in this area if you have kids… so expect to stay for a while! There is a huge climbing area with rope ladders and slides. It's perfect if you can get there in the morning before the crowd hits. In the afternoon it can get really really busy. There are some really yummy places to eat back there too.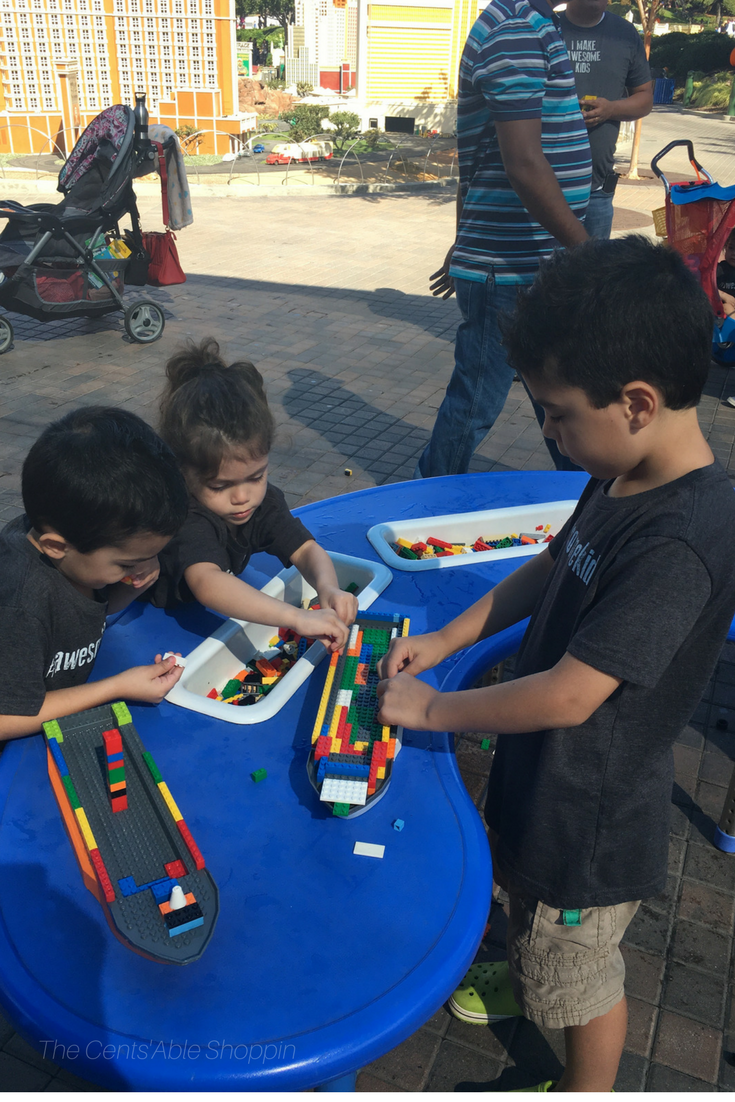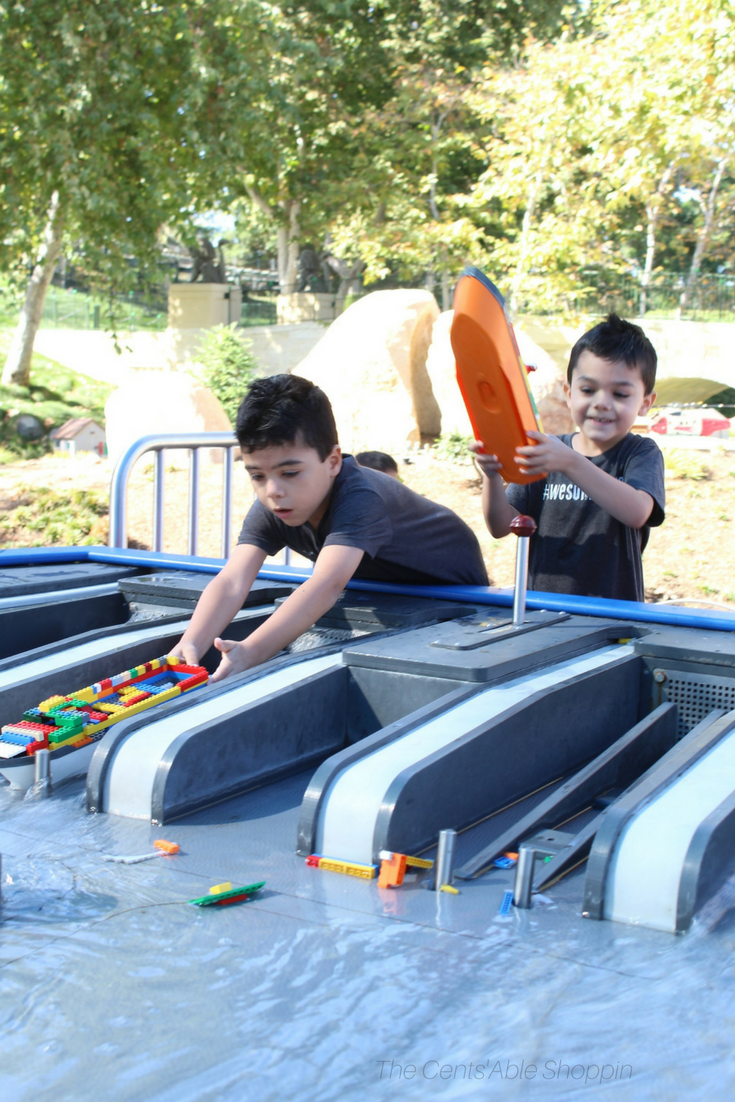 Coast Guard Build a Boat (84): Our kids LOVED this – big and small. There are tables with boats and LEGOS there that allow kids to create their ultimate Coast Guard Boat that they can turn around and race. It's best to get here early – as it gets busy in the afternoon. Sometimes kids have a hard time accepting that it's "ok" to share and work together towards a common goal.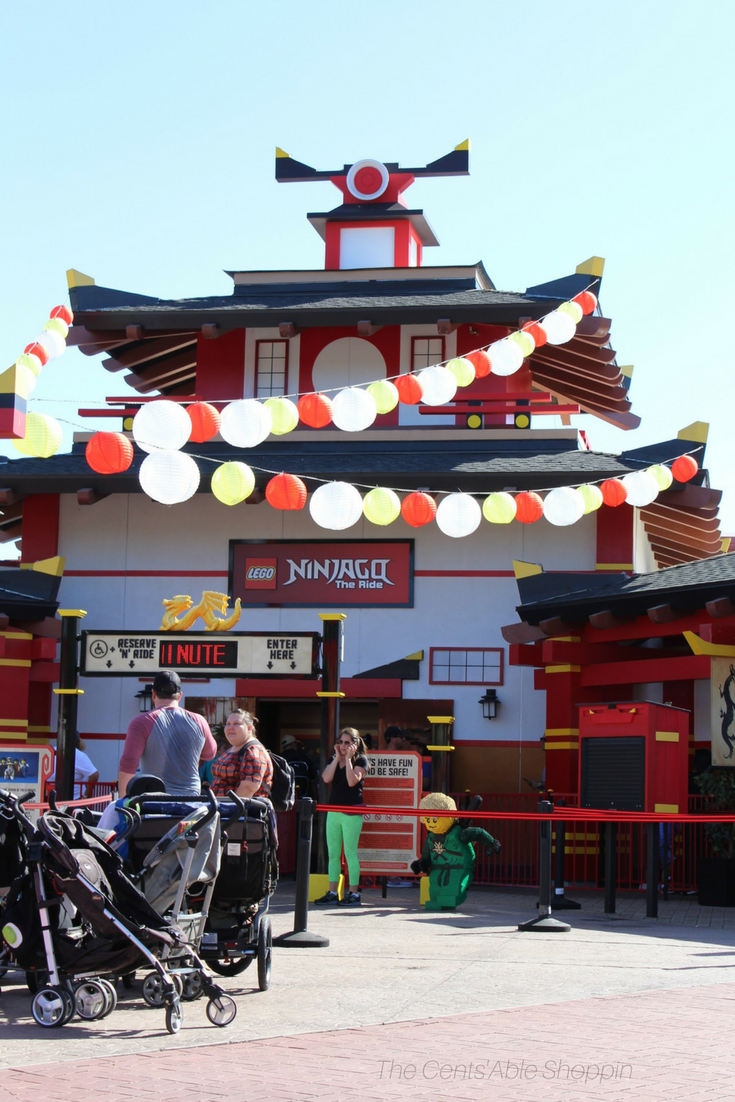 LEGO Ninjago (111): Fun, but I wouldn't waste your time in that area too long. It may not look all too long in the picture.. but in reality, the line can get incredibly long and the ride wasn't as exciting as your kids might hope for. Instead, take your kids to the LEGO Imagination Zone (82) and allow them to build until their heart is content. They will have a great time.
Don't focus on doing all of the rides
If you go to LEGOLAND California during a regular weekday in the school year, you will find that it's much easier to be able to get on all of the rides. During the summer, however, it can get quite busy – and that means some of the rides are lengthy.
Don't worry about getting on every ride – there are certainly so many other things to do and see at LEGOLAND California that aren't related to waiting in long lines for rides that take 30 seconds to a minute.
If you do decide to partake in rides though and you have a football team of kids, there may be some occasions that you need to ask for help. If you have too many kids needing adults and one parent needs to sit with the infant (as in our case), LEGOLAND California will send one of their team members on the ride with your kids if you need an extra adult. All you have to do is ask at the front of the line.
Bring a minifigure to trade
Many LEGOLAND employees wear a minifigure or two on their badges. If you didn't know, they will trade you if you give them one of your figures. So do your best to encourage the kids to bring a figure from home, build one from pieces or, build custom figures just inside the LEGOLAND California entrance.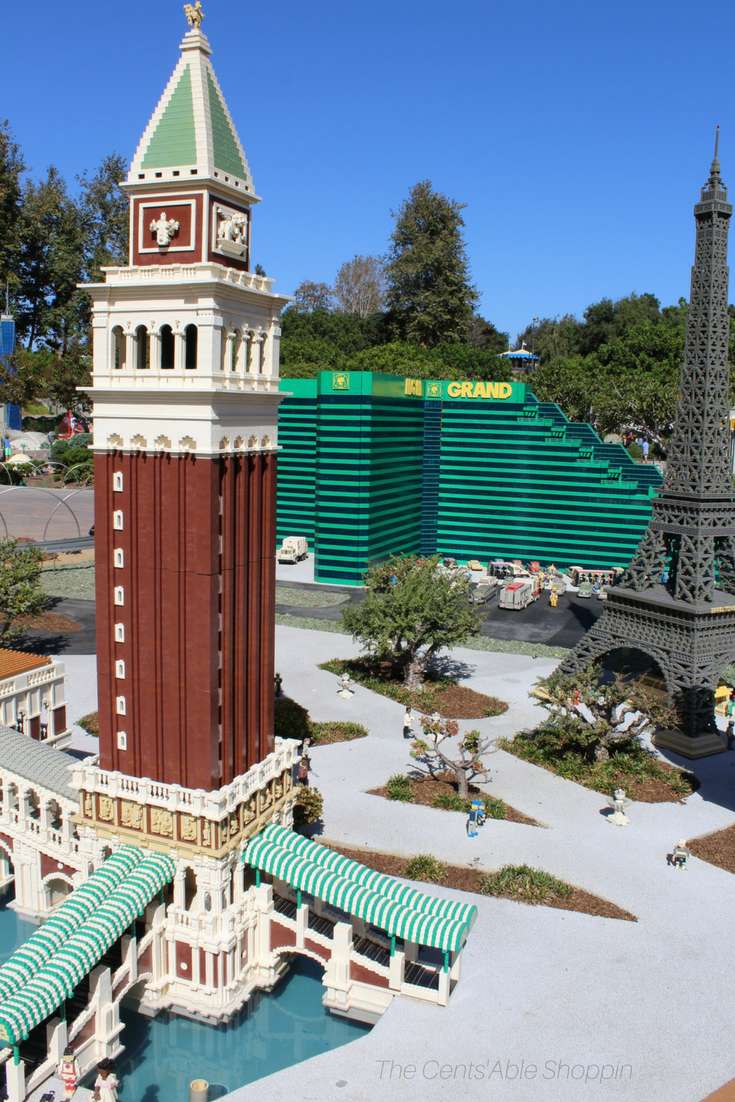 Don't miss MiniLand
Miniland is one of the best experiences at the park. Our kids transformed from "Mom, my feet are tired" to "Whoa! MOM! Look at this! I LOVE this!"
You can find landmarks Washington D.C., New York, Las Vegas, New Orleans, and even Las Vegas. Also look for famous faces, historical figures, and pop culture icons. If your kids love Star Wars, you'll find them there in Miniland too. There are a total of over 32 million LEGO bricks, more or less.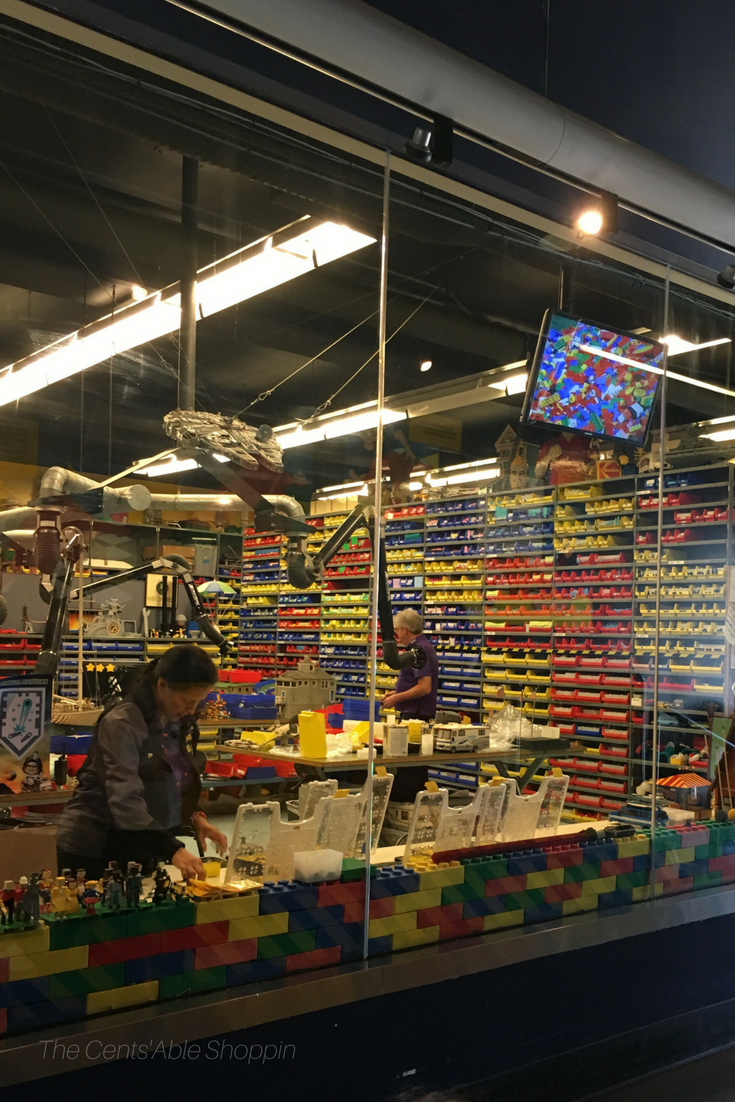 Miniland is also home to The Model Shop and over 3 million LEGO bricks. This workshop is the headquarters for maintaining and repairing the more than 27,000 LEGO models in the Park. It is also the creative center for developing new models and displays.
Who knows – your kids might suddenly decide that they want to grow up to work at LEGOLAND California and build stuff. 😉 Or.. maybe you may suddenly feel compelled to make a mid-life career change.
Bring a stroller
If you have kids that are still stroller-age, then don't hesitate to tote that stroller along with you. While most of our kids are of walking age, the stroller was a necessity for our family of 7. On our most recent trip, my husband opened the trunk and realized that his wife forgot to put the stroller in.
Whoops — Mom brain for sure ☺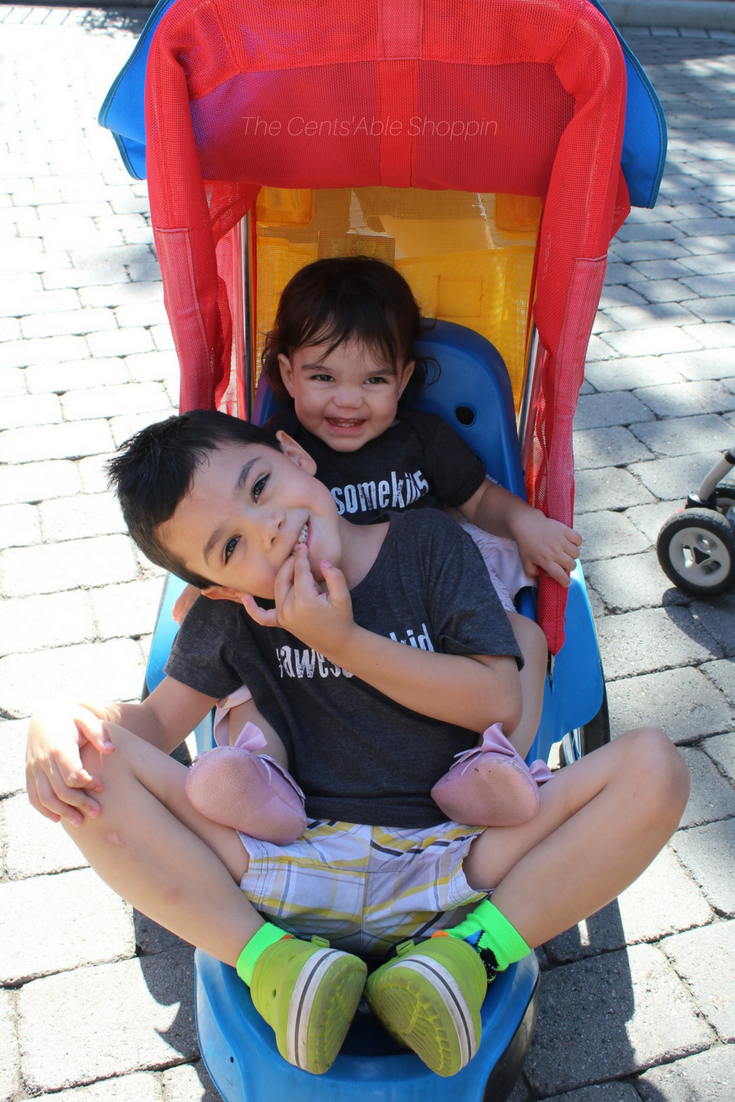 If you arrive at LEGOLAND California and realize you have forgotten your stroller they do have stroller rental available. Find single and double strollers available for a small fee at the entrance. A word of caution though: the double strollers rent very quickly (or, they may have less of those!)
We found that it was quite doable to put two kids in the one-person stroller quite easily. Our 4 and 5-year-old are fairly tiny and they had a fun time alternating their trips in the stroller with our infant.
Their strollers have lots of fun pockets for drinks and snacks too.
Thankfully, LEGOLAND California is very stroller friendly. There is stroller parking at the entrance to almost every ride. Some of the rides even have a fenced in stroller area so that your stroller doesn't roll away. The areas of the park that have stairs also feature ramps for those families that do have a stroller with them.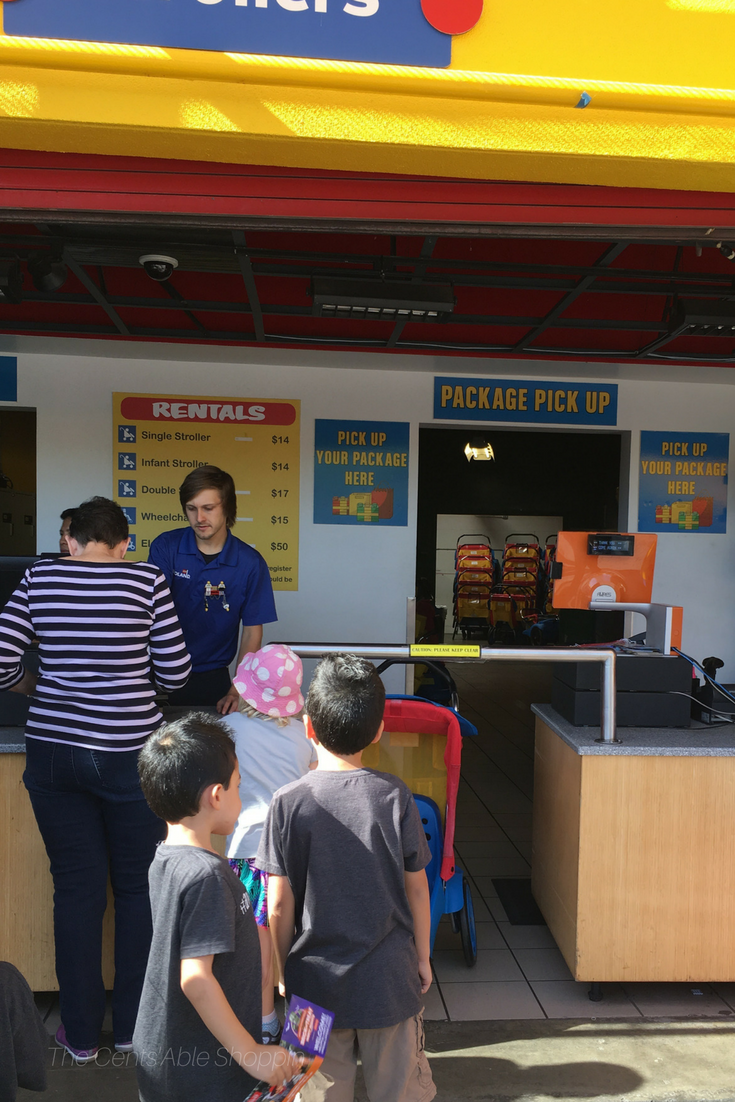 Use Package Pickup for Souvenirs
It's almost impossible to go to LEGOLAND California and not stop in at the souvenir shop. If you can't avoid waiting until the way out to pick up goodies, use package pick up for anything you might buy early in the day.
Package pick up allows those souvenirs you buy earlier in the day to be transported to the park exit. Then, pick those things up just before you leave the park.
LEGOLAND is very baby friendly
We have been to LEGOLAND California three times with an infant, and all three occasions were a wonderful experience. LEOGLAND California isn't an outrageously huge park. The hours of operation are tolerable for families with small children. If you are a nursing mom, there are plenty of shady benches that you can sit down on and nurse.
However, if you are looking for more privacy, then LEGOLAND California has a Model Mom Baby Care Center. Find that center near the back of the park that you can visit.
The mother's room is behind the Volvo driving school and is nicely air-conditioned. It has rocking chairs, a restroom and wonderful changing tables that help make your stay that much more enjoyable. They have created the mom center with kids in mind, too. Not only is it geared towards infants, there is also a microwave and a fridge there too!
Don't miss the aquarium!
If you get the opportunity, do visit the Sea Life Aquarium. You'll be able to see everything from octopus to sharks, rays, jellyfish and more – all up close. It's a beautiful opportunity!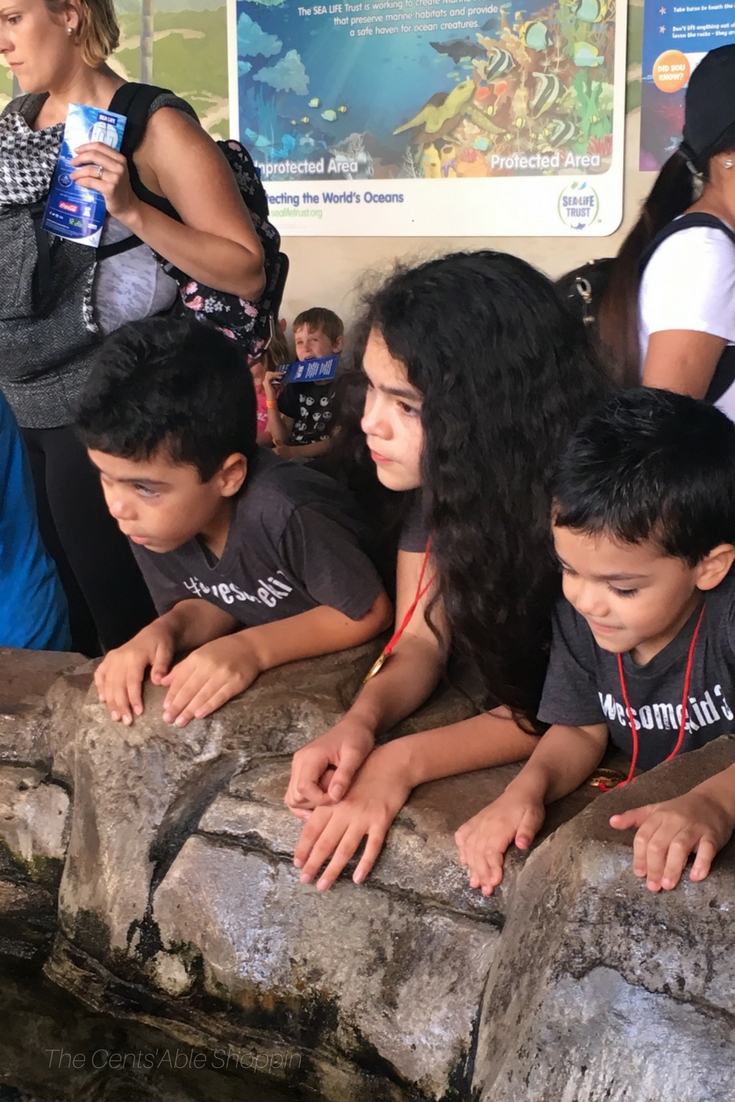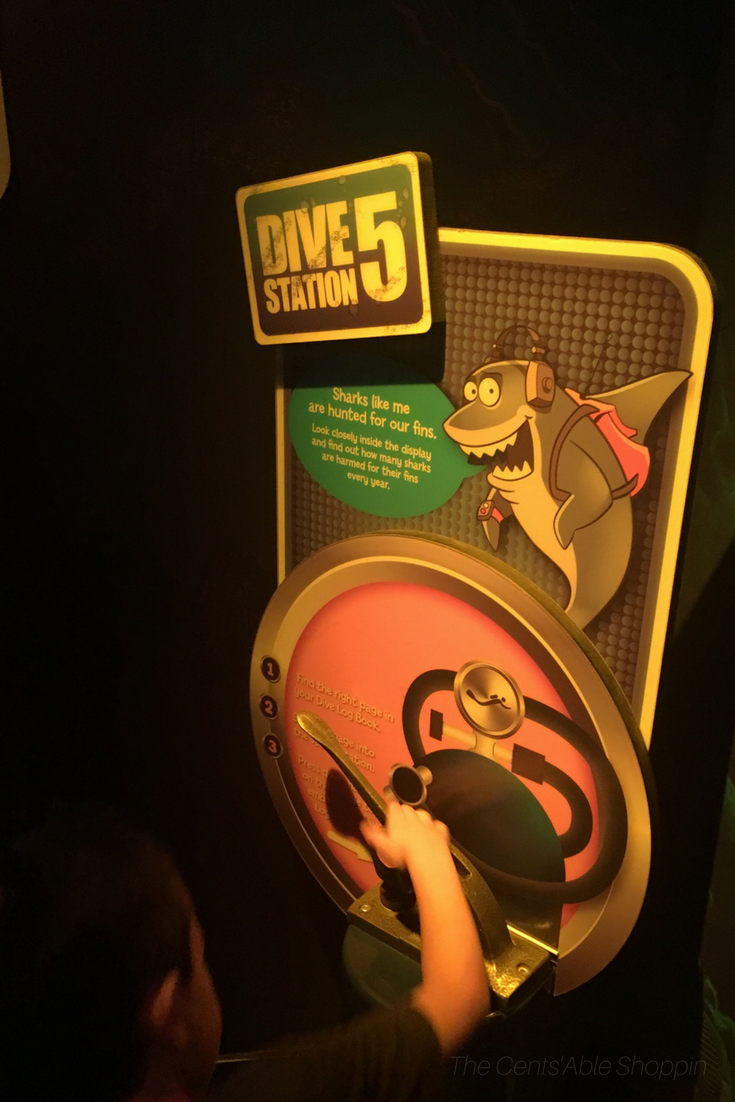 They have a touch pool that allows kids to reach in and touch and animal experts are on hand to answer questions. My kids loved this part of LEGOLAND California and it's perfect for small kids who are visual learners!
When you first enter the aquarium, you will also want to grab a kids brochure for each child. The brochure will allow your kids to search for stamps along the tour. Then, turn it in at the end for a prize in the gift shop (it's a LEGO cardboard hat!)
(The aquarium exits through the gift shop. If you have small children, watch them carefully as it's easy for them to want things on their way out!) If you aren't up for spending money in the gift shop, it's wise to know this ahead of time. Then, you can make plans to 'shoo" your kids out as quickly as possible.