Escape the Arizona Heat with these fun, family friendly locations in the Phoenix area and beyond that'll help you cool off and escape the triple digits!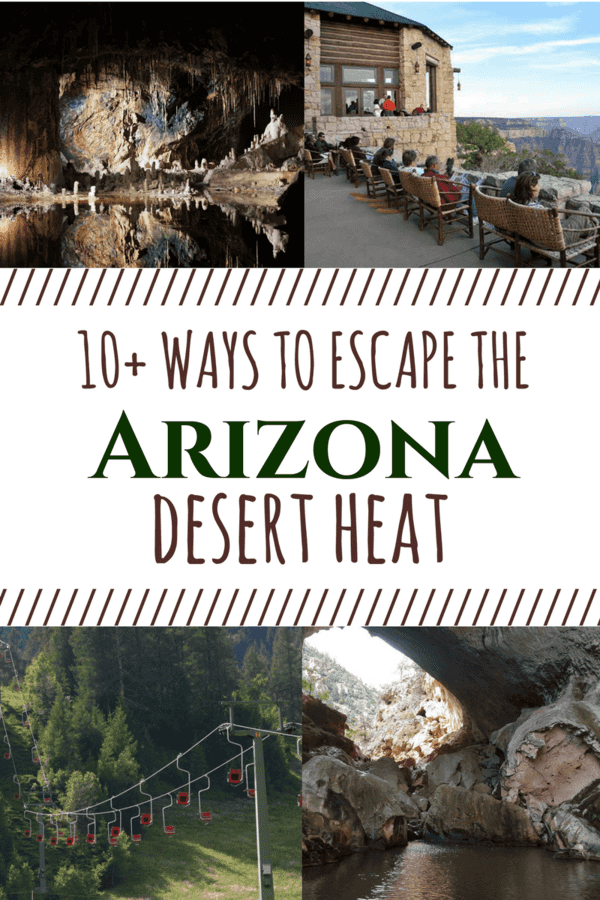 Arizona is such a beautiful state, with majestic views and unimaginable landscapes. The winter brings some of the most fabulous temperatures, though once the winter and spring passes, those temperatures can climb rather high.
The Arizona heat can bring temps that soar over 100 degrees from May on forward, and sometimes even earlier. As lovely as the heat can be, those temperatures can be rather challenging for those of us trying to stay cool. While the summer is hot and dry, it doesn't mean that you can't drive to a higher elevation to find cooler temps.
Over 10 Ways to Escape the Arizona Heat
There are so many fun places to cool off in the Arizona heat – but if you are driving out of town, be careful. Plan for that Arizona heat by packing sufficient water, tools, and extra clothing, wipes and jumper cables just in case you find yourself stuck on the roadside.
Just a few hours on the road can help you find a cool retreat where you can enjoy being outside.
Just north of Flagstaff is a mile long lava tube cave that was formed by a volcanic eruption over 500,000 years ago. The cave emptied out after the flow of lava cooled the top, bottom and sides – and left an empty cave about a mile long. The cave is a beautiful 40 degrees in the summer making it the perfect way to escape the Phoenix heat.
To get there, take U.S. 180 9 miles north of Flagstaff and turn west on Forest Road 245 (milepost 230). Travel 3 more miles before heading south 1 more mile to Lava River Cave.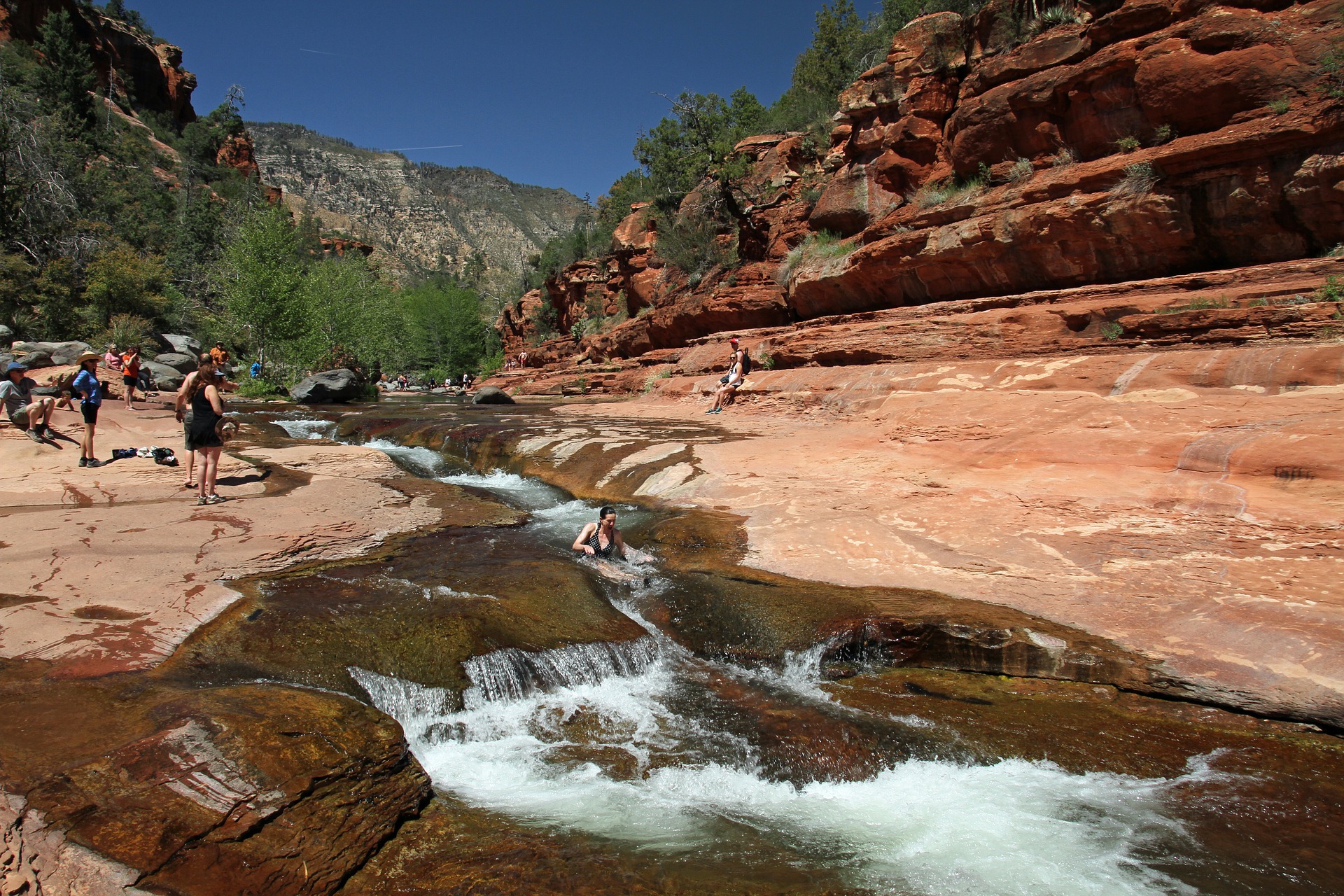 Enjoy one of the earliest agricultural developments in Arizona. Slide Rock State Park is part of a 43-acre historic apple farm in Oak Creek Canyon located off Highway 89A. Those who visit can slide down a natural chute, or play in the creek.
Entrance is $20 per vehicle for up to 4 adults. Each additional adult (14 years or older) is $3 and you can pay with Visa or MasterCard. Holiday weekend fees are a little more ($30 per vehicle on Memorial, 4th of July & Labor Day). See more on their site for hours.
Hawley Lake is on the Fort Apache Reservation and is a beautiful summer getaway for camping and fishing. Pick up a $9 tribal fishing license at any Sportsman's Warehouse and you can fish for rainbow trout on the lake.
Make sure you are familiar with tribal regulations and bring a map with you before entering the reservation. To find Hawley Lake, take the Arizona 260, then travel south on Arizona 473 up near Show Low.
Head up to the Grand Canyon, which is 8 hours from Phoenix – and visit the North Rim from mid-May to mid-November.
The North Rim isn't quite as busy and is much less crammed than the South Rim and not only can you enjoy the view, you can have lunch at the lodge. Views are just a short trail hike away, and you can also grab views on one of the many scenic routes, too.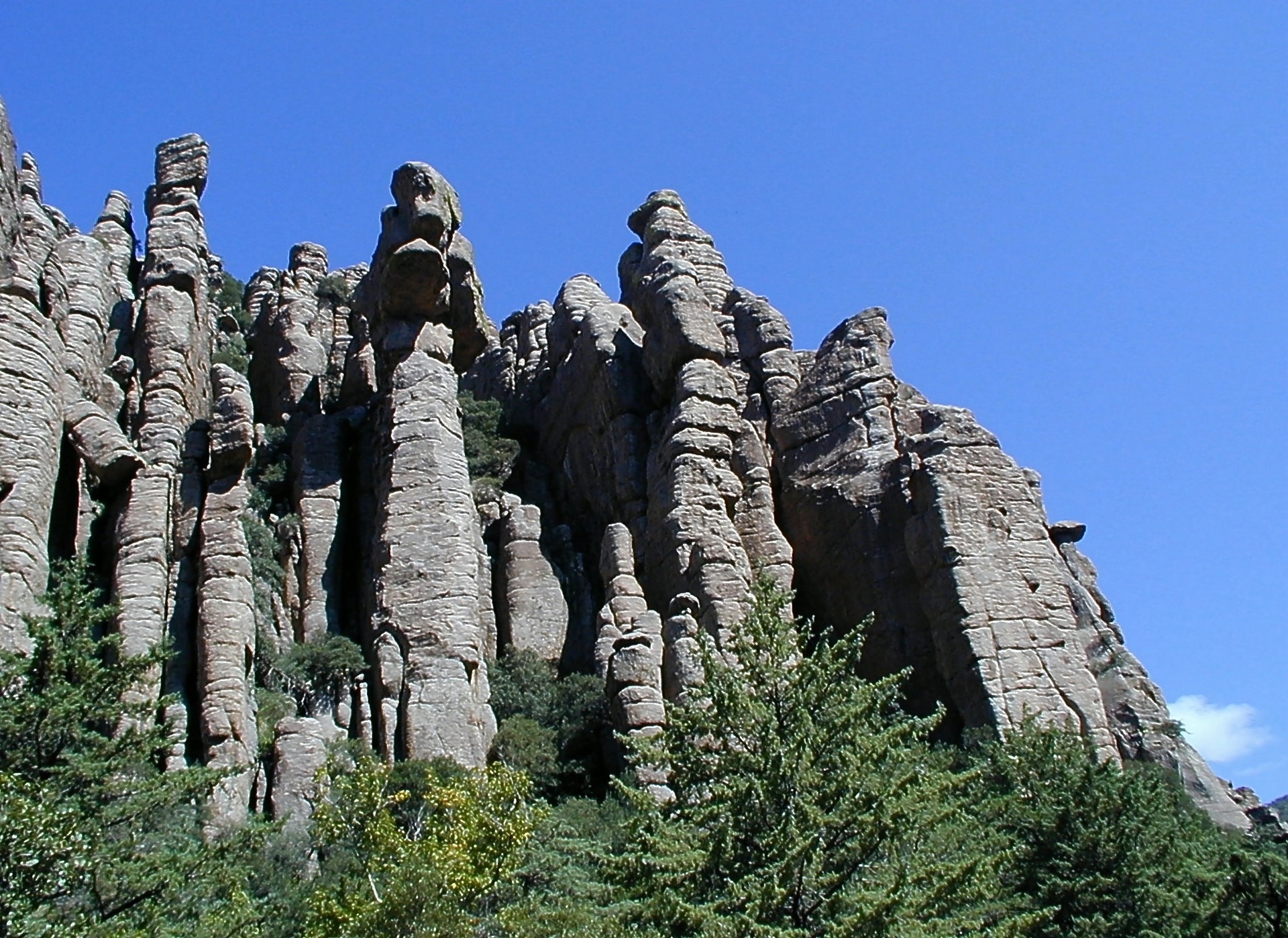 Travel through rolling green hills of beautiful farmland with grazing cows until you get to Chiricahua National Monument in Southeastern Arizona. Bonita Canyon Road will take you to the top of the monument, where you will see bizarre rock formations & canyons – a place where the Apache Chief Cochise hid from the "long knives".
Views are stunning, and temps are 20-30 degrees cooler than Phoenix. Return by driving towards Elgin and enjoy some time at any of the wineries that dot the roadside.
To get there, start early in the morning in Phoenix and take the 1-10 east through Tucson, Benson and then to HWY 186 just south of Willcox. Drive 40 miles on HWY 186 until you come to the sign in the road directing you to Chiricahua National Monument.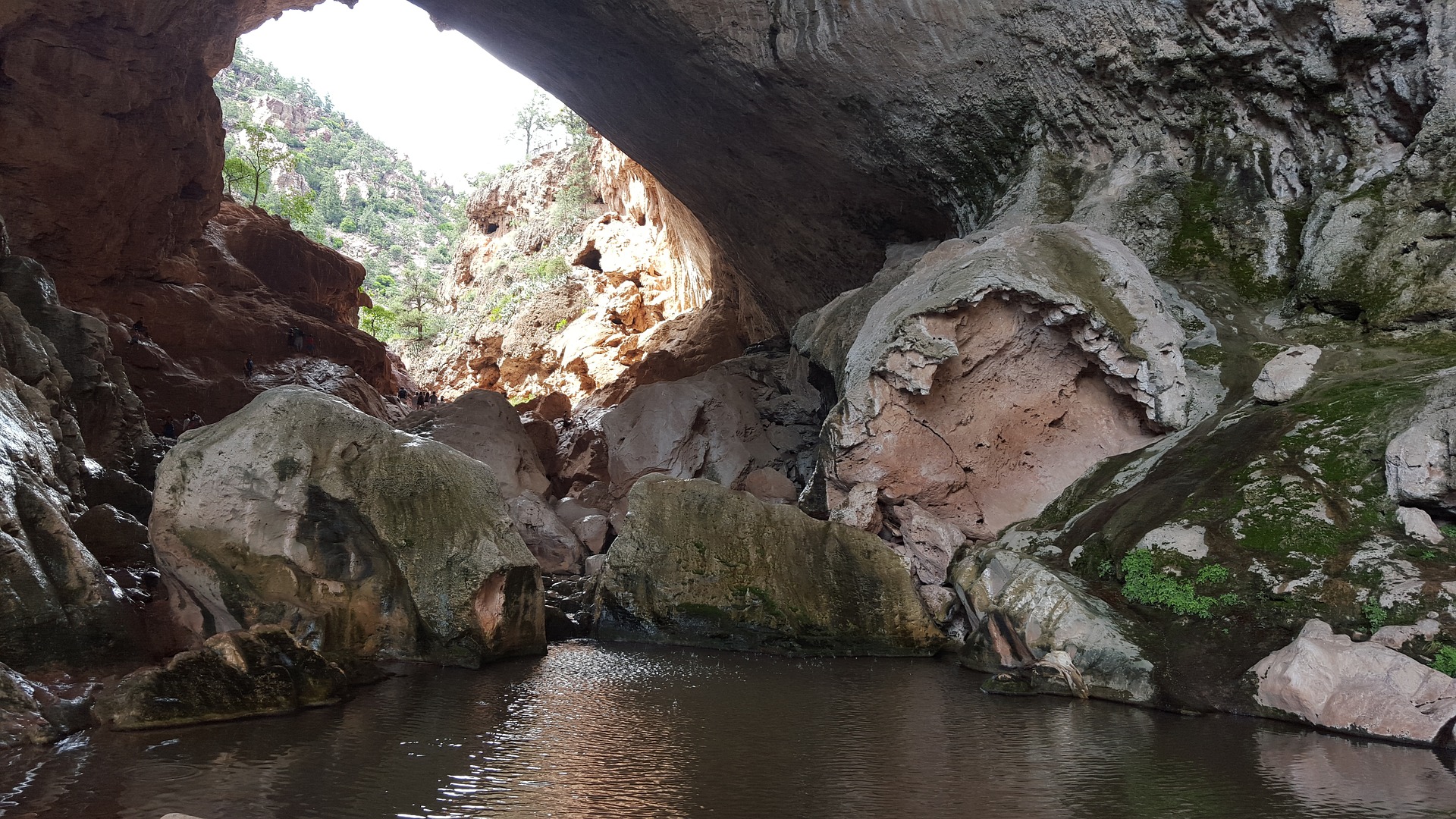 The Tonto Natural Bridge is an incredible place to take the family – and is the largest natural travertine bridge in the world. The bridge is 183 feet high over a 400 ft long tunnel that is 150 feet wide and has quite a history.
There is a half mile Gowan Loop Trail that leads down to the creek as well as several flights of stairs, named after Prospector David Gowan. Of Scottish descent, he hid out under the bridge when he was chased by Apaches. He later on moved his family from Scotland to settle there. To get there, head 10 miles north of Payson on Arizona 87.
Head up to Sedona's Oak Creek Canyon to a large swimming hole – it's a wonderful day trip site for swimmers and families who want to picnic. The parking lot gives ample access to the Grasshopper Trail that leads down to the swim point. There is no camping, pets or glass – but you must bring your own water.
To get there, head north to Sedona on 1-17. Once in Sedona, go north 2 miles off U.S. 89A to Grasshopper Point off to the east side of the highway.
No.. we aren't skiing in the summer. But we can visit Mt. Lemmon and hop on the chair lift for a scenic summer ride. The sky ride to the summit takes 30 minutes and is just about one mile.
You'll climb from 8200 feet in elevation to 9100 feet. Along the way see Ponderosa Pines, Douglas Fir, and beautiful Aspens – as well as a host of native wildlife. Before you leave, have lunch at the Iron Door restaurant, open Thursdays to Sundays.
To get there, travel from Phoenix to Tucson on 1-10 E. Take exit 256 to west Grant Road, and then East Mount Lemmon Highway.
Head up to the top of an extinct volcano – 11,500 feet in elevation. You'll see beautiful views of Arizona and get a lesson on biology and the history of the area from a Forest Service Ranger. Hours can vary, but typically run 10 a.m. to 4 p.m. for the chair lift.
Check out their summer events, and the option to score FREE dinner with the price of a full scenic lift after 2 p.m. To get there, drive 7 miles northwest on U.S. 180 to Snow Bowl Road – hang a right to go 7 additional miles to the Lodge.
Sunrise Park Resort between Pinetop/Lakeside and Eager/Springerville is a ski resort that offers chairlift rides in the summer months. Head Thursday to Sunday from 9 a.m. to 4 p.m. for a variety of activities that stretch through the summer. They have:
Scenic Lift Rides through the summer (Thursday to Sunday 9 a.m. to 4 p.m.)
Base Area Activities (Air Bag, Bungee, Trampoline, Rock Wall Super Slide and Bounce House)
Archery
All Day Explorers Pass (see more here)
Boat Rentals
To get there from Phoenix, take HWY 87 to Payson. Then take HWY 260 east to Show Low.
At Show Low, continue on Hwy 260 through Pinetop-Lakeside and McNary to State Hwy 273. Turn Right on Hwy 273. Sunrise Park Lodge is four miles south on Hwy 273 and the Sunrise Ski Area is three miles past the lodge.
Colossal Cave is a large cave system in southeastern Arizona, near the community of Vail, approximately 22 miles southeast of Tucson. It contains about 3.5 miles of mapped passageways, and was discovered by Soloman Lick in 1879. Temperatures inside average 70 degrees Fahrenheit year round.
The cave is open 7 days a week, from 8 a.m. to 5 p.m. To get there, take 1-10 E past Tucson to exit 279 – Wentworth Road. Take E Colossal Cave Road to Pistol Hill Road to the cave.
Experience a stunning limestone cave in Southeastern Arizona that boasts world-class features. This "live" cave, discovered in 1974, is host to a wide variety of unique minerals and formations. Water percolates from the surface. Calcite formations continue to grow, including stalactites dripping down like icicles and giant stalagmites reaching up from the ground. Tours are 1 1/2 hours and ranges from $13 – $25.00 per person.
To get there, take the 1-10 E just 9 miles south of Benson on HWY 90. *The caverns also meets the Natural History Curriculum for grades K-6.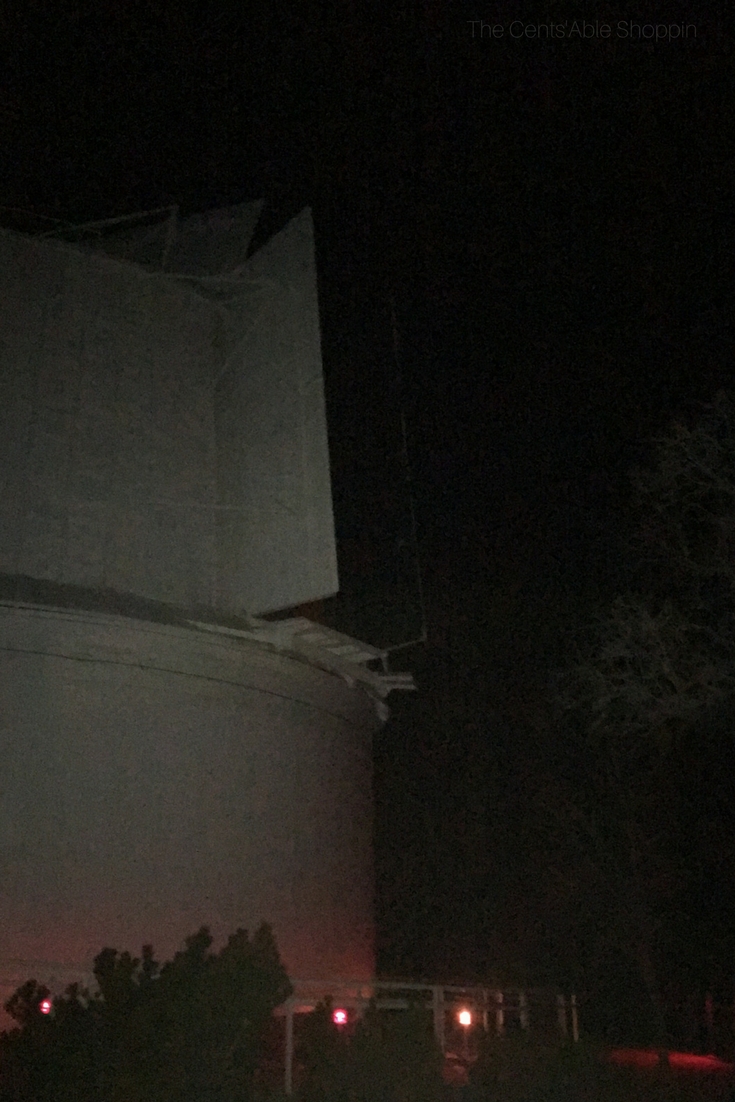 Lowell Observatory is an independent, non-profit research institution located in Flagstaff, Arizona – the world's first International Dark-Sky City. Their mission is to pursue the study of astronomy, especially the study of our solar system and its evolution. It's also one of our favorite places to go to escape the Arizona heat.
Escape the heat and visit the Observatory with the family. At the observatory, you can peer through telescopes at night or see the instrument that helped gather the first evidence of the expanding Universe. Tour our facility with friendly, knowledgeable guides.
They are open Monday through Saturday, 10 a.m. to 10 p.m. and Sundays, 10 a.m. to 5 p.m. To get there, take 1-17 north from Phoenix to S. Milton Road in Flagstaff. Continue on S Milton Rd. Drive to W Mars Hill Rd.
Read our tips for visiting the Observatory & find out how you can score free admission to the Science Center with your visit!
Where is your favorite place to go to escape the Arizona heat?