Planning a trip to Disney requires research, planning and organization. Follow these tips to help you stay organized on your next Disney Trip.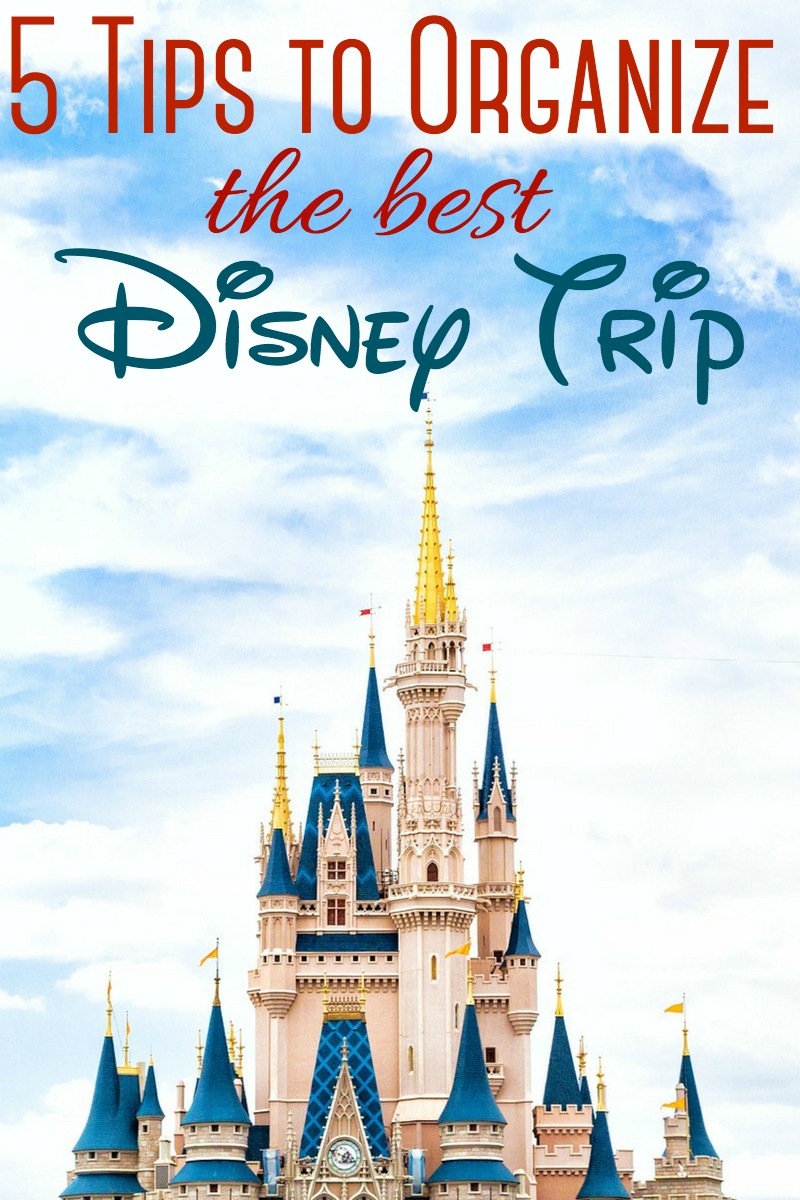 With the vast amount of rides to ride, characters and sites to see, and Mickey Mouse shaped snacks to indulge on, being able to organize a Disney Trip is no simple task. It requires loads of research and planning.
Whether you are going as a couple, taking 1 child or taking a van load with a small baseball team, preparation is important. As much as we love going to Disney, it's important to organize the best Disney Trip.
Kids get just as excited to go to Disney as we do, so getting them in the spirit is fun, too – create a Disney Countdown Calendar (via Craftivity Designs) to plan ahead.
5 Tips to Organize the Best Disney Trip
Months and weeks before we are scheduled to go, preparations start – I know friends that start planning a full year in advance. Whatever you choose to do, don't wait until the last minute.
The best way to make sure that you get to see and do as much as you can during your trip to Disney is by staying organized. Keep reading for some great tips to help you stay organized as you plan your most memorable trip to Disney.
Download Free Disney Printables
A simple search through Pinterest.com for Disney planning printables will pull up loads and loads of free printables. These printables can help you plan every detail of your trip. From where to stay, what to wear, what to do, and where to eat – each detail of your awaiting adventure can be noted and kept together.
You can also find tips for people who are visiting for the first time, souvenir hacks, ideas for packing and much more.
Here are some of our favorites:
Make an Itinerary
Having an itinerary for your trip is the best way to stay organized. It will outline your week, day to day, so that you can make the most of your trip, and avoid last minute decisions. While you may choose to veer of course while you are there, you will at least have a good idea of how to spend your days while you are finally vacationing.
Create Folders
You are going to need a place to keep your printables, coupons, vouchers, itinerary and other important documents pertaining to your trip. Avoid a thick binder, because who wants to lug around anything heavier than necessary? A simple three prong folder should do the trick at containing all of your essential paperwork.
Also, create a specific Disney folder in your email account. As soon as you receive a purchase confirmation immediately transfer the email to your Disney folder. This will help keep your online purchases together, so you will not have to go scrolling through all of your emails, when you need to find a receipt in a hurry.
Send Emails to Yourself
When it comes to staying organized with Disney, I like to send emails to myself. This way I can remember important stuff. I also scan important papers, so I have a copy of them in my inbox. This simple trick has saved me so many times.
Hire a Disney Travel Planner
You may think this is crazy, but most Disney Travel Planners work off Disney commission, so it doesn't cost you a thing. Hiring a Disney Travel Planner is a smart move because it doesn't cost you a dime and they will keep you super organized.
Mine created a spreadsheet, so we would know where to go while we were in Disney World.
Looking for more Disney Ideas?
Are you making a trip to Disney this summer or fall? Do you have kids that love everything Disney? Here are some fun ideas to include at home:
Staying organized while planning your Disney trip doesn't mean perfection. I'm sure there is plenty of stuff we forget as parent.
What's your #1 organization tip for Disney?