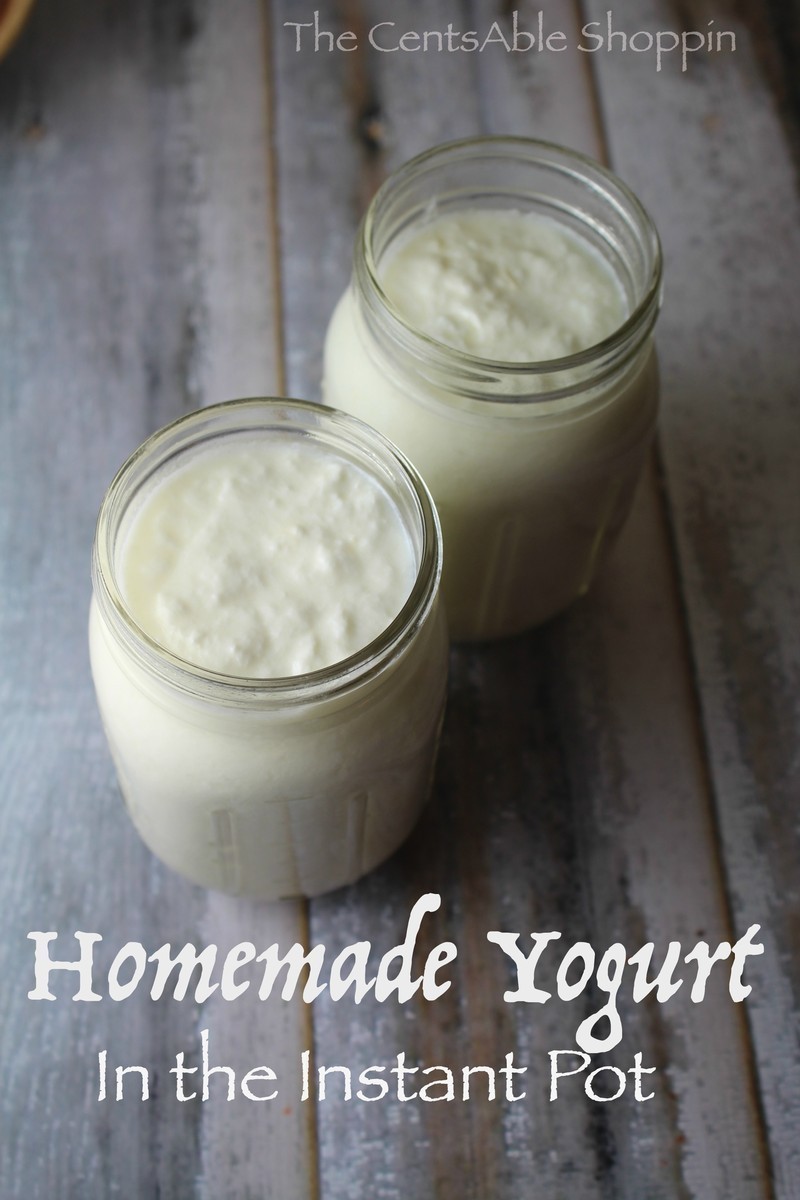 Making homemade yogurt is something I have done over a dozen times before because it truly was REALLY easy to do in the Crock Pot..
Now that I have an Instant Pot, I think I'll keep my crocks packed away a while.. because it's truly MUCH easier in the Instant Pot than the Crock Pot. Yesterday we made Yogurt and it was one of our busier days yet, and we still managed to get it done with the push of a few buttons.
If you want to do this too, you can.. but you will need the Instant Pot that has the Yogurt Function (this is the 7-in-1, NOT the 6-in-1!) We paid $118 for ours, but if you wait, it often goes on a lower price every so often.. just keep it on your watch list.
I would suggest giving it a shot if you have an Instant Pot too – you might find it to be easy too. Don't have an Instant Pot? Read our last post HERE to see why we bought one (and why we got the 7-in-1 – which includes the Yogurt function!)
If you are going to make this yourself at home, make sure you use WHOLE milk for this recipe so you can have super creamy yogurt.
I would ultimately recommend Raw Milk .. and if you aren't familiar with that you can read our last post to see why WE use and drink Raw in our house.
It's accessible from several places in the Valley & well worth the extra… we get ours in Queen Creek once a week at a really nice Dairy. If you can get your Raw Milk from a Farmer it's definitely better than purchasing it in store. If you can't get Raw, then WHOLE milk that is Organic and Grass Fed, low temperature pasteurized and non-homogenized would be a great option too.
Making Homemade Yogurt in your Instant Pot
First, make sure you are going to be home for some of these steps … you can pop in and out all day but some of these times are crucial.
Ingredients
1 Gallon Raw Whole Milk or Low temp Pasteurized Whole Non-Homogenized
1/2 C. Plain Whole Milk Yogurt with Live Active Cultures
1. Sanitize your Instant Pot
This is the easiest step – all you need to do is pour a cup of water in your Instant Pot and add 1 drop of Lemon OR Purification Essential Oil (for sanitizing). Close the lid, and hit STEAM for 1 minute.
Do a quick release at the end and then dump the water. Now you are ready.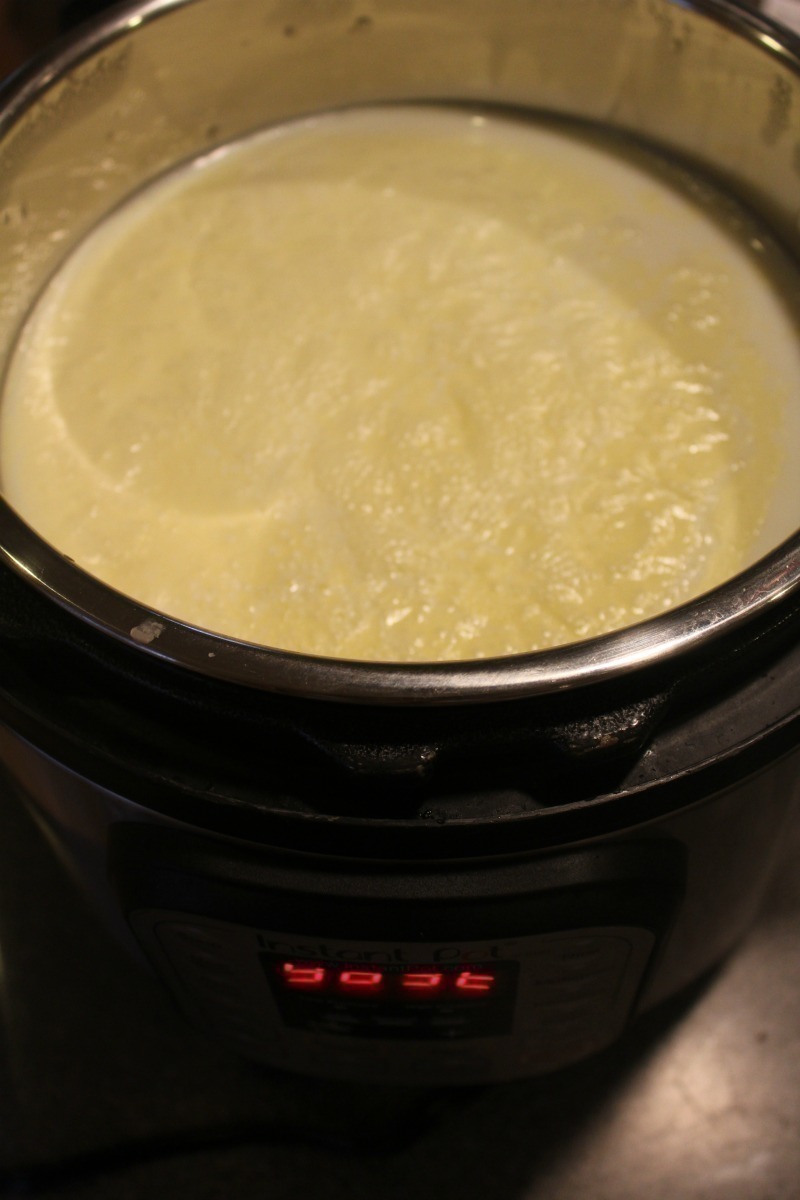 2. Scald your Milk
Pour the ENTIRE gallon of Raw Milk into your Instant Pot. Place the lid on, hit the YOGURT Button. Then hit the adjust button until it says BOIL – leave it to beep and then wait for the milk to boil on it's own – it takes about ONE hour.
Once it comes to a boil you do have to be there to open the lid, and remove the Instant Pot. Turn OFF the Instant Pot, and unplug it. Place the Pot on the counter.
3. Let the Milk Cool + Add your Culture
Once you remove your instant pot and sit it on the counter, wait for the temp to cool to 115 – use a thermometer for this. It took my milk just over 90 minutes – I sped up the process by stirring it frequently too. Make sure your thermometer is sanitized and just wait patiently.
Once the yogurt reaches 115, you will need to add 1/2 C of your yogurt starter culture – mix it in well. You don't have to be particular but I would recommend an Organic yogurt (we used Stonyfield) – you can also use Greek, too.
4. "Make" your Yogurt
Once you add the starter, take the Instant Pot and set it back in the cooker. Put the lid on and push YOGURT. It will display 8 hours. Don't touch anything at all – once it starts it will switch to "0:00" which means it's going to start counting UP to the 8 hour mark. Do not let your kids take off that lid at any time (if they are like mine they wanted to keep opening!)
Now, you can go about your day & head out if you need to.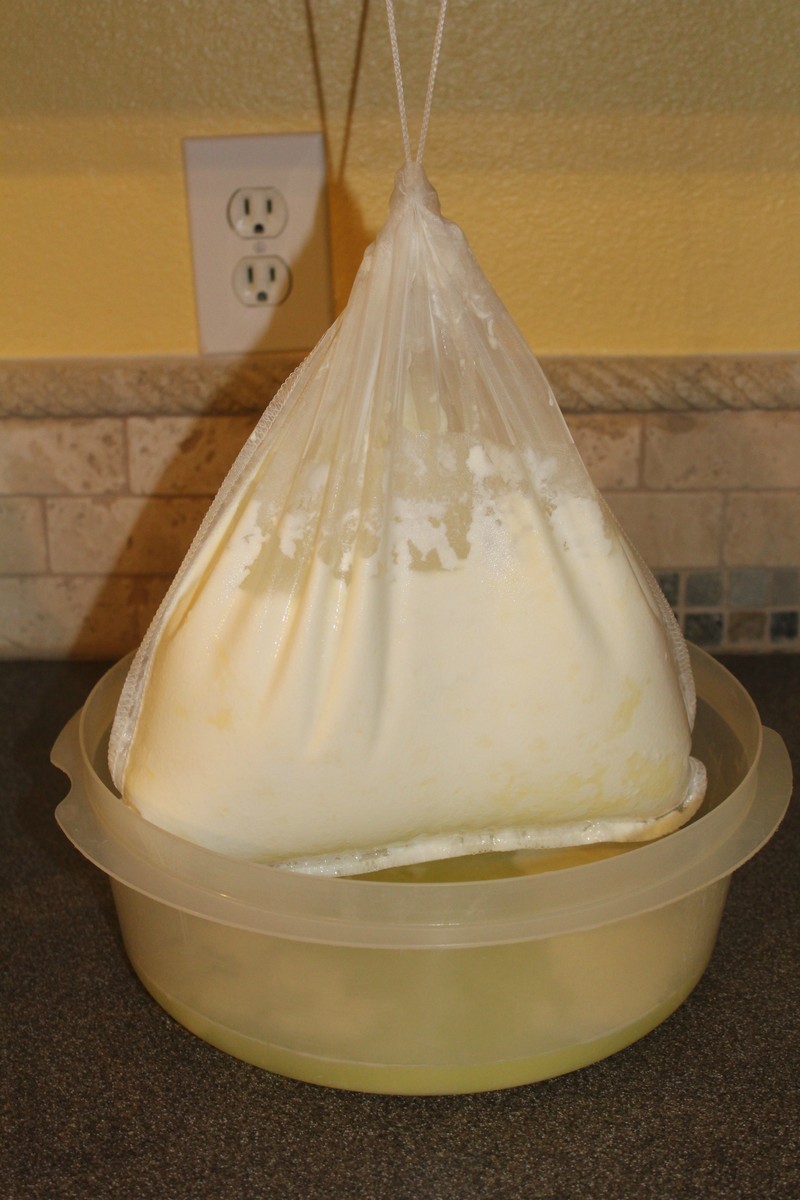 5. Strain your Yogurt
Once the 8 hours is up .. the Instant Pot will BEEP, then you can remove the pot. We LOVE our yogurt thick so we let it sit in this Nut Milk Bag (or use THIS one too) for an hour (and we hung it off the cabinets with a HUGE bowl underneath to catch the whey..).
We then dumped it back into the pot to stir again. At this point you can add vanilla or any Essential Oil you wish.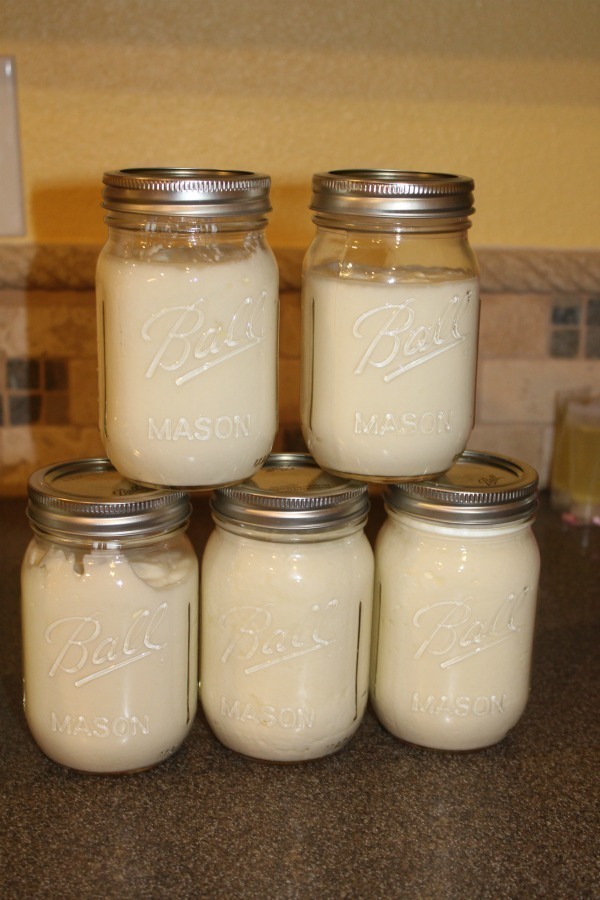 6. Load into Jars
Pour into 2 Large Canning Jars, or, if you have Quart Jars, pour into several of those. Make sure they are clean and that you have lids. Set in the fridge to set overnight. You can then pour the whey into separate jars to keep for soaking grains later.
My Gallon of Raw Milk makes about 5 quart jars… and 3 jars of Whey.
7. You are DONE – Eat it!
The yogurt will keep about 2 weeks and be a little more tart over time. Though I will say yours probably won't last 2 weeks – our kids eat it every day. My boys love it with a little honey or maple syrup… my daughter likes hers with fresh fruit. You can also add Lemon Essential Oil, too.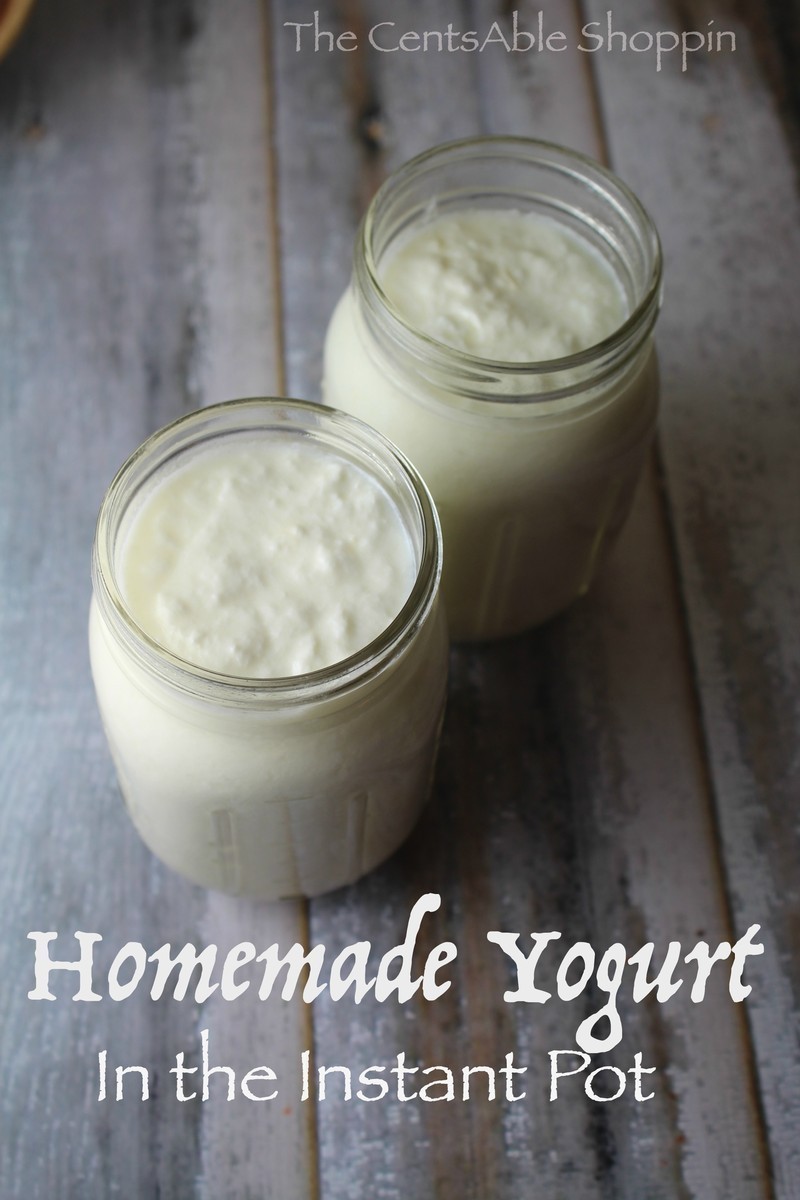 Give it a try if you have an Instant Pot & let us know how yours turns out!
Do you have an Instant Pot? It has been the most worthwhile purchase we have made for our kitchen…Checkout more recent Instant Pot Recipes: