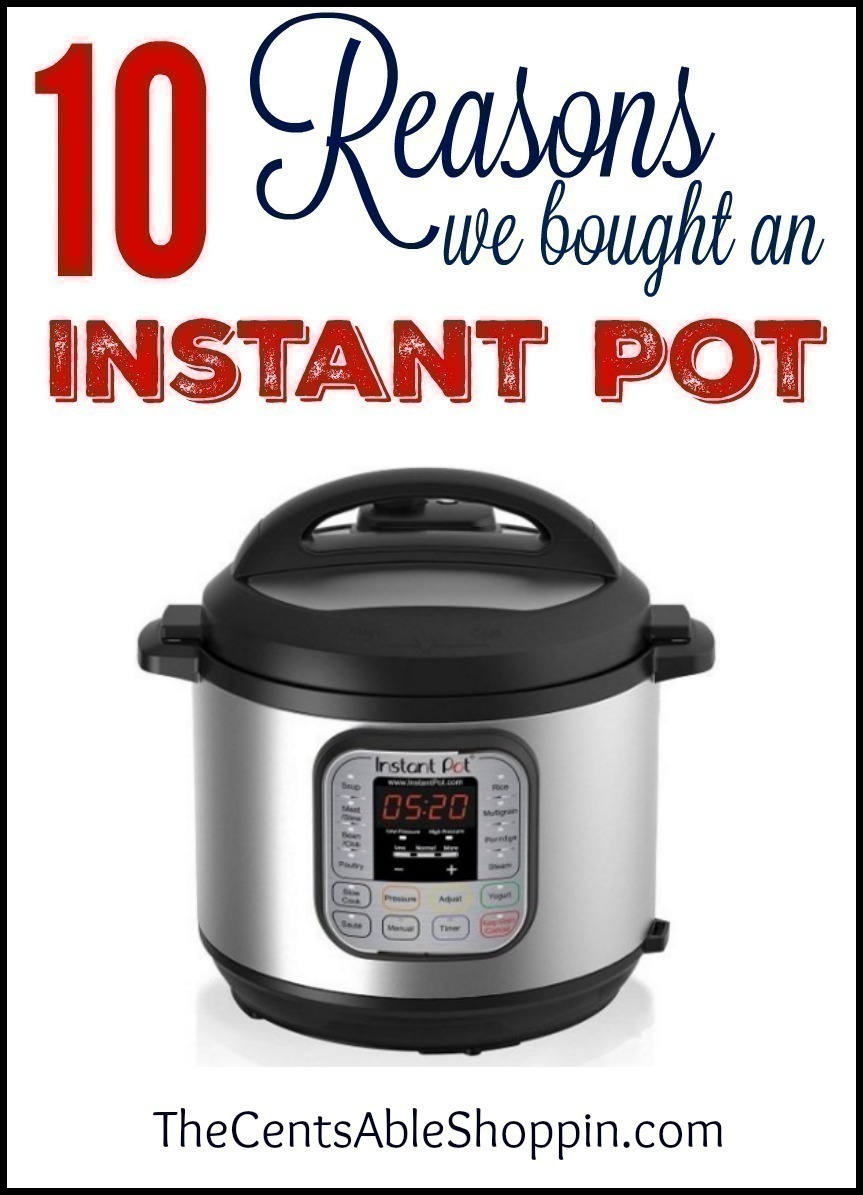 There is NO arguing that I LOVE to cook – I have always loved being in the kitchen.
Our lifestyle has changed pretty drastically over the last few years, and so I am not privy to having as much time as I used to… with have kids – and four at that. We have one coming. Both of us work full time. Our kids are in extracurricular activities and we are active in the church several days a week.
I am thankful I heard about the Instant Pot from another blogger (Rachel at Surviving the Stores) and mom of 4 – we all share one of the same passions (Essential Oils) and we have are part of a HUGE group on Facebook for Oily Potters which has been an amazing resource.
So what IS an instant pot? The Instant Pot is a 7-in-1 Multi-Functional Cooker–Pressure Cooker, Slow Cooker, Rice Cooker, Saute/Browning, Yogurt Maker, Steamer & Warmer
It has a large, easy to use control panel with 14 built-in Smart Programs, Dual pressure, Automatic keep-warm and 3 temperatures for saute and slow cook. It does it all.
So WHY did we buy the Instant Pot?
There are many reasons I took the plunge – and I'll share ALl of those with you. If you have been reading the last few weeks you will notice that many of the recipes I have posted and they are all easily done with the Instant Pot.
Some people are scared of the Instant Pot.. the price tag is a little high compared to what some can spend.
And some have merely said "I love the idea but I have TOO many appliances right now, my Crock Pot works fine". Let me just say that my crock pots are back in storage. I will probably not pull them out again for a LONG time. This thing does it ALL. It's so nice to see someone come over, ask what it is, and then say "do you really like it?"
To see my husband say "Are you kidding? This thing is AMAZING! It does it ALL – and YES I LOVE it." So if you are on the fence, this should help you make a decision somewhat easily – it's worth every penny.
If the whole idea of having one scares you, you can find some really good deals on the Instant Pot on Amazon...
So why DID we take the plunge and buy one?
#1 – It Cooks Beans VERY Quickly
We (as a family) eat a LOT of beans – and so when I heard that the Instant Pot could cook beans in 10 -1 5 minutes (for soaked beans) or for 40 minutes (dry beans) I was all ears.
Why would I spend several hours boiling beans or waiting for my crock pot to make beans when I could make them in a fraction of the time?
#2 – Steam or Cook Veggies in Minutes
It's so easy to throw in veggies, lock the lid and steam them for a mere MINUTES versus dragging out a pot of water or another machine … once the few minutes is done, just release the steam and voila – they are DONE.
We eat a lot of potatoes – and I can throw in 5-6 potatoes for dinner, 1 C. water, lock the lid and 8 minutes later have FULLY cooked bakers that are ready for dinner. We do this all the time – it works super for ANY time of the day, too – not just dinner!
#3 – Rice Cooks PERFECT
There is NOTHING better than being able to toss in rice with liquid … and having it done in 4-5 minutes. Every time you cook rice it comes out PERFECT – not mushy, not undercooked. And the best part is that you can walk away without having to monitor the stove.
Even more, Broccoli & Cheese with Rice is easy too – I can make it for the ENTIRE family in a matter of 6-7 minutes.
#4 – Clean up is Easy
The Instant Pot is merely a big stainless steel pot & lid. It's a one-pot wonder – and so when you are done cooking, all you have to do is pull out the pot and wash it. ONE pot to wash – not several!
#5 – It has a Timer
The Instant Pot works similar to a Crock Pot but obviously takes it many steps above! When I had my crock pot I would set it to cook so that dinner would be done later in the day.
The Instant Pot allows me to program the cooker to start at a specific time – then after it cooks, it keeps it warm until we are ready to eat.
#6 – Pressure Cooking is Safe
I have a regular pressure cooker and I'll tell you that it scares the bejeezus out of me… I have used it a few handfuls of times but they have always scared me, because I have heard stories of them blowing up on people.
The Instant Pot IS a pressure cooker (and 6 other appliances in one…) and it's much safer – there are over a handful of safety features built in- automatic pressure control, a lid that locks when pressurized, and more…it's nearly effortless. With the touch of a few buttons, and a lid that locks, you can basically walk away from it without any worry.
#7 – Pressure Cooking Helps Retain Nutrients
The Instant Pot works similar to a pressure cooker in that it keeps the steam within the pot to cook for a shorter period of time. You are using MUCH less water (1/2 – 1 C.) versus cooking on the stove. More nutrients are kept that way and you save yourself time in the long run.
#8 – It has SEVEN Features
The Instant Pot can Bake Potatoes, makes Bone Broth, Chicken Stock, Sautees, makes Homemade Yogurt, and even makes Hard Boiled Eggs. It ALSO makes Cheesecake, too – can you believe that? (and YES, I HAVE done that – it's EASY)l It works as a slow cooker too -you can even make soup.
Want to cook a whole chicken? Put in the Instant Pot and 35-40 minutes it's done. Use the bones to make bone broth in a fraction of the time it would take you to use your stove. It also cooks Steel Cut Oats much faster than it would have if I was using the stove, too.
#9 – It's just Plain Easy
Guess what? It's just easy. I have ONE appliance on my counter besides my KitchenAid & that is my Instant Pot. It's used for breakfast, lunch and daily for dinner. I haven't turned on my oven in over 2 weeks, this cooker has done it all. When I'm home with the kids in the day, it takes a mere 5-10 minutes to make them rice with chicken.
If my daughter wants Cheesy Broccoli with Rice, it takes me 7 minutes.
If I feel like eating Cheesecake, 20 minutes later the Instant Pot can pump it out.
#10 – It Saves us from Eating Out
The Instant Pot can throw food together SO fast, it makes meal planning so entirely easy – even if Mom is busy, my 9 year old can toss in potatoes and push a button. If Dad is coming home in 15 minutes and I don't have time to cook food in the oven, the Instant Pot can whip it together by the time he walks in.
When you have 4 kids (+ 1 on the way) … meals are effortless in the Instant Pot – which is a GREAT investment versus all of us trekking out to Subway (which is easily $30 – $40 for all of us to eat – who can afford to do that? NOT us.)
Even better, if you are a tekkie, there is even a Bluetooth Model you can pick up – obviously we didn't go that far, but it's a great option if you are looking for the high end model.