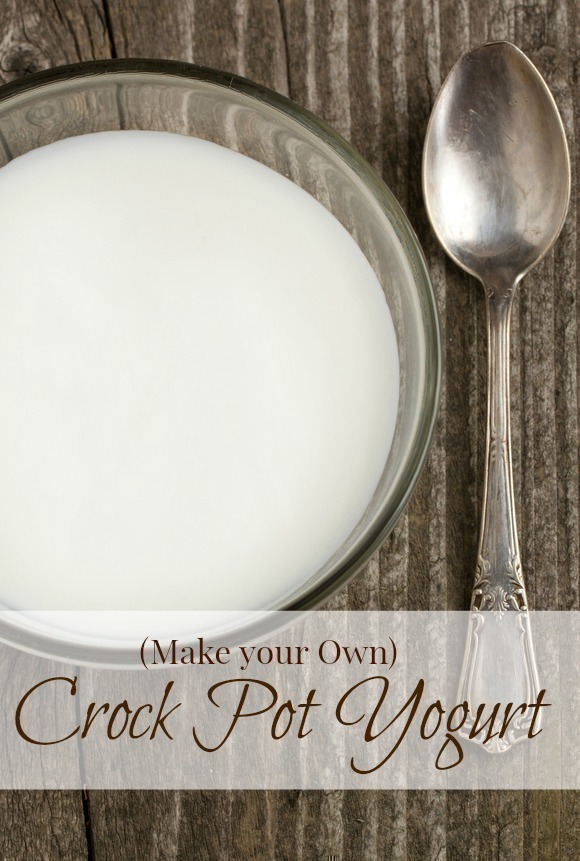 Have you ever made your own yogurt in the crock pot? This past week I scored a SUPER deal on Stonyfield Organic at Albertsons – 32 oz. for just $2.00. I bought them all. As much as I love their yogurt, paying $4 – $5 is not in the plans so we don't purchase.
Although having a ton of yogurt in the house can be lovely, it can be stressful because you want to make sure you USE it before it goes bad.
So for 3 days I have been on a yogurt diet. My kids are excited we have yogurt, and we've been rockin' some smoothies for breakfast which is always nice.
But….. I kept back some of the yogurt so we can make some more later today.
You will need:
8 C. of Whole Milk (do not use anything other)
1/2 C. Yogurt with Live, Active Cultures
1-2 THICK Bath Towels
Slow Cooker
Step by Step:
I would suggest starting this process around 4 p.m., that's what worked best for me. I also used a 6 qt Crock Pot, and slid it back FAR on the kitchen counter so that my kiddos didn't have a spike in curiosity.
Pour 8 C. of Whole Milk into the crock pot and turn it on low. I set my timer on the crock pot for 2 1/2 hours. Once the time is up, then turn the crock pot off, unplug, and let it sit.
Do not open the cover.
When 3 hours have passed, remove 2 C. of the warmish milk, and whisk 1/2 C. of the store-bought yogurt….. and then dump it back into the crock pot.
Put the lid back on the crockpot, leave it unplugged, and wrap the crock pot in 1-2 heavy bath towels for insulation. Then, put yourself to bed for 8 hours.
Once you wake up, the yogurt should be done. Put the yogurt into plastic containers in the refrigerator – but save 1/2 C. as a "starter" for the next batch you make.