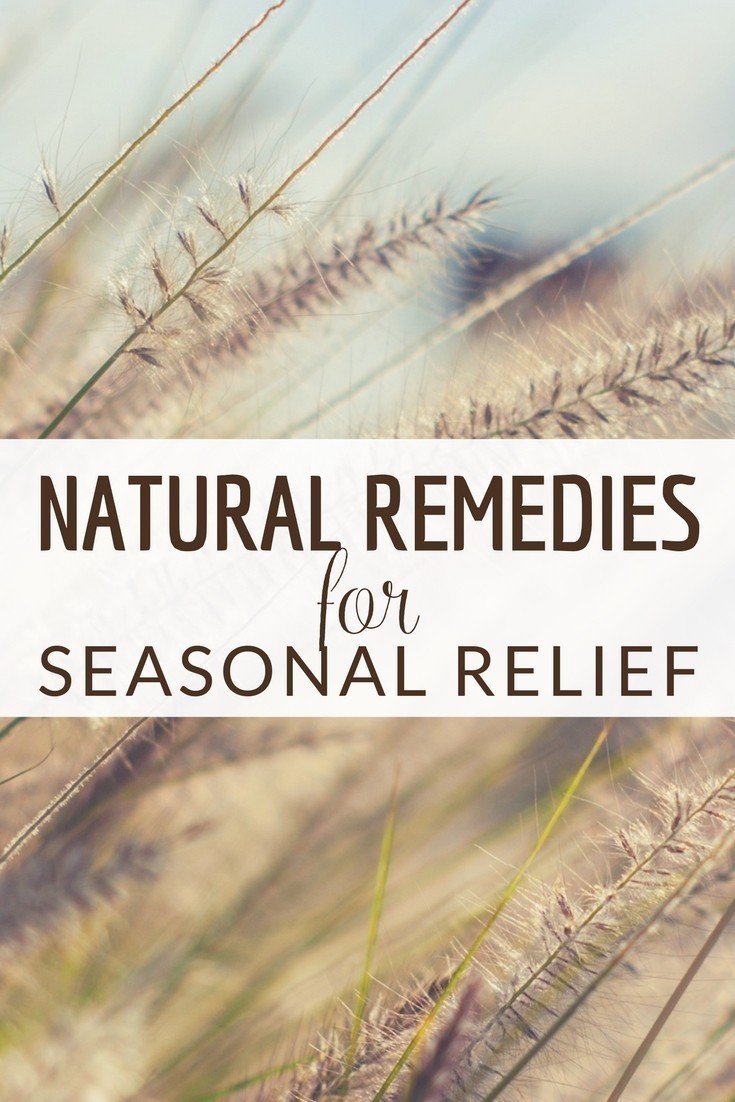 It's the wildflower season here in Arizona which means the onset of seasonal discomforts – from sneezing to itchy, watery eyes, pressure headaches and lots upon lots of mucous.
Unfortunately most Americans will turn to popular items like Claritin, Zyrtec, prescriptions or even Benadryl for temporary relief. In most cases, using natural routes can work better, without the harmful effects on the body.
Because everyone reacts differently to different items though, it's important to try & find something that works best for you. Sometimes, these natural methods may give you immediate relief, and sometimes they take anywhere from 3-6 weeks to kick in.
Essential Oils:
Essential Oils are GREAT for seasonal relief… you can use them topically or aromatically, or internally.
Topically: Lemon, Lavender and Peppermint Essential Oils – combine in a 10ml Roller Bottle and apply to your neck.
Internally: Lemon, Lavender and Peppermint Vitality are dietary oils that can be combined in a veggie capsule (2 drops of each) and taken periodically as needed (morning, noon and night). You can also make your capsules ahead of time and freeze until needed. I just take out what I need for that day & so far we have been going two years using this method and it has proven successful for us.
Aromatically: Diffuse Lemon, Lavender and Peppermint in your home diffuser (if you have a Young Living Diffuser you can diffuse for up to 8 hours).
Make sure you are using proper essential oils – avoid the synthetic fragrance oils you buy in most grocers. You want something that is certified as GRAS (generally regarded as safe) by the FDA.
You also want to avoid the synthetic oils sold at grocery stores because they are primarily for aromatherapy use only (not to use internally).
Read more about the Essential Oils we recommend by heading here.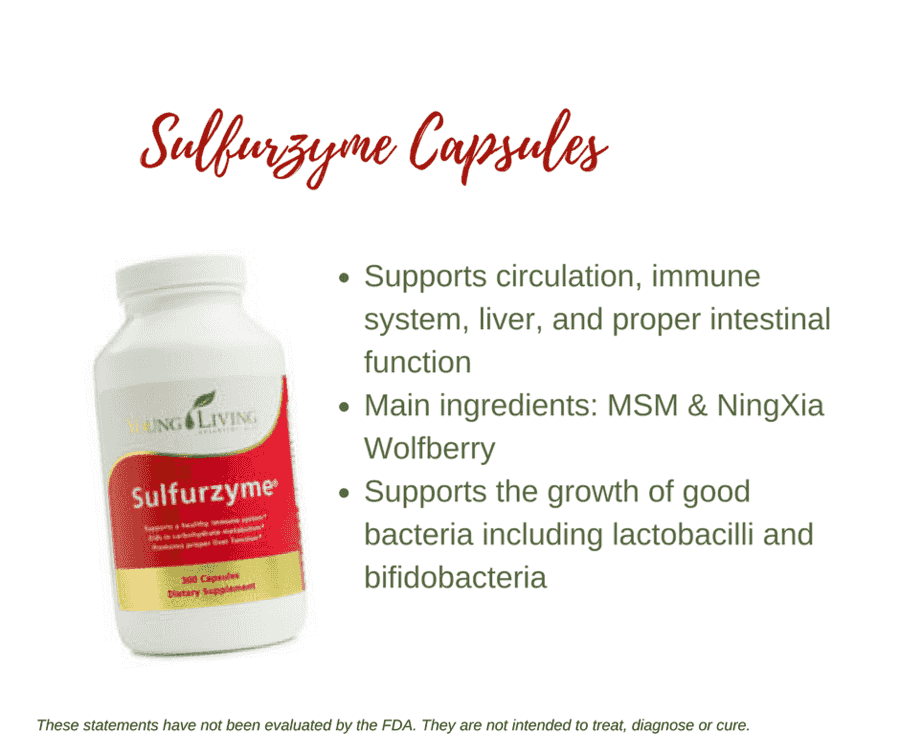 Sulfurzyme:
A 2004 study found that MSM (main ingredient of Sulfurzyme) reduces seasonal allergic rhinitis symptoms.
Sulfurzyme does best when the supplement is taken 4 weeks prior to allergy season though the study showed that in as little as 7 days, the symptoms of upper and total respiratory symptoms are significantly reduced.
Find out how to get Sulfurzyme.
The Food Connection:
Reduce foods in your diet that tend to increase inflammation including GMO foods (non-Organic, genetically modified), pasteurized dairy, refined foods like white flour, and sugar. Unlike pasteurized milk, raw milk is actually beneficial for allergies.
Pasteurized milk has lots of dead bacteria … which actually triggers inflammation in your body because your body doesn't recognize these waste products …Your body then reacts by mast cells breaking open, histamines being released, and things like asthma and inflammation flaring like crazy; mucus being laid down, which in turn results in ear infections, food allergies, and seasonal challenges.
Raw milk does exactly the opposite … it is not pasteurized, thus is alive with beneficial bacteria and your body recognizes it. The beneficial bacteria colonize and become part of your immune system.
As a result, staying away from pasteurized/processed dairy is important and instead, opting for raw, whole dairy – if it is permitted in your area. Avoid processed foods – including kids juice, granola bars, cereal, fruit snacks, and instead, opt to feed your children raw whole foods that are rich in protein.
Neti Pot:
Most people who struggle with the seasonal changes also have what is called allergic rhinitis – which means the production of excess mucus, stuffy nose, runny nose and irritated nasal passages/sinuses.
A neti pot uses use salt water to flush your nasal cavities to relieve nasal congestion and allergies. You can use the basic salt water rinse that comes with the neti pot or, you can opt to incorporate essential oils – Lavender, Tea Tree or Rosemary are wonderful for this.
The best reason to lean towards the use of a neti pot is to reduce headaches associated with sinus congestion and allows you to reduce your reliance on antibiotics to combat sinus infections. However, it comes with a few caveats too ~ don't use it on infants, do not use the neti pot regularly, and make sure you are using sterile water (boil the water before using).
Using Natural Nasal Relief with the Neti Pot
Probiotics:
Eating probiotic rich foods are important to help restore the balance of friendly and unfriendly bacteria in the gut. By establishing a better balance in your gut, you will support better digestion, and a decreased inflammatory response (inflammatory response is what triggers the allergic reaction).
Avoid drinking soy milk or eating products with soy, and incorporate raw milk, raw raw milk greek yogurt, lots of kefir and fermented foods.
Related post: How to make Kefir
Natural Solutions:
Natural solutions are a better option than taking over the counter or prescription medicine – they are formulated to work on all of the pathways of the allergic responses, and will help you experience fewer symptoms without the side effects.
Natural supplements include:
Nettle Leaf: Nettle Leaf is a natural antihistamine that can be very easy to find on Amazon (or other places, too). Nettle Leaf blocks the body's ability to produce histamine – find capsules on Amazon HERE. You can also find Nettle Leaf Tea, too.
Quercetin: Quercetin is great for allergies because it's a strong antioxidant with anti-viral properties. It stabilizes mast cell membrane and prevents the release of histamine and other inflammatory agents. It's most effective if you start earlier before allergy season. You can find Quercetin on Amazon.
Raw Honey: Raw honey works because it has natural enzymes (since it hasn't been processed). You will want to stick with honey from your area — where the same sort of plants are blooming. Though Raw Honey will only work on Pollen.
Apple Cider Vinegar: Apple Cider Vinegar reduces mucous and cleanses the lymphatic system; it promotes alkalinity and the pH balance of the body which is why it works so great for many remedies. For allergies mix the following:
1 Tbsp Organic Raw Apple Cider Vinegar
1 Tbsp Lemon Juice
1/2 Tbsp Raw Honey
Take that mixture 3 times each day – it will take a week to several weeks for that mixture to build up your immunity for those seasonal changes… so don't expect results immediately.