A last will & testament is a critical part of family planning. With just a few simple steps, you can safeguard your family & protect your assets.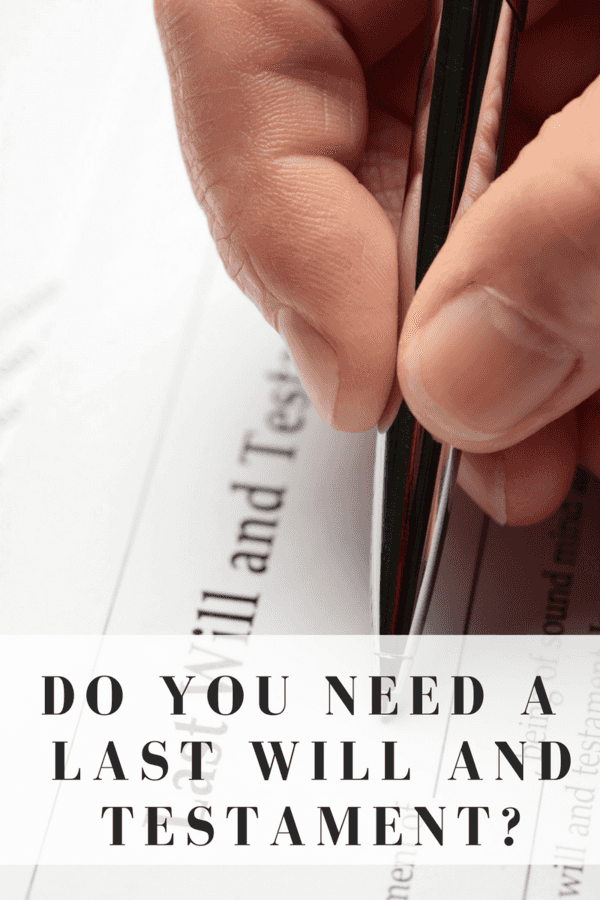 This is such a shocking statistic:
According to USA Today, 64% of Americans do not have a last will & testament.
64% of Americans don't have a will. Of those without a plan, about 27% said there isn't an urgent need for them to make one — and 15% said they don't need one at all.
That is shocking – my guess is that for many, it's just one of those things that they continue to put off (kind of like saving, or retirement, etc.) Some might not even think a will is necessary – after all, they may not be married, have kids, or even have a mortgage.
Do You Need a Last Will & Testament
No matter what your age… it's never too early or late to start thinking about a last will. As you progress through life, more than likely you purchase items, get married and have kids. Hence the reason and cause for proper planning of your assets.
Not married? No debt? You still might need one, and it's better to think forward now than try to peddle backwards if something happens.
As we carry on our day-to-day lives, I see so many Go Fund Me requests. I think it's safe to say that taking time to plan now may alleviate the need to do those type of requests later on.
Who Needs a Will
A will is a legally binding document that will determine how you want your estate to he handled upon your death. Not only will it help with the who, what and when of your estate, it will alleviate family arguments about your estate that might arise when you pass.
There are many reasons to have one – whether you are single, married, with or without children in your 20's, 30's or 40's.
In your 20's: Most people at this point in their life may not think they have too much to worry about. In some cases, you might not even own that much, and you might not even be married with children. If you are just starting out, the most important thing you can do is think forward to retirement investing. Saving 15%of your income into an IRA can help you plan for your retirement down the road, with time working on your side.
And while it might not seem like much at first, that 15% will compound rather quickly. You will have assets before you know it. You might be thinking of picking up your first home, or you may have met someone with plans to wed. Or, you might just have your retirement savings working hard for you since you have the advantage to do so.
In your 30's: At this point in your life, you may have gotten married, had kids, or even purchased a house. These are all rather huge milestones – therefore a will is almost essential to protect all those things just in case something happens to you.
Not only do you need to think of establishing a will, you may also want to consider a living trust. A trust will ensure fast distribution of your assets (if you have a business perhaps). If you are married, it's important that you have a power of attorney and a living will, too.
Equally as important as a will is having life insurance to cover the mortgage and take care of your family just in case something unfortunate happens.
In your 40's or 50's: At this point in your life, your kids are probably headed into high school if not college. By this time, you may have substantial retirement accounts, college funds, and a mortgage (or two) in addition to other real estate ventures.
While having a will, living trust and power of attorney is essential at this point, just as important is checking those items regularly to keep them updated. Ensure your beneficiary information is updated, and have a plan in place that keeps all of the important documents in a safe, centralized place (legacy box). Share that safe place with several family members so that they can find them easily if needed.
Not only is it important to have a will (for many reasons we mentioned previously), it's equally as important that you keep the documents updated when you have life changes.
Events such as the birth of a new baby, divorce, or even marriage should be markers in time that you can use to update and review your will for any changes that might be needed.