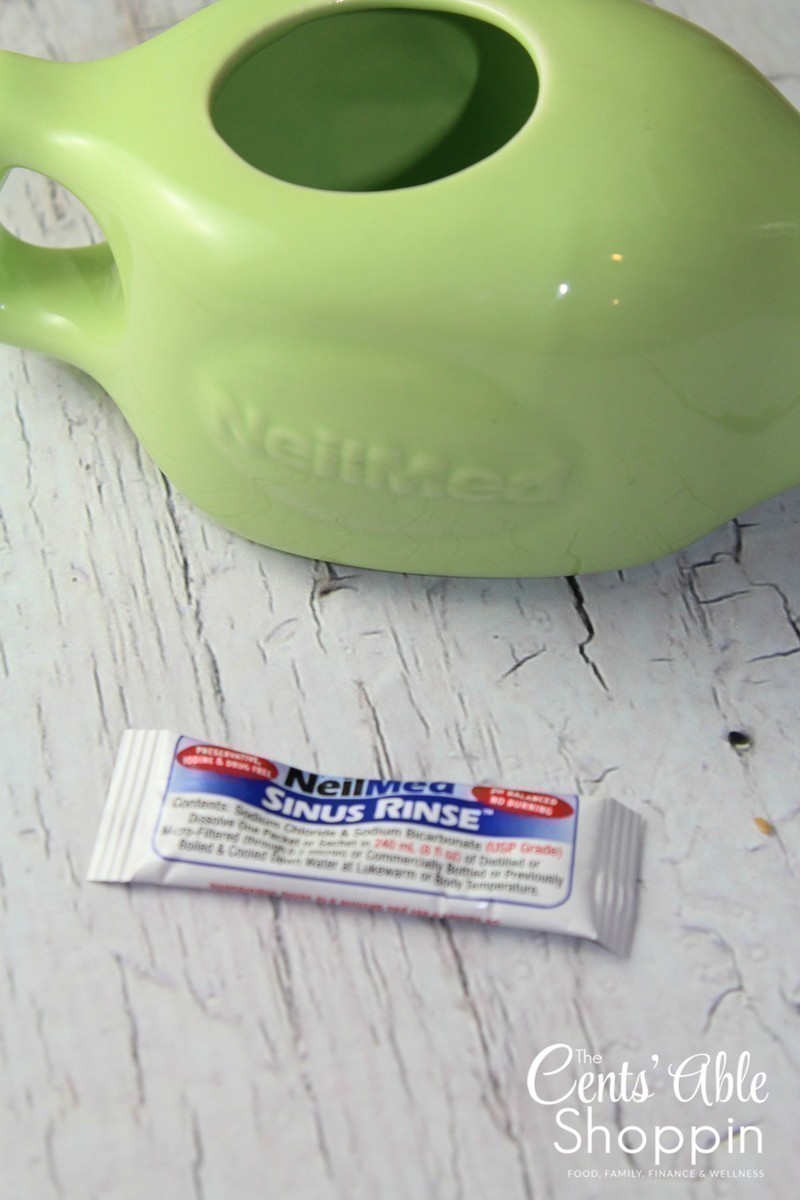 Have you ever used a Neti Pot? It's a pretty handy item to have in your home – we have had several over the years. They seem to be that item that gets misplaced or lost when we move houses… but thankfully right now we have one.
We were also fortunate enough to be part of the Mom's Meet Blogger Program where we partnered with NeilMed for a box of Neti Pots and other accessories to help with nasal irrigation and support.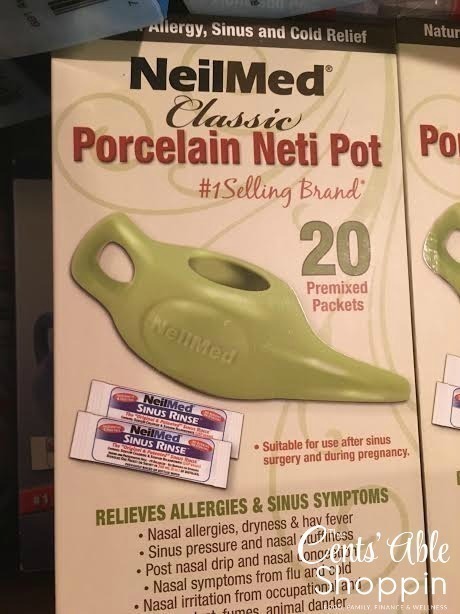 And it quite honestly couldn't have come at a better time.
Although I don't have sinus problems, he does – and we avoid using over the counters and doctors visits are not an option for us, so he used the Neti Pot the last few days – except instead of the sinus packet rinse, he used Essential Oils (one drop of each Tea Tree and Rosemary) and after coming back into the kitchen he said "That worked great. I have my nose back!"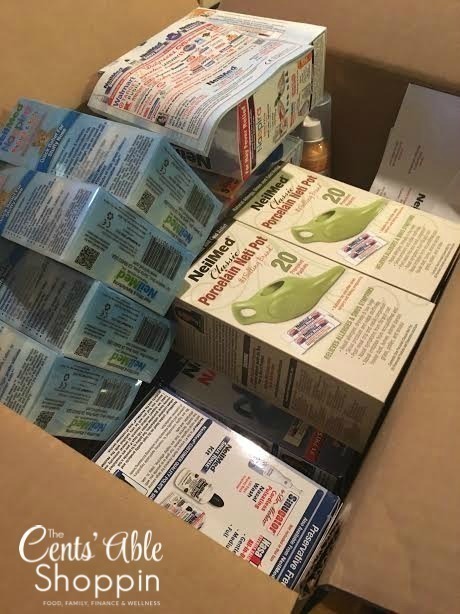 He has used a Neti Pot before, but never with Essential Oils, so this was an amazing opportunity to use our oils once again for wellness.
Those who use a neti pot or have used one may absolutely LOVE their neti pot. But those who don't may think they are a very disgusting item.
What's a Neti Pot?
A neti pot looks like a small teapot that is used to clean out your nose. It's commonly used for nasal irrigation and uses water and saline to rid your nasal passages of mucus and debris. NeilMed sent us the Porcelain Pot, and the regular Neti Pot (Plastic) – we have the opportunity to share with our local mom's group so several other families will be fortunate enough to score one to try for their family.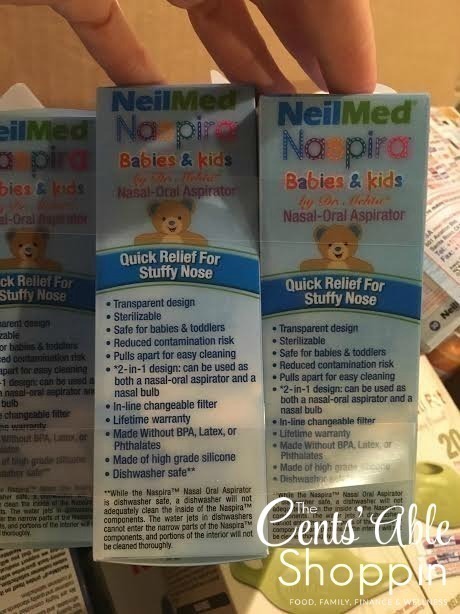 We also picked up several of the NeilMed Naspira for Children too – the Naspira provides quick relief for stuffy nose and is safe for babies & toddlers.
Steps to Using a Neti Pot:
Using a neti pot is really easy – you pour distilled or previously boiled water (that has cooled) into the Neti Pot – never use tap water.
Mix in the saline solution provided, OR one teaspoon of salt for every 2 cups of water.
Shake the pot slightly to mix, lean over the sink.
Lean your head forward and to the side.
Put the spout of the pot in one nostril allowing the liquid to come out of the other nostril.
Keep your mouth open (you have to make sure the solution doesn't go down your throat).
Once you are done with one nostril, blow your nose into the sink or a kleenex.
Then, switch to the other side and repeat the process.
How can the Neti Pot Help?
The Neti Pot is a natural solution to nasal irrigation – unlike most prescriptions, it's perfectly safe for people to use, and can have a variety of profound benefits. Even more, it'll allow you the option to take care of yourself without having to rely on a doctor (who, in most cases, will just give you another prescription – which only masks the issue but never addresses the root of the problem).
Here are some ways that the Neti Pot can provide nasal support:
When you are pregnant, the Neti Pot is safe to use to support your nasal irrigation and help support a healthy respiratory system.
Your nose has a natural defense against bacteria and other infections – when that mucus gets thick, you need support to help irrigate
Nasal irrigation can support your nighttime sleep – one common cause of snoring is congestion. The Neti Pot helps with congestion by opening up the nasal canals.
If you suffer from frequent nose bleeding, regular nasal irrigation can keep the membranes in the nose moist, thus reducing the chances of nosebleeds (which is common for many in Arizona with the dry heat).
Irrigating your nasal passages will allow you greater sense of smell & taste.
A Neti Pot is great for seasonal relief – pollen in the air goes up your nose, making the pressure intense at time. Clean out your nose daily to relieve the pressure.
Over the counter medicines are always an option, but with extended use they can have profound effects and dry out your sinuses. It's never good to rely on medication – a Neti Pot is a natural way of supporting your health.
If you are an Oily family, you can use Essential Oils in your Neti Pot instead of the rinse packets.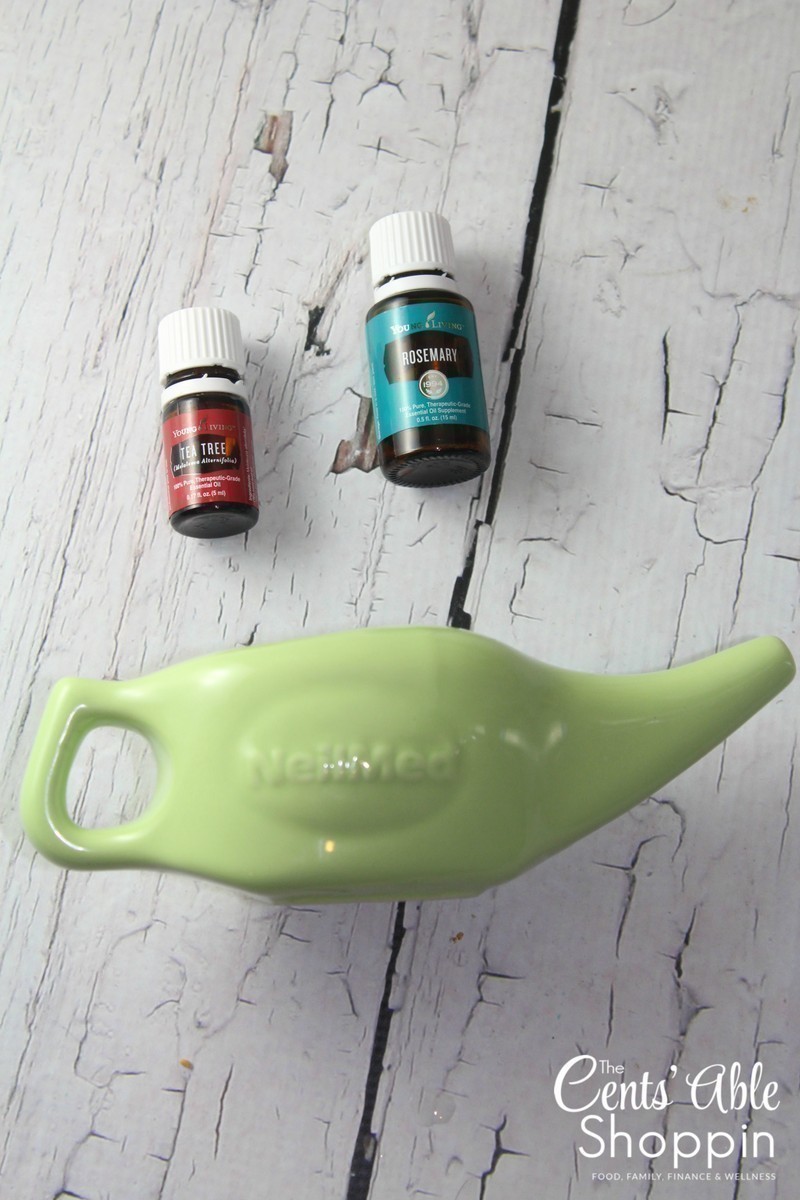 Using Essential Oils in the Neti Pot
Essential Oils are great to use in the Neti Pot — they are compounds derived from plant materials and are used and have been used for centuries . Some of the best Essential Oils to for nasal support are:
Rosemary Essential Oil
Tea Tree Essential Oil
Clove Essential Oil
Lemon Essential Oil
Eucalyptus Essential Oil
Oregano Essential Oil
Peppermint Essential Oil
If you opt to use Essential Oils in your Neti Pot, use 1 drop of each of 1 or 2 together in 2 C. of distilled (or, previously boiled) water. Use the Porcelain Neti Pot for Essential Oils since plastics should be avoided.
Just the Facts
NeilMed® Naspira® Nasal-Oral Aspirator is the world's most uniquely designed nasal aspirator system that safely and effectively suctions baby's and toddler's stuffy, runny or congested noses.
With the unique, transparent 2-in-1 design, you can either use it as a NeilMed® NasaBulb aspirator or as an effective Nasal-Oral suction device, where parents can use suction force generated by the mouth to alleviate nasal congestion in babies and small children
The high-grade, all-silicone design allows for easy pull apart cleaning of all components, as well as sterilization through boiling water or microwave disinfection protocol.
The NeilMed® Naspira® Nasal-Oral Aspirator includes 7 in-line disposable filters to prevent mucus from inadvertently entering the tubing and reaching the user's mouth.
The retail price of the NeilMed® Naspira® Nasal-Oral Aspirator ranges.
Where to Purchase
NeliMed products can be found at Target, WalMart, Walgreens, Rite Aid, Bed Bath and Beyond, Harmon, Kinney Drugs, Shop Rite, Brookshire's, amazon.com, drugstore.com, neilmed.com, and myotcstore.com.
One thing to keep in mind about Essential Oils, is that they are not all the same. The Essential Oils you commonly find in drugstores, mass retailers (Walmart/Target/ Bed Bath & Beyond) & grocers are usually, in most cases, aroma oils that are adulterated with synthetic chemicals and not intended for wellness support.
We have always used (and highly recommend) Young Living – there are the only Essential Oil company that owns their own fields, with full control of their oils from the time they go in the ground until distillation. Their Seed to Seal Promise is their commitment to purity and authenticity – read more about Essential Oils on our previous post.

Disclosure: this is a sponsored post on behalf of Mom's Meet Bloggers and NeilMed. On behalf of Mom's Meet and NeilMed, we did receive a box to review the items and share with other moms. All opinions are our own.
This information is not intended to cure, treat, or diagnose any disease.