Are you feeling the holiday cheer yet? It might only be the end of October but Thanksgiving and Christmas are creeping up on us. I'm not really in holiday mode [yet] but I am all about the flavors of fall – this apple crisp is a cinch to put together.
Whip up your own homemade pie filling by chopping up some apples, mixing in some maple syrup and spice, and letting simmer on the stove. When you are ready to make this crisp, you'll have enough filling to make a double batch of this apple crisp.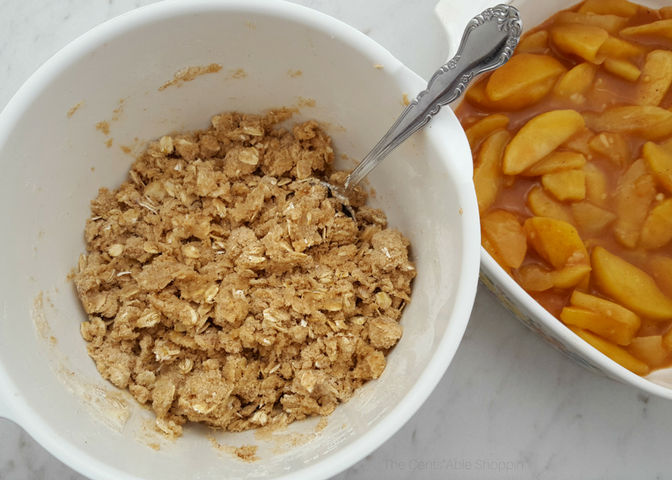 There is just enough butter and topping in this gluten-free apple crisp to make this dessert feel like a treat, but it's much lighter and healthier compared to most other holiday desserts – especially if you opt for maple syrup in the topping instead of brown sugar.
Making your own homemade pie filling beforehand allows the crisp to golden up much faster – crisps are incredibly forgiving, even if you forget to remove on time they can sometimes end up too golden, which is still ok too.

You probably won't have leftovers, but if you do… serve them up for breakfast and top with greek yogurt instead of ice cream. Or enjoy as is for breakfast with a little whipped coconut cream – after all, it's just oatmeal, right?
A wholesome, maple sweetened apple crisp that is covered in a gluten-free, oat topping - best when served next to vanilla ice cream or a little whipped coconut cream topping! Everyone will love this dessert!
Ingredients
Instructions
Preheat oven to 325 degrees F.
In a 9x9 glass dish, pour the apple pie filling in an even layer.
In a large bowl, mix all crumble topping ingredients together. Spread evenly over apples.
Bake in oven for 25-30 minutes or until topping is golden brown. Serve warm.
Notes
*Go refined sugar free for the topping and use 2 Tbsp maple syrup in lieu of the brown sugar.
https://www.thecentsableshoppin.com/499703-2/