Grab these free Owl printable Valentine's Cards and attach a tootsie roll pop – they'll be a big hit for your child's next Valentine's party!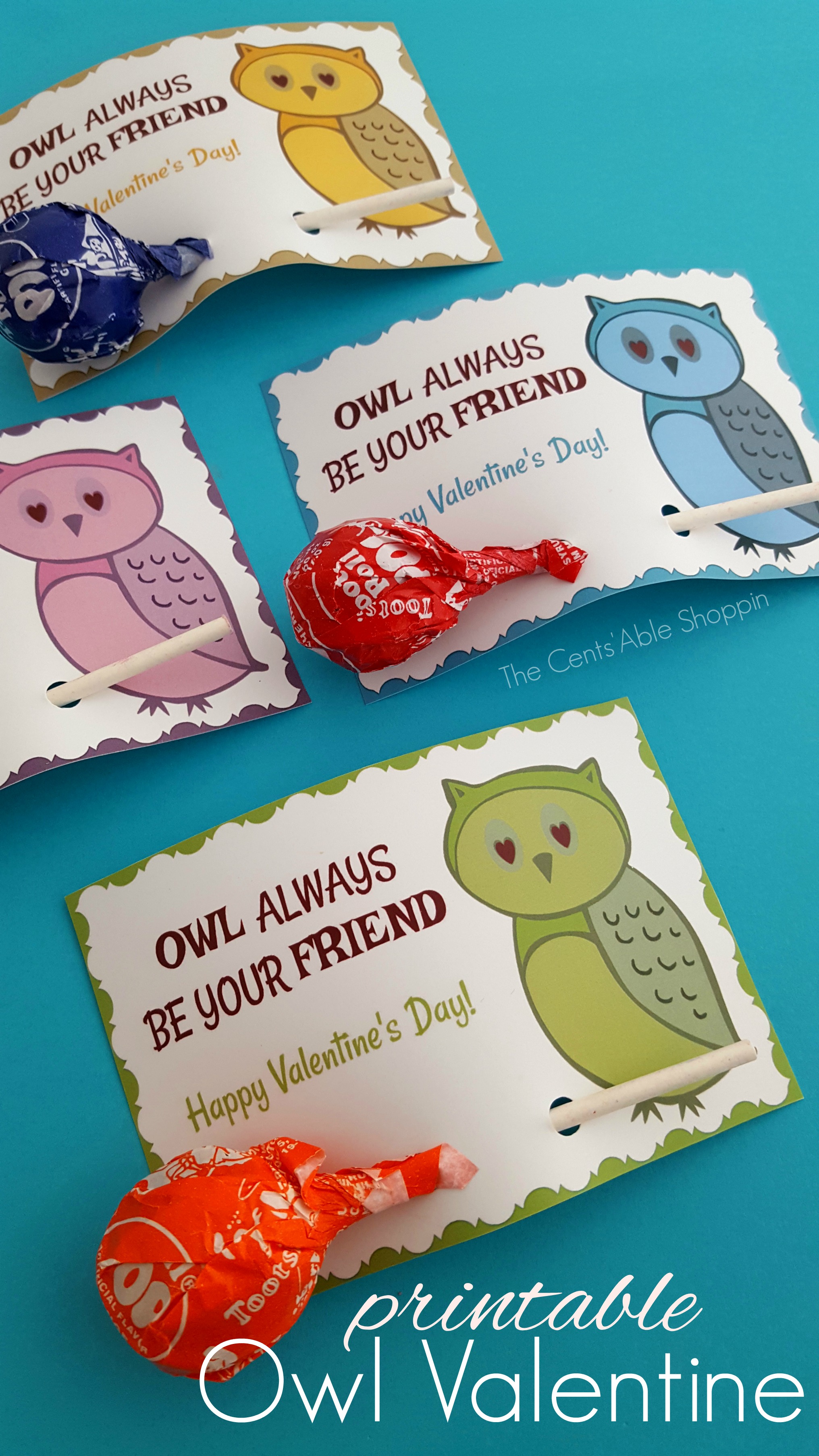 Valentine's Day is close, y'all … can you believe it?
I won't ever forget sending my husband to Walmart, several years ago, to get Valentine's for our Kinder student. She's now in 6th – boy how time flies!
He sent me a series of pictures via cell, asking which ones he was to buy. Oh heavens, just buy a box. Or two. Whatever, aren't Valentine's all the same?
Oh, definitely not at all!
They have so many varieties it can truly make your head spin – from Troll, to Princess, to Fairy Princess, to Emoji, to Baseball… lets not forget Sponge Bob! He's always so popular. One thing is certain though: they are not as inexpensive as they used to be!

Thankfully making your own is super easy too – and these Owl Valentines are way too cute to pass up! (Who doesn't love Owls – they are so adorable!) Grab a thicker card stock paper (affiliate link) and download the printable Valentine as a PDF.
Cut around the edges, and enlist the help of your kids to hole punch in the proper areas, then stick your Tootsie Roll Pops through the holes.
Owl Valentine Printable
Materials:
Printable (best printed on a thicker card stock in order for it to hold the tootsie pop)

Scissors

Hole Punch

Tootsie Pops
Directions:
Use scissors to cut along the outer edge of the colored border on each valentine.

Punch two holes through each card on the bottom half towards the center. Slide a tootsie pop through the holes.
*If you'd like to write To/From on the front or back – it's best to do so before sliding the tootsie pop through.
That's it! Toss them in a bag or box and give to your kids to take in to school for their classroom party.
Have you ever resorted to making your own Valentines to send with your kids to school? Or do you tend to just buy them in store?
Looking for more Valentine's? Don't miss these!