This adorable bouncy ball Valentine is easy to put together and a unique way for boys and girls to celebrate Valentine's Day with friends and family!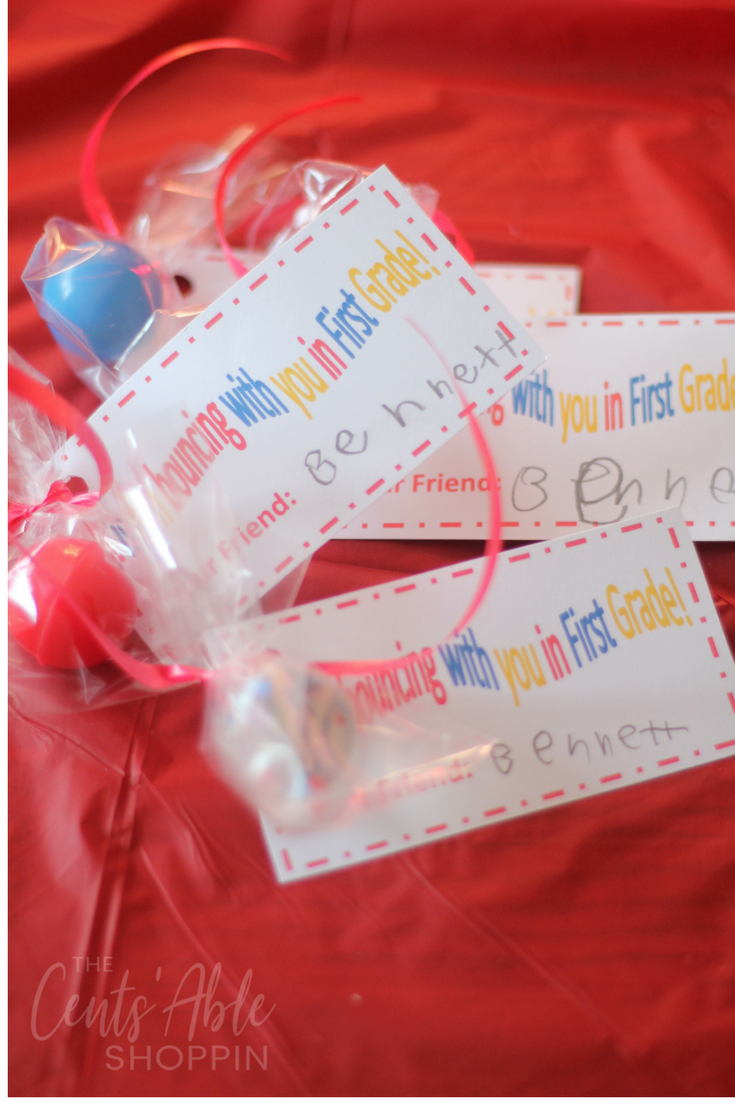 Valentine's Day is just around the corner, and I have a fun little printable and Valentine idea that your kids might just love.
Lets talk about this Bouncy Ball Valentine.
Who doesn't love bouncy balls? I think all kids go crazy for them. Mine can't be the only ones who love to toss them all over the house.
I have 5 kids and when they were in school, they loved getting Valentines that were really unique. Though I think most kids love candy, mine actually seemed to gravitate towards those that didn't involve candy.
I usually try to note what little toys they seem to gravitate towards the most, and the winners are always spinning tops and bouncy balls.
Bouncy Ball Valentine
The great thing about giving bouncy balls as a Valentine is that they can work for both boys and girls. They are also rather inexpensive to pick up. You can look in the dollar store and find them in a pack of 6 for just $.99 – Walmart also has them too. I haven't checked Target but my guess is that they might as well.
Print out the file below (there are two options) on white card stock. I actually sent mine to Staples to get printed for $.50 a sheet, and then cut the Valentines out, 10 per page.
You can order the baggies on Amazon or you can find them in the craft section at Walmart. Depending on your store, they carry them in the frosting/tips aisle or the wedding crafts aisle.
Overall, these can be a really inexpensive Valentine. Most of us have ribbon at home to tie to the Valentine.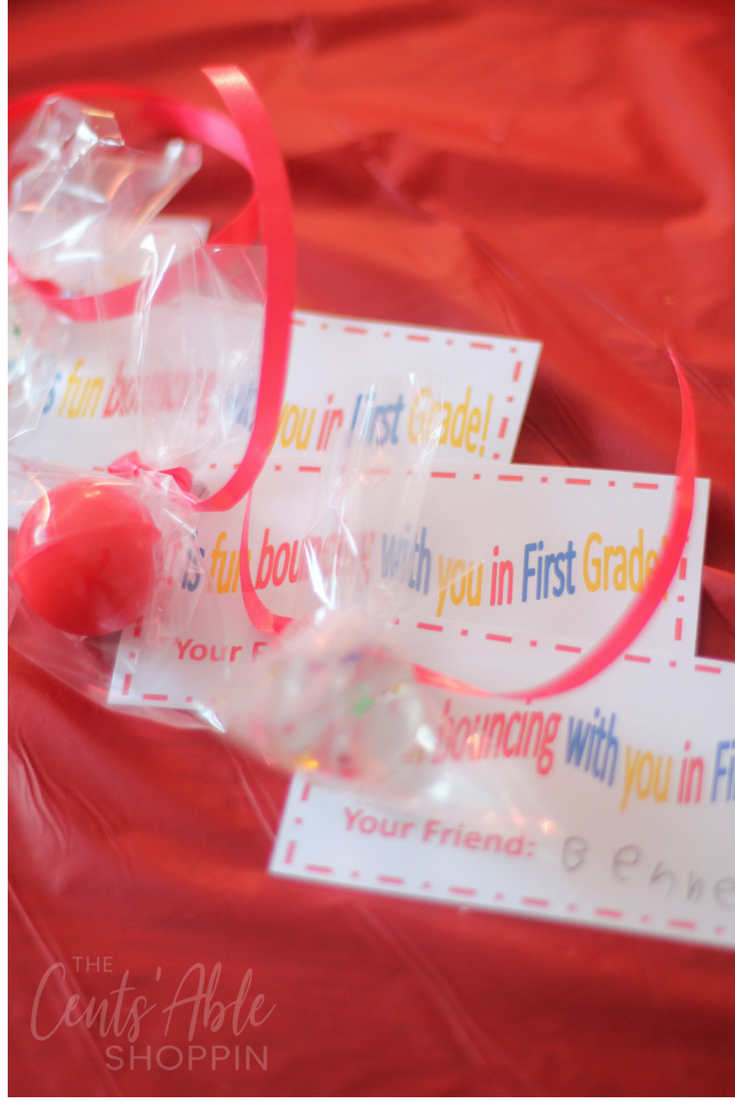 Then have your child write their name on each Valentine and gather them up in a big bag so they can pass them out at their Valentine's party at school.
Materials
Printer

Card Stock (Or send them to Staples to get printed)

Bouncing with you Valentine PDF – there are two options!
(It's fun Bouncing with You in School) or, (It's fun Bouncing with You in First Grade)
Bouncy Balls 12 pk here or, 50 pc here

Ribbon (You could also staple each bag to the Valentine if you prefer)

Single Hole Punch

Scissors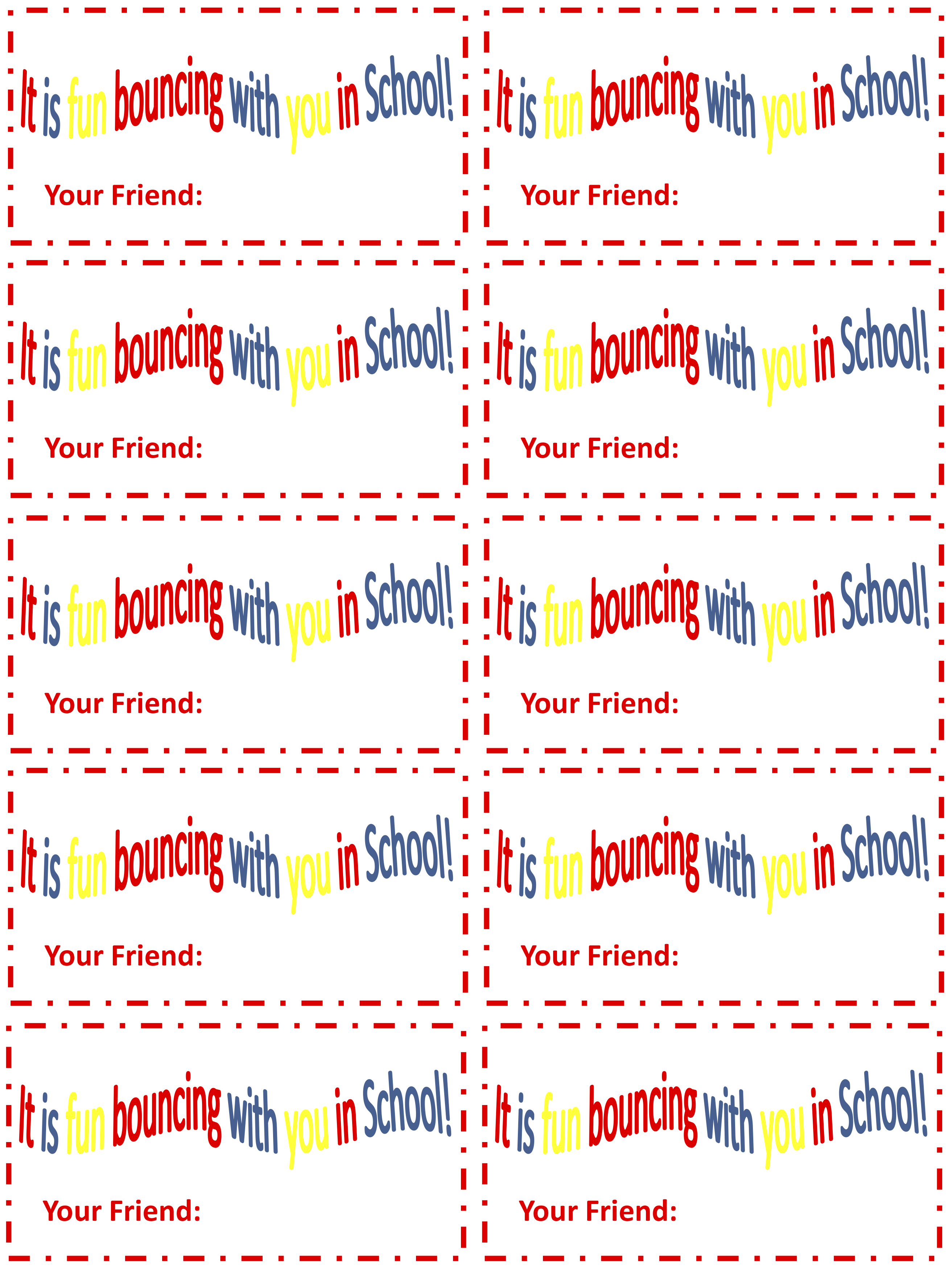 Terms of Use: You are free to print and use this file, however, it may not to be sold or used for commercial gain. You are welcome to share/pin a link to this page, but the actual file may not be offered for download on any other website or blog.
To assemble: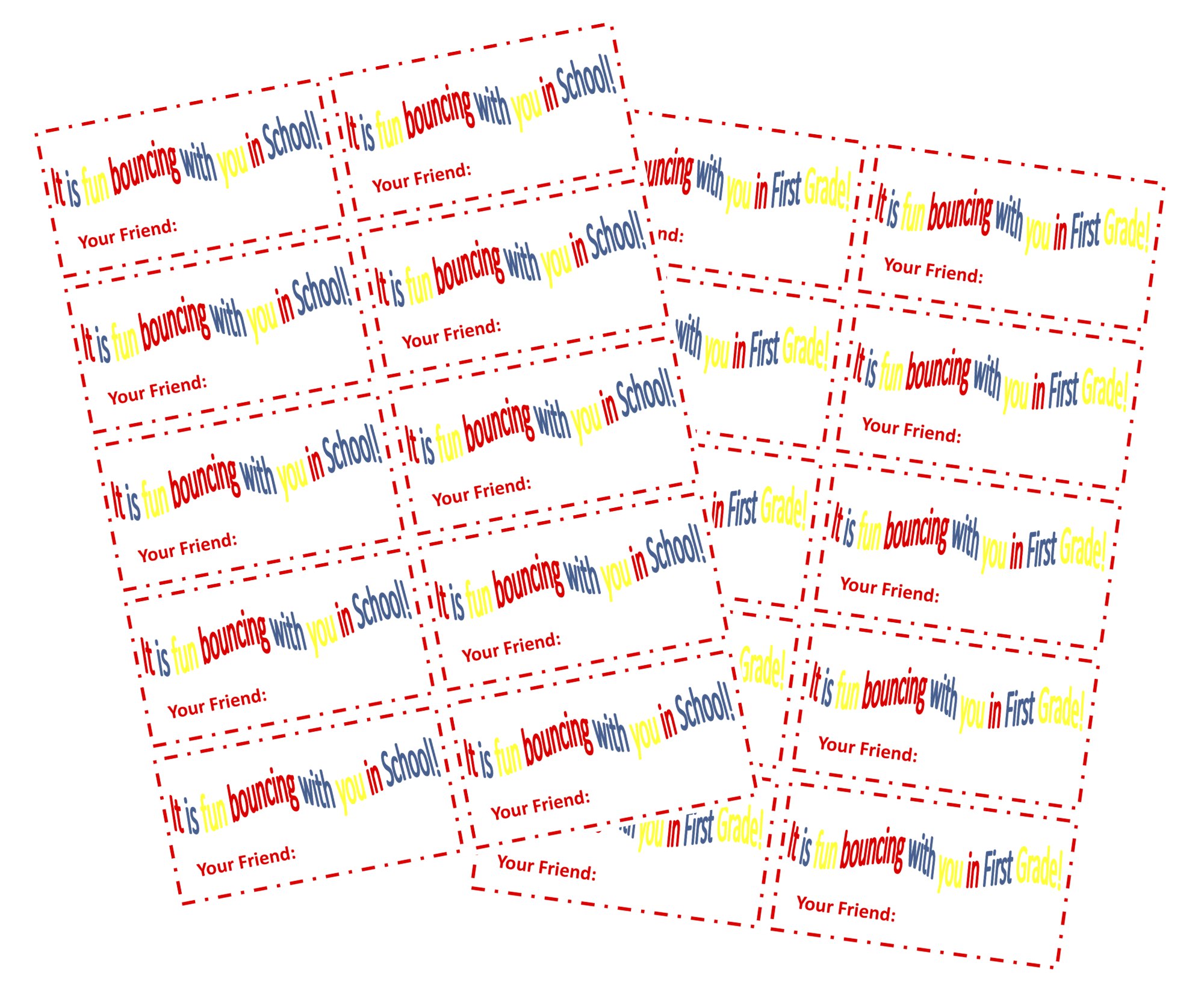 Print the Valentine on cardstock using the files far above. There are two options: one for school (any grade) or, a specific one for first grade. There will be 10 per page so print as many times as necessary in order to have enough Valentine's for your child's classroom.
Cut out each bouncy ball Valentine and have your child write their name where it says, "your friend." Then punch a hole in the top left corner of each valentine.
Cut enough pieces of string or ribbon for your Valentines. Each string will be about 4-5 inches long.
Place a bouncy ball in each bag, then tie a ribbon around the top of each bag then tie the bag to the front of the valentine. Put them in a bag and get ready to have your child hand them out to their friends.

This free bouncy ball Valentine will be a hit for children of all ages. It's unique, inexpensive and fun!