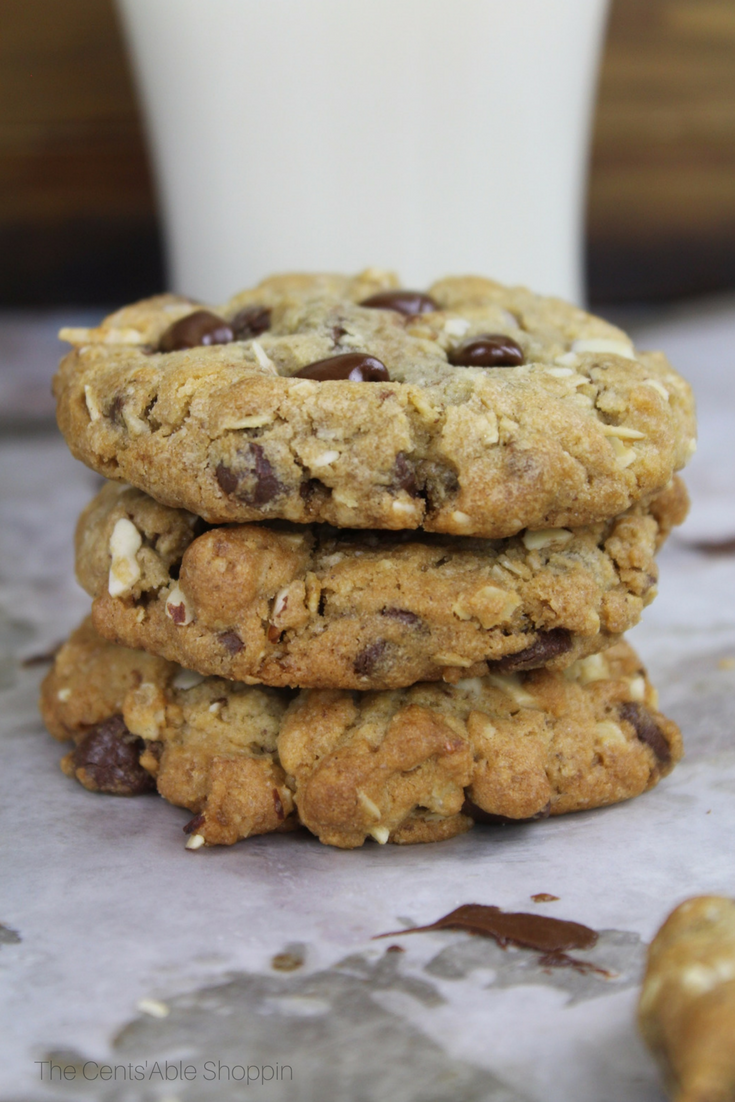 You know those beautiful, huge, chewy and gooey chocolate chip cookies? They are the best… aren't they? I think we can all agree that they are the ultimate comfort food.
Sure, you can buy a bakery cookie at Paradise Bakery, get one with your sub at Subway, or even find them sold in a bag at the grocery store, labeled as Pepperidge Farms… but gosh, they are always so much better when you make them at home… with your kids. Or maybe by yourself.
Because who says you have to have kids around to make cookies?
If you are enjoying the holidays, you may have considered dropping off cookies for friends and family. As we get closer to Christmas, our kids have been begging to drop off treats at the neighbors' house – some we know, and some we don't know. That's the fun — they want to drop off treats at the houses we don't know.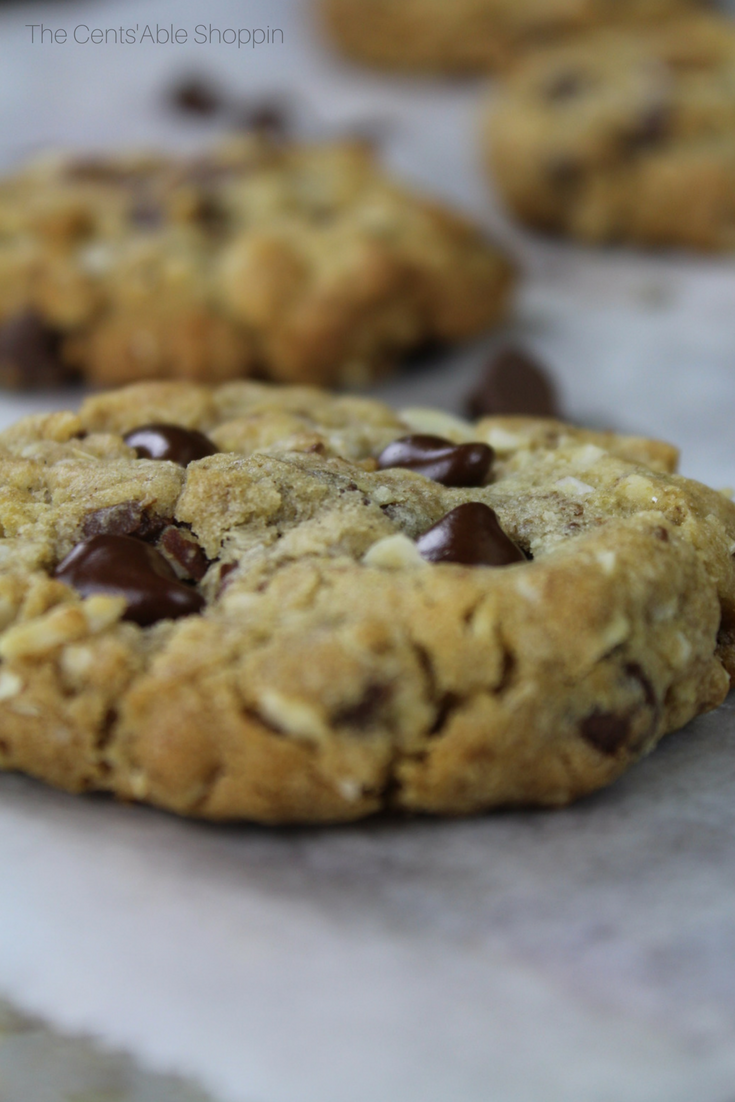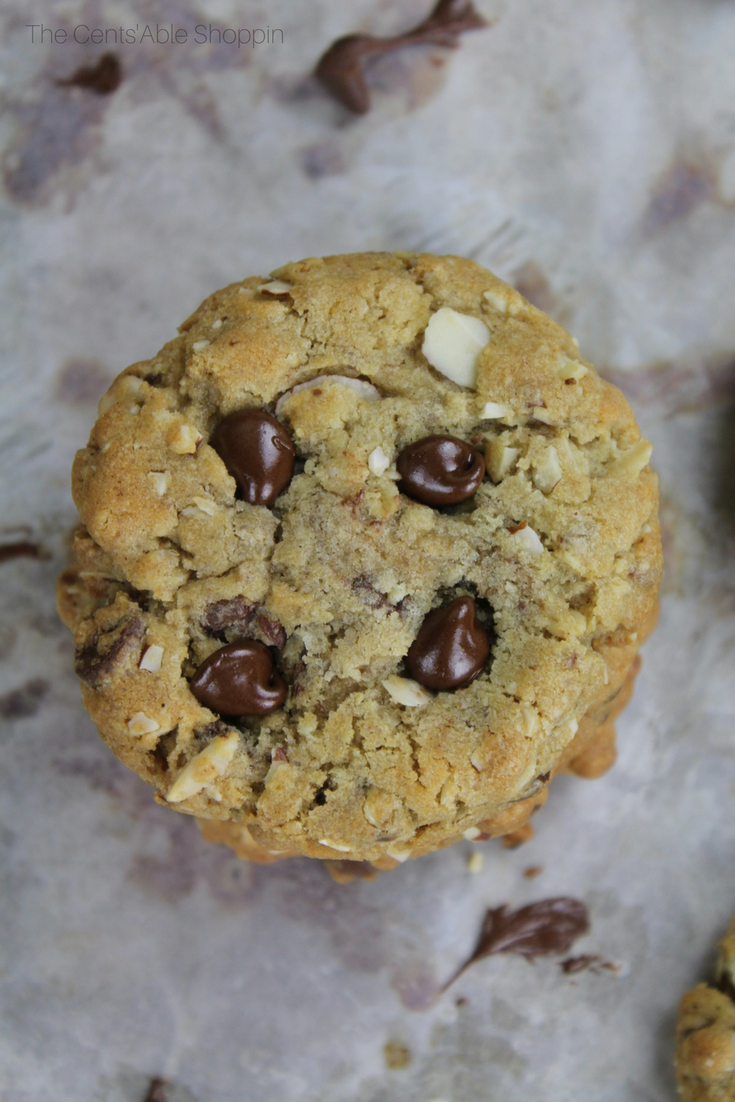 Though I'm a little leery of doing that, who could ever resist these big, beautiful, chewy and gooey chocolate chip cookies? The recipe makes just 24 large cookies, which would make 12 for each house. Even less if your kids decide to eat half of the cookies before you have them done…
This is the same exact recipe my mom used when she made cookies for us as kids – except… she had her most valued recipes written on 3×5 cards in a tin recipe box, in the middle drawer behind her kitchen towels. Oh, the memories! We used to sneak into the kitchen to eat the dough as she made them… she always told us not to. Do you think we listened? Never.
These cookies were jumbo size, chewy, gooey, ooey, and absolutely incredible. If we would have had neighbors, they would have been knocking on our door asking for us to share – good thing we lived in the country with neighbors on the other side of the cornfield.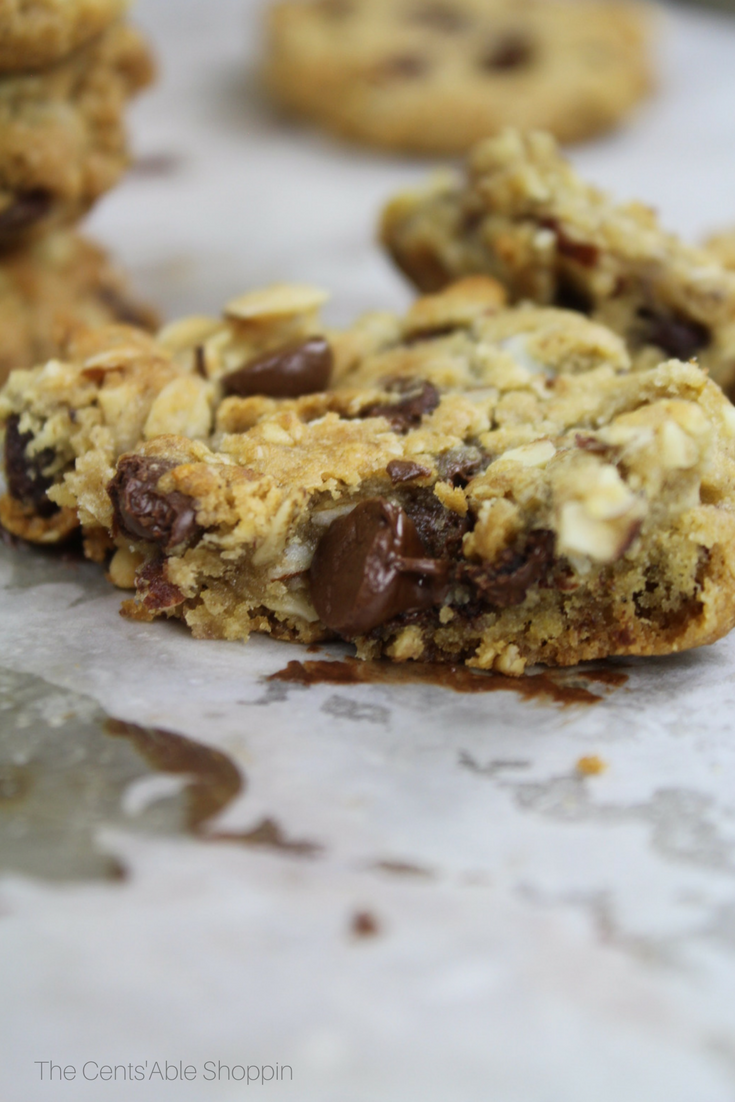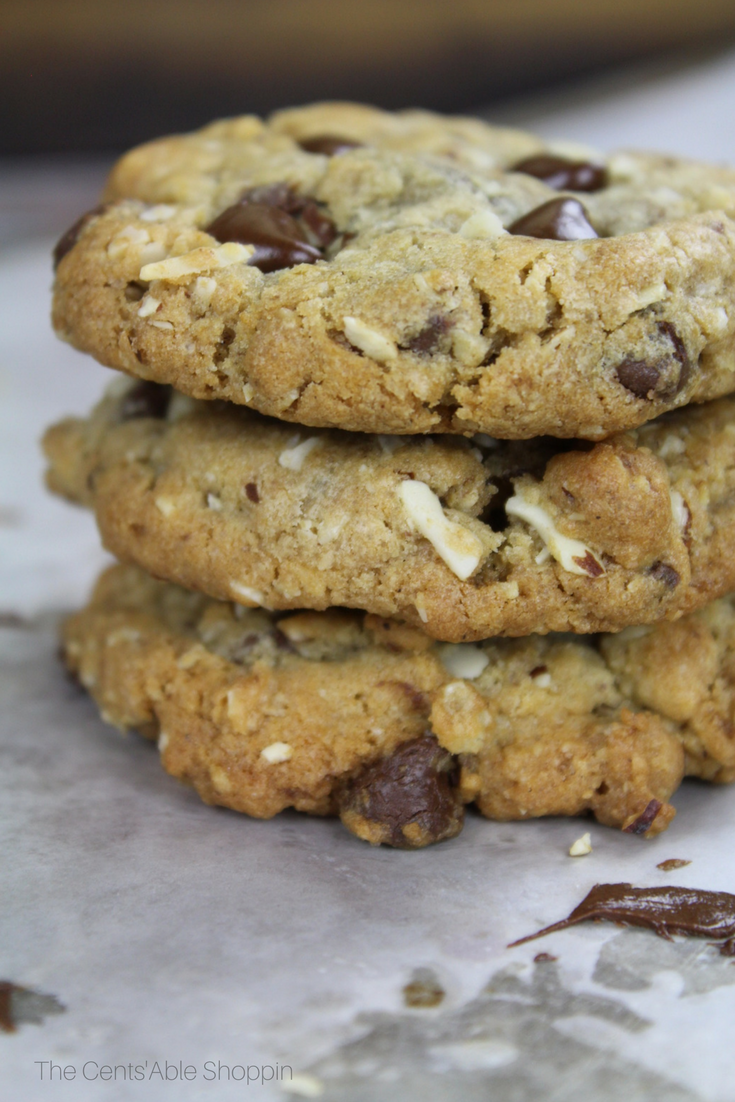 These cookies are relatively fool-proof — combine 2 sticks (1C.) of softened butter in your KitchenAid, along with 2 eggs, 3/4 C. each of brown and white sugar, and a teaspoon of the really good vanilla extract. Beat that mixture well, and add in the flour, oatmeal, cinnamon, baking soda and baking powder and mix just until combined. Avoid overmixing – it'll make the cookies tough.


Fold in the chocolate chips, almonds, and coconut – feel free to add extras too (M&M's, or even walnuts!) Scoop by 1/4 C. spoonfuls on your lined baking sheet and bake for 12-14 minutes. I found 13 minutes to be perfect! Remove when they start to brown, as they will finish cooking on that baking sheet.
Go a step further, and stuff a few chocolate chips in the tops of the cookies as they cool. Don't forget to grab a tall glass of milk — you'll want to dunk!
Monster Chewy Chocolate Chip Cookies
Wonderfully large, chewy, gooey monster size chocolate chip cookies that are perfectly chewy and perfect with a tall glass of cold milk!
Ingredients
1 C. butter, softened
2 eggs, room temperature
3/4 C. brown sugar
3/4 C. granulated sugar
1 tsp vanilla extract
2 C. all purpose flour
1 C. old fashioned oats
1 tsp baking soda
1 tsp baking powder
1/2 tsp cinnamon
1 C. chocolate chips, chopped
1/2 C. shredded coconut
1 C. almonds, toasted and chopped
Instructions
Preheat your oven to 350 degrees F. Line a few baking sheets or use a baking mat.
In the bowl of your KitchenAid Mixer, combine the softened butter, eggs, sugar and vanilla and beat until combined.
Add the flour, oats, baking soda, baking powder and cinnamon. Mix just until combined being careful not to over mix.
Fold in the chopped chocolate chips, shredded coconut and chopped almonds just until combined.
Use 1/4 C. measuring device to drop onto the cookie sheet - leave plenty of space for each cookie to spread (5-6 per baking sheet). Bake for 12-13 minutes - remove when the edges start to brown. They will finish cooking on the sheet once removed.
Allow to cool before transferring to a wire rack. Enjoy!
https://www.thecentsableshoppin.com/chewy-jumbo-chocolate-chip-cookies/
Looking for a chewy, gooey gluten-free version? You might want to try these Chewy Gluten-Free Pumpkin Chocolate Chip Cookies.