All of the best favorite Halloween Party Foods including monster mouths, skewered eye balls and more – perfect for your Halloween celebration!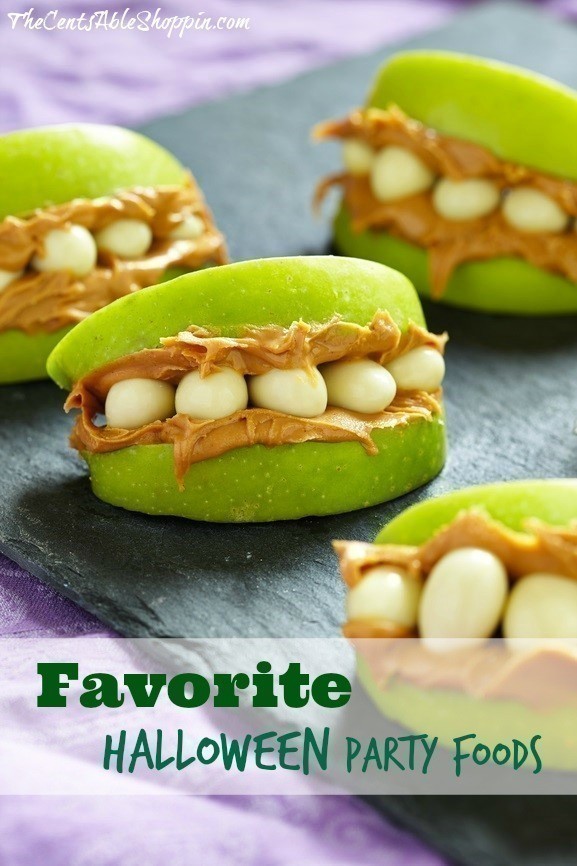 Halloween is approaching quickly…. and many of us are looking for FUN party foods we can use for the occasion. It's one of my favorite holidays, just because I love creating unique costumes and foods that make kids go "ewww! I'm not touching that!"
The Very Best Halloween Party Foods
We rounded up these wickedly adorable finger foods for you to serve up and even better is that we can use some of the amazing deals we've scored this week!
Monster Mouths. Use apples (Granny Smith or other!) and peanut butter, and a cheap bag of marshmallows for this fun treat!
Corn Bread Ghosts! Get into the fun with fun shaped corn bread bites, use your favorite boxed corn bread recipe.
Need Cookie Cutters? We love this Wilton 6 Piece Halloween Cookie Cutter Set!
Skewered Eye Balls! Talk about a scary sight!
Olive Spiders! Another great snack to make that won't break the bank!
Dead Man's Finger Sandwiches ~ Great snack to make with peanut butter for the younger crowd!
Slimy Jello Snacks ~ What better way to put to use cheap jello mix you can find at the dollar store.
Freaky Hot Dog Fingers ~ Scary stuff or the kids!
Witches Brew Dry Ice Punch! Make this punch with ginger ale. There are great instructions to make it 'smoke' using dry ice but please please follow them for your safety and for lots of fun!
Spooky Spider CheeseBall ~Cream cheese — it's the main ingredient for this SPOOKY Cheeseball!
Spider Deviled Eggs! Another awesome way to put olives to work for a party!
Oozing Brain! Great and Disgusting looking dessert idea!
Brain Mold. Pick up jello boxes at the dollar store. Then pick up this MOLD on Amazon for just $5!