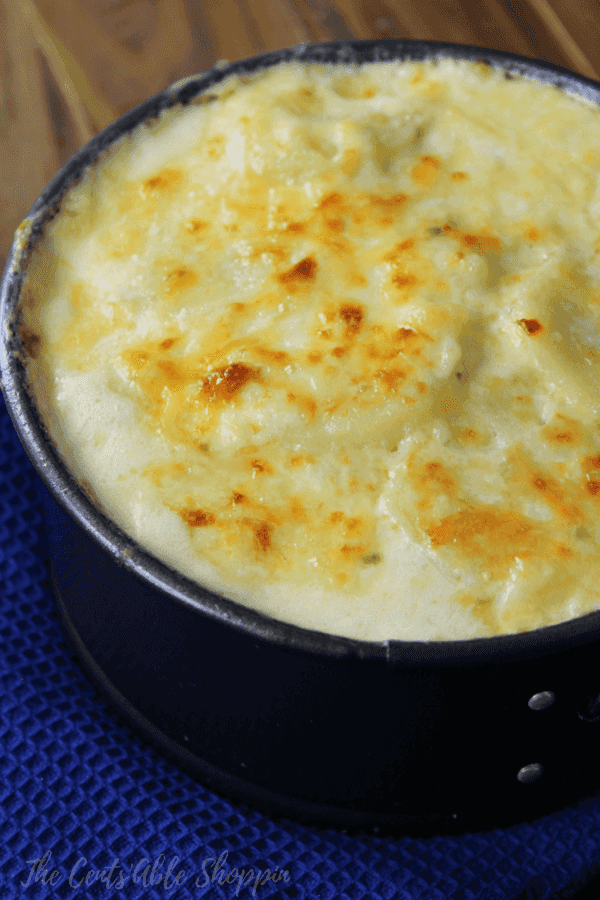 Oh YUM! Who doesn't love cheesy au-gratin potatoes? They are a total comfort food! For years I have always made scalloped (au-gratin) potatoes in the oven.
But … gosh, I really don't like heating up the oven if I don't have to.
Make your au-gratin potatoes right in the Instant Pot – in just 35 minutes they'll cook up to perfection. Cheesy, saucy, soft. .. and perfect to eat as a side to your next dinner.
When you make your Au-Gratin in the Instant Pot, you will need a springform pan – we used a pan that was just under 7″ in width (making it easier to get out). No need to grease the springform – – just pour a cup of water in your Instant Pot, place the trivet inside and then your springform pan.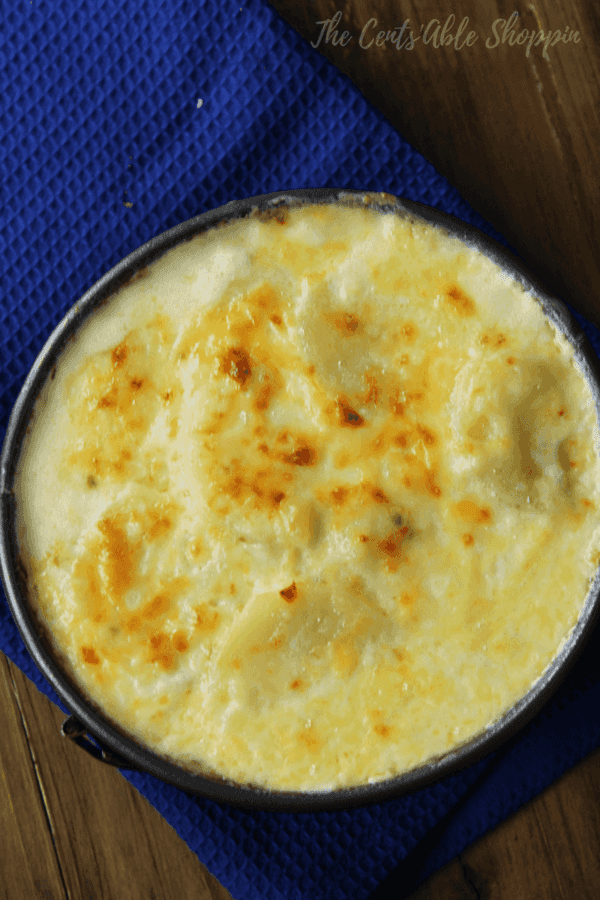 One of the biggest advantages to making au-gratin in your instant pot is that you can set the time and literally walk away. There is no oven to watch, stove to keep an eye on – or, worry that your kids are going to have hands in the wrong place.
Want to kick it up a bit? You can do that too – add a cup of chopped ham, or even bacon to your au-gratin to give it some more jazz. You'll layer that meat right in there as you pour in the sauce – super easy!
Serve it up with some chopped green onions and keep those leftovers refrigerated, because they are even better the next day!
Love your Instant Pot as much as we do? Then check out over 50 instant pot recipes to hep inspire you in the kitchen!
Cheesy Instant Pot Au-Gratin Potatoes
2017-01-27 04:13:59
Serves 6
Sliced potatoes baked in a thick, cheesy sauce we know as au-gratin potatoes. Perfect for a side dish!
Ingredients
3 large russet potatoes, peeled, and sliced thin
2 - 2 1/2 C. milk (full fat) or, half & half
3 Tbsp butter (not margarine)
1/4 C. all purpose, unbleached & unenriched flour
1 C. + 1/4 C. grated cheddar cheese, separated
salt/pepper, to taste
Optional: 1 C. diced ham
Instructions
In a medium skillet, add butter and allow to melt. Once melted, add flour and mix to make a thick roux.
Pour in the milk or half and half, and whisk continually on low/medium until it's well blended. The mixture will thicken up over the next few minutes - continually stir so as not to allow to stick to the bottom of the skillet.
Add the cheese, stir in gently and allow to melt.
If you are adding in ham, fold in at this time and then set the sauce to the side.
Place your springform pan on a regular baking sheet, and lay the first layer of potatoes in the pan.
Top with a generous amount of sauce, then place a second layer of sliced potatoes over the first. Repeat with sauce, and then a new layer of potatoes.
After at least 3 layers, you should have very little sauce left - pour any remaining sauce over the top and sprinkle with a tiny bit of cheese.
Place the springform pan on your trivet. Before placing them in the pot, add 1 C. water to your Instant Pot.
Lift the trivet (which is holding the springform) gently in the instant pot, and place the lid on the pot to lock in place. Close the valve (seal).
Set the timer to manual (high) for 35 minutes.
At the completion of the 35 minutes, do a quick release, and gently lift out the springform pan/trivet and allow the pan to rest for a few minutes (it will be hot!)
If desired, set the pan under the oven broiler for a brief 30-40 seconds to brown a little darker (not necessary).
Adapted from Adventures of a Nurse
The CentsAble Shoppin https://www.thecentsableshoppin.com/
Want to see more Instant Pot recipes? Follow us on Pinterest for more Instant Pot ideas.