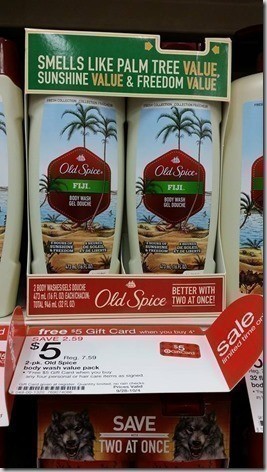 Stock up on Old Spice Body Wash this week at Target.  The coupons on Coupons.com may reset tonight and we might lose this one when we head into October.
$5 Gift Card when you buy 4 P&G Items
–Old Spice Body Wash $5.00 – twin pack, Deodorant $3.99
Deal:  Buy 4 Old Spice Twin Packs Body Wash $5 (= $20)
Use 4 – $1 off Old Spice Body Wash
Pay $16 | Earn $5 Gift Card
Making ALL 8 Bottles $11 or $1.38 ea.
OR you can pick up the 32 oz. Bottle of Body Wash which is $5 and pay $1.37 for the LARGE bottle in lieu of 2 smaller bottles.