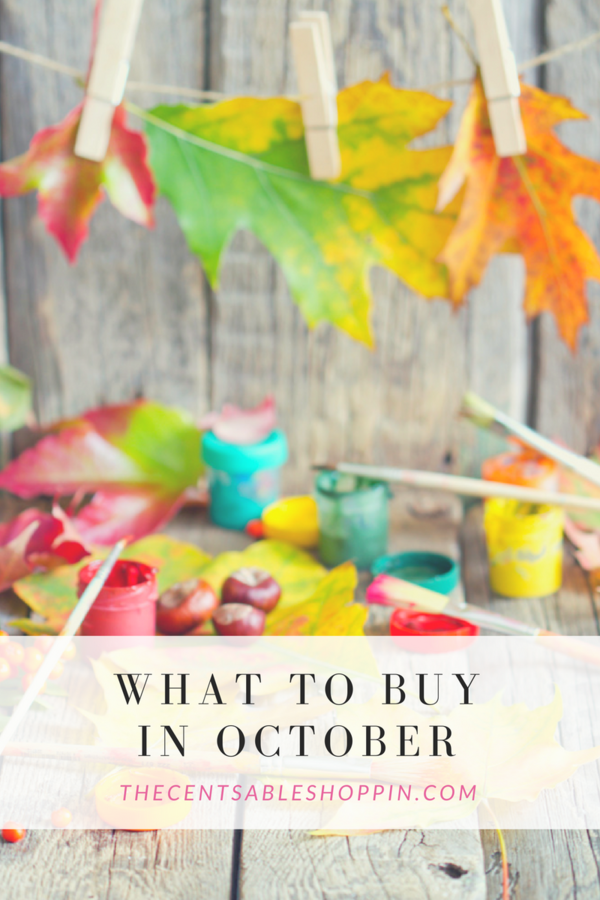 We're in October – hooray for weather that's a little cooler, and a new opportunity to stock up on things that are in season for this month.
This month you can look for deals on everything Halloween related, and with the Christmas holiday around the corner, start looking for sales on baking products.
You'll also want to note what produce is in season this month – You can use the interactive map from Epicurious to determine what is best purchase each month in your respective area. Remember that an abudance of anything can allow you to can, or chop & freeze for soups & stews in months that those items may not be as inexpensive.
Produce in Season:
Apples
Beets
Blackberries
Broccoli
Cabbage
Cranberries
lettuce
Oranges
Grapes
Peppers
Sweet Potatoes
Pumpkins
Winter Squash
Sales/Deals:
Halloween promos
Candy
Cookies
Baking season begins
Baking chocolate chips
Fruitcake/candied fruit
Nuts
Fall Promos
Pet products, food
Car care products
Daylight Savings time ends promos
Batteries, smoke alarms, safety equipment, alarm clocks
Clearance items:
Last year flavors of holiday foods – time to clear the shelves for new products and packaging…
Occasions:
Columbus Day
National Children's Day
World Food Day/UN and UNICEF
Halloween
Daylight Savings time ends
Other Promotions this month:
Adopt a Shelter-Dog Month
Fire Prevention Week (10/5 – 10/11)
German-American Day
Pledge Across America/Reading/School Celebration
National Animal Safety and Protection Month
National Apple Month
National Breast Cancer Awareness Month
National Chili Month
National Cookie Month
National Dental Hygiene Month
National Dessert Month
National Pizza Month
National Pork Month
National Pretzel Month
National Seafood Month