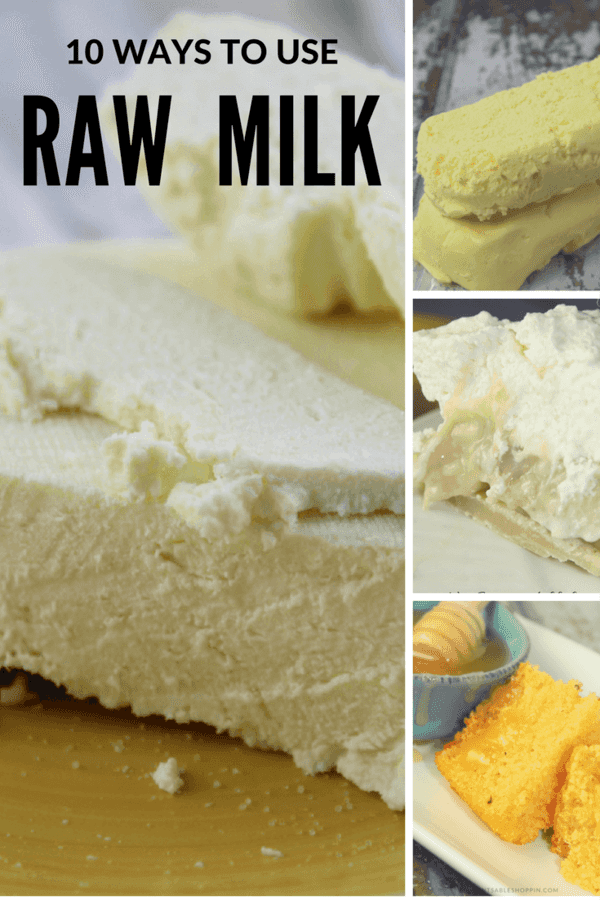 Several years ago, our family eagerly jumped into raw milk and pick up anywhere from 5-6 gallons each week. At the time, we were transitioning to a real food diet – more raw, whole foods and less fake foods.
It came around the same time we made a commitment to a weekly CSA share, and attempts to stay out of the grocery store and support local farms in a quest for something better than what we were currently doing. Over time, we realized that healthy eating doesn't come in boxes marked low fat or no fat, or perusing through the grocery store and picking up produce that claims to be local… it means buying local from the source.
One of the biggest misconceptions about eating better and feeding your family better choices is that it's more expensive – as a mom of 5, I'm here to tell you that it's not so much an expense, it's a matter of priorities, and disregarding what might be convenient for better options.
It takes the same amount of time to make better choices as it does to make less then stellar choices – and for those who might point out that it's easier for moms who stay home, lets put that myth to rest too, because it's simply not true at all.
Raw Milk is Special
Raw milk is some pretty incredible stuff – and while the majority of Americans may not realize just how incredible it is, there is a small populous of people that do understand the benefits it can have on your health.
If you are one of the millions of Americans that believes that raw milk is unhealthy AND risky, then this information you read might be hard for you to digest. (no pun intended)
The issue of milk is one that is well debated – when you read social media, it's common for people to lump "milk" and "dairy" together as one and the same – it's unhealthy. It causes allergies, and it's not something most can digest without problems.
I get that. Part of that is true.
However… in reality, raw and pasteurized dairy are entirely different. Day and night different. Like apples and oranges. You truly cannot compare.
When people have problems with pasteurized milk, they are often times told to stop consuming dairy altogether. The truth is, their allergies and digestive issues are likely the result of pasteurized dairy – and something that raw dairy could help repair.
Before you read about the differences though, you have to understand how pasteurized milk came to fruition:
Pasteurization of milk was developed out of necessity — as concentrated animal feed operations became more popular, cows in confinement became a situation that farmers knew would be difficult to deal with. Confinement combined with an unnatural diet of grain resulted in less than healthier milk that was lacking in crucial vitamins and minerals, and very heavy in pathogenic bacteria. Pasteurization stepped in to kill that pathogenic bacteria, while at the same time killing all beneficial (necessary) bacteria – vitamins, enzymes, minerals and lactase needed for digestion.
Thus, pasteurized milk was born. Heating the milk to high temps gives it a longer shelf life, kills the bad bacteria and ensures that there is no risk of illness, or sickness.
When the milk is heated to such high temps, the proteins in the milk become denatured. Denatured means they are destroyed at the molecular level – the lactase (that helps your body digest the milk) is no longer there. Thus, your body struggles to digest the milk. The dead bacteria in the milk triggers inflammation, because your body doesn't know how to handle that as a foreign substance.
Welcome to milk allergies, lactose intolerance and your inability to drink milk.
Since raw milk is not pasteurized, it is a living food with beneficial enzymes such as lipase. Lipase helps your body digest fat and plays a large role in the assimilation of vitamins in your diet. The buttermilk in the raw milk rises to the top – it has a balanced amount of omega 3 and 6 fatty acids that are vital for heart health:
Studies suggest that if your diet contains roughly equal amounts of these two fats, you will have a lower risk of cancer, cardiovascular disease, autoimmune disorders, allergies, obesity, diabetes, dementia, and various other mental disorders. (Source)
See 7 reasons to drink raw milk (safety, risks and facts).
Safety and Risk
The FDA and the CDC have demonized the sale of raw milk – and there is no question that raw milk does have some risk. However…it's important to realize that both raw AND pasteurized milk have risk. The processed food industry has risk, as does the purchase of meat from confined farm operations.
Most if not all of the confined dairy operations today could not produce raw milk safely because of the sheer number of cattle, confinement type living, antibiotics used, and hormones given – thus, pasteurization is vital to keep people safe. Raw milk dairies are considerably smaller in size, animals graze on pasture (or, in some areas that pasture is not available, then organic non-GMO alfalfa), and undergo regular testing and inspections to ensure the safety of their milk.
Most of these farms have incredible relationships with their customers.. one raw dairy I know in central New Mexico has 100 cattle, that graze on 100% pasture, 365 days a year. Their farm is absolutely gorgeous, milk customers are happy and the milk is a true source of health for the families that they serve.
If our government was concerned about safety, there would be more hands on involvement in the processed food industry – not to mention the Bovine Growth Hormone (which is banned in other countries) has been used in the U.S. since 1994.
Whew – so much information.
With this information in mind, it's important to understand that each individual has the opportunity to chose what works for their family – given the safety, facts and possible risks. We find it to be an incredibly important part of our family and I know many others who feel the same.
How to Use Raw Milk
Obviously the best way to enjoy raw milk is by drinking it – it tastes deliciously creamy and full of flavor. Raw milk can also be used in a variety of ways outside of your glass of milk.
How do I find Raw Milk?
You can find your state laws regarding raw milk and find raw milk near you by using the Raw Milk finder. Each state has different laws regarding the sale of raw milk and some do not permit the sale of any raw milk.