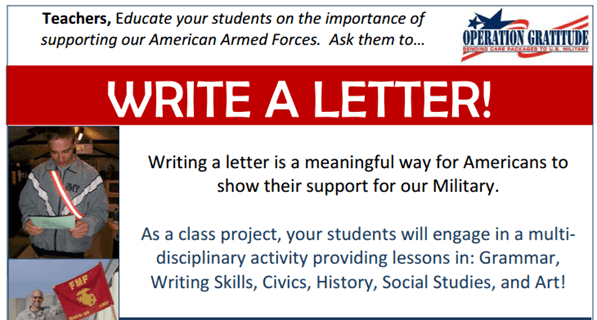 If you are a teacher, or you know of a teacher who could use this information please feel free to share.
I'm a big supporter of showing our gratitude to the troops – not only did I used to serve, but Dave is still serving……. and many of our friends are still in uniform serving as well.
I have posted several ways you can show your thanks to the troops, from donating to Operation Gratitude, to sending their family expired coupons – this post today is one that you help our children support the Military.
Operation Gratitude encourages classrooms to write letters to those who are serving – teachers can engage the students as a part of a classroom project in Civics, History, Social Studies, Writing Skills, Art and Grammar.
You can read more about doing so here on their page – have students (both younger and those in high school) show their thanks for their selfless service – not only to those deployed, but also to Wounded Warriors, and Veterans.
You can include first names only, the school name, address, and classroom/grade, and send in a large envelope or box to:
Operation Gratitude
17330 Victory Boulevard
Van Nuys, CA 91406
Operation Gratitude sends thousands of care packages each year to troops, Wounded Warriors & Veterans – letters are probably the most meaningful way you can show your support. Read more about their project here.
I don't currently teach …… but I did send this information with Wendy to school this past week to pass onto her teacher  – am hopeful that her teacher incorporates this into the classroom curriculum in some fashion prior to the end of the year.
We (as a family) wrote letters this week at home and are putting into our Gratitude Boxes that we are sending out this coming week with Chapstick, Candy, Gummies, and random oddities.