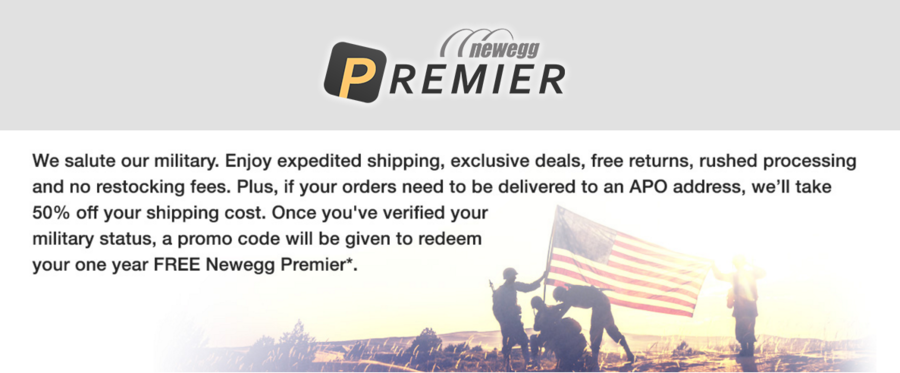 Are you military? If you are, score a FREE 1-Year Newegg Premier Membership – the offer is valid for ANY Military Member when you sign up/qualify.
Available military status includes Active Duty, Reserve/Guard, Veteran and Registered Dependent.
Premier Benefits Include all of the following:
Friends & Family

– Add up to four friends to your account so they can enjoy your great Newegg Premier benefits.

Expedited Shipping

– Free 3-day-or-sooner expedited shipping on qualifying items.

Free Returns

– Free shipping on returns for qualifying items.

No Restocking Fee

– Waived all restocking fees for qualifying items.

Rush Processing

– Free rush processing on your order with at least one qualifying item in your order.

Exclusive Deals

– We offer deals exclusively for our Newegg Premier members.

Special Alerts

– Early bird notifications tell you about our major sales and events, so you'll be first in line.

Dedicated Customer Service

– Need quick assistance? Use our private customer service line to help answer any questions or concerns.

Military Shipping Discount

– 50% off your shipping costs to APO addresses
Once you verify your military status, they will issue you a promo code that you can redeem for the free 1-year Premium Membership.