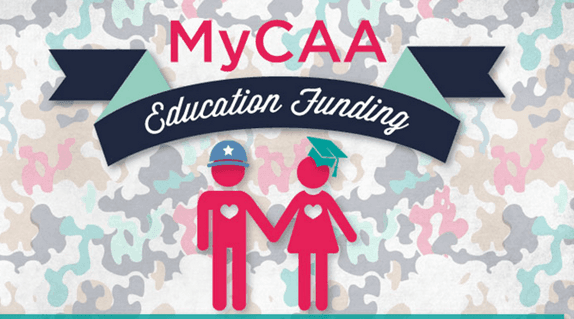 We are a military family and I know that over the last few years we have had some military families in or around Tucson and Phoenix who may follow the blog.
Being married to a military Service Member always brings a unique set of challenges – and thankfully you can find resources to help you with those challenges to make your day to day life a little easier.
If you are a military spouse, you can score FREE Career Development and Employment Assistance through the Military Career Advancement Accounts Program (MyCAA). My sister in law is actually a recent participant in this program – it truly is a blessing for those of you who wish to receive training in a career oriented program.
The MyCAA program pays tuition expenses for Career Oriented Programs that focus on teaching the knowledge and skills you will need to do a specific job – many Military spouses may want to work and not have that opportunity. Programs include:
Medical Coding
Medical Billing
Executive Assistant

Pharmacy Tech with Healthcare Billing
Childcare Administration
Medical Transcription
The MyCAA program is designed for Spouses of Service Members on Active Duty – Army, Navy, Air Force & Marines, Pay Grades E-1 to E-5, W-01 to W-02 and O-1 to O-2.
The MyCAA program provides up to $4,000 to cover tuition of an approved MyCAA Program. it does not cover Books, Fees or Child Care or Fees – you can apply for the program by heading here.
Even better…right now, Career Step now includes a Laptop at NO additional cost for MyCAA students who enroll in programs that will require eBook textbooks.