This Instant Pot Pasta with Sauce is an incredibly simple one pot pasta you can make in just a few minutes with a handful of healthy ingredients.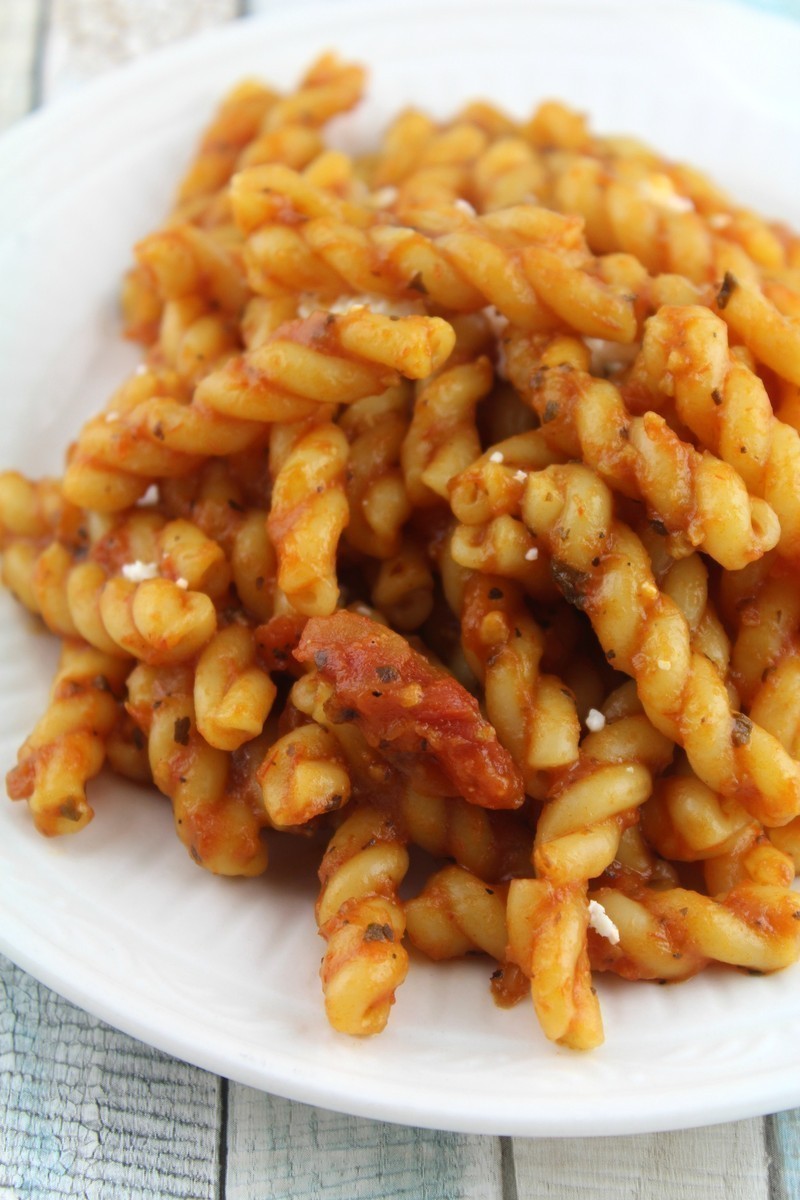 Chances are, you may have an Instant Pot. And if you do, you know how invaluable that pot is to cooking food for your family. I know it seems silly to say an appliance can be so amazing but it truly is a game changer in the kitchen.
Over the last (almost) 2 years, we have used ours for everything from Mole to Tamales, Chile Lime Chicken, Grapefruit Marmalade and so much more.
So much more (in fact, we have over 50 Instant Pot recipes here and that's not even the extent of our cooking!)
As much as I love the Instant Pot, it's clearly not the solution to everything ;) I have seen people make hot dogs in it (though I'm not sure that would even be easier?), and popcorn – and as much as I love popcorn, it truly IS easier on the stove in a stockpot. And yes.. I have tried it in the Instant Pot. What. a. pain.
Seriously, not worth the time.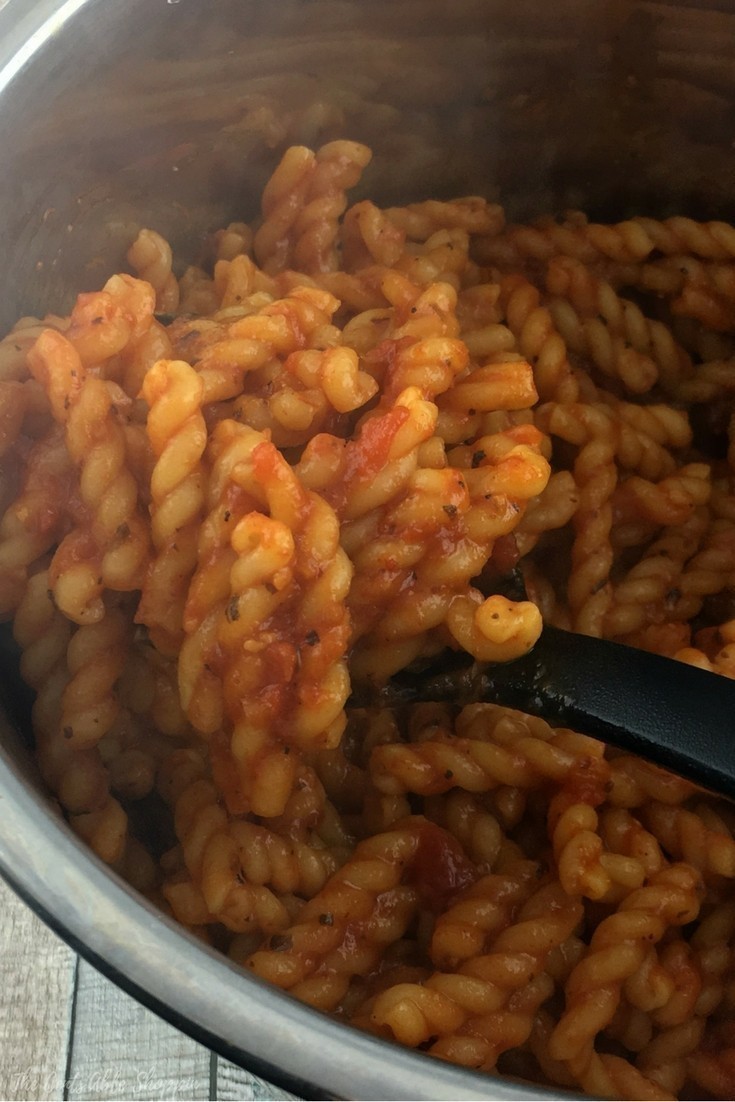 This recipe for pasta isn't really faster, but it IS easier. It's one of those recipes you can tell your non-Instant Pot spouse how to make if you are gone for a day. It's also that type of recipe you can teach your children to do – especially now that the summer is here and they'll be hungry 24/7.

Or… if you have kids at your house during the day, throw everything in the Instant Pot, then spend a few minutes getting the table ready and drinks poured, and by the time you are done, the beeper will go off on the pot.
A few things to note about this recipe:
We used our own Homemade Instant Pot Marinara Sauce for this – we make it in large batches and freeze so we always have it on hand. It has a *secret* ingredient in it that your kids will NEVER know is in there.
If you aren't up for making your own homemade marinara, then by all means, use a jar of pasta sauce – just look for a better brand without high fructose corn syrup and preferably something organic.
Feel free to use gluten-free pasta for this – it will turn out just as great as ours did.
Think you can't cook pasta in the Instant Pot? It IS possible – believe it or not, it's incredibly simple!

Shred some cheese on it when it's done, and whip up some homemade breadsticks and you are well on your way to a really yummy meal.
Instant Pot Pasta with Sauce
Ingredients
15-17 oz uncooked pasta (not spaghetti but something like farafalle, ziti, penne, etc.)
3 C. (24 oz) of homemade Instant Pot marinara sauce or other pasta sauce
3 C. (24 oz) water
1/2 tsp garlic powder
1/2 tsp salt (or more to taste)
Optional: a few chile de arbol, stem removed and thrown in the pot for intense flavor
Optional: shredded cheese, for topping on the finished pasta
Instructions
In a clean Instant Pot, pour the 3 C. of pasta sauce.
Add in the uncooked pasta by pouring evenly into the pot on top of the sauce.
Pour 3 C. of water over the top - the water should just barely cover the pasta.
Add the garlic powder and salt, and optional chile.
Place the lid on the pot and set the timer for 5 minutes at high pressure.
Once the pot beeps finished, wait 2-3 minutes, then release the pressure, and serve in bowls topped with shredded cheese.
https://www.thecentsableshoppin.com/instant-pot-pasta-with-sauce/