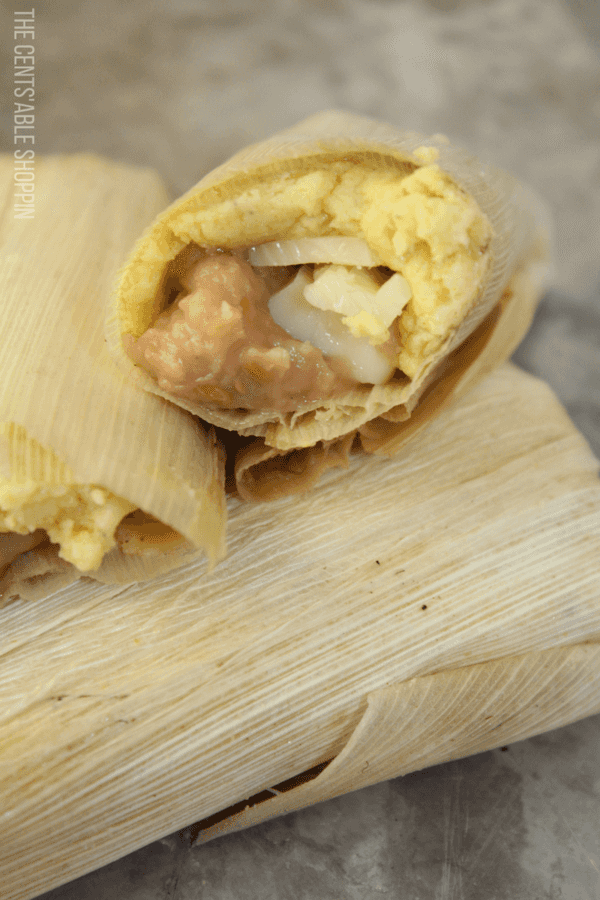 Over the course of the last 16 years of being married to my husband, I have come to the conclusion that tamales are a pretty big deal in his family.
Over the course of that time, I've made hundreds if not thousands of tamales – we've made green chile and cheese, red chile and chicken, pineapple tamales, sweet tamales with raisins and even red chile and beef tamales. This time, I wanted to make them versatile so I could gift a half dozen to each of the neighbors – who gifted us lots of fudge before Christmas.
So this was a payback for their generosity.
This time I made them without meat just in case they were particular about their food. When I pulled them out of the steamer, my husband came into the kitchen and said "You made tamales? When did you do this?"
(me) For the last hour. I can't believe you didn't smell me making food.
(him) "What's in them?"
(me) "Well, no meat in these. One half are bean and cheese. The other half are potato, mole and cheese."
(him) …. "beans and cheese???? Is that even a thing?"
(me) "Well… I don't know, but it is now."
(him) …"I don't think I have ever heard of making tamales with these things. At least my mom hasn't done it."
(me) "Well, I did it. And they are great."
They are great – so that settled the discussion.
Tamales are a complete labor of love – not to much difficult but time consuming. Back in 2015, I picked up the Instant Pot and realized that appliance took my tamale making to a whole new level.
Instead of spending half of a day making them with the traditional stock pot steaming tamales over a hot stove, I could whip out a few dozen tamales in a matter of 30 minutes. I'll be honest though – they take 30 minutes to steam in the Instant Pot, but you do need to ensure you incorporate prep time.
I prepared the beans and the red mole in advance so as to cut down prep time. You can use pinto beans, but peruano beans are SO much better – lighter in color and they cook up wonderful.
In the end though, the Instant Pot does cut down the time considerably – I would have NEVER in a million years started making tamales at 7 pm before my Instant Pot.
Fast forward to a few days ago, my kids had a sleepover with 2 additional children at our house and I opened the fridge to see beans, cheese and mole leftover from the night prior.
What a perfect way to use them to free up some fridge space.
These tamales are not your traditional tamales filled with chicken or pork ~ we made a combination of bean and cheese tamales, as well as potato, cheese and red mole tamales – they are absolutely FULL of flavor and so incredible.
The steps look complicated, but it's really not all that difficult at all.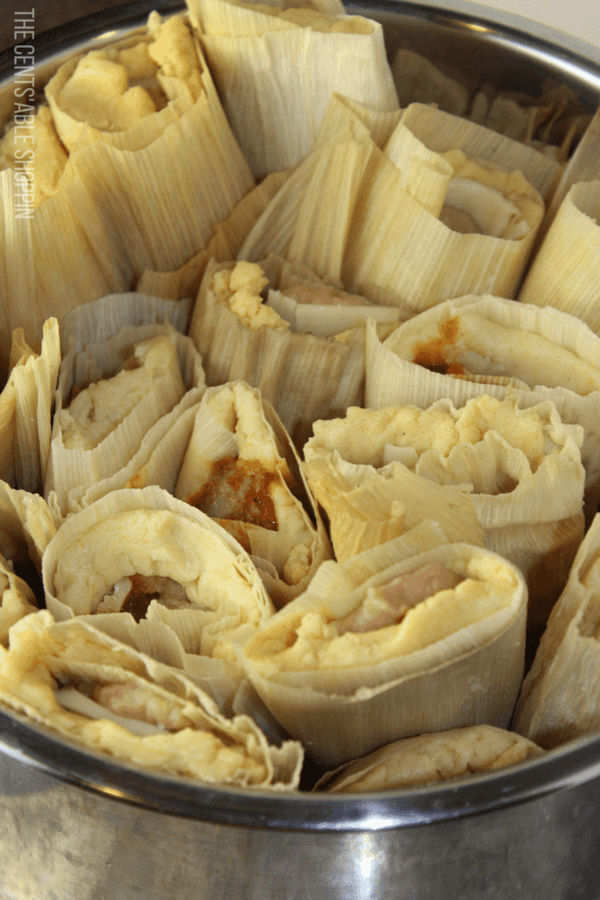 We made these tamales a little different than our previous tamales (which you can see HERE and HERE).
We used Coconut Oil instead of Vegetable Oil
We used beans and cheese as the filling for half, and we made the beans the day prior in our Instant Pot. We soaked and cooked 1 C. of peruano beans in our Instant Pot with 5 C. of water for 40 minutes. We then drained all but a cup or two of the water and put them in the blender to create refried beans. You can find peruano beans at your latin market – if not, then use pinto beans.
We also made some potato, red mole and cheese tamales too. To make these we peeled and cut two large russets into chunks and cooked them with 1/2 C. water in the Instant Pot for 9 minutes. We then removed them, and mashed them with a little sea salt. We kept the potatoes separate from the red mole, and assembled them with potatoes, mole, then cheese before wrapping.
Instead of using Queso Fresco (which I don't particularly care for when making tamales), I used pepper jack cheese – I sliced the cheese into 1/2″ wide, 4″ long, and 1/4″ thick strips and set them aside on a plate.
Tamales can be made with just about anything – so be creative!
Mexican Tamales
2017-01-02 13:07:28
The traditional Mexican tamale filled with beans and cheese, some with potatoes, mole and cheese, and steamed in your Instant Pot in 30 minutes!
Bean and cheese filling
1 C. prepared Peruano beans (or, substitute pinto beans)
8 oz pepper jack cheese, cut into slices 1/2" x 4" by 1/4" thick
Potato, Cheese & Mole filling
2 russet potatoes, mashed
1 tsp sea salt
1 C. red mole (recipe linked above)
8 oz pepper jack cheese, cut into slices 1/2" x 4" by 1/4" thick
Tamale dough
3 C. masa (we use Maseca brand)
1 C. coconut oil
1 tsp baking powder
2 1/4 C. chicken stock
1 tsp salt or more to taste
For the Tamales
1 pack Corn Husks (preferably those that are cleaned)
Instructions
To make the beans: place 1 C. of rinsed, dry beans in your instant pot with 5 C. water. Place the lid on the Instant Pot, close the valve and allow to cook on high (manual) for 45 minutes. Allow the pressure to release naturally for 10 minutes then do a quick release. Drain and keep the water - place the beans in your high quality blender with 1 tsp salt, and gradually add a little water at a time so that they blend into a nice consistency - not too thick but not thin. Set them to the side in a large bowl.
To make the potato and red mole mixture: skin 2 large russet potatoes - cut in half and place on the steamer rack in your Instant Pot. Add 1/2 C. water and place the lid on the pot. Close the valve. Set the pot for 10 minutes on high (manual). Release the pressure, remove the potatoes and coarsely mash. Add salt and set aside.
Fill up a clean sink with cold water to the halfway point and place the corn husks in the water. Place a heavy plate atop the husks so as to keep them submerged.
While the husks are soaking, grab a large bowl and mix the masa - gently mix with your hands to form a thick, moist dough. If using coconut oil instead of vegetable oil, melt before measuring.
Prepare all of your items for assembling tamales.
First, ensure your Instant Pot is cleaned out. Add 1 - 1 1/2 C. water (enough to reach the trivet). Then, place the trivet inside, and line a large piece of foil on the trivet to allow your tamales a resting area.
On your counter, place the dough, the fillings (bean/sliced cheese and potato, mole and cheese) near to allow you to assemble easier. Place a clean kitchen towel on your counter, and pick up the husks out of the sink. Shake off the water and lay them on the dish towel.
Start assembling the tamales
For the bean and cheese, grab a husk, spread out the dough, and top with a spoon or two of beans. Spread out evenly, then top with a piece of cheese. Wrap from left to center, right over center, and close up the bottom.
For the potato tamales, grab a husk, spread out the dough and top with a spoon or two of coarsely mashed potatoes. Top with a spoon or two of red mole, then a piece of cheese, and fold the tamale over. Left over center, right over center and then the bottom up.
Set all your tamales on a plate until you have completed 17 (that's the max that fit in my pressure cooker!) and then stack them upright in the Instant Pot, on top of the foil-lined trivet.
Your Instant Pot should have water (you added earlier). Place the tamales in the pot, open end of the tamales "up", and place the lid on the Instant Pot. My instant pot fits 17 tamales.
Close the valve, and set the Instant Pot to 27 minutes on high (manual).
Allow the pot time to come to pressure, then watch the clock on the front count "down". After the pot beeps, allow the pressure to release manually for 10 minutes. Then remove the lid.
The tamales will be soft - but will firm up over the next 5-10 minutes as more air circulates around the inside of the pot.
Remove them carefully and lay them in a baking dish - keep them covered until you are ready to eat them.
Notes
If you are looking to freeze them, you can cook first, then place in strong freezer bags (quart or larger) to freeze. To reheat, remove and wrap in a damp paper towel for 30-40 seconds with the husk on.
The CentsAble Shoppin https://www.thecentsableshoppin.com/
Does mole belong in tamales? I'm not sure really – but it definitely gives them flavor. We freeze our mole to use in recipes and it works amazing in AND on tamales as a sauce.
If you don't follow us on Instagram, find us HERE.