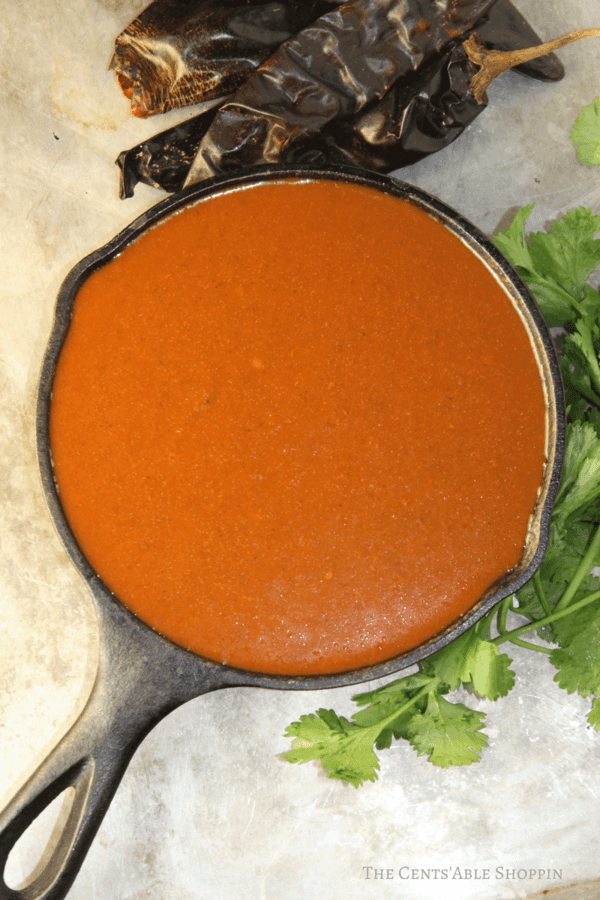 Just a few months ago, we shared our favorite Mole Enchiladas – want to know a secret? There are hundreds of varieties of Mole in Mexico.
Moles are incredibly time consuming – they require a laundry list of ingredients. Some mole recipes require cinnamon while some require chocolate, cloves, almonds, and even plantains. They can be made with a variety of chiles, or a single type of chile.
Some can also have peanut butter (as is the case with our Mole Enchiladas).
My in laws spend a great deal of time making a lot of authentic Mexican food, but I'm going to be honest and tell you that they haven't made mole in the last 16 years. That's how long I have been married to my husband.
They have used store purchased versions (which are nowhere near like homemade) … and that is as close to mole as we get at their house.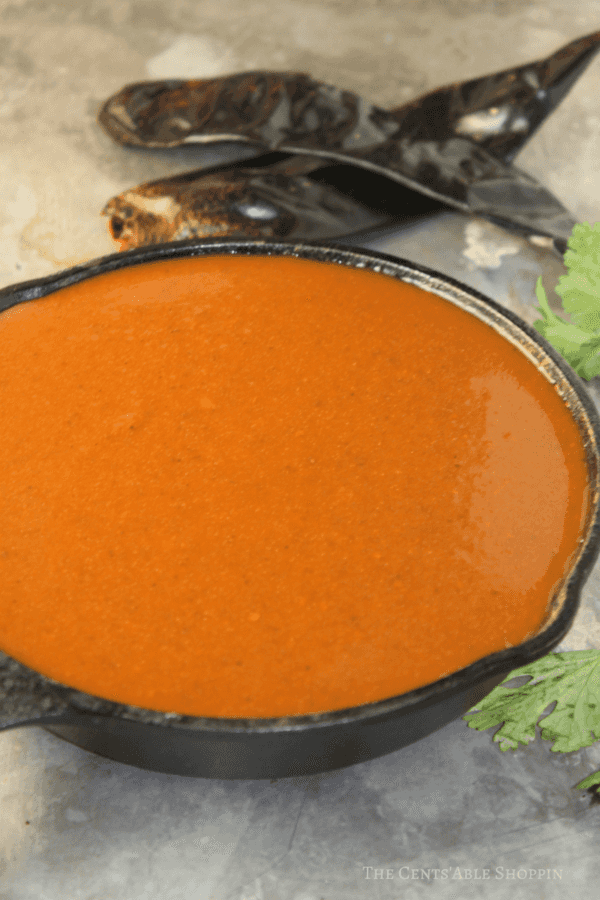 There is only one person in my husband's family who makes a true, authentic, homemade mole – and that is the wife of my husband's uncle. It takes her several hours, a long list of ingredients and I haven't ever attempted it myself.
This recipe for mole isn't one that will take all weekend – it's relatively simple. You can serve it over chicken, grilled fish, and even chayote. Grab your blender, because this recipe takes just 30 minutes to put together and you can even go a step further and use it to make your own version of mole enchiladas.
Easy 30 Minute Mole
2016-12-27 19:20:41
In Mexico, moles are reserved for special occasions and big parties, and can take hours to make with a long list of ingredients. This mole can be put together in just 30 minutes or less.
Ingredients
5 medium dried Guajillo chiles - stemmed, seeded and torn into pieces
1/2 can of 15 oz diced tomatoes in juice
1/2 onion, sliced
3 cloves garlic, halved
1 quart chicken broth
1/2 tsp ground cumin
1/2 tsp dried Mexican oregano
1/2 tsp allspice
1/4 tsp cinnamon
2 Tbsp olive oil
3 Tbsp masa harina (or use 1 1/2 Tbsp fresh masa)
1/2 bunch cilantro
1 1/2 - 2 tsp salt or more, to taste
1/2 tsp black pepper, or substitute 2 drops black pepper vitality essential oil (we use Young Living)
Optional: add 2 drops Oregano vitality essential oil (we use Young Living)
Instructions
In your blender, combine the torn chiles, tomatoes, onion, garlic, spices, oregano and 1 C. of chicken broth and blend as smooth as possible.
If you opt to use your food processor, it will not blend the chiles quite as well - we recommend a high quality blender.
In your 6 qt dutch oven, heat the oil on medium.
Set a strainer over the top of your dutch oven and pour in the blended chile mixture and push that mixture through the sieve.
Stir frequently - 3-4 minutes and the chile mixture should be a light red/orange in color.
In your blender, add another cup of chicken broth along with the masa harina and cilantro. Blend thoroughly and then pour that through the sieve into the chile mixture.
Whisk that mixture in the dutch oven until the sauce comes to a low boil and thickens up a bit.
Add the other 2 C. of chicken broth, and stir well to combine. Turn the stove to allow the mixture to simmer for 25-30 minutes until it thickens up.
Taste and season with salt (2 tsp or more to taste).
Serve atop chicken, chayote, potatoes, or even seafood. Refrigerate leftovers in canning jars for up to 4 days or freeze for up to 4 weeks.
Notes
Refrigerate leftovers in canning jars for up to 4 days or freeze for up to 4 weeks.
Adapted from Rick Bayess
The CentsAble Shoppin https://www.thecentsableshoppin.com/
Is this true "authentic" mole? Compared to the varieties of mole that take all day and include 30+ ingredients, definitely not. But.. it's a great option if you don't have time to spare and need to put something together fast.
It freezes super.
Not to mention it's handy to have around in a pinch. If you like this recipe, you might want to bookmark these, too!
Roasted Tomatillo and Chicken Tamales
Paleo Meat and Potato Empanadas
We used Essential Oils in this recipe – you do not have to! If you do opt to take that route, please ensure you are using unadulterated essential oils that are labeled for internal use. Young Living has a dietary line (Vitality Oils) that are labeled in accordance with the FDA requirement for use in cooking and baking.
Find out more HERE.