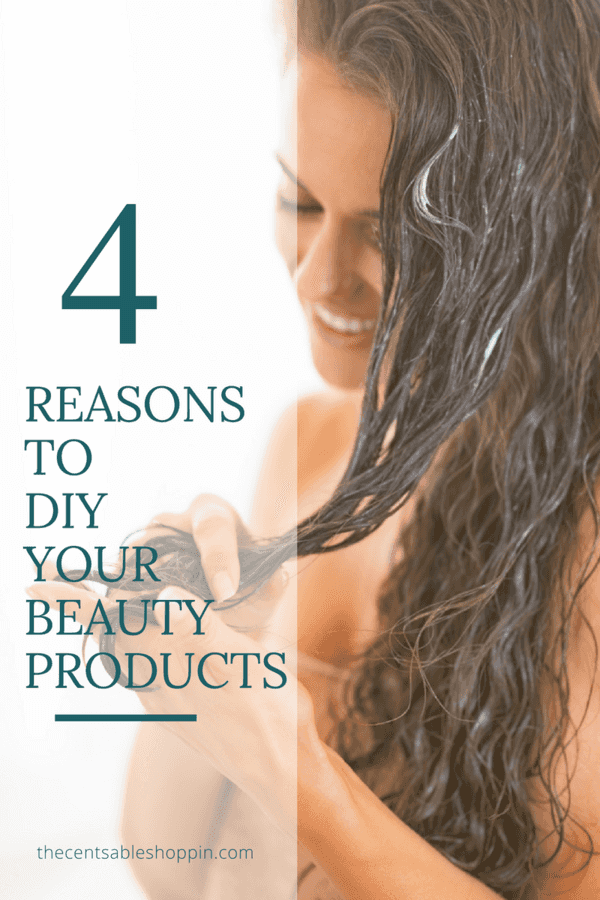 If I had to put a cost on what most people spend on beauty and personal (or, maintenance?) items each year, my guess is that the price tag would be HUGE.
The scary thing about that is that many people have no concept of what is actually IN their beauty products. And quite honestly, beauty products are kind of like food — same problem, a laundry list of "stuff" that really isn't normal to put on your body.
Most people may not realize the issue behind these items – it may seem trivial (all these items).. but they really can affect your health. They affect the pH of your body, and pH is tied to immune system support. Avoiding chemicals and eating alkaline rich foods help keep your body's pH balanced, and that in turn keeps you above the wellness line.
And while I'd say a lot of folks probably just don't necessarily care too much about what is on the label, some of us do… it's so easy to throw things in your cart yet they have propylene glycol, parabens, phthalates and many more ingredients disguised to tighten, tone, lift, brighten, clear, and energize the skin.
Thankfully… you can make many of those items yourself, at home, with your own ingredients. It's so easy, plus you control what's in it – win for you!
#1 – You KNOW What's in Them
Your skin is your largest organ… so what you put on it really does make a huge difference. Much like what you eat goes IN your body to feed your body, the stuff that goes on your skin ALSO nourishes your body from the outside on in.
You can make lip care, sugar scrub and body butter with as little as 2 ingredients – why go for a laundry list of ingredients (of which you can't even pronounce?) when you can keep it fairly simple?
#2 – It's Cheaper to Make your Own
You can make your OWN items for SO much less… see our list of items to keep on hand, below. While you'll have to buy some of these items to get started, they last quite a long time and you won't find the need to buy expensive beauty cream – or, pay for baby powder when you can make your own (less harmful) at home.
#3 – You Can't Get Better than Your Own
We make our own facial cream for a fraction of the price of the retail variety – what's even better, is that we can truly brag about ours.
Your beauty products from the store may have some natural ingredients, but never more than a trace amount.. making them really nothing but a marketing ploy to make you think they are worth much more than they really are.
There is NOTHING like making your own.
#4 – It's FUN to Create new Items
Get your girlfriends together, or, get your daughters in the kitchen with you to create your own beauty items. Start with Lip Balm, then continue with Facial Moisturizer, then try to make your own Scrubs… you'll probably have so much fun you'll make a few extra for friends.
Ever thought of getting started? It's so easy – you will find that MOST items only take a few minutes to make, not to mention that although the items may be a cost up front, they will last for quite a long time.
Here are some items you may want to think of if you are going to make your own beauty or personal care items ~
Dr. Bronner's Organic Pure Castile Liquid Soap – 32 oz
Sweet Almond Oil, Moisturizing Oil, 16 ounce
Beeswax Organic Pastilles, Yellow, 100% Pure 16 Oz
Unrefined Raw Shea Butter (Ivory) 16oz
Nutiva Organic Virgin Coconut Oil, 54 Ounce
50 Lip Balm Empty Container Tubes
Organic Extra Virgin Coconut Oil, 54 Ounce
Kokum Butter RAW Organic 100% Pure 8 Oz
Mango Butter Organic 100% Pure Raw by Dr.Adorable 4 Oz
Organic Beet Root Powder, 4 Ounces (Lip Coloring)
Essential Oils (see what we recommend HERE)
We have made quite a few of our own personal care items – from Body Powder, to Body Butter, Body Perfume, Body Scrub, & Facial Cream. Oh my gosh the list could go on – you can see more HERE.
We started DIY'ing our health and beauty products shortly after we got started with Essential Oils 3 years ago – fast forward to now and we make everything from stinky feet powder to shampoo, to body wash, baby wash, eye serum, wrinkle cream, dishwasher powder, after sun spray & more.
If you haven't ever considered DIY'ing your personal care products, or don't know where to start, join us Monday night – we'll be having a Facebook class to show you 15 DIY's you can do yourself with Essential Oils.