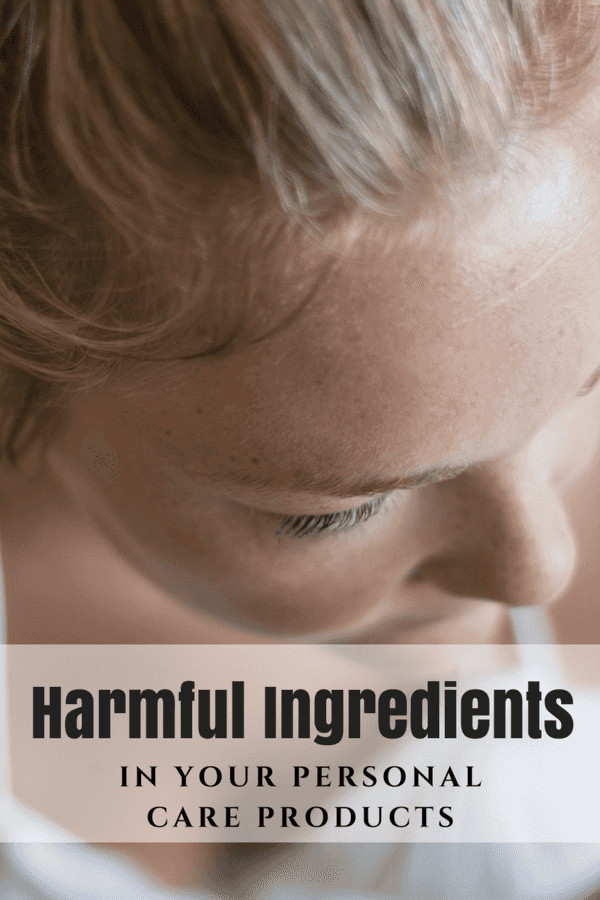 How many personal care products do you use each day? The average person uses 9 products daily with over 100 unique ingredients.
Some people might use as many as 15 products each day.
Those products might include shampoo, lotion, deodorant, shaving cream, eye cream, moisturizer, toothpaste, conditioner, diaper cream, sunscreen, aftershave and even sunscreen.
What goes in your mouth should require a great deal of thought – after all, it's either helping or hurting your health. Likewise, what goes into your personal care products is just as important but so often times neglected, as most people entrust what is on the label. Your personal care products contain thousands of chemicals – all of which are absorbed into your body.
Surprisingly enough, the personal care industry is highly unregulated.
There is no pre-approval before it hits the market and enters your home.
There is only a tiny bit of approval for color additives and those ingredients that they classify as over the counter drugs. Toxic chemicals in personal care products are truly very hard to even notice.
Personal care products are made with over 10,000 chemicals ingredients. These ingredients can serve as hormone disruptors, and be damaging to the endocrine system, respiratory system, and lead to our inability to conceive.
What's really in your personal care products?
Your skin is the largest organ on your body – what is put on it can be absorbed into the bloodstream, which is why it is incredibly important to be watchful of those chemicals.
The FDA doesn't require any safety testing of the ingredients found in personal care products. No pre-market safety testing is required for the chemicals that go into your personal or home care products, leaving the cosmetics industry to self-police through their own internal cosmetics panel.
Some of the most dangerous chemicals lurking in your personal care products include:
Coal Tar Dyes – listed on your personal care products as FD&C, or D&C, followed by a 5-digit number. They are best known for mutating genetic material and are a known carcinogen.
Parabens – Up to 75% of your favorite personal care items contain parabens including shampoo, lotion and even cosmetics. Parabens mimic estrogen.
SLES (Sodium Laureth Sulfate) – usually found in cleaners like shampoo, face and body because it allows those items to foam. It is derived from coconuts, but is contaminated with a toxic byproduct during the manufacturing process.
Formaldehyde Preservatives – one in five personal care products contains a formaldehyde preservative. The label itself won't tell you if there is formaldehyde in the product –so look for any of these:
DMDM hydantoin
Imidazolidinyl urea
Diazolidinyl urea
Quaternium-15
Bronopol (2-bromo-2-nitropropane-1,3-diol )
5-Bromo-5-nitro-1,3-dioxane
Hydroxymethylglycinate
Cosmetics companies generally don't dump pure formaldehyde into their concoctions. Instead, they take a roundabout route by using what they call "preservative systems" that employ any one of several chemicals, called "formaldehyde releasers."
These are chemicals that, when added to water, will decompose slowly over time to form molecules of formaldehyde. Some manufacturers favor this method because it acts like a time-release capsule, maintaining a fairly constant level of preservative in the mix.
Sure, cosmetics need preservatives in the products to prevent bacteria growth, but there are safer and more effective options than formaldehyde – arguably enough, formaldehyde is the cheapest option therefore the reason that it is used more abundantly.
Cheaper options make for a greater profit margin, so as the reason that it is used most abundantly.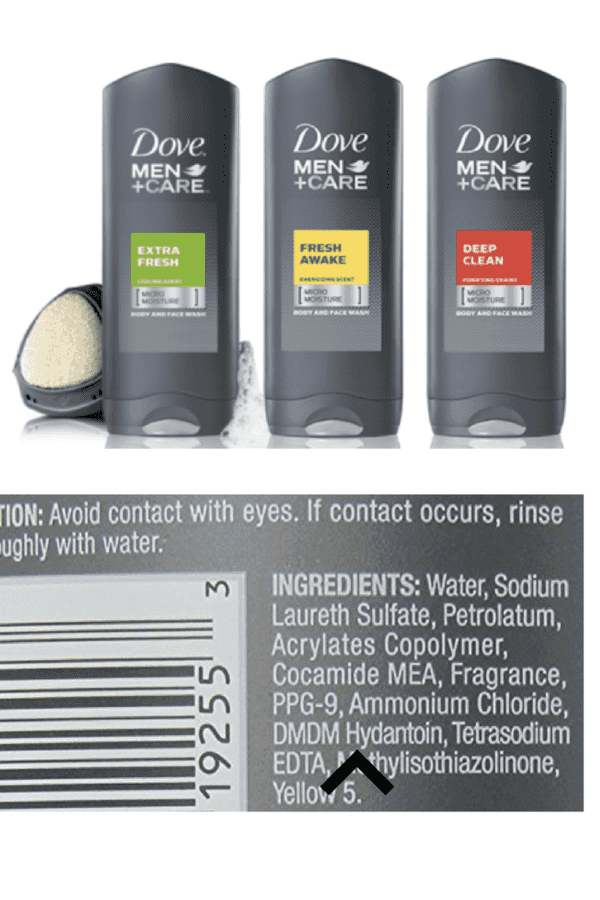 That graphic above contains DMDM Hydantoin – a preservative that releases formaldehyde to kill off microorganisms. And that preservative can be found in Dove Men+Care and Dove for Women Body Wash varieties. I am certain it's probably found in others, too.
Fragrance – can include over 3,000 chemicals, and are not required to be listed out.
Triclosan – popular in toothpaste and deodorant, the EPA registers Triclosan as a pesticide. It can lead to endocrine disruption, triclosan-resistant bacteria, and environmental toxicity.
Polyethylene Glycols – derived from petroleum, you will most commonly find them in those things that need a cream base. Look for them listed as PEG-6 or PEG-150. According to experimental results reported on in the National Toxicology Program's Eighth Annual Report on Carcinogens, ethylene oxide increases the incidences of uterine and breast cancers and of leukemia and brain cancer.
Tetrasodium EDA – helps you get a better lather, but is made of formaldehyde and sodium cyanide.
Why the lack of oversight on these toxic chemicals?
It seems crazy to think that we have such a lack of oversight in regards to the chemicals in our personal care products. Many might ask why we don't have better laws or regulations.
In most cases, people assume that the government is looking out for their safety.
Many of the companies that make your personal care products spend millions each year to fight tighter regulations.
People need to use their knowledge to vote with their money. Being knowledgeable gives you the power to make better choices, and through better choices, change can be made.
One of the best ways to research your personal care products is by looking them up in the Environmental Working Group Skin Deep Databbase.
Bottom line, there isn't any reason to be using synthetic chemicals to keep your body clean. There are better choices, and those choices can be just as cost effective.
If you aren't up for reading labels or trying to find a better option, then learn how to make your own body wash at home.
There are many areas where federal regulatory agencies have left much needed room for improvement, but never take that as a reason to be complacent about the ingredients and products you use on yourself and your family each day.