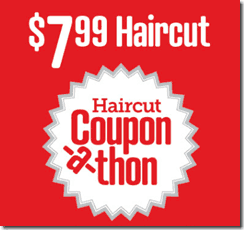 Come November, we can take our kiddos to JC Penney on Sundays for a FREE Hair Cut.
But, until then, if you are looking to get your kiddos hair cut, OR if you are getting yours cut as well (like I am doing today) you can "LIKE" SmartStyle on Facebook to get a coupon valid for a $7.99 haircut at SmartStyle Salons inside Walmart.
If you are on your mobile device, you can grab the same coupon HERE.