Lime cheesecake is a tropical twist on regular cheesecake and perfect for summer parties or gatherings – made easily in the Instant Pot!
We have a HUGE obsession with our Instant Pot and over the last few months we have shared over a dozen recipes .. .. one of the most popular has been cheesecake.
Do you love Cheesecake?
We first made regular cheesecake with cherry topping in our Instant Pot and that's what made us fall in love with this appliance SO much.. then we made a pumpkin cheesecake which was even better.
I will be completely honest .. I am not really a huge fan of pumpkin in anything except for pumpkin bread. Let me just say that in cheesecake – it is amazing.
Hands down.
Lime Cheesecake (Instant Pot)
We have lots of limes on our citrus tree in the backyard, so we figured we'd try them in lime cheesecake. Perfect for warm weather (right?), and super easy to make in the Instant Pot.
Lime cheesecake is festive, citrus-y, and the perfect way to welcome warm weather.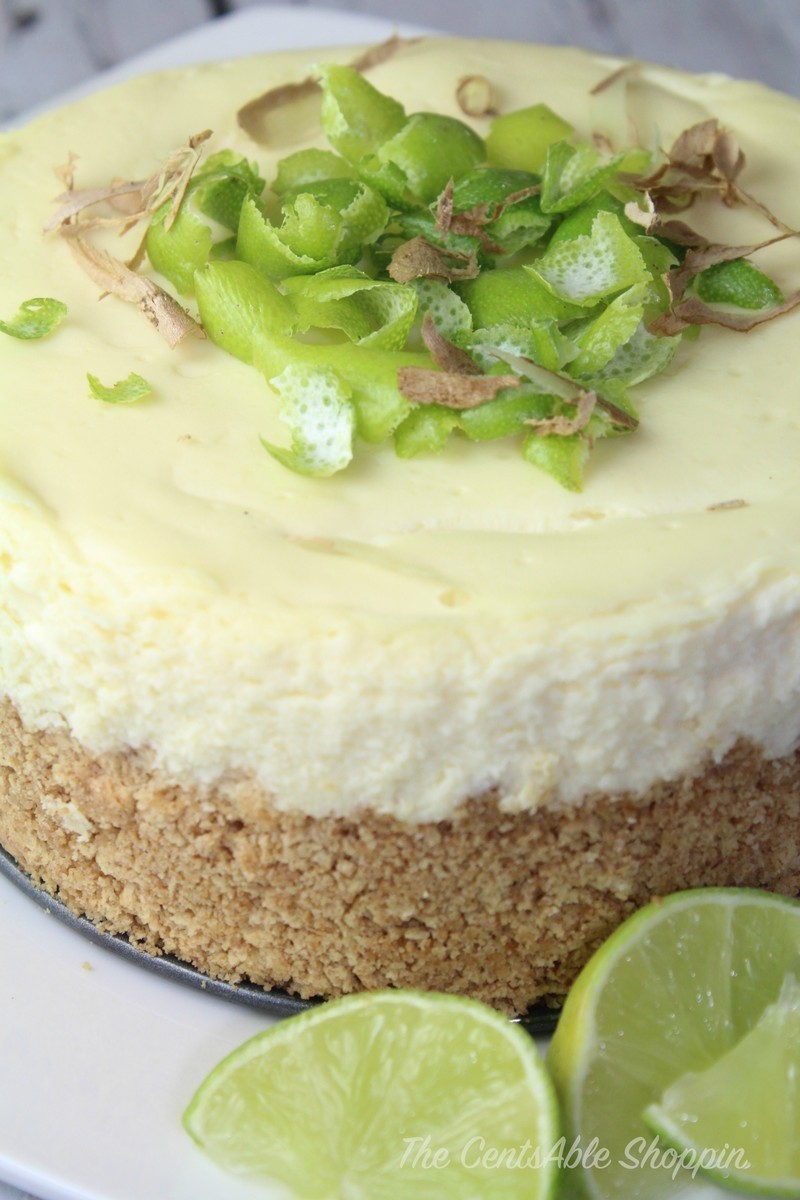 Why should you use the Instant Pot versus the Oven?
Making cheesecake is truly easy in the Instant Pot – you set it in there, lock the lid and walk away for 25 minutes. You don't have to check on it periodically to ensure it's cooking properly.
If you don't have a 6″ springform pan, we picked up one on Amazon for just $10. It is the perfect size for a small family – you won't be tempted to eat a huge cheesecake in your fridge from making too much. Not to mention it fits well within the confines of the Instant Pot.
Before you get started
Before you start mixing up this lime cheesecake, make sure that the eggs and cream cheese are room temperature. That is crucial to having any successful cheesecake. If you are impatient and throw them in the mixer and decide you will just mix it until the lumps come out, you will get a very poor result.
Leave the eggs and cream cheese out on the counter for 1 1/2 – 2 hours before you begin to make this.
Lime Cheesecake (Instant Pot Recipe)
2016-03-08 20:05:26
Serves 6
Lime cheesecake is a tropical twist on regular cheesecake and perfect for summer parties or gatherings - made easily in the Instant Pot!
Ingredients
2 Blocks Cream Cheese, room temp (low fat NOT recommended)
2 Eggs, room temp
1/4 C. Sour Cream (low fat NOT recommended)
1/2 C. Granulated Sugar
Juice of 1/2 Lime, squeezed
Graham Cracker Crust
1 1/2 packs of Graham Crackers, finely crushed
4 tbsp Butter, melted (NOT margarine!)
Instructions
Make the crust first - by melting the butter and adding into the crushed graham crackers.
Mix well and then push into a 7" Springform pan and work a little up the sides.
Pop in the freezer until the filling is ready.
In your KitchenAid, add the Cream Cheese, Eggs, Sugar, fresh Lime Juice, and Sour Cream - it's incredibly important that the Cream Cheese and Eggs be at room temperature (if not your mixture will not whip up smooth!)
Mix on high with the blender - until well blended and smooth - don't over mix!
The mixture should be light and creamy.
Pour the mixture into the cheesecake pan (from your freezer).
Place 1 C. water in the Instant Pot and insert the trivet - the water should be enough to create steam but it shouldn't yet touch the trivet.
Take an 18" piece of Tin Foil and fold the long way to make a sling - place that in the Instant Pot to act as a sling when your cheesecake is done.... since the trivet will be hot to touch and pull out.
Then gently put the cheesecake in the Instant Pot on the sling - being careful not to touch the sling against the top of the cheesecake.
Put the lid on - push Manual and 25 minutes, and let it cook.
Once it's done, quick release the steam and remove the cheesecake using the sling - let it sit on the counter for 10-15 minutes and then put in the fridge until cooled.
Don't remove the Springform until it's cooled and you are ready to serve.
Add your Garnish - in this case, curled Lime and a little Ginger.
Notes
If after 25 minutes your cheesecake is still slightly loose in the center, that is fine - it will set as it cools.
If it's too "loose", then you can pop the lid back on and put on high an additional 2-3 minutes. But if you over-do it, then it will be a huge mess.
The CentsAble Shoppin https://www.thecentsableshoppin.com/