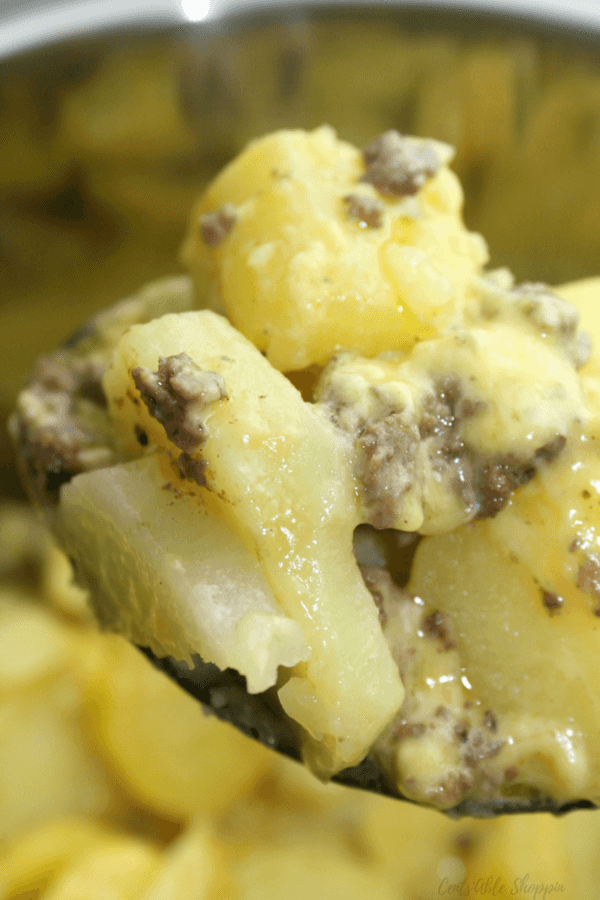 I don't know too many people who aren't in love with potatoes …around here, the kids dump ketchup on them while the adults tend to lean towards seasonings like Tajin with a little butter.
We browned up ground beef and decided to use half of it to make this beef and potato au gratin in our Instant Pot.
It's really easy to make, and a great way to use up some russet potatoes. Once you add everything to the Instant Pot, it cooks relatively quickly, and then dishes out in bowls for the family when you are done.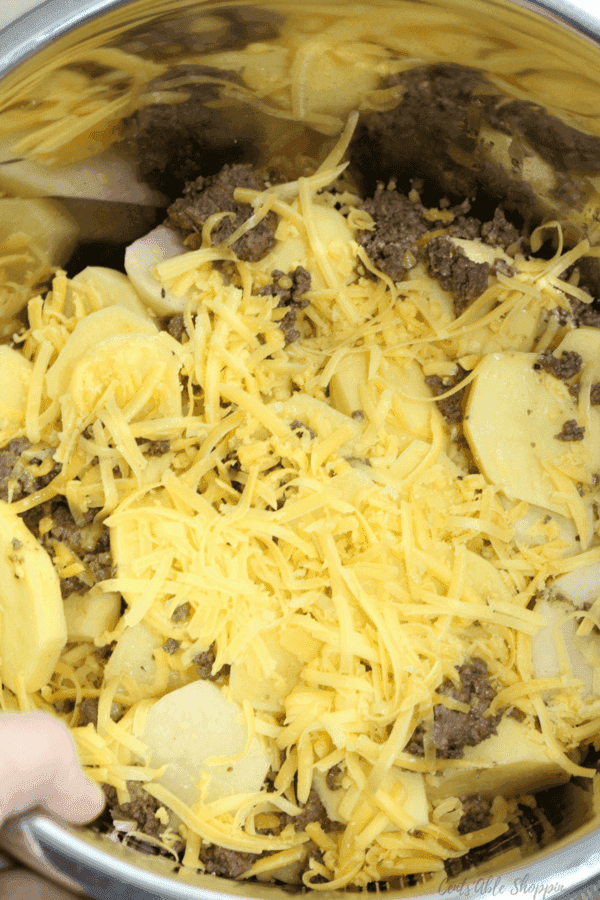 This recipe uses a few simple ingredients – potatoes, ground beef, cheese, chicken broth, and spices. I took this recipe from The Magical Slow Cooker and adapted it for my Instant Pot. You can also make it in your slow cooker but it will take a bit longer.
Grease the bottom of your Instant Pot really well with a little olive oil or coconut oil, then start layering potatoes, ground beef, and cheese.
You'll want 3 layers before pouring 1/2- 3/4 C. of chicken broth over the top of everything and locking the lid to seal the valve. Set your timer for 15 minutes on high pressure and allow the cooker to do its thing.
Once it's done, serve up in bowls topped with a little extra cheese.
Fair warning though: you won't have any left. Our kids loved it and ate every bit.
Instant Pot Beef and Potato Au Gratin
A hearty, kid friendly dish that combines beef, potatoes and cheese in simple layers cooked up easily in your Instant Pot.
Ingredients
1 lb browned ground beef, seasoned well with salt and pepper
4-5 large uncooked russet potatoes, peeled and sliced in 1/4" slices
1 1/2 C. shredded cheddar or sharp cheese
3/4 C. chicken broth
1 Tbsp Italian seasoning (we used a blend of basil, marjoram, oregano and thyme) or your own seasoning
1 tsp paprika
1/2 tsp salt
1/4 tsp pepper
2 tsp olive oil
Instructions
In the bottom of your clean Instant Pot, add the olive oil and use a napkin to swipe it evenly around as to coat it completely.
Combine the Italian seasoning, paprika, salt, and pepper in a small bowl.
In your Instant Pot, layer the sliced potatoes, then sprinkle a portion of the ground beef, and top with shredded cheese. Generously season with 1/3 of the seasoning you set aside in the bowl.
Repeat twice more, layering potatoes, ground beef, cheese, and additional seasoning.
Once all 3 layers are done, pour over 3/4 C. chicken broth.
Place the lid on the Instant Pot, and seal the valve. Set the Instant Pot for 15 minutes at high pressure.
Once the pot beeps done, release the pressure and dish into bowls.
Notes
Feel free to do two layers of potatoes, beef and cheese, and then reduce the broth to just 1/2 C. for the same amount of cooking time.
https://www.thecentsableshoppin.com/instant-pot-beef-and-potato-au-gratin/